At Keap, we know how important integrations are to our users to connect all of your tools to run your business and we are continuing to bring new integrations to you, making the experience easier and more fluid in your app.
That being said, we are so excited to announce that our Keap users now have access to a native integration with Zapier through their Keap app, making it easier to use Keap and Zapier together. Users can connect to standard apps within Zapier for free, saving time and money by doing so.
Zapier is the market leader in integrations and now it is right inside your Keap app. This is a huge benefit to our users to increase the power of their Keap app by connecting to over 2,000 apps and tools that will sync Keap, trigger automation, and help automate your day-to-day workflow and tasks.
"We are pleased to announce the new Keap integration available via Zapier!" said Cody Jones, Zapier's Head of Partnerships and Alliances. "This new integration will allow users to combine Keap's highly capable CRM, sales, and marketing automation suite with Zapier's library of over 2,500 integrations, making automated follow up highly specific and effective. As a former Keap employee, I'm particularly excited to see what our mutual users create with these new tools."
Integrating with Zapier
You can connect to Zapier directly from the Integrations page in settings in your Keap App. The Integrations page will include a list of connections that can be made via Zapier. Over half of our users are already connected with Zapier and some of our users' favorite apps include:
Calendly
Zoom
Facebook Lead Ads
SurveyMonkey
Shopify
Facebook
Acuity
Eventbrite
Typeform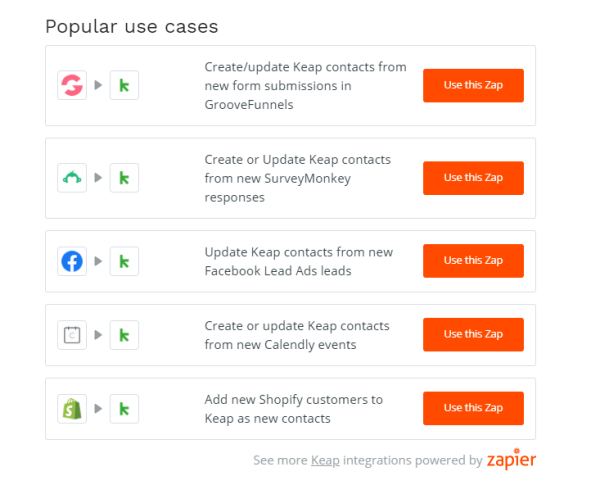 We know how important it is for you to have all of your information and tools in one place. If you check out Facebook Lead Ads, for example, when a new lead comes in from Facebook, you can create a task and down at the bottom of your screen you'll find more information about all of the triggers and actions that you can automate for each of these integrations. As new leads are generated leveraging Facebook Lead Ads, a Zap is triggered, creating a new lead in Keap that automatically sends a welcome email to the new contact.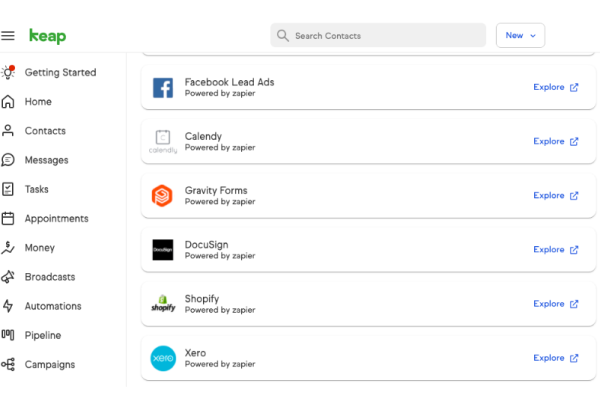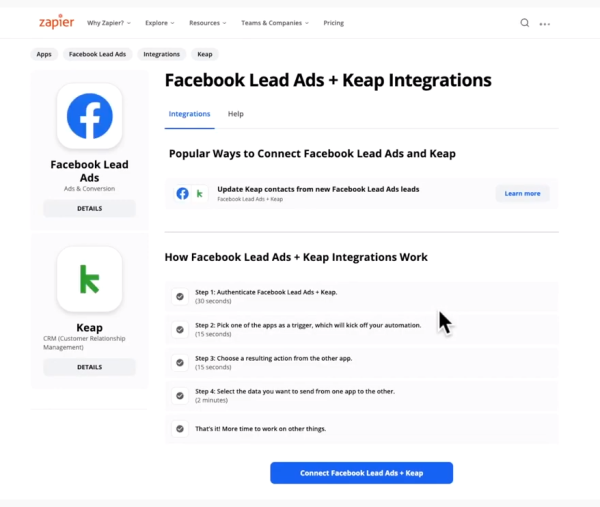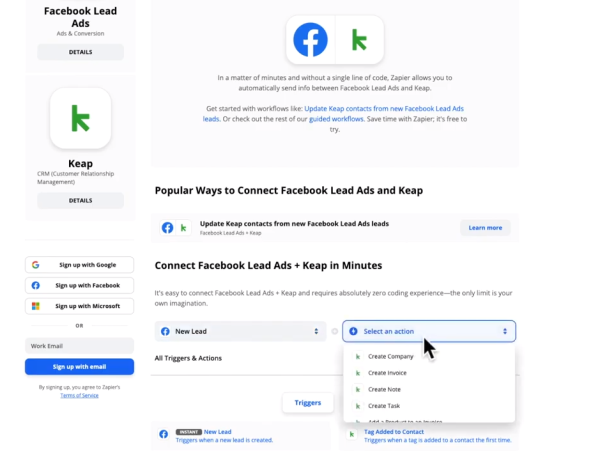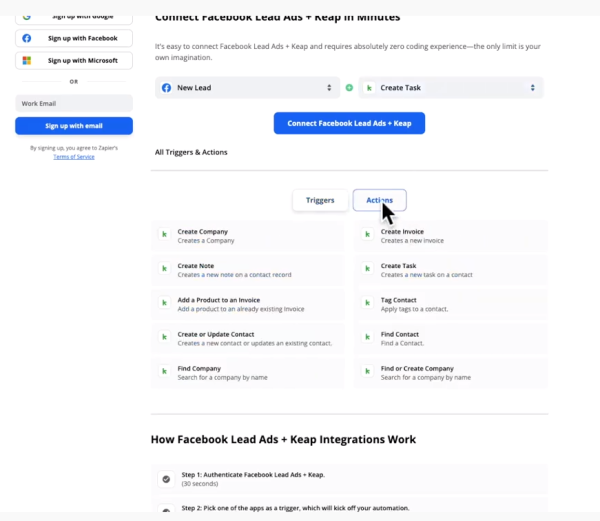 If you don't have a Zapier account, you can create one for free when you select an integration to connect.
Keep your eyes out for even more integrations coming soon!