As a diligent entrepreneur, the last thing you want to worry about while running your successful company is receiving and processing payments.
Some business owners often must wait for checks to arrive in the mail or, worse yet, experience checks that bounce. Others have to manually process a payment rather than providing their clients with a simple online payment option.
To help business owners, Keap has added PayPal as a preferred payment option for Keap Grow and Keap Pro users. As a result, business owners are able to accept credit cards, debit cards, PayPal, Venmo1, and PayPal Credit2.

Venmo is a social payments service used by millions of people to send/receive money between Venmo friends and family, and make purchases at select approved businesses. It's similar to PayPal but is unique in that Venmo allows users to share and "like" payments and purchases through a social feed. Venmo is very popular with the millennial generation, and offers businesses the opportunity to increase the exposure for their brands when their customers choose to share their purchases on their Venmo social feeds.
And then there's PayPal Credit—which can help drive more purchases. A recent Logica Research study found that 42% of PayPal Credit users would not have made their most recent purchase if PayPal Credit wasn't offered, and 38% of PayPal Credit users spent more on their most recent purchase than they planned3.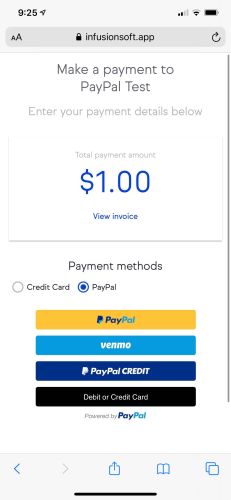 "The new PayPal integration gives business owners some great benefits," said Cody Alley, a Service Design Consultant at Keap. "Taking Venmo payments is probably my new favorite feature because it means your customers can pay you when they're on the go. And the Smart Payment Buttons won't show Venmo if they don't have it on their phone. Your customers will see the payment options that work best for them."
In addition to these benefits, PayPal has improved security to help business owners keep up to date with global compliance regulations.
Infusionsoft by Keap customers already using PayPal must log into their Payment Types page and re-authenticate their login to get the new benefits. All other customers can go to their payments page in Keap and Infusionsoft and connect PayPal to start taking payments.
Add PayPal to your Keap account today!
1Venmo account required to send and receive.
2Subject to consumer credit approval.
3Online study commissioned by PayPal and conducted by Logica Research in November 2018 involving 2,000 U.S. consumers, half were PayPal Credit users and half were non-PayPal Credit users.