In the digital age, more consumers than ever look to online reviews to help them make important purchase decisions. As a result, brands now integrate review and reputation management tactics into their overarching marketing strategies.
As a brand, a primary objective is to increase revenue. Online reviews act as valuable social proof that can move the needle on brand awareness and conversions. However, they can also serve as a company's Achilles' heel if not dealt with properly.
Third-party review sites
One of the first steps to taking control of online reviews is identifying the types of reviews in which your brand could be mentioned. There are any number of third-party review sites (i.e., sites that publish reviews your brand doesn't own or control) that can show up in your brand's search engine results. Some popular sites include:
● Yelp
● Google My Business
● TrustPilot
● Glassdoor
● Foursquare
● Amazon
● G2Crowd
And the list goes on. With so many sites to consider, choosing a platform can be a daunting task. Ideally, your company should maintain an active presence on the majority of these sites, though a general focus can shift depending on your industry or business objectives. For example, you may focus more on Glassdoor if you're attempting to scale your workforce. Yelp or Google reviews might be your sweet spot if you're a local business trying to increase foot traffic, or you may want to leverage Amazon Marketplace reviews to grow your ecommerce business.
Properly managing your brand's online reviews can help create positive brand sentiment, balance out a negative online reputation, and boost your site's search engine optimization (SEO), ultimately driving those coveted conversions. In this blog post, we'll explore 5 tips your business can use today to deal with online reviews.
1. Respond quickly
Your brand must be swift in responding to online reviews. Not only do consumers expect a level of immediacy from online interactions, but a failure to be nimble can bog down your brand's overall reputation when prospective customers search for more brand information.
First, determine the credibility of a review. Let's say your company received a negative review because a brick-and-mortar location was closed at that time—even though your hours are clearly posted on your website and social profiles. Fake reviews are also an unfortunate obstacle brands have to contend with in the online era. Recent data shows that 61% of electronics reviews on Amazon's marketplace are fake. Here's how to know if a review may be fake:
● No record of any transactions or service calls for the reviewer
● Complaint mentions a competitor (or there is a relationship between the reviewer and competitor)
● An influx of bad reviews all at once
● Review lacks detail
Reviews like these are not credible, which means you may be able to flag the review for removal by the third-party site. (It's important to note that you can't personally delete a review, however). If a reviewer has a genuine complaint, it's critical to respond immediately, take responsibility, and move the conversation out of the public sphere to resolve any further issues. This helps to rebuild customer loyalty and trust.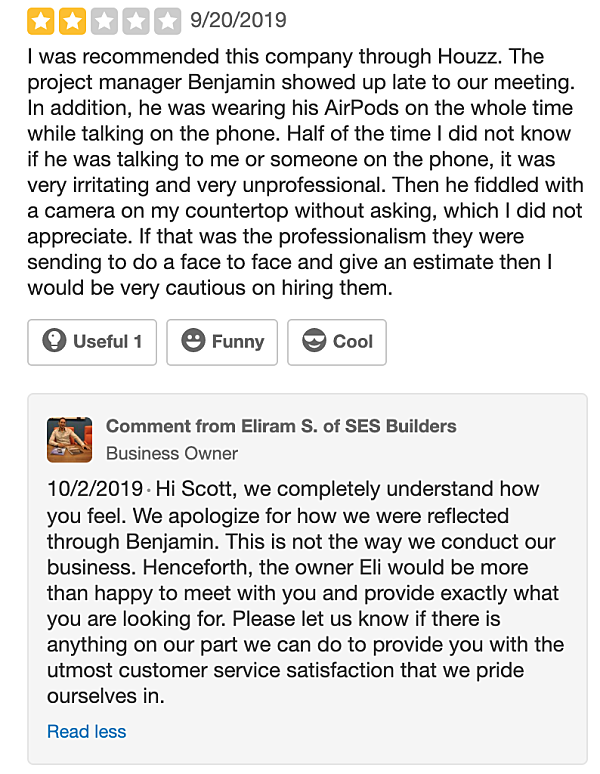 Take a look at the example above: a local contractor responded to a Yelp review from a dissatisfied prospective client. The owner responds swiftly, apologizes on behalf of the company, and asks the reviewer to contact them offline to make things right. While this is an example of a smaller company catering to a localized audience, enterprise brands like Southwest Airlines are famous for their lightning-fast response time to customer complaints on forums like Twitter (see below).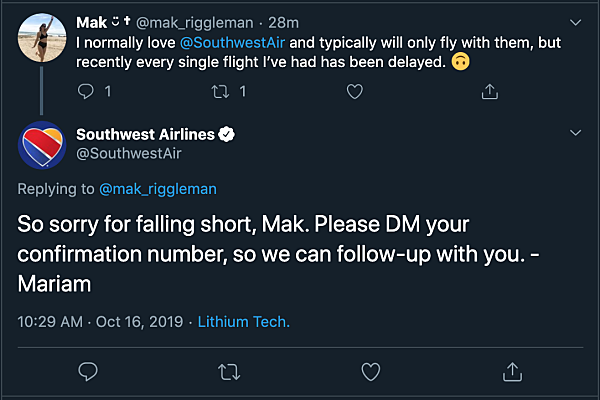 2. Diversify branded search results
Consumers will search for specific brands throughout their buyer's journey. However, their search intent becomes more valuable to a brand at the end of their journey. Why? Consumers have found 1 or more possible solutions by this point, and intend to conduct deeper research in order to make a final purchase decision. It would certainly be foolhardy for your brand to ignore the power of an online review at this stage of the customer journey.
Plain and simple: your company doesn't control what appears in branded search results. Rather, branded searches are made up of a multitude of results, including your official website (along with any subdomains), social channels, Wikipedia pages, news articles and—you guessed it—online reviews. Though top results, likely your brand's owned properties, probably compose a large portion of total organic traffic, all results on page 1 can earn clicks. In actuality, 86% of consumers trust online reviews as much as personal recommendations when it comes to purchase decisions. Searchers are much more likely to click through to a review site that appears in a branded search.
Some of the world's leading enterprise brands leverage reviews to help support a more holistic branded search landscape. Think of your branded search results (i.e. brand-owned properties, the most desirable content) as a bucket of water mixed with a bit of food coloring (i.e. third-party content, content you don't control). The liquid in the bucket will likely never be completely clear, but you have the ability to dilute the mixture by adding more water. Expanding your online footprint can help your brand stay afloat in the event of a crisis.
If your attempts to remove a review prove fruitless, you can offset these negative results by cushioning bad reviews with a multitude of good ones. This, in turn, influences your brand's overall online reputation for consumers seeking trustworthy recommendations from third-party sources.
3. See the opportunity
Look for themes. Commonalities in reviews are a sign that your brand is currently lacking a product, service, or approach for which there is significant market demand. Online reviews are a prime source of honest feedback from your consumers, and so their potential to help improve your business offerings and customer service can't be understated.
Not only are online reviews crucial to crowdsourcing feedback and offsetting your branded search results, but they can also affect the SEO of your site. According to Moz, online reviews account for 15% of how Google ranks a business in local "packs" (the 3-pack of businesses that show up when users conduct a local search). Google's criteria for attributing ranking signals to reviews in local packs is defined as the following:
● Review quantity
● Review velocity
● Review diversity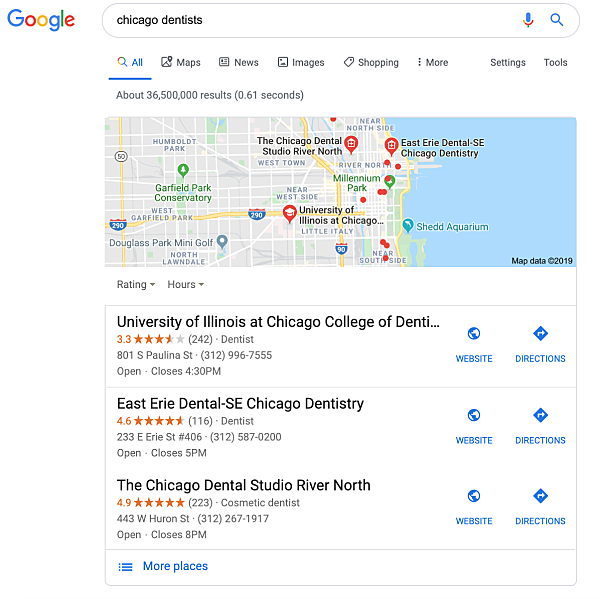 It's important to note that general review signals account for 6% of a business's localized organic ranking, while Google My Business information makes up nearly 9% of organic ranking factors. If your brand wants to appear in localized search results, where customer intent leans towards more immediate purchase decisions, it can't afford to ignore the power of reviews in local SEO.
Online reviews impact purchase decisions for a staggering 93% of consumers. Because online reviews impact a brand's organic visibility and online reputation, they're quickly becoming an important piece of the digital marketing pie.
We've detailed how review management can diversify branded search results and impact organic search rankings. Now, your brand must focus on earning reviews to capitalize on the tremendous opportunity to gain market share from competitors in the space.
Now is the greatest time to start your own business, because an array of new technologies make it easier. https://t.co/v9SeRgbAZc

— USA TODAY Money (@USATODAYmoney) October 24, 2019
4. Be proactive about earning reviews
Acquiring new customers takes time, money, and considerable effort. Why not use existing customers to help lift the burden? Your brand needs to take steps to source reviews from its consumers and employees. Those reviews send signals to consumers (and search engines) about what your brand is all about.
Consider Glassdoor as an example. According to the Harvard Business Review, a bad online reputation can cost employers at least 10% more per hire. What's more, reviews on Glassdoor influence more than 60 million users per month. Savvy HR professionals understand that in order to offset their online reviews, they have to leverage their existing employee base to add context and positive company mentions. Ask your employees to leave their honest feedback, and remind them to consider how prospective candidates make their decision to apply—and how their reviews can help the company grow.
In a retail context, your brand can crowdsource feedback from customers and display their testimonials proudly on your website. You can also display reviews from third-party sites on your site as a badge of trust for consumers.
While you can't pay for reviews on sites like Yelp or others, you can take action to make the review process as engaging and intuitive as possible. Once you register your business with a review site, place the site's logo or badge prominently on your website to direct customers to visit your business profile in 1 click. This can encourage users to leave reviews on the platform.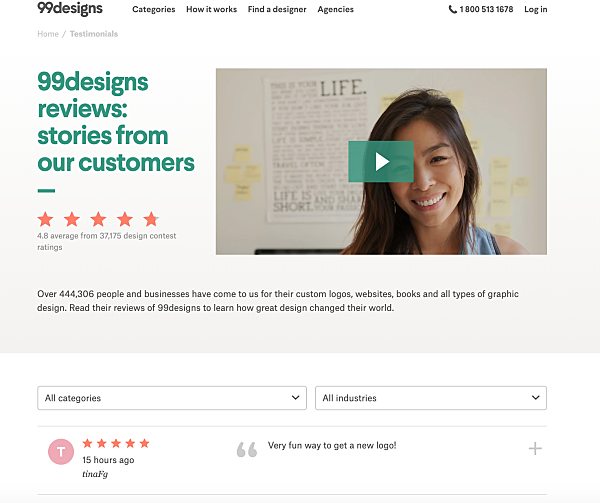 5. Provide extra value/build customer loyalty
Providing extra value in your response to a review can help build customer loyalty and rebuild trust that was lost by a bad experience. Simply fixing the problem is not enough; your team needs to go above and beyond with impeccable customer service and offer an extra perk to compensate for any inconvenience. There's nothing more self-destructive than a brand that responds poorly to a negative review or attempts to defend rather than correct. Show your customers and the public their concerns are valid.
Let's revisit Southwest Airlines as a standout example. An 86-year-old woman and her daughter missed their flight to Las Vegas on the way to see a favorite singer and couldn't afford the extra $1,000 it cost to adjust their flights. Customer service reps went the extra mile to help—the ticket counter employee gave both passengers her personal buddy passes, enabling the duo to travel with no extra charges.
As we've outlined, a brand's online reputation is everything to its bottom line. Your brand has to prioritize strengthening consumer relationships, even if a review is negative—because these relationships are what keep the lights on.
Online interactions are highly visible, and online reviews are no exception. As your brand works to stay on top of reviews left by satisfied and unsatisfied customers alike, it must also take steps to garner new ones. Ultimately, reviews play a pivotal role in your brand's online reputation and ability to influence and convert prospective customers, as well as build brand loyalty with existing ones.