Getting started with a new CRM is an exciting new chapter for your business. Perhaps you've outgrown the spreadsheet (or sticky notes, no shame!) you've been using to track contacts or you've found a small business CRM with features that better fit your needs. Regardless of how you came to the decision, accurately migrating the data you've worked so hard to capture into your new platform is a top priority. The good news is: Migrating your current data to new CRM software for small business isn't as daunting as it sounds.
CRM migration best practices from start to finish
By following these CRM migration best practices, you'll be able to transition with confidence.
Decide which option is best for you: contact sync or manual import
Migration prep
With this fresh start, it's critical to review and prioritize your contacts and the data you've been tracking. The impact will be worth the time it takes to clean your list and transfer the right information so that you can better understand your contacts, inform your marketing decisions and run reports that are meaningful moving forward.
Before migrating contacts to your CRM for small business, you'll want to stop making edits to the old CRM, finalize the data, review/export/save your list, and, if needed, reach out to your old CRM's support team to verify what information can be exported and how to ensure necessary data can be captured.
If you have the means to do so, keep your old account active until the data has been fully migrated into the new CRM, so you can cross-reference and retrieve information if needed.
Cleaning your contact list
Leaving unengaged contacts behind isn't only cathartic, it also improves your email deliverability and opens up space for more qualified leads that will soon be flooding in. You don't need cold contacts weighing you down and you certainly don't need the clutter of irrelevant data, so leave those fields behind!
For a list so clean it sparkles, follow these guidelines:
Keep engaged leads with complete contact details



Bring over contacts with at least a first name, last name, and email address. (Keap uses the email address as a unique identifier to automatically scan for duplicates.)

Add contacts that are current clients or highly engaged leads who have engaged in the recent past (roughly within 1-3 years). Include records that have opted into your current marketing campaigns and/or signed up for newsletters.


Leave out purchased, duplicate and incomplete leads



Remove leads from a purchased list that haven't expressed marketing consent (it's against the law).

Try your best to not add contacts without email addresses, as this is one of the unique identifiers for contacts in Keap (and most CRMs), and it is primarily an email marketing tool after all.

Duplicate entries: Filter your list and make sure each contact has a unique email address.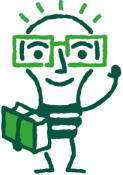 Pro tip
If you can't determine which contacts are good to bring over, you can launch a re-engagement campaign to reintroduce your business and field interest with a broadcast email. Include a call-to-action, like booking an appointment, submitting a public form or clicking a link, and then review reports to see which contacts have engaged or opened the emails.
Auditing your data points
Just like your contacts, not all data needs to be migrated to your new small business CRM. Use this opportunity to determine what data is still relevant and if any new fields can be added to better qualify and understand your contacts.
Review these tips for help with your CRM data migration:
Before import, remove fields you no longer need, including irrelevant data or CRM-specific fields, like a contact ID.
Determine whether a data point can be matched to a default field in your new CRM or if it needs to be created as a new custom field.
Keep in mind that you'll need to adopt the names for the new CRM's default fields as these cannot be changed. For example, if you previously used a field titled "date of birth" you'll want to match that to the default field of "birthday."
Don't create custom fields for data that can be matched with a default field just to hold onto your previous naming convention. This will lead to confusion and potentially inaccurate reporting.
Work with your old tool to get clear on what items cannot be migrated to the new CRM. Often things like tasks or appointments aren't included in a standard CRM migration. If there are actionable items that you'd like to add, find out which features in your new CRM you can use to accomplish these goals moving forward.
Decide which option is best for you: contact sync or manual import
Once your list is clean and you've determined which data to carry over, it's time to decide which method to use for your CRM migration strategy.
Some CRM software for small business offers a contact sync with other popular online tools. For example, Keap connects directly with Gmail and Hubspot.
The more recommended method is to export your contacts to a spreadsheet or CSV file, save it on your computer and then import the spreadsheet into your new CMS.
Decide which method is best for you using the guidelines below. Whichever route you choose, it's a good idea to export your data from your old CMS onto your computer so you can save it as a backup.
Contact sync

If you'd prefer reading every poor customer review you've ever received to manually cleaning your data and uploading a spreadsheet to your new CRM, you may want to check if the new CRM offers an option for a contact sync with common tools for an automatic transfer of data. This is a convenient option that eliminates the need to export lists and fiddle with formatting. However, there are risks and other factors to consider when choosing this method.
Risks: All contacts from that contact list will be carried over, so it's important to clean your list, check for duplicate entries and audit the data points you're tracking before syncing so that you're not left with a list of unengaged contacts and data you don't need.
Who is it best for? This automatic process can be a good fit if you have a relatively short list of contacts, are familiar with everyone on it, are importing from only one other tool/source and/or are comfortable with your current data fields.
Manual spreadsheet import
Don't let the manual aspect deter you. Typically, the recommended CRM migration strategy is to export your contacts into an Excel (.csv) file, then clean the list and organize the data to match the new CRM's preferred format. If you have multiple contact sources, you can consolidate contacts and fields into a master list or save separate lists to import in segments.
This CRM migration strategy allows for greater awareness and visibility into your current list and the data you're tracking. You can filter for duplicate entries, eliminate irrelevant data fields, and remove unengaged contacts. You can even add new custom fields and tags by inserting new columns directly into the spreadsheet.
Check your new small business CRM for a downloadable template to either save and enter your data into or use as a model for formatting. Failing to format your data correctly will result in an unsuccessful import and nobody wants that.
Need help? Check out Keap's downloadable template.
Ready to import
Many customers understandably feel apprehensive about that first contact import. But fear not. The benefit of exporting and saving your lists means that you are safe to re-import and/or delete all your contacts from the CRM if you need to after the first try. If you're still feeling nervous about the import, start with a smaller sample size. Import 25-50 contacts with varying data represented so you can get comfortable with the process and test the waters before adding everyone.
Matching data
Once you sync your contacts or upload your list, you'll be prompted to match the data before the import is complete. In this stage, you'll have the opportunity to confirm any new custom fields you've added and to match the data with the default fields. In Keap, you'll also have the opportunity to tag the entire list on the final stage after you match the data.
To make the matching process as seamless as possible, start with the proper format. For example, Keap requires first name and last name as separate fields, while some CRM tools will have just one field for the full name. Get familiar with the default fields of your new CRM so you can start to adopt the naming convention.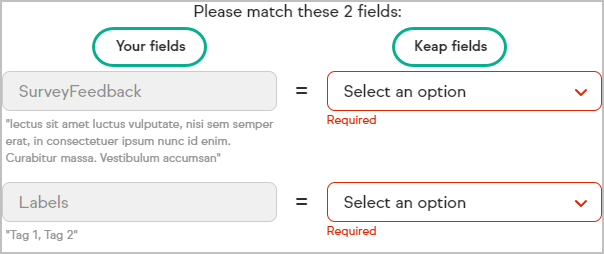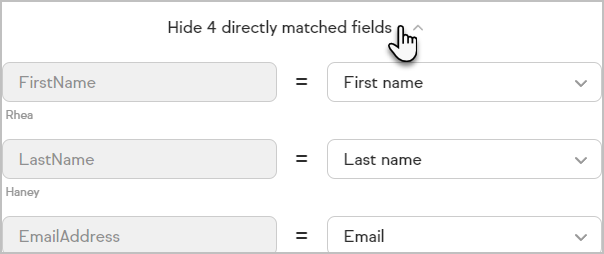 Get permission to market
By allowing contacts to first opt in, they have expressed permission for you to send marketing communication. Without this permission, sending anything but direct, one-to-one emails is considered spam. Sending unsolicited emails is against the law according to the CANSPAM Act.
Recap and additional resources
An effective CRM migration strategy requires cleaning your contact list and auditing data, then deciding on your import method: contact sync or spreadsheet import. Each CRM for small business is different, but these best practices will set you up for successful email deliverability, effective reporting and informed marketing decisions.
If you need more help getting started with Keap, there are plenty of resources available including Keap Academy, our Help Center, expert coaching and, for especially complex lists from several sources, ask about working with our Pro Services Team.
More resources:
Keap-specific FAQs
Which tools can I use to sync my contacts with Keap?
Sync contacts to Keap with:
Google contacts
QuickBooks
Hubspot
Spreadsheet
Phone contacts
Business cards
Learn more on how to import subscribers
If I sync my phone contacts or gmail, will all my contacts be synced?
Yes.
Will appointments, tasks, notes, other files, previous communication and contact activity be transferred over?
No. You can audit that data and potentially create custom fields or tags for those specific action items. Or you can find the features that will best accomplish these tasks or goals and implement them in your new system.
How long will this process take?
It depends on your number of contacts, sources and data points. Every business has different needs but you should definitely dedicate the time needed to make sure your data is accurate, useful and clean.
Will uploading the same lists create duplicate contacts?
Importing the same list multiple times with new information will not add duplicates as long as the contact's original email address is the same. Multiple imports of a list will just update the contact record with new information and any information that was previously added will be overwritten with new data, if applicable. Pay attention to the email address — make sure it matches the original contact record, otherwise a new contact record will be created. For example, if your contact Skye Blue is an existing contact in Keap, and she is included on a new import list, a new contact will not be created as long as the existing work email matches the email on the new list. Only the new/updated information on the sheet will be updated in the contact record.
Example: Her birthday is blank in the original contact but you import a new list with her birthday populated. Keap will update her contact record to include her birthday.
Example: You have her billing address in the original contact record but your new list has a different address. The new import will overwrite the previous billing address.
What else should I know when migrating my CRM to Keap?
Our system operates on Google, so when inputting addresses, you MUST add a state or region when the country is present. Keap uses email as a unique identifier and to scan for duplicate entries. Keap specifically uses "Work email" as the default, so the primary email address for your contact, regardless of whether it's actually their work email or not, should be added to this field.