Your brand is so much more than a mission statement. BigCommerce describes branding as a strategy that, when done well, can elicit the correct emotions from your audience — feelings, that ideally lead to them becoming a customer.
They explain: "As eCommerce owners and managers, building a powerful and engaging online brand is our most important work. It is a KPI that cannot be put to paper — but do it right, and every single goal will be surpassed."
For eCommerce businesses, social media can help promote a new product, direct shoppers to an attractive deal, and build a cohesive aesthetic that makes your brand recognizable to your target audience.
Use the following as a guide for building a visually strong brand presence on social media.
Develop a brand guide
Your first step to mastering visual branding starts before you create or post anything: develop a brand guide. Often referred to as a style guide or brand bible, this is a simple set of guidelines that ensure everything you design, create, and promote is cohesive. According to Venngage, the essential components of your brand guide are:
Logo: including your primary logo and any iterations like favicons, a logo creates a recognizable brand signature
Core color palette: the main colors used in your logo and any marketing materials
Font: pick one font family, and use different sizes or weights for variety — you can choose more than one, just make sure they're complementary.
Don't forget to make note of brand voice and tone. Are you sassy and sarcastic or serious and educational? Use this as a guide for how your social media captions will sound and what words you'll use.
Friends and family might be telling you that you can't. 🙊 Keap tells you that you CAN. 💯 See how Keap turns your can't into can and help your small business grow.⬆️ Demo below! https://t.co/1cwc2RPcCh pic.twitter.com/XAGvX7umdB

— Keap (@KeapGrowing) September 16, 2019
Make the most of your profile
Your profile is often the first place a potential follower lands, so make sure that it not only represents your brand, but is updated and easy to navigate. Typically, businesses use their logo for their profile picture, so your account is instantly recognizable. Refer to Sprout Social's guide for image sizing to make sure yours isn't pixelated and fits well within the space on each network.
Many platforms (Facebook, Twitter, LinkedIn, and Pinterest) also allow you to upload a cover image. These are larger images that provide you with another valuable opportunity to tell your brand story. In their visual social media branding guide, design experts at MyCreativeShop explain: "Your cover photo presents an opportunity to do something a little different."
They outline five ideas to do exactly that, allowing you to maximize this space:
Feature a product photo
Upload a branded video (when the platform allows)
Include a call-to-action
Ask an engaging question
Feature a customer testimonial to build credibility
Post high-quality content
To ensure your social media imagery is high-quality, prioritize creating and acquiring owned media, i.e. high-resolution product images or photos of people engaging with your products. If you're working with a small budget, start by DIYing images. Read this deep-dive article on budget-friendly photo tips to get started. Great images are better than none, so don't let budget stop you.
Small eCommerce businesses that don't have a large supply of owned images can incorporate stock photos. As a rule, however, be picky in choosing photos that closely tie to your visual brand — in coloring, look, and feel. For high-quality, trendy, and free images, check Hootsuite's list of stock photo resources.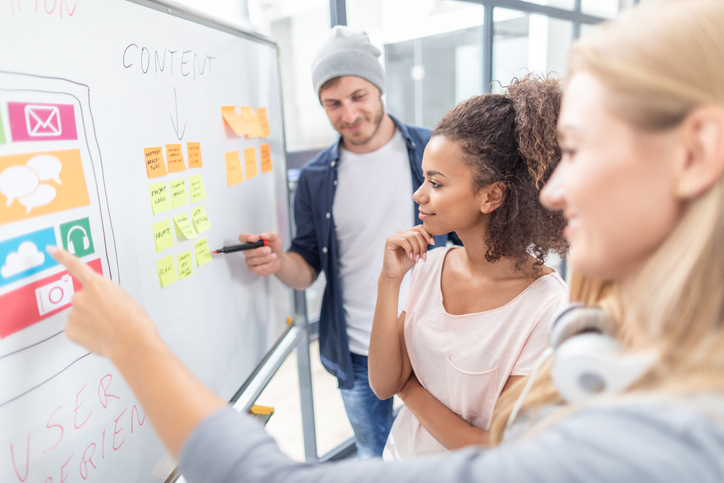 Embrace video
Video is a powerful tool for social media and eCommerce branding. If you need convincing, take a look at some of this data from Wyzowl's State of Video Marketing report:
79% of consumers would rather watch a video to learn about a product, than read text on a page.
84% of consumers have been convinced to make a purchase after watching a brand's video.
91% of consumers have watched an explainer video to learn about a product or service.
What's more, video allows you to share dynamic content that's still on brand. To start, focus on videos of your product in use or explainer tutorials for customers. Of consumers that choose to still shop at brick and mortar stores, 62 percent say it's because they want to touch, feel, or try out items, according to RetailDive. As an eCommerce seller, video helps you overcome that hurdle and reach those customers who want to experience a product.
To make sure your video is visually cohesive on your feed, select the best thumbnail (the image that shows when the video isn't playing). Follow this guide with instructions on how to do that for Facebook and Instagram.
Drive brand awareness for your eCommerce business on social media
Social media provides a space for you to post engaging, personalized, and valuable content that drives brand awareness and allows you to develop a personal connection with your audience. If you're feeling uninspired, look to some big brands with impressive social media presence. While you might not have their budget, you can glean insights, combined with the above tactics, to create a cohesive visual brand for your eCommerce company.