Email marketing is what drives an online business's success. It's the most effective way to boost conversions.
However, building a list of email subscribers is challenging. Even when you're doing everything right it's possible for your opt-in rates to stagnate after a while.
It's really important to keep working on getting more email subscribers on your website. To accomplish this, you can use a great conversion tactic that has a proven track record: gamification.
As you can guess by the name, marketing gamification creates a gaming experience in digital marketing tools. It makes people more engaged as it satisfies a basic human need for rewards.
You can gamify marketing to reward people when they sign up with you. Once they've signed up, you'll have a list of email subscribers that you can work with to turn into customers.
Why does gamification work?
Gamification creates positive emotions such as excitement and happiness. It creates anticipation since it often offers a reward when the user performs an activity.
Your audience members are probably clicking the close button on the 100th pop-up form of the day. They are wary of getting unwanted marketing emails in their inbox. This makes them reluctant to share their email with you.
Gamification can change their perspective on the value and usefulness of submitting their email. With gamification, you create excitement and also reward users for signing up with you. This will raise your opt-in rates several times over and increase your email subscriber base.
Gamification also helps you understand your audience's behavior and preferences. You'll be able to create better marketing strategies and drive up conversions even further.
How to gamify your website to get more subscribers
There are different ways that you can get users to engage with your website that creates a game-like experience. Some very popular and effective ways to add gamification to your website include:
Discount wheel pop-ups

Contests

Tests and quizzes
Discount wheel pop-ups
Pop-ups work very effectively when it comes to creating website conversions. Most websites need to have a pop-up form feature to capture visitors' information before they leave.
You can use gamification to make pop-ups create an even higher conversion rate. The way to gamify a pop-up form is to use a discount wheel pop-up.
A discount wheel pop-up is reminiscent of game shows where a contestant spins a wheel to win a prize. It's a very engaging game that creates a lot of anticipation. And now, you can add that experience to your website! It makes users feel positive that there's a high chance of winning something great.
This makes them more willing to play with a discount wheel pop-up and to enter their email. You can choose to offer discounts, coupons or a free gift on every slice of the wheel. You can even have a slice that reads "Better luck next time."
What's great is that your visitor isn't just a passive recipient, they will feel like they earned the reward and they will value it more. Using a discount wheel pop-up will multiply your subscribers list very quickly. This is especially helpful if you're going to create an ecommerce store. Users will be incentivized to use the discount they've won to buy something.
The easiest way to set up a discount wheel pop-up is by using a comprehensive opt-in form tool like OptinMonster. You can create attractive discount wheel pop-ups easily with a drag-and-drop builder.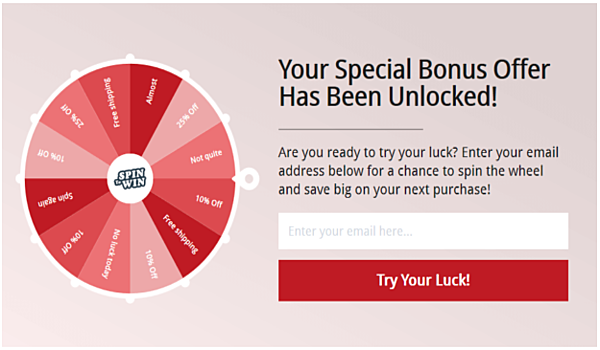 There are many other advantages. You can use different types of opt-in forms for different campaigns. You can also create exit-intent pop-ups to capture emails before your visitor leaves.
Contests
People will always pay attention to a contest. It's something that immediately generates attention and gets people to engage with your business.
You can create a fun contest that is relevant to your business and your audience to get more email subscribers. Contests give people a way to get something of value with nothing to lose. You've created a way to connect with people who otherwise might not have noticed your brand.
You can use contests to automatically increase your email lists. This works by creating contests that require users to sign up to participate. This is an effective way to create an email base you can use for your email marketing campaign.
How do you make a contest?
You may be worried that setting up a contest requires programming knowledge and that creating it is very complicated. Thankfully, with so many tools available, you can make an awesome contest on your own. RafflePress is 1 of the more helpful Wordpress plugins for creating a contest.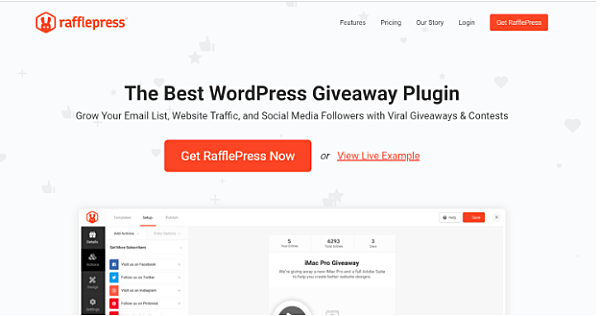 It's the best option available for a WordPress site and there's no coding needed. You can create a contest page with an amazing background and content. You can add a video, your branding information, and feature the prize. Need ideas for prizes? Check out these great contest prize ideas.
What's really important is the actions a user has to take to participate. You can automatically get an email list by having users sign up with their emails. You can also increase your social media followers with other actions.
Using a contest creates value in your audience's eyes. People will be willing to give you their email because they get a chance to win something. They are also willing to share contest details with friends on social media. This can help you get more brand awareness with little effort.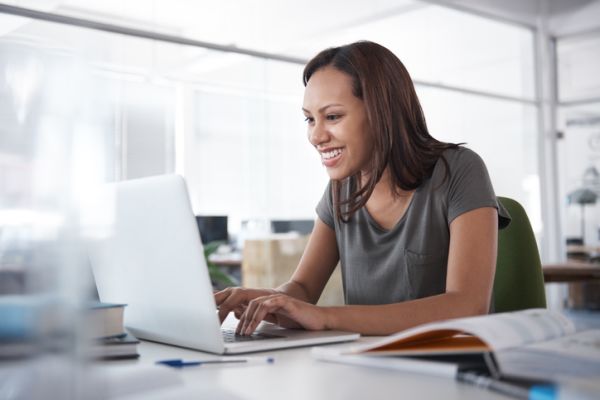 It's also a creative way to promote a launch if you've created a new blog or a new product. Contests and social media are a powerful mix for going viral and getting attention.
Tests and quizzes
People like to learn more about themselves. They also like being challenged and engaged. Using tests and quizzes on your website allows users to interact with your content and website.
Making quizzes can be easy if you're using a WordPress plug-in with quiz making features. You can use a tool like Formidable Forms. It makes it easy to drag and drop elements to create a quiz or a test.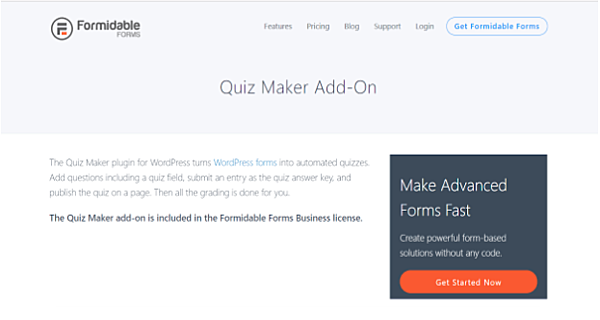 You can also get visitors to your site by setting up an intriguing personality test. Try challenging them to find out if they can pass your quiz. These are highly interactive tools that leverage the principle of gamification.
Users get a 'reward' that creates a positive feeling. This can be the result of the personality test that gives them information and insight. It can also be the satisfaction that comes from getting a high score on a quiz. Tests and quizzes increase conversions on your site through better engagement.
These are also great tools to help users learn and engage if you have a membership site like an online course. Using tests will keep your members interested and active on your site.
By adding a test to your website you can ask users to submit their email to get the results sent to their inbox. This gives users a compelling reason to enter their email. They will receive information that helps them and you get to build your subscriber base.
Getting more email subscribers can be fun and games
The most powerful way to create conversions is to use email marketing. But you can't launch an email marketing campaign without building an email list.
Gamification captures your audience's interest and gets them to opt-in. It creates real value for you and your customers. It helps you create an email list and it gives users a reward like a discount or a coupon. This makes it more likely that your visitors will make a purchase from your site.
You can do a lot more with gamification, which makes it a great part of your marketing strategy. You can not only build up the number of email subscribers you have, you can also make your brand become memorable. Using gamification can help you stay ahead of the game and grow your business.
About the author
Syed Balkhi is the founder of WPBeginner, the largest free WordPress resource site. With more than 10 years of experience, he's the leading WordPress expert in the industry. You can learn more about Syed and his portfolio of companies by following him on his social media networks.