Hiring remote workers is a growing trend that many companies and small businesses are taking advantage of.
In fact, research shows that remote work opportunities have grown by 44% since 2014. Additional stats show that 34% of U.S. workers would accept a pay cut of 5% for the chance to work remotely, as well as remote workers earning salaries greater than $100,000 a year which occurs 2X more likely than workers on-site. For workers and companies alike, the benefits of remote work are highly appealing. The only drawback is finding remote workers who are reliable and skilled enough for a particular job.
Thankfully, with the right insight beforehand, you can hire top talent to help grow your business. If you're interested in pursuing employees in the remote field, here's a complete guide to hiring remote workers that you can use to make your decision:
Marketing your remote position
The main goal is to attract employees in the same fashion as a traditional one while creating flexibility, community, and value.
A great way to initiate the remote hiring process is to market your remote position with several assets:
Employee Value Proposition (EVP)
An EVP showcases your company's mission and value that existing and potential employees can use to weigh against other job opportunities.
Think of it as an addition to your larger branding strategy, where you take the time to compile insights into their roles and responsibilities, your company's purpose, and culture.
When appealing to remote workers, specifically, it's important to stress a sense of camaraderie with a hands-off approach that makes them feel comfortable at a distance. Here's an example of an EVP that caters to remote workers: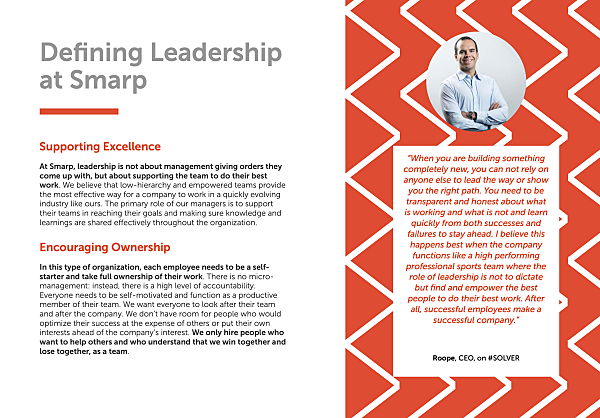 In addition, offering remote workers competitive salaries and benefits is incredibly important to attracting and retaining top talent. Here are three benefits you should consider:
Competitive salaries: Offering top remote talent what you would normally pay an in-house employee may not be enough based on where they're located. It's a good idea to use a resource like a Glassdoor to estimate what someone with their position in their location would normally be paid.

Health benefits: The benefits package you offer top talent can make or break your ability to hire them. With health and prescription drug costs skyrocketing, it's important for businesses and employees to get the coverage they need. Consider using a pharmacy benefit manager to create cost-effective benefit solutions.

Performance incentives: Many employers have been slow to accept the remote employee model due to a lack of control or oversight. One way to curb the fear of remote employees slacking off while also offering those employees an attractive benefit is performance incentives. These can include things like quarterly bonuses and extra paid time offer for exceeding certain performance metrics.
Write a compelling job description
With a strong EVP in place, your next step is to write a compelling job description that not only lists the job's responsibilities, but also persuades readers as to why your company is an awesome place to work.
Of course, go through the necessary requirements of what the remote job entails, what's expected from the employee, what credentials they need to have, and then transition to other selling points. For instance, reiterate the benefits of your company culture, how flexible the hours are, and how your team appreciates workers who are self-sufficient, but also great at collaboration.
Treat every facet of your remote employee marketing strategy as a way to engage and entice potential candidates. Also, don't forget to share how your managerial approach benefits a remote worker's lifestyle. To finish off your job description, add a sentence or two about how successful other remote employees are within your company, and what platforms or tools you use to keep everyone connected.
Post your remote position on various job boards
With your EVP and job description established, you can start posting your remote position on various job boards to attract the greatest number of candidates.
Nowadays, tons of websites grant you the opportunity to extend your job offers to wide talent pools where candidates can submit their resume with a single click. Not to mention, each platform also allows you to set filters for your job offer to only be visible to candidates who are searching for remote opportunities.
Below are a few job search websites that are easy to use and offer quality remote candidates that you can explore:
ZipRecruiter
ZipRecruiter has a simple interface and allows for a wide range of talent due to its "One-click" submission process.
Indeed
Indeed is a major job recruitment platform that allows you to set search parameters to appeal to the right talent base.
LinkedIn
LinkedIn is an all-encompassing social platform that specializes in job recruitment and professional networking. It's a great place for sharing remote positions and inquiring about potential candidates with other industry pros.
How to follow-up with remote candidates and make a decision
After running your remote candidate search for a few weeks (or however long you need to), it's time to follow-up with your selections and make a hiring decision.
To start, it's best to go through their resume and work samples to see what their history with remote work has been. Have they been working remotely for several years? Do their work samples show a pattern of consistency and thorough execution? Are they able to outline or detail the scope of projects and campaigns to prove their long-term involvement and communication skills?
If the answer to these questions is a resounding "Yes," then it's time to schedule an interview with them to learn more about who they are and how they feel about the job opportunity.
Use a combination of video and phone calls for interviews
Right away, you want to test their communication skills with a combination of video and phone calls for the interview process.
This gives you the opportunity to see how well the remote candidate handles various types of communication tools, since more than likely, your biggest modes of correspondence will take place on either channel. Then, during these rounds of interviews (however many you need), give your remote candidate scenarios that could occur with the job and ask how they would handle the workload or problem. You can also ask them to describe any past situations in which their remote position helped find a solution, or perhaps how working remotely created challenges.
Once you get a strong sense of how they operate and how savvy they are with certain remote tools, you can continue with a sample project to test their workflow and end results. This may take the form of:
A written article
A design project
An online quiz or test
A document to proofread
Whatever the challenge, be sure to set a hard deadline for them to meet, and see how well they execute the assignment. After all, deadlines will be your biggest marker for gauging the success of a remote worker since you can't check in with an employee directly or have constant oversight.
Do you know someone who runs a small business? Let us know who and you can earn cash💲 for every successful referral. 💯 https://t.co/H4BOwXLpPu

— Keap (@KeapGrowing) May 15, 2020
Hiring your new remote employee
Finally, you've narrowed your search to one candidate and you're ready to bring him or her on board. There are a few areas that can be stumbling blocks if not handled correctly:
Onboarding new employees
A primary goal of the onboarding process for new employees is to help them acclimate to the social and professional expectations of the work setting. Since remote teams don't have as many social interactions as others would in a traditional office space, there are other ways to help them acclimate to this new work setting.
Once your remote candidate accepts the offer and gets to work, there are several things you can do to monitor their progress and ensure success:
Be clear about your needs and expectations
Have weekly check-ins or team meetings (remote workers can call in)
Have remote workers file monthly or quarterly progress reports
Use team communication platforms like Slack or Wrike to build team camaraderie
Assign your remote worker a partner on your team to keep each other accountable
Ask your remote worker for feedback or suggestions on what can be improved
Make new workers feel welcome by introducing them to other team members and guiding them as to where they should turn when in need of assistance
Allow for face-to-face connections so that new employees know and understand who they're working with to create personal bonds
Ultimately, hiring remote workers can be an adjustment, but the success that comes from happy employees and flexible schedules is far greater than the underlying risk. If you're considering hiring remote workers, use the insights above to make the process as simple as possible.
In addition, if you want to test the reliability of a remote worker before hiring them full-time, you can always set up a contract period to gauge their abilities first, then make things official once you have a clearer idea.
Security protocols for remote workers
Remote workers may cause unique security challenges due to the variety of their locations, but this is something that can be monitored and kept under control with the right security measures. Tips for improving security with your remote employees include:
Monitor your remote employees' company-issued devices: This can not only protect from viruses but can also boost productivity by ensuring that employees are only using approved devices and secure browsers for work-related matters.
Implement company-wide security protocols: IT departments need to provide security protocols for when employees access backend systems and servers. Many hosting companies, like InterServer, provide encrypted access points and will definitely satisfy all of your security requirements. HR can work with IT to implement strong security protocols across your company, including workshops, training, and meetings with employees on the importance of keeping sensitive information private. It's a vastly important step in keeping them abreast of the importance of security protocols.
Use a VPN: A virtual private network can safeguard the information remote employees send and receive online while protecting their online connection from unauthorized intruders, no matter their location.
Customer facing brand guidelines
Finally, if your remote team manages sales or support with outside customers, it's vital to maintain a consistent brand identity. Creating a cohesive brand across all customer touchpoints project professionalism, establishes authenticity, and builds trust.
With multiple people working to help solve customer complaints or close deals, it can be easy for conversations, marketing materials, or even procedures to vary. A lack of consistency and adherence to brand guidelines can eventually lead to a negative impact on the business, as customers don't know what to expect.
To prevent varying customer experiences, the company should provide specific customer-facing brand guidelines. This can include everything from the company mission, logos, and fonts, to specific sales scripts and templated emails. With remote customer-facing teams it becomes incredibly important to track customer satisfaction and how well representatives are adhering to brand guidelines.
Conclusion
Remote workers are really not that dissimilar from their office-working counterparts. They need to be hardworking, reliable, creative, and able to solve problems. There should be a strong work culture promoting respect and productivity with incentives for them to do well in the company and prosper in their positions. There's a chance to build a work culture that celebrates the distances and differences between employees, making the oceans and miles between them something to celebrate and build stronger bonds with.