More and more small businesses are embracing the potential of a virtual team – where some or all team members live and work remotely.
Virtual teams are an especially big draw for small businesses, as they both reduce the overhead costs associated with a traditional office and create a much larger pool of potential applicants. Additionally, remote working allows small businesses to offer the flexibility that many big firms may not.
Virtual teams can take many forms. Your team may live in the same geographic area yet work from home all or part of the time. In some cases there is no centralized office at all, with remote employees working, living and traveling around the globe while still carrying out their role.
Moving away from a traditional workplace model also means that traditional management advice and operational procedures may not apply. Managing virtual teams requires a specific set of tools, best practices and a laser focus on strong communication.
Communication tools
Slack brings your virtual team's communication together and creates a shared workplace. The platform integrates with thousands of apps like WebEx and Google Drive and syncs across devices so your virtual team can effectively communicate, collaborate, and productively work together.
Billed as a virtual water cooler, Hipchat works to seriously eliminate a number of email messages that can threaten to bury a remote team. With file sharing, video chatting, screen sharing and easy @mentions. Like Slack, Hipchat also syncs across devices so your office travels with you.
Project management tools
When projects require the participation of several remote employees working in different areas, project management software becomes imperative to successful completion.
Basecamp helps your remote team come together to focus on one thing – getting a project completed with streamlined project communication, collaboration, task management and reporting.
Check out this post to see four more powerful project management tools.
Productivity and motivation tools
When you don't get to see your remote employees throughout the day, it is important to counter the inherent lack of visibility by staying aware of activities and accomplishments.
With this tool, each remote team member closes their day with a simple email of that day's accomplishments and begins their morning with a digest of the entire team's previous day. Celebrate, request additional information or even view team accomplishments by week, month or year.
Also check out these 13 other productivity tools.
Document collaboration and file sharing
When you're working with a virtual team, you can't just walk to the next desk or down the hallway to share an important folder or collaborate on documents face to face—your team needs a solution to make this happen easily from just about anywhere.
Easily sync and share documents across multiple devices and team members. Dropbox helps teams quickly and easily transfer and share important files and reduces unwanted email.
Many virtual teams rely on Google docs, but Draft adds some important improvements that can make document collaboration much more powerful. Additions and changes are clearly noted, feedback is available from professional copywriters, and version changes are easily trackable. Documents can easily be imported from Google Drive, Dropbox, Evernote, or Box.
Now that you've got the tools down, let's move on to some best practices you can start using right away to manage a virtual team.
Virtual team management best practices
Remote employees are used to working solo. For many online businesses, however, projects require collaborative efforts. Building team unity can be challenging while managing virtual You lose the "water cooler" effect of a regular office setting where employees run into each other and talk. These kinds of interactions seem minor, but they actually play a big part in your team's success.
Here are a few great ways to help you create successful remote employees with some virtual team management tools.
Create a virtual watercooler
In an office, employees sit down at their desk, say hello to each other, and chat on and off throughout the day about both business and personal matters. In a remote setting, it's important to establish a similar way to connect with each other.
At Infusionsoft by Keap, our remote team stays engaged with onsite employees by using Slack as our virtual watercooler, one of the best virtual team collaboration tools out there. Team members can post both business and casual matters organized by channels. When setting up your Slack channel, make sure to balance the business conversations with fun too. For our team, we have channels such as "random" and "dreams."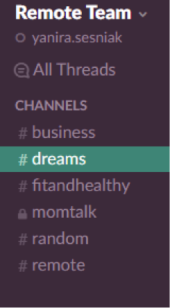 The Random channel is just that! We wish each other happy birthday here, ask what plans are for the weekend, etc. And the Dreams channel is all about sharing our goals and dreams with each other. Since one of Infusionsoft by Keap's core values is "We dream big" we like to support each other in pursuing our dreams. This allows employees a chance to catch up and connect; plus, it's a great alternative to filling up the inbox with questions that could be addressed interactively instead.
If you're using Slack or considering it, you can get started with a channel that's relevant to your remote employees. For example, if your team is passionate about fitness, start a channel where remote employees can share recipes and workout tips. In the article "How to Build Culture in a Remote Team," co-founder and CEO of Zapier Wade Foster shares some easy and fun ways to create a collaborative environment and keep his team connected and engaged in their role.
Establish core team hours and expectations
In the article, "5 Lessons on Collaboration from 5 Ultra-successful Remote Startup teams [Infographic]," Irina Nica highlights five remote teams and their keys to remote success. One key indicator of success is to "make transparency one of your core values" and to create ways of communicating important information on projects, statues, and so on.
Some of the other tips Irina mentions in her article:
Establish core hours: As you onboard new members to your virtual team, make sure you have clearly communicated when your team will meet virtually each week. Although each team member might have different hours, it's important to establish core team hours so your virtual team can engage and support each other. For example, Irina's team has remote employees who work 6 a.m. to 3 p.m. and others who work 8 a.m. to 5 p.m. Their core team hours then are 8 a.m. to 3 p.m.
Create a master schedule: Make sure to communicate a master schedule in a Google Doc so everyone is clear when team members are online versus unavailable. Irina also schedules team meetings and huddles only during these core team hours.
Keep your master schedule up to date: During quarterly reviews, ask remote employees if they'd like to continue their current core hours or switch things up going into the next quarter and update the master schedule accordingly. It's critical that you set expectations that core hours are a time to connect and converse.
Check-in and stay engaged: If a remote employee isn't active during the core hours, she calls them to check in and see how things are going and asks them to jump online and engage with the team.
Hire the right people
Working independently and accountability are key elements to working remotely. During your hiring process, make sure you understand your candidate's communication and organizational skills. How do they feel about communicating with others with video conferencing and instant messaging? Make sure to determine their comfort level with virtual team communication. It's also important to uncover whether they take a proactive approach to problem-solving. You will need remote employees who are willing to speak up when they need assistance. And without a manager looking over their shoulder, you need an employee you can rely on to get the job done. Determine if your candidates are on top of deadlines and have a history of completing projects on time.
Once hired, take the time to ask questions and learn about each of your remote employees personally. This sets the stage for a successful virtual relationship. By creating this personal relationship, it's easier to believe in the person working for you remotely.
More and more, the work landscape will continue to trend towards remote work. By hiring the right people and building trust with remote employees, business owners like yourself can have confidence that remote employees will be just as productive and valuable as in-office employees.
Create connections with team builders for remote employees
Managing virtual employees can involve great team building activities that help your virtual team develop trust. Use team building activities for remote employees to increase employee engagement and establish a company culture. Try these team builders with your remote employees.
Social networking: Remote employees can interact with professional social media websites and hangout apps. Team members can share articles, information, and insights while building connections and learning about each other.
Personal updates: Being a remote worker can be isolating. Employees need to know that you care about them and they are part of a team. Make an effort to get personal updates from all your remote employees. Before each meeting, find out what's going on in each employee's life. For example, ask if they're doing anything fun over the weekend. Be a leader that creates teamwork, even if your employees operate in a virtual workspace. Personal conversations can be great icebreakers for remote teams. Before each meeting, find out what's going on in each employee's life.
Virtual coffee breaks: Set a time for your remote employees to bond outside of their work roles. Take a break from work to connect through chat, phone, video conference, or another communication channel. You might even send coffee gift cards to remote employees ahead of time as a company funded event.
Collaborative calendars: Managing schedules can be tough for employees who work from different locations. Use a cloud sharing calendar that allows all team members to note events and tasks. Designate calendars for different types of events and color code each category. If you offer flexible work schedules or paid time off, have a place where employees can mark their work schedules. That way, employees know when it's OK to contact their team members.
Group learning opportunities: Learning opportunities are a way for your virtual team to talk about deeper professional issues, rather than daily tasks. Your remote employees might participate in online classes, discussions, webinars, or virtual conferences. After each event, connect with your team and discuss what each member took away.
Recognize employees for their work
To keep remote team members engaged, reward your employees for a job well done. Have employees set goals and earn points as they reach milestones. For example, you might reward your team for completing a certain number of projects, making a sales goal, completing training courses, or attending events.
Employee recognition can help remote employees feel less isolated and more motivated. Once a team member meets a goal, you might offer incentive pay, merchandise, or another perk.
Create a team charter
Keep your remote employees on the same page with a team charter. A team charter is a document that defines the direction, goals, and boundaries of the team. It helps focus the team and onboard new employees.
The team charter should include the purpose of the team. What is the team working towards, and how does each team member's role fit into the big picture? The document should include how employees will execute tasks, reach desired results, and measure success.