Abraham Maslow introduced his Hierarchy of Needs theory in 1943, which is an examination of what motivates individuals. According to Maslow, people must achieve basic survival needs before reaching one's full potential.
Maslow's theory can easily be applied to workplace mentality that runs the gamut of employees just showing up for work, all the way to performing at a very high level, and enjoying what they do.
Maslow's human psychological needs are depicted in the pyramid below: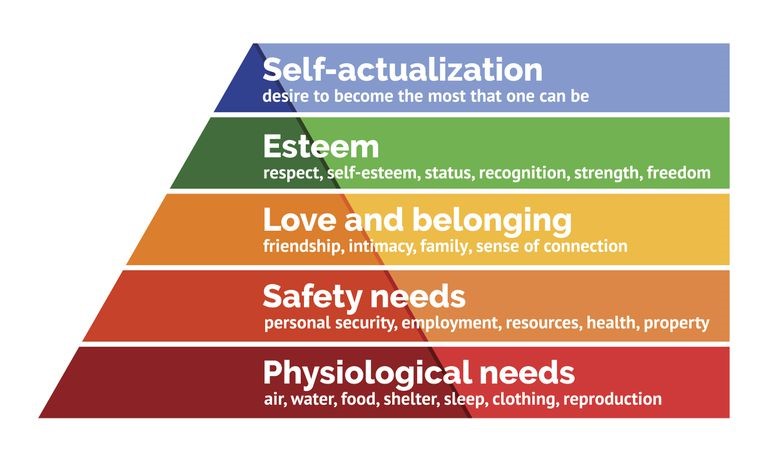 Source: Simply Psychology
1. Physiological—air, food, shelter, sleep, etc.
2. Safety—security, order, law, stability, etc.
3. Belonging/Social—family, affection, friends, relationships, etc.
4. Esteem—achievement, recognition, independence, responsibility, reputation, respect, etc.
5. Self-Actualization—realizing potential, self-fulfillment, seeking growth, peak experiences, etc.
The Maslow hierarchy of needs leadership style can be used in the context of increasing employee engagement. This also involves facilitating leadership development by extrapolating the high-level essentials that constitute employee needs.
The graphic below demonstrates how Maslow's five tiers can be applied to the five mindsets of individual employees in the context of leadership and employee engagement.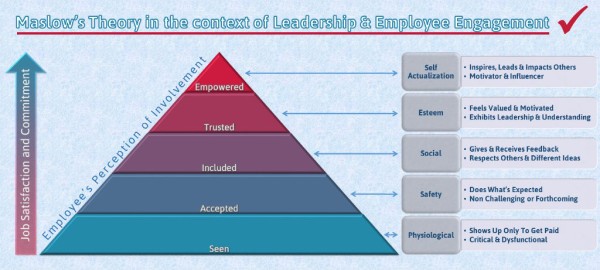 Physiological → Seen
Employees who do the bare minimum and are highly disengaged tend to be more dissatisfied, as they don't feel as if they're a part of anything, have minimal commitment to their teams, and usually only show up to collect a paycheck–the basic incentive of any job. Employees who don't feel an emotional connection tend to take more days off, don't engage with or respect their boss, tend to gossip and spread toxicity among coworkers, bringing down morale. These individuals will likely jump at the chance of a new job should the opportunity present itself. In extreme cases, these people may purposely hurt the business by stealing or discouraging others from applying for a position at that organization.
Managers who recognize these characteristics in a detached employee can remedy their situation by spending 1:1 time with them to identify their pain points and why the company or the position doesn't seem like a good fit for them.
It could be as simple as the employee is afraid to speak up with the anticipation that their ideas would get rejected, or they haven't had the proper training. It's up to the manager from this point to ensure the employee's contributions are valued and that their needs in knowing how to do their job are met. If these things don't improve, then it would be time to move on with a replacement.
Safety → Accepted
An employee who feels accepted is apt to build stronger working relationships with their boss and coworkers with the intention of getting the job done, and nothing else. There would be no social interaction of any kind, just the collaboration it would take to meet a goal. There's still an underlying fear to come forward and suggest ideas with the risk of feeling their input will not matter or (even worse) be ridiculed.
To assist employees in this situation, managers must gauge and help them improve their degrees of openness, motivation and feedback at the individual and team levels.
Social → Included
In an effort to encourage a culture of proactive feedback, employees should be able to present others their differing opinions, traits, and skills in a comfortable and accepting environment. This is not just applicable between the boss and the employee but throughout the team.
Once employees start to feel included, the entire team starts working well together, applying different ideas toward outcomes and solutions that deliver projects successfully, improve sales quotas, elevate customer service levels, and help individual employees feel a sense of achievement.
Esteem → Trusted
Once an employee begins to feel trusted, they become more valuable to leadership and their peers. Business owners can garner a culture of openness among the team members and management where a mutual understanding will be developed in what motivates each individual employee, i.e., some work better in groups whereas some prefer to work alone. This is also important in knowing how some employees like to receive praise; some may not mind public recognition while others may prefer to receive positive feedback in private.
An employee who feels trusted also exhibits high levels of belief in themselves, team members, and management that will help drive motivation yielding increased performance. These individuals in turn will start demonstrating leadership traits and embrace more serious roles in the company, as they inspire those around them to do their highest quality of work for the brand.
Self-actualization → Empowered
Finally, we've reached the level of empowerment. These employees want to feel emboldened to be independent and have their actions influence and inspire others in the company. These individuals are proactive and pursue opportunities to better themselves and encourage those around them to perform at their highest levels.
Whether these individuals land a leadership position or not, they're considered natural-born leaders by their superiors and are highly trusted as self-starters who will put forth their best efforts for the good of the organization.
These people are also motivated by the power to influence others and are aware of how their impact will affect team leaders, both positively and negatively. Just because someone is in a leadership position doesn't always make them popular; it's lonely at the top. Nevertheless, these people exhibit the confidence that being liked isn't what's important, their job is to inspire others to get the job done and put the company in a position that is always poised for growth.
The Maslow leadership theory can be applied to individuals, teams and organizations seeking to improve leadership and engagement in any company. Gauging employees' sense of belonging and how they interact with other team members is imperative to knowing where they belong on the spectrum.
The most beneficial principle the Maslow leadership theory provides to business owners and managers is helping them identify the strengths, weaknesses and requirements of their team members to help them become the most valuable assets they can be for the company.
Article research was contributed by Shea Heaver, Founder and CEO of OptimaWork (via his Business2Community article) and was legally licensed through the NewsCred publisher network.