There are two types of businesses when it comes to customer service: Those that completely buy into the thought process that great customer experience turns into exponentially more business. and those that treat customer service as an afterthought. The latter cares only about the bottom line regardless of how customers feel about their business. The former feels that giving customers a memorable experience leads to a healthy bottom line.
A recent American Express customer service study concluded that 72 percent of U.S. consumers are willing to spend 16 percent more more to do business with companies that deliver excellent service. Couple that with the fact that it's anywhere from 5 to 25 times more expensive to acquire a new customer than it is to keep a current one, and it's plain to see just how lucrative it is for a business to make and keep happy customers.
Nowhere is this more important than in service businesses where how you treat your customers is your business.
1. Make subsequent interactions just as incredible as the first
If you've made a great first impression on a customer, terrific! But don't become complacent. Try to stay motivated, because every interaction needs to be equally amazing.
You can really impress your new and regular customers by adopting a policy of excellence. Such a policy will do more than just light a fire under your staff; it will compel you to be consistent. Customers respect and admire a business person who goes above and beyond the call of duty.
Of course, no business is without its faults, and there will be times when things don't go as planned. If this happens, show empathy when responding to your customers. You never know what types of issues your mistake has caused in their day. Apologize and take any necessary steps to correct the problem as quickly as possible.
Never take your customer for granted. Not only could a bad experience turn into the last time they choose to do business with you, it could also result in bad reviews online and in your community. Fortunately, if this does happen, tools like ReviewTracker allow you to identify and respond to customer reviews.
Here's a great example of how Samovar Tea Lounge responded to a bad review: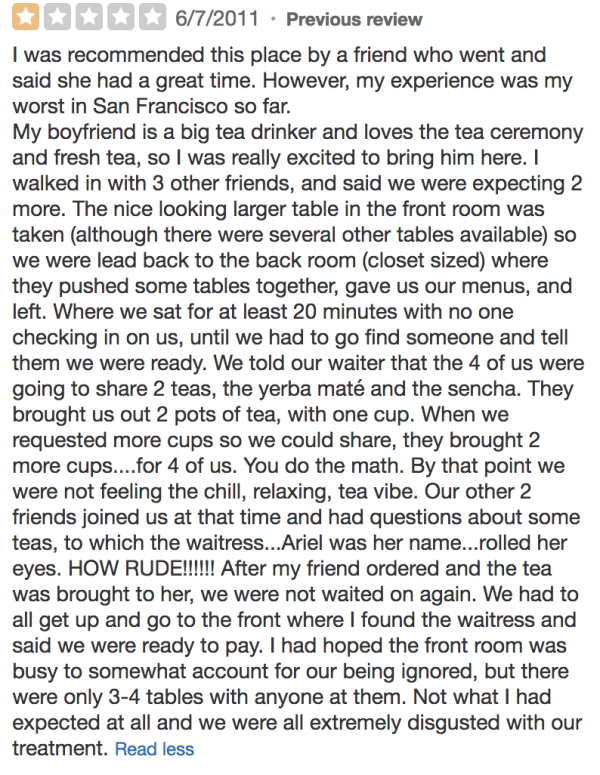 Jesse J. of Samovar's response: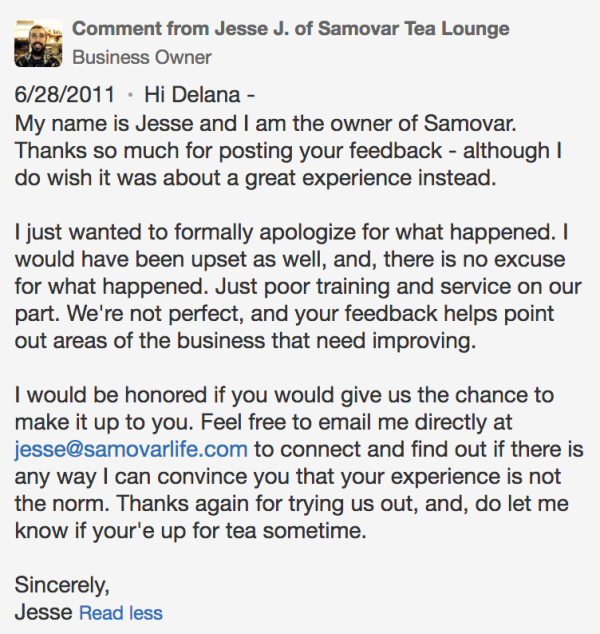 2. Find every possible solution
Your customers turn to you because they know or believe that your services will fulfill their wants and needs. There will be times when your product or solution isn't a good fit for their needs. Never try to force a fit where there isn't one. It will lead to an unhappy customer and lost future business opportunity.
Find another trusted product or solution provider who can help solve your customer's need. It may be a short term loss in business for you but in the long run that customer will trust your business when the time comes that they need your solution. This can also result in referral business from someone who trusts your recommendations.
3. Eliminate unnecessary delays and poor communication habits
No one enjoys going through a drawn-out process when it comes to making business plans. This is especially true when it comes to customers who have a hectic schedule. That's why it's in your best interest to stop using inefficient communication practices.
Email marketing is one area that a lot of businesses take a "throw it at the wall and see what sticks approach." This is far from the best way to communicate with customers who already have a cluttered inbox. Many tools designed for email automation can integrate with third party tools like Shopify and Salesforce to personalize marketing communications for each individual customer.
For example, Home Painters Toronto owner, Brian Young, wanted to email a special offer to every customer at the beginning of the summer who had not purchased from him in two-plus years. Using Keap, he was able to create an email bucket using purchase data from the an integration with Salesforce. He was then able to email those individuals with a personalized discount offer.
This leads to customers only seeing content and offers that interest them, rather than blanket messages that may have no interest to them.
4. Give your customers a seamless experience
Your customers turn to you because they know or believe that your services will fulfill their wants and needs. Beyond that, customers want a hassle-free experience when doing business with you. This may seem like a simple request, but it can be much harder for service businesses to execute on.
For example, let's say you're an HVAC service company who has ten service technicians in the field on any given day. Getting technicians from job to job can be incredibly difficult, since some jobs can take longer than others, and traffic and commute times also have to be taken into consideration. Having a HVAC dispatch tool like ServiceTitan allows dispatchers to reroute technicians between jobs, and text customers notifying them of any delay or change in technicians, which makes for a seamless customer experience.
5. Let Your personality shine through
Don't hold back the pizzazz you possess. Customers take delight in working with good-natured business managers who are fun to be around. More importantly, they want to be treated like the unique individuals they are, so be sure to take a personalized approach to your customer service.
Instead of sending out automated messages, pick up the phone to make calls so your valued customers can actually hear the passion in your voice. Also, get in the habit of addressing people by their names. Not only will you make them feel important, but you'll also wow them with your ability to be sociable and courteous.
Customer experience isn't just about generating more business. It's also about creating a community of people who love interacting with your business, naturally helps to generates more business. Find the way in which you can stand out from your competition and wow your customers at every interaction.
Megan Totka is the Chief Editor for ChamberofCommerce.com. As a small business expert, Megan specializes in reporting the latest business news, helpful tips and reliable resources, as well as providing small business advice. She has significant experience with the topic of small business marketing, and has spent several years exploring topics like copywriting, content marketing and social media.