Imagine you're shopping online and find a product or service you'd like to purchase, but need more detail and don't have time for a phone call (or heck, just don't want to talk on the phone).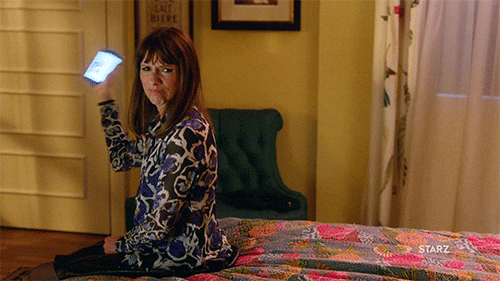 What's your reaction if you don't have the option to chat with a representative to get the information you need?
Are you frustrated, annoyed, or disappointed? Or maybe you're experiencing a bubbling cauldron of all the above. Now, consider that your customer may feel the same thing when they discover they can't interact with your business through a chat function.
According to Forrester, 53 percent of adults in the U.S. are likely to abandon an online purchase if they can't find answers to their questions quickly. Abandoned carts and low conversion rates may be impossible to avoid completely, but providing an incredible customer service experience can help alleviate some of the revenue havoc caused by these challenges.
Live chat for business is one way you can improve your customers' experience. If you own an online store, let this article guide you through improving your own customer experience and sales process.
What is live chat?
Online live chat for business is a type of messaging channel that enables customers to access real-time help while on your website. However, the live chat function on a website is more than just the ideal engagement channel for those interacting with a brand via a desktop computer. It also acts as the real-time salesperson on your virtual "sales floor," or help desk attendant for your customers and prospects.
According to Websitebuilder.org, sites with an integrated live chat function can expect to see a 48 percent increase in retention of online visitors. Additionally, the presence of an integrated chat influences 51 percent of consumers to purchase from a website. Even if never used, at least 29 percent of all visitors are more likely to purchase when the option of live chat is available.
How it helps your customers
Having a live chat function on your website makes interacting with your brand easier. The majority of customers know how to use live chat and prefer to use live chat versus send an email or pick up the phone to contact customer service.
Your website visitors have likely used live chat before. Some may even expect a live chat widget to pop up once they visit your homepage.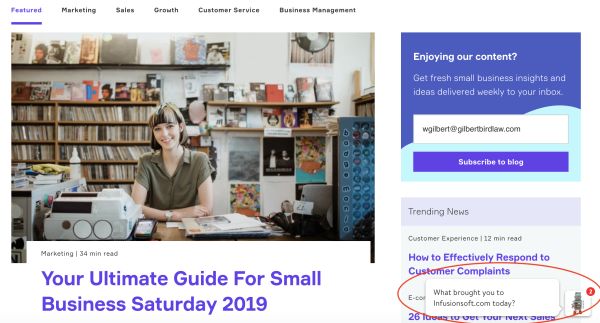 How it helps your company
While there are many live chat software options to choose from, the best provide a simple, easy-to-use, interface. You should also look for software that provides seamless conversations with your customers and provides analytics and insights about those conversations to help you improve your customer service.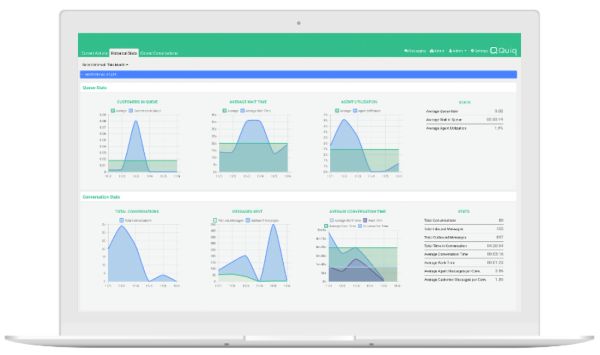 Image credit: Quiq Messaging
Live chat customer service software, like Quiq Messaging. can provide real-time metrics on important customer statistics, like how many customers are waiting for help and their average wait time. It can also highlight how many average messages are needed in every exchange to get to a resolution, or the average time it takes a customer service agent to handle a conversation. This kind of data can help highlight key areas that may need more attention from you within your customers' journeys.
Is live chat right for your ecommerce business?
Although incredibly helpful for most businesses with a customer service function on their website, live chat may not be right for every business or website.
Before you begin implementing a live chat software for your own business, it's important to understand if it will truly add value to your customers' experience. If you notice there are specific touch points throughout your customers' journey that tend to generate a lot of questions, or stalls their buying process, then you're a prime candidate for using a live chat feature on your website.
Here are three more reasons live chat may be a viable solution to improve your customer service:
Live chat is more cost-effective than phone and email
Most costs related to contact centers is from your customer service agent: their time, the level of support they provide your customers, and their wage. Of course, if you're one of the small business owners who also wears the hat of customer service agent, the main cost to you is time.
According to callcenterhelper.com, live chat can save businesses 17-30 percent more than standard phone-based customer service. Live chat makes it easier to handle more conversations simultaneously, thus reducing the financial time and cost per contact with your customers.
Live chat is viewed as a requirement for by some
According to research performed by Adam Toporek, an internationally-recognized customer service expert, 56 percent of study respondents age 18 to 34 prefer to use live chat over the phone. Millennials not only appreciate live chat, they expect it for any business's website they visit and intend to interact with.
Live chat can help you scale your customer service
If your business is growing, or you anticipate growth in the future, live chat can help you scale your customer service. Even if you don't see growth in your immediate future, there are likely certain times of the year that your customer service may see more volume. According to Quiq Messaging, many live chat agents can handle up to five or six customers at a time. Even if the demand in your customer service center spikes, you can still manage the volume with your existing staff.
Best practices for live chat implementation
Live chat can be used to delight your customers by providing the human interaction element most people want when finding a solution to their problem, without the hassle of having to call.
Most businesses that find success with live chat follow some very simple, easy implementation guidelines. Here are the top 5 recommendations to make your live chat work harder for your business.
1. Make it easy to find and use
The main purpose of implementing live chat is to make engaging with your brand easier for your customers and prospects. Here are a few design cues to follow:
Place your live chat widget on every webpage so your visitors never have to click around to find help.
Use your brand colors to make the experience seem as seamless as possible.
Gather information, like name and order number, with a short form prior to the start of a chat so the agent who accepts the conversation has some basic knowledge of who they are talking to and how they can help.
2. Use collaboration and transfer
It's unrealistic that you or your customer service agent can answer every question or address every issue without help. Sometimes, when an agent is on the phone and needs to look up information, or needs additional help, they might have to place a customer on hold. When an agent is on the phone and needs help, the customer usually has to be placed on hold.
This can be avoided on live chat.
Some live chat software offers collaboration and transfer functions. These can help agents get support and resolve inquiries faster. The collaboration function allows you or your agent to seamlessly invite a manager or another agent into a conversation with a customer or prospect. In fact, when done right, another agent can step in to answer a question without the customer knowing.
3. Use pre-built snippets
Every customer might be different, but you'll find many will ask some of the same questions frequently. To avoid the repetitive action of copying and pasting the answers over and over again, or to eliminate spelling and grammatical errors, or out-of-date information, consider using pre-built answers, or snippets.
These standardized answers should be customizable so you can create the exact phrase, response, or explanation you need for each customer. However, it's important you make these snippets accessible using easy to recall keyboard shortcuts, such as "/greeting," which could then generate a greeting of, "Hello! Thank you for contacting us," to every customer without having to type it out every time.
4. Decide if live chat should be reactive or proactive
Your live chat can be presented either as reactive or proactive. Reactive chat presents your live chat on your site as a dormant icon. Your customers will initiate a conversation when and they have a question.
Proactive chat will open a chat window and invite your customer into a conversation based on some predetermined criteria. For example, if the visitor is on the pricing page, or seems to be spending a considerable amount of time on any of your web pages, a proactive chat will take notice and proactively engage your website visitor.
How you present your live chat will depend on your site and traffic. If, for example, you're a service provider, and you've recognized moments in your customer journey where customers may have questions or may need more guidance, you may want to consider a proactive approach. Scheduling a consultation or reviewing a pricing page could be moments where you offer assistance through a live chat invitation.
Conversely, if you have an ecommerce site, you may want to use a reactive live chat feature to allow your visitors to initiate conversation only if they need or want it. Giving them the option to interact with the feature helps avoid interrupting their browsing or shopping, and helps eliminate any unnecessary delay in their check-out process.
5. Consider your mobile experience
Some live chat features can be a bit clumsy on mobile devices. While desktop users have the convenience of a monitor and keyboard, it can be harder to type a conversation out using a phone's keypad. Some businesses, like Keap, offer pre-made response options for website visitors to help with this.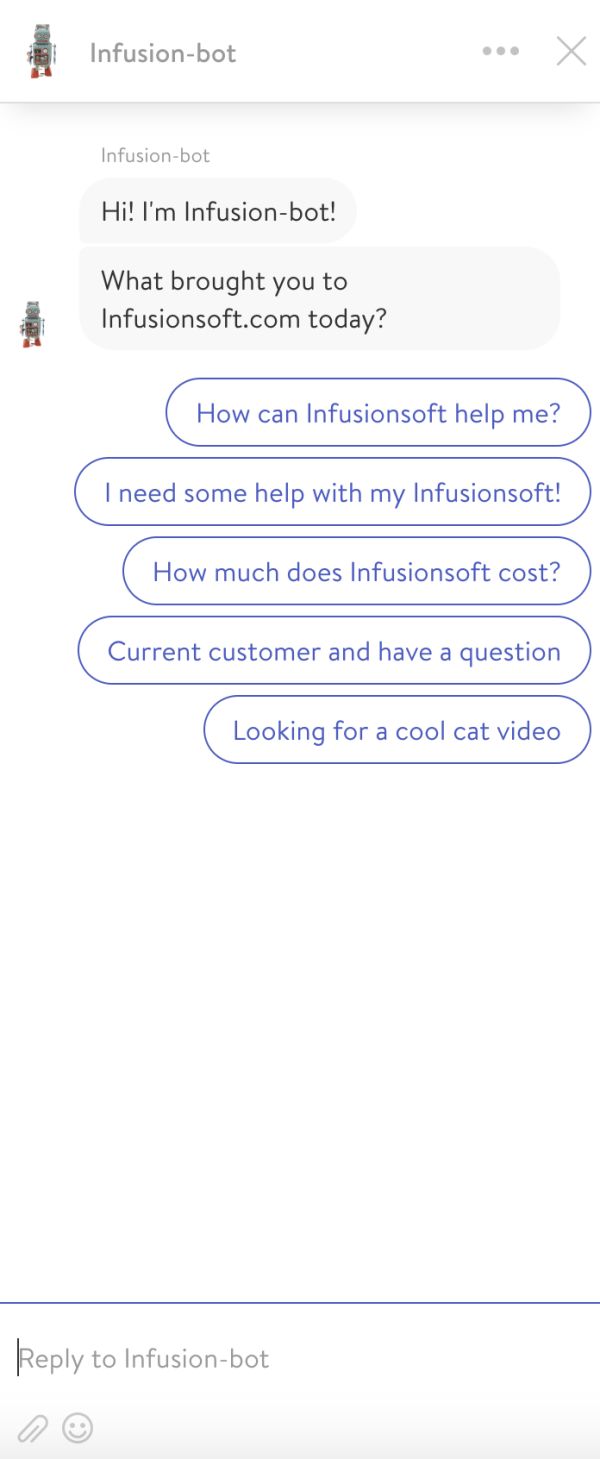 Another option to make your mobile experience better for customers and prospects is to offer a text message service for customer service.
In place of your traditional live chat icon, use a "text us" call-to-action.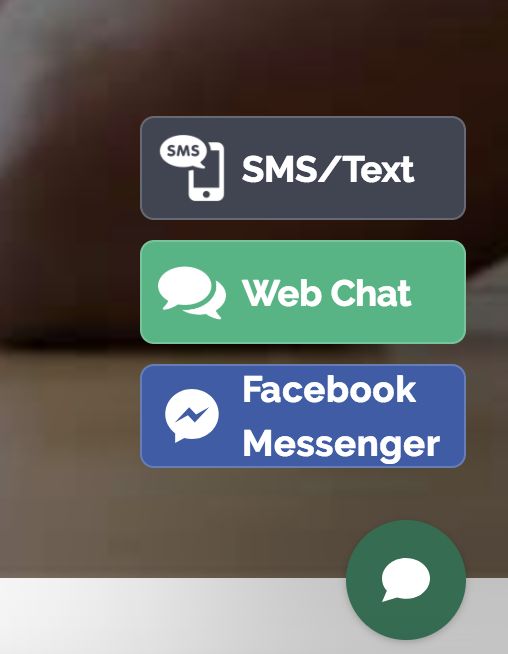 Be sure the touch target is easy to find and large enough to tap without too much hassle. The "text us" option should automatically open in their native texting app (like iMessage or Android Messages) and allow them to have a live conversation with you or an agent.
Unlike traditional live chat, which requires the visitor to stay present, the "text us" option allows the user to step away from the conversation and pick up when they are able.
Why wait to improve customer experience with live chat?
Live chat, like all of your customer touch points, needs to be measured and tracked. When choosing a live chat software, make sure it provides analytics and insights that make sense for whatever channel you use to deploy it. With the right metrics and tools, you can continuously improve your online customer experience.
The customer service you provide is unique to your company and is a true differentiator for your business. Since the majority of consumer purchases start and end online, it is important to prioritize your digital presence and how you can help your customers along the purchase funnel.
Marciela is the Sr. Content Marketing Manager at Quiq where she gets to use her love of writing to share how messaging is changing the face of customer service. When she's not writing, Marciela spends time with family, crafting, and looking at dog photos on Pinterest.