Have you ever launched a great product, but you didn't receive the expected value from the release of your project?
You know why? Just because no one knows about it.
Along with that, the software-as-a-service (SaaS) business model has grown since its inception in 2010. It's expected that the SaaS market will reach more than $60 billion by 2023.
Beyond that, SaaS marketing will increase too, and SaaS marketers need to experiment with new tools to make your company stand out.
"New strategies or technology can frighten you, and you don't want to try out tools that have a steep learning curve. In that case, your company is missing out on some great products that can make your business more successful," says Andrew Meier, founder of Rosenbaum & Rosenbaum, P.C.. "The only thing that matters is to create your marketing stack that suits your SaaS needs, not the latest trends."
Fortunately, there is a wide range of SaaS tools available on the market today. In this article, I will be focusing on those that will help your company attract new customers, offer quality customer service, and sell more.
Please, don't feel indebted to try every function of a tool. Just try out a tool when you think it can help you improve team efficiency or settle a problem.
Let's dive right in…
When you are selling your SaaS product, make sure that your website is well optimized for search engines to find online. SEO optimization is a vital first step in achieving your business goals. That's where SE Ranking comes into play. It offers a huge toolset encapsulating more than 30 tools on one platform for any business model and size.
SE Ranking is known for its 100% accurate rank tracker that embraces all major search engines, locations, and devices, including Google Maps and YouTube. It works great for business owners, enterprises, and digital agencies to manage all your SEO projects and see the bigger picture within one platform by using the same user-friendly interface that is not cluttered and very convenient.
The tool provides detailed information on your traffic and search visibility so you can make website changes on time and improve your SEO tactics if required. It's also a great place to conduct a complete website audit, reveal weak spots, and get actionable insights on each SEO issue that may appear.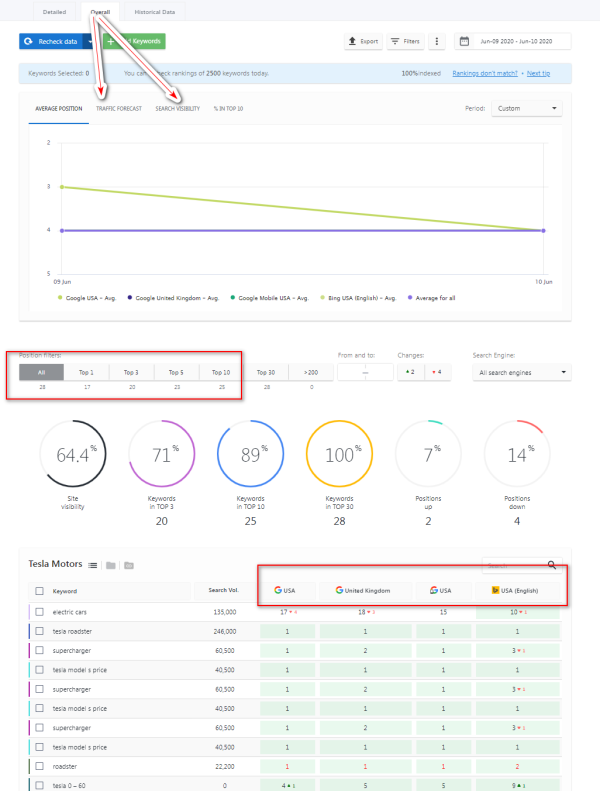 You can also find a bunch of other useful features, including page changes monitoring, keyword grouper, on-page audit, marketing plan social media auto-posting, and many more.
If you are not satisfied with basic metrics and want to get advanced web analytics, Finteza will help you gain access to more than standard reports. The tool provides full-cycle data management for those who want to boost traffic conversions, sales, and cut back on costs.
One of its best features is the ability to estimate the quality of your website traffic. Unlike other analytics tools, Finteza enables detection of any type of low-quality traffic from each channel and quickly provides notifications of any suspicious activity. Moreover, you can easily detect fake conversions or where the bot traffic actually starts from.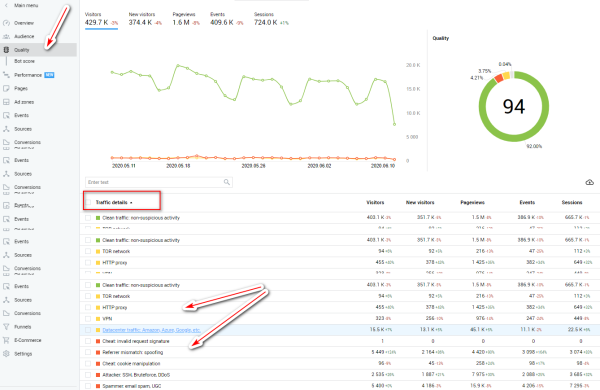 Due to its advanced filtering functionality, you can easily create multi-level reports and immediately present them to your clients or your CEO.
Do you want to find a better way to connect with your customers and increase conversions? Tidio provides a great live chat solution powered by chatbots to help customers easily ask questions about your services or products. The tool is perfectly designed for ecommerce businesses to interact with their visitors in real time and increase sales.
All customer responses appear in a single, organized inbox to help your support team manage all possible issues simultaneously. Moreover, you can set up automatic responses triggered by specific events or conditions, for example, when users visit a page on your site twice.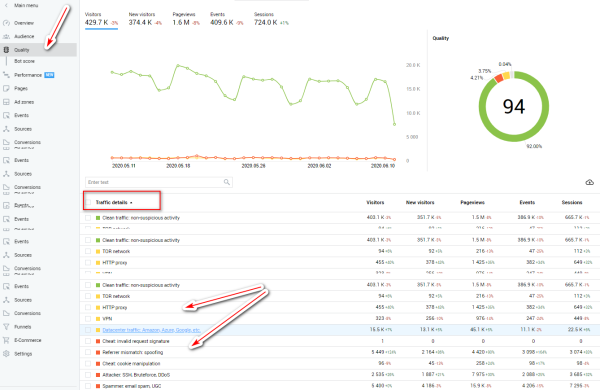 It doesn't take much time to install the chatbot. You can easily do it using a dedicated plug-in (Shopify, WordPress) or a code snippet. Tidio also can be integrated with different tools, apps, and CRM (Zapier, MailChimp, Magento, etc.)
Project management is a beast that helps you scale high performance and build the best practices of your team. Fortunately, there are as many SaaS options on the market as there are colors in the rainbow. Nevertheless, my choice turns to ProProfs because of its powerful features.
Both B2B and B2C marketers can plan things for the entire month by using the calendar view feature of this tool. This cloud-based solution comes with an intuitive dashboard, which lets you check all campaigns in one shot. You can set start and end dates for each campaign, and that allows you to secure timely completion.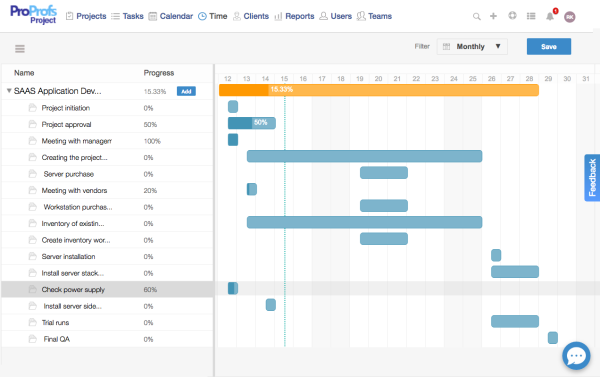 Similarly, many features can make the life of marketers easy, for example, task comments, email notifications, task priorities, task templates, file sharing, etc. So, marketing companies can streamline their operations if they deploy and use this tool to its full potential.
Today, millennials are the prime target of many marketing companies owing to their habit of doing online shopping, and Qualaroo can help you understand their behavior, which consequently aids in improvising marketing strategies and making your campaigns successful.
With Qualaroo, you can easily get real insights into how your users experience your product and design products people love. Needless to mention, these insights can easily be converted into leads, which further results in successful sales.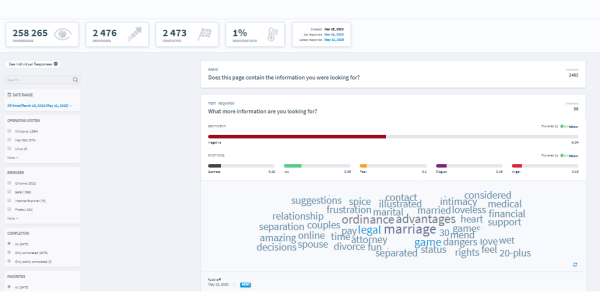 Today, social media marketing has reached new heights than ever before. Without actionable analytics and automated social media solutions, you can estimate the success of your SaaS business. NapoleonCat is just right.
This advanced social media management tool helps businesses and ecommerce sellers streamline social communications, improve their response rates, and analyze their performance–all in one user-friendly dashboard.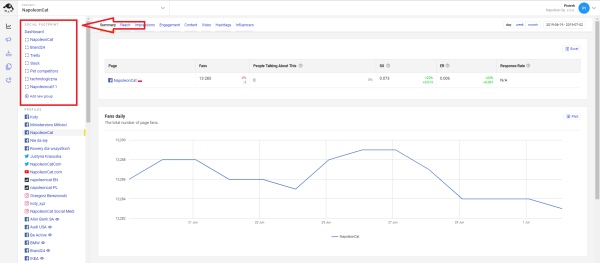 One of its great features is auto-moderation, an intelligent assistant that allows you to answer and manage interactions initiated by social media users across Facebook and Instagram accounts in the form of automated comments, private messages, reviews, or mentions.
Automated moderation employs simple logic to engage with social communities, reduce response times, and easily boost the quality of customer service. Most importantly, the solution works for any language and alphabet.
If you want to master your email deliverability, Lemlist is literally the "bomb dot com" for cold outreach and sales. The tool helps sales teams to close more deals by using personalized images, videos, and landing pages inside their cold emails. Unlike other email outreach tools, Lemlist is great for creating your mass email campaigns with customized images automatically.
The best thing about Lemlist is using a different approach giving way to top-notch templates for various purposes. Moreover, the tool allows A/B testing any of your emails and adding various engaging elements to your templates, for example, screenshots, graphs, and avatars.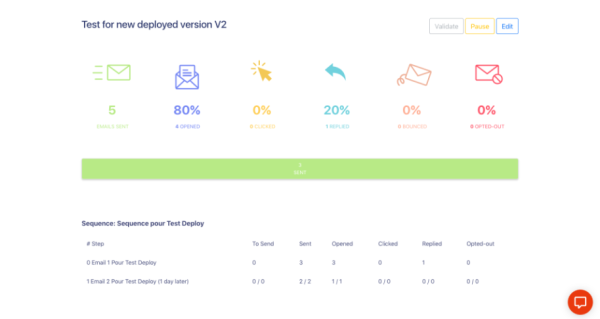 A friend of mine, Maksym Babych from SpdLoad said it best, "Grammarly is like spell check on steroids." If you are dipping into blog posts, social media, or email marketing, this tool is going to be a real catch. You can also use its Chrome extension to double-check your writing.
All it takes is to insert your copy in Grammarly and check it out for spelling, grammar, and punctuation mistakes. The beauty of this tool is that you don't need to set errors manually because you can do it with a single click along with an explanation of your mistakes.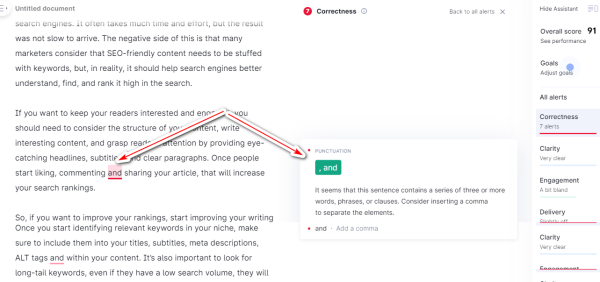 Do you want to make the most of your social media marketing and achieve your goals with minimum expenditure? With SocialPilot, you can create a unique social media marketing strategy and emphasize the value your service or product provides to customers. The tool allows you to bulk schedule social media posts with the click of a button that really saves time and effort.
SocialPilot connects and manages a lot of social profiles. One of its advancements is the option to manage and publish your Facebook ads within one platform. Moreover, you can link your TikTok account and add reminders to post your videos on your TikTok profile.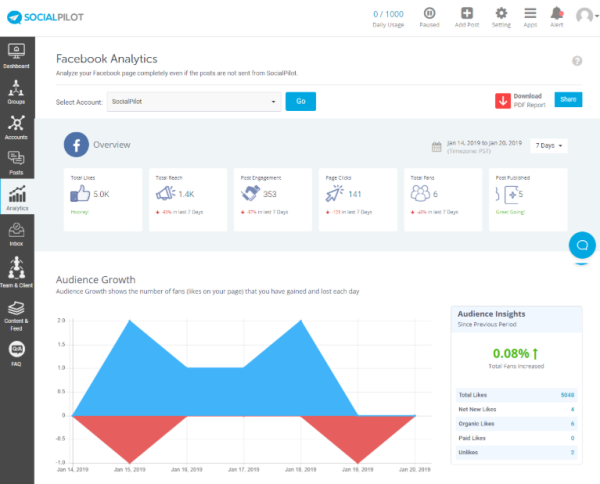 The connection with your Canva account makes the overall process easier to share different things. Overall, it's a very handy and useful tool for business owners and SaaS marketers.
If your Saas business is looking for a smarter way to design and send online proposals, Better Proposals will help you save time on proposals and deliver a great experience to your clients. The tool allows business owners to create professional, well-formatted proposals in a few minutes with digital authentic signatures, payment features (PayPal, Stripe, GoCardless), and third-party integrations.
You can see when proposals are opened, downloaded, or forwarded to follow up at the right time. You can even get notifications when someone is viewing your file or paid online. It's a great online proposal tool that makes simple proposals with no training necessary.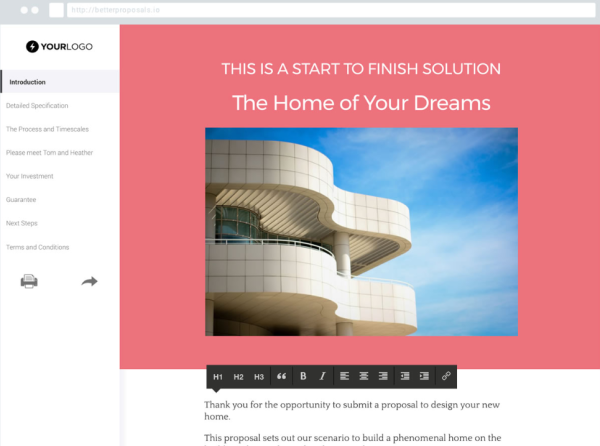 SalesHandy is a great email tracking tool that helps you manage email campaigns in Yahoo Mail, Microsoft Outlook, Gmail, or any other SMTP server. The tool works fast and is perfect for tracking email opens and sending email campaigns with mail merge.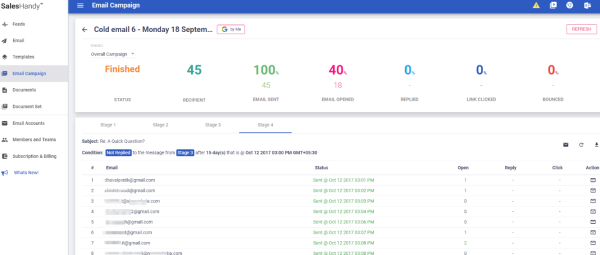 The best features I like from SalesHandy are the ability to set up templates with personalized messaging and monitor unlimited emails for free. The tool has high email deliverability with a 50% open rate. Innovations and ease of access - this is exactly what the tool provides.
Moosend is a powerful email marketing tool with a user-friendly interface, world-class features, and the most advanced marketing automation. Everything from creating and managing mailing lists and emails to measuring campaigns without coding is efficient and simple. The best thing about the tool is that Moosend doesn't include their branding on the email.
The tool offers a wide range of email templates that are easy to customize, and the built-in graphics library is a welcome addition. You can easily improve your email campaigns using A/B testing, the heat map, landing pages, subscription forms, and personalization tags. You can see your statistics feed in real-time and even figure out which users have opened the newsletter or where a subscriber has clicked within your email.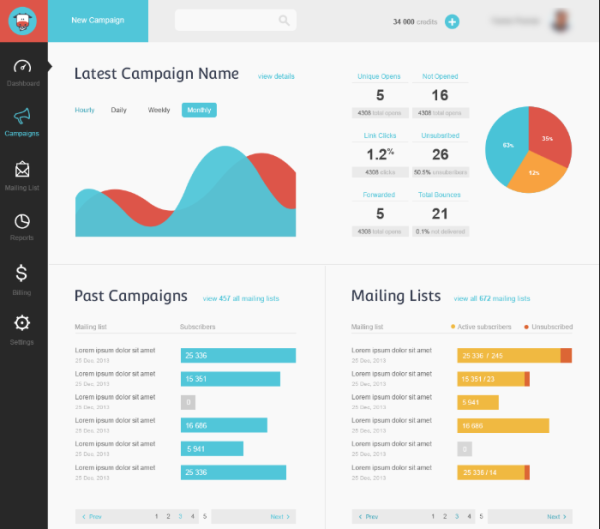 Every SaaS marketing strategy includes creating various surveys and quizzes. I love Survey Anyplace for designing interactive questionnaires and creating a more engaging user experience. The user interface is very easy to navigate and understand. Unlike other survey tools, Survey Anyplace provides a lot of useful features like question pooling options, emojis, adding graphics, video, personalized PDF, engaging email options, and many more.
The learning curve in Survey Anyplace is so fast. You can create a simple survey for the first time. What is really exciting is that you can create your own CS code and customize questions, add tables, etc. The possibility to get all questionnaire data automatically generates a PDF report for our respondents in a well-formatted and nicely styled layout. I didn't find this option anywhere else in the survey software space.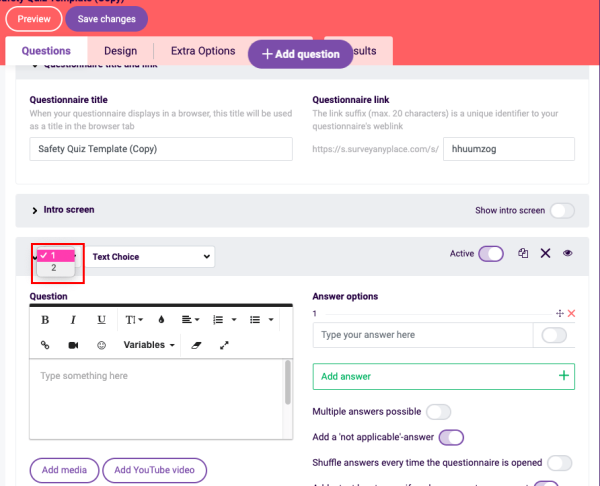 Mark Herman from William G. Kolodner P.A. once said, "Hunter is like a 'duh' in our book." Hunter is a very helpful SaaS tool for scanning websites and finding available email addresses. The tool has a great Chrome extension that can instantly show you all the emails available for a domain.
The beauty of Hunter is that the tool doesn't use third-party databases and shows emails that are already available publicly. Sometimes, the tool discloses phone numbers and positions of people. Hunter also includes other useful features like email verification, mail tracker, bulk functionalities, tech lookup, and many more.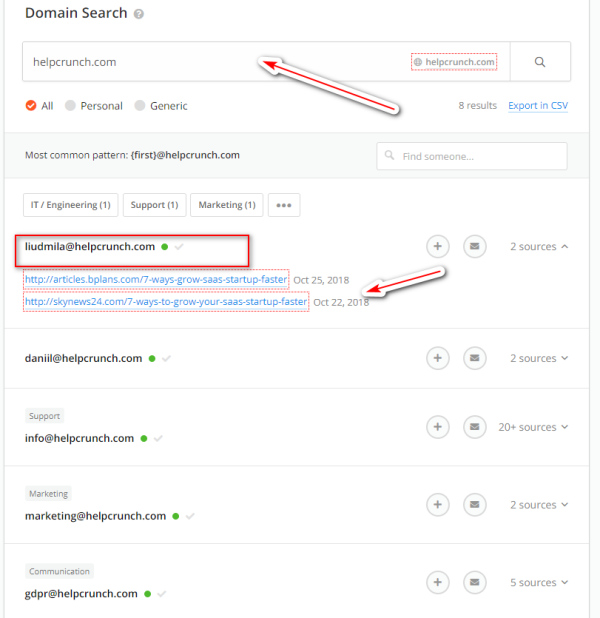 ContentStudio helps you make sure that your content is perfect for the audience you want to target in your blogs, social, and email. This innovative service has everything you need from generating content to automating social media posts to grow your SaaS business online. The tool provides a suite of useful features such as a content calendar, content discovery, content curation, a social media scheduler, advanced analytics, social inbox, and many more.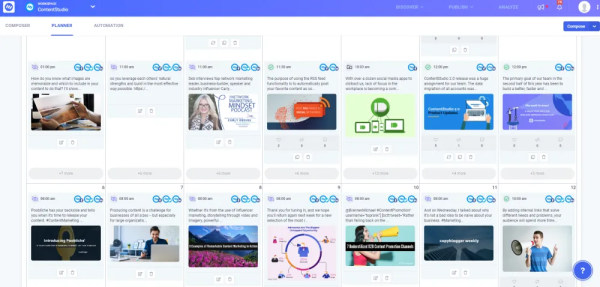 Bottom Line
Using a successful SaaS marketing plan means fulfilling the best ways to catch and reach potential customers. But there is no guarantee to make it happen. Alternatively, there's a bunch of sources and strategies that successful SaaS companies have proven to work time and again. With the right tools, you can get new clients, improve customer service, track performance, and grow your SaaS business.