So you've decided to find strong freelance talent to churn out some (guest) blog posts or spice up your page copy. Rightly so. A massive number of businesses are jumping on the bandwagon, as the freelance revolution sweeps across the job market.
There's more: A whopping 64% of B2B marketers outsource writing.
But should you bring freelancers onboard? Will they help step up your content marketing game? Here's a snappy rundown of reasons they just might:
Freelance writers are cost-effective. Most of them work on a fixed price and/or per-word agreements. That'll help you get more for the price.

They help supercharge in-house content marketing efforts by running side projects.

Freelance content teams are scalable. As your needs grow, you can add more writers.
The perks of hiring freelancers are plentiful, but you need to hire the cream of the crop to enjoy those. Let's discuss the things you can do to hire the right freelance writer for your business.
Choose the right freelance writer
Before you start looking for content writers, decide on the type of freelancer you want to hire based on your needs. Here's a good rule of thumb:
Technical writers can help write content that educates customers (e.g., SaaS customer onboarding).

Copywriters are good at creating enticing ad copy.

Journalists perform the best with news and/or interview pieces.
Most businesses, though, look for content writers that can produce top-notch pieces for their own blog or for big-fish outlets. So for the purpose of this blog post, I'll circle around those folks.
Now, you might think that finding content writers is easy. Google [YOUR INDUSTRY + freelance content writers to hire] and you're good, right? Wrong. Because with this strategy, you're likely to end up with amateurs who can't tell a metaphor from a spatula.
How to hunt for top talent
1. Referrals: This one might sound obvious, but there might be people in your network who worked with seriously good freelance writers. Plus, the best part about referral recruiting is that you'll already know that the person is good. Here's what Jennifer McDermott, the Head of Communications for a personal finance comparison site called Finder says:
"As Finder has grown and needed to quickly grow its base of freelancers, recommendations from our existing crew have saved us a great deal of time in recruiting and introduced us to some now invaluable people."So, tap into your network and get talented people on board.
2. Big-fish blogs: Scout major outlets in your industry and reach out to the writers whose articles you enjoyed. Why? These writers are good by default if major publications featured their work. Need an example? Let's say you're looking for a freelancer to write for your work-life blog. A well-known blog that provides expert coverage on the topic is FastCompany.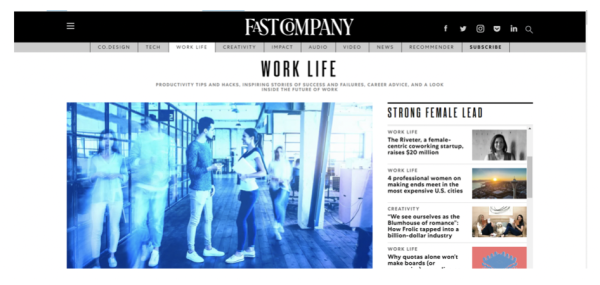 The good news? The site allows you to get to know the contributors. All you have to do is pick an article and scroll down to the bottom to see who wrote it.

Next time you run into an article that's really well-written, ask the writer if they're looking for new clients. If you have a hard time connecting with them, Google the person's name to find either their portfolio or LinkedIn profile. That's what I did with Katie, a FastCompany contributor, and I discovered her blog.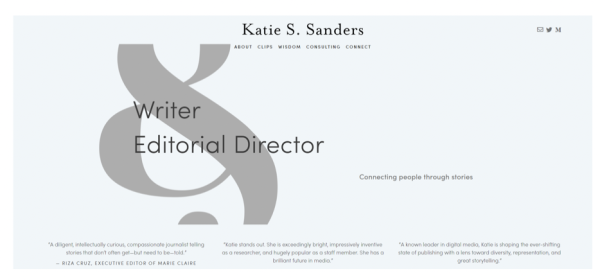 Luckily, Katie made her email address public. All I had to do was reach out and introduce myself.
But if that's not the case with your chosen freelance writer, there are tools you can use to fish a person's email address. Important caveat—just because a writer has been featured on a seriously good blog, they might not have the expertise in your niche (e.g., perhaps writing about work-life balance was a one-time thing). Take the time to backchannel a freelancer before you reach out.
3. LinkedIn: Another great way to scout for great freelance writers is LinkedIn. Why? There are plenty of pros looking for odd jobs there. But first, optimize your LinkedIn account so it looks professional. Then, run a search query for 'freelance content writer' to find A+ players. Bottom line: No matter how you go about it, keep in mind this rule of thumb: Again, before you reach out to a writer, backchannel them to see if they're a good fit for your niche.
Side note: Go for value over price. This isn't so much of a step but an important reminder.
As you go through the above talent acquisition options, there's 1 question that's probably playing in the back of your mind.
How much would it cost to hire a freelancer?
According to Piotr Sosnowski, Head of HR at ResumeLab, "Hiring a freelancer is much like buying a car: you can't get a Ferrari for $100. If you can't afford top talent at this point, you might as well do the work yourself to avoid producing a sub-par product. And yes, I realize that this requires sacrifice."
So if you want to find someone to take your content marketing efforts to the next level, don't go cheap.
Review their work
So you've done your research. Now, you'll want to trim the fat and reduce the applicant pool by reviewing their work. The good part? There are only a few things to check and I'm not talking about grammar. Folks who write for blogs like FastCompany know it inside out. What you want to check is if they have enough experience in your space and if their writing is good. Figuring out if writing is good comes down to 2 simple things:
1. Does the article provide any real value? Does it solve the reader's problem? The easiest way to understand if the article provides value and solves the reader's problem is to ask yourself, "Can I actually act on the advice listed or is it fluff along the lines of: 'If you want to set up your own business, you need to be smart and read a lot of books.'?
2. Is the article engaging? Is it easy to read? Does it relate to you as a reader? That's pretty much it.
Reach out to the selected few
Once you have a solid list of prospective freelance content writers, it's time to reach out. How? Create a personalized email template that you could send out to a number of writers at once.
Email example:My name is [Your First Name], a [Your Position] at [Company Name]. I came across your portfolio on [Writer's Site]. You have an impressive list of work! I love your tone, so I decided to reach out and introduce myself. We're a fast-growing [Your Company Niche] site that [What Your Company Does]. We're currently looking into finding freelance writers to help us build our content on external sites, inclusive of guest posts, and it seems that you frequently write for sites that we're very interested in, like [Publication Name], [Publication Name], and [Publication Name]. Would you be interested in working with us? Can I send you some more details?
Thanks,[Your Name]
In the end, you should you have a nice a flood of emails coming from qualified freelance writers excited to work for you.
Prep a test an assignment
You've collected a few replies from writers. Some of them didn't get back to you, but the majority of them replied. Congrats! It's now time to assign a test writing assignment. Why? Because you want to test drive what it's like to work with these people. True, you already know that their writings are superb, but what you don't know is if they can meet deadlines and follow instructions. However, don't expect freelancers to work for free on a test assignment. Here's what Ben Taylor from HomeWorkingClub, a serial solopreneur who's hired and managed freelancers for many years has to say about it:
"When it comes to test assignments, I'd always expect to pay, and quality freelancers would always expect to be paid. If you choose a contractor well, the work you get back from a test assignment is usually good enough to use in the real world anyway."
What requirements do you set for them?
A topic to write about.
Include 3-4 external links to high-authority blogs.
A link to a study to back up any statements.
A pop culture reference.
Final words
Congrats! You've made it this far. These tips should help you start off on the right foot and scale your content marketing efforts.
Max Woolf is a writer. He's passionate about helping people land their dream jobs through the expert career industry coverage. In this spare time, Max enjoys biking and traveling to European countries.