"The purpose of content excellence is to create ideas so contagious that they cannot be controlled." —Coca-Cola
Content marketing is everywhere and it has been for years. When a term is thrown around so frequently it can be hard to zero in on the deeper meaning, and even harder to determine how to apply it to your own small business. But content marketing is a reality and a necessity for today's small business owner.
With limited resources and high competition, many business owners find the challenge of marketing their company nearly insurmountable. In fact, 60 percent of these businesses have no information listed online.
Content marketing can come to the rescue here it can result in conversion rates that are six times higher as compared to non-users, as per a report by market research firm Aberdeen Group.
This in-depth article will help you understand what content marketing is, walk you through creating your own small business content marketing strategies, and give you detailed guidance and lists of tools so you can implement them even on a tight budget.
What is content marketing?
Created or curated content + a mechanism for distribution to a targeted audience = content marketing.
"Content marketing is a marketing technique of creating and distributing valuable, relevant and consistent content to attract and acquire a clearly defined audience with the objective of driving profitable customer action." —Content Marketing Institute
What isn't content marketing? Content marketing is not traditional advertising, which interrupts your audience to ask them to purchase. Content marketing is driven by the creation of content that will resonate with and help your target audience using blogs, social media, and other tools as a vehicle to distribute your message.
"Content marketing is permission-based. It's marketing that we freely invite into our lives, and sometimes even share with our friends." —Garret Moon, CoSchedule
Think of content marketing as traditional marketing's very friendly co-worker. In a strong marketing strategy, new merges with old and they work hand-in-hand, creating a growing and engaged audience for your sales funnel.
"The type of content you share is closely related to what you sell; in other words, you're educating people so that they know, like, and trust you enough to do business with you." —Copyblogger
As a small-business owner with an internet and social media presence, you're already a content marketer. If you're creating content and engaging in conversations to help build your brand, you're halfway there. If you've dabbled in podcasts, video, e-books or infographics, you are more well-versed than you know. By implementing a solid strategy, measurable goals and an editorial calendar you'll be on your way to becoming a content marketing guru.
Content marketing strategy for small business
In case you are not totally clear with what it involves, content marketing is a way to share information and engage with customers, usually in the form of written articles, podcasts, videos, or social media posts. Content shared by businesses are meant to build trust and credibility while strengthening brand recognition.
If you're new to the marketing world and you want to launch a content marketing strategy for small business, here is how to do it.
Understand your audience
You don't want to waste your time producing content of which is uninteresting or irrelevant to your customer base. You must conduct in-depth research on your audience to make sure you truly understand them, their interests, and their buying habits.
There are a lot of ways to collect data to get a better feel for your core audience. One way is to conduct questionnaires with current customers. Ask them about their opinion on your business, service, and overall message. In this process, try to learn as much as you can about who your customer base is. Getting information in relation to the average age, sex, income, and purchasing habits will help provide inspiration for your content creation.
If you are having a hard time getting customers to take surveys, try sharing them through social media or e-mail. Or, consider offering an incentive, like a coupon code or free item. Additionally, make sure your questionnaire is short enough so the audience can fill it out quickly while still giving you valuable information. Typeform is a fantastic tool to use for creating surveys with an appealing look. It also features a wide variety of templates to choose from, so your questionnaires can blend in with your website.
A method that's a little less direct is looking for insights within your competitor's audience. If your competition is successful, scope out their social media followers, see what kind of content they utilize. Pay attention to how your competition targets customers through ads and posts.
You should also investigate companies who are not doing well, so you can learn from their mistakes. Evaluate their social media presence, scope out their website, and try to determine why their marketing strategy is not working.
Build a conversion-focused website
Your website is essentially the home base for your entire content marketing strategy. Cutting corners here can easily turn people away. With more than half of all customers researching specific businesses online before making a purchase, having a high-quality, reliable platform is vital for tiny start-ups all the way to giant enterprises.
Building a great website is not easy, especially if you are not trained in copywriting, coding or web design. So bring in professionals if you can. There are lots of little details of which can make or break your site. For example, speed is a big one. If your website takes longer than three seconds to load, a lot of visitors will leave. Other reasons for high website bounce rates include no mobile optimization, uninteresting web copy, broken functionality, and unclear navigation.
Choosing the right hosting company plays a huge factor in how your website performs. Take your time in finding one that fits your exact needs.
Make your content easy to find
Whether you want your small business content marketing to increase sales, attract new customers, or grow brand awareness, the best way to accomplish your goal is by providing content your customers can use to improve their lives. Once you have determined your audience base and you've set up a great website, it's time to create content that draws people to your platform.
Although you want customers to learn about your company through your content, try not to come across as sales-y or overly self-promoting. This can really turn customers off. Instead, write about the industry, interesting studies or statistics, or actionable advice related to your business.
Most importantly, you must incorporate words and phrases that connect your audience to the information they are searching for. This is the very core of online marketing, so always be sure to do keyword research before creating content. You can use the Google Keyword Planner for this.
Use analytics to choose which channels to place your content on social media, SEO or PPC. SEMrush's Content Template tool will analyze your competitors' data in organic search and tell you the best keywords to use, the ideal content length, and where to get backlinks from, and help you choose the platforms to target.
Ultimately, the most important aspect of branded content is the value it provides. The content you create should identify a certain problem, then offer expert advice on how to solve it with a personal touch.
Promote your content
You have the content. Now what?
If you're one of the lucky few with a huge email list, a large, loyal following of readers and an army of devoted fans, you won't have to worry. But if you're like most small-business owners, the struggle of attracting traffic and leads is probably a part of your daily life. It's like a complicated courting ritual. The content marketing equivalent of roses, dinner and a movie is connection; a genuine desire to help and sincere and ongoing engagement.
Email is not passè: Your email list has already invited you to communicate, they are already engaged in what you have to say. In fact, 61 percent of consumers enjoy receiving promotional emails weekly, while 38 percent would like emails to come even more frequently.
Don't be afraid of paid advertising: If you have invested in the creation of a new asset, don't shy away from paid advertising to promote your content. Unpaid organic reach is a tremendous asset, but there is much to gain when content marketing and traditional advertising join forces.
Be social: Use a tool like Buffer or Hootsuite to automate your social media sharing, but remember that it is not enough to simply share. The real engine of social media is in connection and engagement in real conversation with your audience. Spend time forming connections and nurturing them so that they are compelled to consume and share your content.
Ask: Don't be afraid to ask for assistance with distribution and amplification. Andreea Ayers of Launch Grow Joy did just that for her popular infographic, 30 ways to promote your blog posts. By reaching out to influential bloggers and online media and asking them to share with their audience, Andreea dramatically increased exposure to her content.
"Content without community, without approachability, without humanization and kinship is ineffective. Just as content that is focused on selling, rather than helping, is doomed to fail." —Jay Baer
The keys to creating quality content
Small businesses sometimes approach creating quality content as if it were an unsolvable equation with unknowable variables. The truth is that creating good, reliable, high-quality content is easy if you have basic writing skills.
Content that goes viral is slightly harder to quantify, but great content that gets readers coming back to your blog over and over? Completely achievable.
So what is quality content? Quality content is:
Original
No one who has been on the internet in the past three years should be surprised by the changes Google has made to SERP algorithms that penalize duplicate content. While websites used to thrive on endless, repetitive content, often sourced from other locations on the web, Google has now put a stop to it.
If you want to draw visitors to your website with content, you must create original content. That can be done in-house or outsourced to one of the many freelance copywriters on the internet, operating in every country around the world.
There is no excuse for copied content on your website other than laziness or black-hat techniques.
Actionable
Good content tells your customers what to do next. Reviews tell customers whether or not you think they should buy something. Informative content teaches customers how to approach a problem or issue that they're experiencing. Opinion content helps customers decide what they think about an issue or development. All (good) content prompts customers to action; it's up to you to determine what that action should be.
In addition, tell your audience how to take the next step with you. Add a call-to-action (CTA) like "subscribe to our blog/channel/newsletter for regular updates" to the end of your content encourage your audience to make that step and become more involved with your network. This helps to build customer relationships and customer loyalty. But be aware of word choice; some marketers have found that changing a single word can create a 38 percent change in conversion.
Informative
People come away from great content knowing more than they did before. Sometimes the knowledge is funny and a factoid to share at a party; sometimes the knowledge is an extremely practical how-to. Most informative content lies somewhere in the middle.
When creating informative content, keep it interesting. This doesn't inherently mean the content needs to be funny. It should tell a story, be engaging, and avoid too much technical jargon. Consider the audience you need to write differently for an experienced user than for someone brand new to the industry.
This will also affect which content writer you choose; almost any decent writer can write introductory content, but you'll need someone more familiar with the industry to write more expert content.
Accurate
In the age of the internet, fact checking is absurdly easy and it is critical to the integrity of your small business. Linking to original sources both increases your authority and builds important link content for your website.
Bottom line: do not make things up. Don't modify peoples' quotes, don't lie about statistics, and don't intentionally misrepresent events. Facts are facts; make sure that your interpretation of those facts is as clear and understandable as possible. If you're building off someone else's opinion, make sure to give them credit.
Thoughtful
Great content is thought-provoking and interesting. Readers come away with something to think about, even if it's as simple as a new way to accomplish a task. Thoughtful content might also be presented in the form of a review or an opinion piece. It might comment on a development in the industry, a complication for a particular company or personality, or a product's changes.
Thoughtful content is what develops entrepreneurs and other celebrities into "thought leaders." Being a thought leader in an industry is a great way to attract customers to your business; after all, one-fifth of customers say they want to work with the best.
Finally, quality content is also diverse content
For many people, when they hear "content marketing," they immediately think of blogs. That's understandable since blogs are one of the most prevalent forms of small business content marketing. But if writing content for your blog is the only thing you're doing to establish your thought leadership and attract new clients, you're seriously limiting your potential.
An effective, quality content marketing strategy goes a lot deeper and wider than just standard blog posts. Let's look at a few different forms of content and how to use each best.
1. Video
While people can quickly skim an article, they can't do that with video. In fact, 55 percent of people thoroughly consume videos (as opposed to skimming them, which is impossible, really), making it a highly appealing tool for getting your message in front of your audience.
Videos that are 60 seconds or shorter are more likely to be viewed in their entirety. As for what to create your video about? The sky's the limit, but here are a few ideas:
Product demo
Interview someone at your company or industry expert
Tips on unusual ways to use your product
Talking head: you providing tips or insights
Behind-the-scenes look at your company
Livestream an event
Keep in mind: Videos can be recorded in advance or live-streamed in real time. Both are worth exploring because they each attract a different audience (live streaming will capture those social-savvy followers on Facebook).
2. Infographics
It can be tough to keep an audience's attention when you have a lot of dense (but useful) information. That's where the infographic comes in handy as a content marketing tool: it's 30 times more likely to be read than a text-only article.
Because infographics illustrate written content in a visually appealing manner, they're a treat for the eyes and a great tool for helping people process information. They're best for content with a lot of statistics and data that can be illustrated with charts, graphs, and engaging images.
The next time you have a data-rich topic to cover, test out writing it as an article and creating an infographic, then measure results against one another to see which is more successful at attracting your audience.
3. Different forms of written content
We don't have to shun the written word entirely in our content marketing plan. Other written assets such as e-books and white papers afford you the opportunity to expand the information you share with your audience beyond what a blog post can cover. And if your content assets as tools to get email subscribers, they have even more value in your small business content marketing. Just focus on information that people find useful and are willing to "pay" for with their email addresses.
Even diversifying the length and style of your blog content can provide enough variety to keep people engaged. Experiment with different lengths of content, ranging from a "quick bite" post of 700 or so words to longer form content of 2,000-plus words that goes deeper into a subject.
Test out different styles as well, including:
Q&A
Interviews
Listicles
OpEd
Research
When you mix up what you provide in terms of blog content, you let people know that they can never assume they know what's coming up next. That keeps them curious about what you're going to publish.
Figuring out what content to create
For each project you undertake, you'll need to make three decisions:
Topic
Format
Platform(s)
To determine the answers to these questions you'll need to do a little detective work.
Listen up
This is where you channel Nancy Drew (or the Hardy Boys) and become an internet super sleuth. Take time to listen to and track your target audience and competition online. Pay attention to topic, format, platform and even the most active time of day.
Questions to ask:
What questions are asked about my company or category?
What topics are my customers most interested or engaged in a discussion?
What type of content/format are my target customers sharing and where?
What is working for my competition?
What has worked for me in the past? What are my highest converting pieces of content?
What questions do customers ask me directly?
Tip: Review your replies to customer emails, messages, and web form submissions. Often your answers can be easily aggregated and repurposed into shareable content.
Ask your audience
From Nancy Drew to Lois Lane. Now it's time to put on your investigative journalist hat and go directly to the most valuable source: your customers.
Your customers and current audience, no matter how small, are the best base for your new small business content marketing strategy. Ask them directly what they would like to learn more about and what format and delivery platform they prefer. Consider creating a survey or questionnaire to help you learn more about your customers, their needs, questions and favorite forms of content.
Have fun with it
Do an old-fashioned brainstorming session with your team or use one of the countless tools for brainstorming and topic generation that can be found online. For instance, type "paint drying" into Portent's Title Generator and you'll get the following options (amongst others).
13 ways paint drying can find you the love of your life

Why paint drying should be one of the 7 deadly sins

Darth Vader's guide to paint drying

17 things about paint drying your teachers didn't tell you
None of the options may be exactly what you need, but they may get you thinking about new and unexpected ways to package your ideas. One of the suggestions may spur an idea you previously hadn't considered, and voila! The next piece of viral content is born.
Be genuinely helpful
People are asking questions about your topic. Guaranteed. Use Quora or Yahoo! Answers to do your own market research. Some of the questions and answers you find may trigger a great idea for a piece of content that your customers really want and need. If you create content that speaks directly to your user's experience and pain points, they are far more likely to connect and engage.
Don't throw in the towel on content marketing just because your business isn't that exciting
If you think your small business is "boring," you're not alone in your concern. In fact, 47 percent of B2B marketers cite producing engaging content as a top challenge.
How do you move past this fear and create scintillating content with the potential for viral sharing when your business isn't based around the most exciting topic? You get creative.
You're likely accustomed to thinking about your business from the same perspective, but content marketing will require you to get outside of that box and look at it from every possible angle. Use the tips in this section to inspire fresh content ideas you'll be amazed at what you come up with.
How to create content when you're not a writer/graphic designer/web guru/superhero
As a small business owner, you are accustomed to wearing a lot of different hats. You may be worried that embracing content marketing will require adding even more to your plate. Relax.
You don't have to be a superhero.
Outsource:
You can't do everything. You're actually not supposed to do everything. This sounds easy, but in reality, it can be the most difficult thing for the small business owner to truly embrace.
If you hire a writer, it's worth noting that you will most likely get what you pay for. Consider just how important your small business content marketing strategy is to your business. If you're just trying to make sure you have a few posts up on the blog, then perhaps you don't need to invest much. But if you want to create a robust content marketing program that will really drive sales, you'll need to invest both time and funds into the program.
Try sites like UpWork or Fiverr to find affordable outsourcing and freelance options. If you're looking for experts to invest in, try Copy Hackers for Hire or the Copyblogger Certified Content Marketers page.
Word of caution: Since content writers are located all around the world, be sure the writer you are using is fluent (both speaking and writing) in the language of your site.
Join forces:
Connect with other small business owners in complementary industries. Are you a copywriter? Find a graphic designer who may be willing to assist you with creating an infographic in exchange for web copy. Create co-branded content with other industry professionals and take advantage of both a diverse skill set and multiple audiences.
Free tools:
A plethora of free tools are popping up to help you create like a pro. You'll find a list of 20 recommended tools a little bit later in this article, in fact.
Roundup. Refresh. Reconfigure. Reuse.
For each piece of content, brainstorm all the potential configurations. A presentation can be uploaded to SlideShare, transcribed into blog posts, compiled into an e-book and used to create graphics. Examine old material, refresh it with new stats and repackage it for a new audience.
Don't forget the value of curating and packaging valuable content from other sources, too. Creating a list of your favorite tools or a roundup of the top industry content can prove an easy way of reaching your audience.
Take Keap's Lifecycle Automation Assessment to identify growth opportunities for your business.
Leverage user generated content in your small business content marketing
If your small business hinges on open, active, two-way conversation with customers, user-generated content marketing may be the way to go.
Take this example from Joy, a free wedding planning app and website. Here's how they leveraged user-generated content marketing, according to Cali Pitchel, director of growth and customer success:
"Our goal is to bring a highly fragmented industry wedding technology together into one place. With Joy, you can manage your RSVPs, share important wedding-day details, and collect photos from your guests before, during, and after your special day. We're a small team, and I'm the only non-engineer. That means I am a marketing team of one who also leads to customer success, which entails managing a team of customer success associates.
"The need to be resourceful with my budget, my staff, and my time is an understatement. When I joined Joy, I knew that content marketing would be a cornerstone of our acquisition strategy. One, because it's what I do. I am a content marketer by training. Two, because I have seen first-hand the value of content marketing, especially content marketing that is underpinned by clear brand values.
"Having also assumed responsibility for customer success, I had to think about how I could leverage my time with customer success to inform my content marketing strategy.
"An industry friend who works for Floravere said, "Beautiful images are the currency of our brand." For Joy, we've found that love stories user-generated content are the currency of our brand. You might ask yourself, 'What's the currency of your brand?'
"Our couples are at the center of what we do—their complaints, frustrations, praise, and happiness inform our product development at every turn. So what better way to market our product than through them?
"We use a third-party customer support software for real-time communication with our users. This proximity not only gives us a daily health check for our product, it creates a certain sense of openness and intimacy with our users. The constant dialogue can be exhausting, but the opportunity to leverage our happy users to create content is endless. In fact, our users have become the basis for our content marketing.
"Our third-party customer support software allows us to create auto responses that send to users after they complete certain actions inside Joy. When a couple works on their Love Story, an Auto Response gets triggered soliciting proposal stories.
"In the four months since we started the campaign, over 9,000 couples have received the message, and 30 percent have responded. Even if only 25 percent of those couples who respond complete the interview, that's 675 proposal stories in four months. If we post one proposal story a day, that is over two years of content...generated in less than four months.
Once a post is published to the blog, we share the blog post and social links with the couple and make a simple, honest ask: 'We don't do any paid marketing. If you feel inclined, we would love if you shared this with friends and family!'
What we've seen is an over 200 percent increase in the traffic to our blog. I'm still working to tie that increased brand awareness and blog traffic to weddings created because that is my primary acquisition metric, but it's hard to doubt the impact, even if it's anecdotal.
Our couples truly enjoy the posts, and they do share them with friends and family as evidenced by our new blog traffic. Word-of-mouth is undoubtedly one of the strongest influences affecting purchasing behavior. These proposal stories, when shared socially by our couples, are an endorsement of our product and their level of happiness using Joy to plan their weddings."
The biggest takeaway here is to just ask. Just like no one gets married without proposing, you won't get user-generated content without asking.
5 Content marketing examples from small businesses that are crushing it
If you do a Google search for best content marketing examples, there's no shortage of big brand examples. Sure it's cool stuff, but can the average small business owner really pull off these expensive and involved omnichannel campaigns?
Uh, no. Not likely.
But that doesn't mean you can't be super successful with small business content marketing in your own way. Here are five small business owners who have supercharged their business with content.
Strolleria
Strollers and car seats are some of the most important and most confusing products that every new parent needs to buy.
Strolleria sells high-quality baby gear in an online and a Scottsdale, Arizona store. Co-owner and chief marketing officer Amy Venzke has gone full in on content marketing to help parents choose the products that are right for them.
Strolleria's content largely falls into two categories: product comparisons designed to attract organic search traffic and educational resources designed to educate email subscribers through what can be a months-long buying decision.
Some examples of particularly high-performing content include the "Ultimate Stroller Buying Guide", a quiz called "Which Stroller is Right for Me?", and a product comparison between UPPAbaby VISTA and City Select strollers.
Venzke uses these content pieces, and others like them, as ads on Facebook and Pinterest.
On Facebook, the stroller quiz targets moms-to-be in the Phoenix area, helping raise awareness of the local store.
On Pinterest, a promoted pin for the stroller quiz targets product keywords on a national level. Pinners searching for a brand carried by Strolleria see the pin in their search results and take the quiz to find out which stroller is right for them.
This strategy has proved extremely effective for Strolleria. The SEO-optimized content launched less than a year ago, allows them to compete with much bigger, more established brands.
"We rank on page one for numerous content pieces such as the UPPAbaby VISTA vs. City Select comparison, which attracts more than 700 pageviews per month," shares Venzke. "On Black Friday, our landing page for stroller sales outranked the likes of Walmart, creating more demand than we could handle and leading to record sales and sellouts."
Venzke's advice to other small-business owners?
"Like all small-business owners, I have far more ideas than time to execute them. Instead of churning out as many blog posts as possible, I focus on creating various types of content that serve different purposes in our marketing strategy. A product comparison generates the most organic page views, but it's probably too specific to help us generate leads from Facebook ads or educate new prospects in an email series. Knowing I can't do it all, I try to keep a balance between content types and prioritize work based on the business need it serves."
Rehab Financial Group
Rehab Financial Group, LP (RFG) makes secured first lien loans to real estate investors requiring capital to acquire, improve, own, operate, manage and sell one to four family residential rental properties in 15 states.
Wanting to increase their web traffic and lead generation, RFG worked with Brolik, a Philadelphia-based digital agency, to create an online guide called, "Flipping Houses 101". The five-chapter guide walks customers through the entire process of finding, buying, fixing, and flipping a house.
Brolik used keyword and customer service data to create a list of popular questions and topics, and that list was used to develop the chapters within "Flipping Houses 101."
As a result of this one asset launched in 2014, RFG has seen a 5,000 percent increase in organic website traffic. Even better, the company's annual loan revenue grew by over 110 percent over 2013.
Brolik's key takeaway for small business owners?
"'Flipping Houses 101' was built as a resource first and a content marketing initiative second. It answers the most popular questions from the target audience in a helpful, non-salesy way. That's why it's been so effective."
Prestwick House
Keith Bergstrom, president of Prestwick House, an educational publisher focusing on high-school language arts resources that have been in business for about 30 years, faced an interesting challenge.
"Education is an interesting market because the people doing the ordering school secretaries and purchasing departments are often very different from the end users and those doing the decision making," says Bergstrom. "Over years of optimizing our site for ease of the purchasing group, we found that we hadn't been providing an opportunity for our core customer group, the teachers themselves, to visit our site regularly."
With this in mind, Prestwick House built a resource called the English Teacher's Library.
The library houses custom-made free resources for teachers, including ready-to-print posters, free lesson plans, e-books on some of Prestwick House's core products, and supplemental puzzles that teachers can use in teaching novels and other books.
Since the launch of the program after the first quarter of 2015, website visits have grown from 34,000 to 70,000. Additionally, over 200,000 resources have been downloaded.
Prestwick House has integrated the library into its broader marketing plans. "Most of our free library products correspond to multichannel campaigns, so while we're launching a catalog, email series, and web ad series focusing on our core vocabulary program, we might also create a poster series, some crosswords, and/or an ebook in support. This helps build our credibility as an expert in the field," says Bergstrom.
CopyPress
Derek Miller is a content strategist for CopyPress, a content marketing business in Tampa, Florida with about 20 employees. You'd think that being an agency specializing in content marketing they'd naturally excel, but CopyPress is unique among agencies, who typically suffer from "roofer's roof." Most agencies are so busy doing client work, they often have a hard time doing for themselves what they preach to their customers.
Miller shares how he helped build a content marketing machine for his content marketing agency.
"Our program is pretty simple. We built a lead funnel marketing strategy that used gated content as the foundation with targeted drip campaigns after. The process worked like this:
We chose a topic for the month to cover (How to Do Curation)
We create a lead form for a webinar on that topic
We create a white paper on that topic that is resourceful and valuable
We use the information from the white paper as the basis for the webinar and then also send the white paper to the webinar list
All people who signed up for the webinar or white paper receive a drip email campaign targeting that topic as it relates to our industry/company
We take all the information from the white paper and webinar and put it into an infographic
We conduct outreach syndicating the infographic and driving attention back to the white paper sign-up page."
As a result of this system, CopyPress has garnered earned media from such sites as Search Engine Journal, Marketing Profs, and Atomic Reach.
Additionally, since the launch of this program in October 2016, they're SEMRush metrics have grown by 240 percent and they're averaging almost 10 new leads per day.
Miller's advice to small business owners?
"Our biggest takeaway is that content marketing takes consistency. If we would have only stuck with this for one month, we might have considered this strategy a failure, but because we stuck with it, we have built a scalable way to grow organic traffic and tangible leads. Not only has our results improved month over month, but we have adapted our program as we've continued so that we can turn these pieces of content out more quickly and at a lower cost. If you have a content marketing strategy, you have to be willing to invest several months before you start reaping the rewards."
GreenPal
Bryan Clayton, CEO of GreenPal, considers his business to be the Uber for lawn care. The company matches service providers with clients in seven U.S. cities.
His content strategy centers on creating quality content for local-based service providers.
"The way we come up with ideas and create content that people will like is we join local Facebook groups and post a question in the group asking people what are their questions about how to best maintain their yards and gardens," says Clayton. "We then use the discussion that ensues as a jump-off point for creating a locally-based post. We even quote local business owners in the post to boost local relevance signals."
Out of these efforts, Clayton and his team discover surprising questions people are asking, like, "When is the best time of day to mow your yard?"
"Simple question, but I never knew people were asking it," says Clayton. The resulting blog post received over 10,000 views.
19 free content marketing tools for small business
Now let's take a deep dive into19 of the best free content marketing tools around for small business success.
These tools for content marketing will help you become a graphic guru, a story-telling sorcerer, a social media superhero and a project management professional. All at the same time. You're an entrepreneur. You can do anything.
In the last two years, the search volume for infographics has increased by over 800 percent. It used to be that only professional designers or businesses with the budget for expensive outsourcing could afford to create these complicated graphics, but now tools for small business, like Piktochart, make it possible for anyone to create stunning visual data displays.
Using the intuitive drag-and-drop interface, a library of templates and thousands of images and icons (and the ability to upload your own), you can be on your way to creating an eye-catching infographic in no time!
Graphic design just got a whole lot easier. Canva allows users to create designs for web or print. From graphics for your blog, a template for your upcoming presentation or a cover for your Facebook page, Canva's simple drag-and-drop interface and impressive library of graphics, templates, and icons puts you in the designer's seat.
Inspiration: Canva's step-by-step instructions are not just wonderful tutorials, they are also an excellent example of small business content marketing at its best: helping customers to use your product more by walking them through the actual creation process.
If an average image is worth 1000 words, a Thinglink image must be worth at least a million. This software allows users to create interactive websites, blogs, infographics, maps, and presentations. By adding video, text, music and more, your visual content truly comes alive for your audience so that you can tell your story.
Inspiration: It took three minutes to upload a photo, search out links and add tags to this stock photo of a workspace.
Ever notice how large companies don't just rely on simple screenshots to showcase their site or app? This is one of the tools for small business that puts you in the big leagues. With Placeit you can engage your audience by placing your app or site into a beautiful quality image.
Inspiration: Making this image with a screenshot of Infusionsoft by Keap's mobile site was a snap with Placeit.
Prezi, a cloud-based platform, allows users to create memorable presentations. These presentations can be created, edited or accessed on the go, and they automatically sync with other devices. Public presentations are free, and a three-tiered pay scale allows for offline editing, custom-branded themes, and private presentations.
Slideshare has become the world's largest community for sharing presentations and with over 60 million unique visitors per month, it is among the 120 most visited websites in the world. The SlideShare platform allows users to upload and share presentations, infographics, videos, webinars and more. The site gets to the heart of content marketing: delivering in-demand knowledge and expertise to your target market.
Video has become integral to brand storytelling, with 61 of the Top 100 brands embedding YouTube videos on their website. Powtoon allows users to create animated videos and presentations and provides users with the tools to immediately begin creating videos or animated presentations. The one-click download enables you to save and embed or share whenever you want.
Video can be intimidating, and many entrepreneurs avoid it because they believe it takes advanced skills and expensive equipment. Nutshell is an iOS app that helps you to easily create amazing videos for your blog, newsletter or social media. It unlocks the power of video with simple tools for small business
Transform your PDF, Word document or PowerPoint into a beautiful digital publication in a matter of minutes. Readers can add your publication into stacks of related information, similar to creating playlists. Issuu's functionality also allows users to share a comment on any section of the publication that resonates, and allows you to respond, opening up a valuable direct conversation.
Inspiration: Check out this magazine by UK-based Content Marketing Association.
Have you considered starting a podcast but have held off, imagining that you need to invest in expensive software and equipment? If so, Audacity is perfect for you. As open-source software, Audacity is completely free and works on both Windows and Mac. Easy to use for beginners without skimping on more advanced tools, you'll be on your way to podcasting in no time.
Animoto allows you to turn your photos and video clips into quality videos in minutes. Create a video about an industry event or a product launch, or combine a series of photos featuring real clients using your products.
Inspiration: Sue Bryce shows you how to be authentic, powerful and speak your purpose, so you can be the face and voice of your brand in videos.
It is common knowledge that list posts are always hot. Listly allows you to share your expertise and engage your audience by maximizing the popularity of list formatted posts in a simple, social interface.
Medium is more than just another platform for content distribution, it is a prediction of what is to come. Like YouTube functions for video content, Medium provides consumers of the written word with a one-stop-shop. Readers can follow collections of content that are both self-curated and created by Medium. These collections help you find your customers, and direct your content to reach an audience already interested and invested in the topic. Users also have access to valuable metrics and analyses of how often content is consumed.
If you struggle with finding content to share on your social media feeds, Pocket might be the perfect solution for you. Pocket will help you to gather content that can be shared at a later date, rather than rushing to find shareable content when you need to load your social media accounts.
As a small-business owner, sometimes it can seem as if you need to be an expert in all areas of business management and operations a nearly impossible task. Outsourcing can make the difference between overwhelm and a thriving business with the support your business needs to really move forward. From graphic design to writing to software development, Upwork can connect your small business to the expert it needs to succeed.
Sometimes, social media can seem like a full-time job. More than seven million users put Hootsuite to work to automate and manage their social media presence and marketing efforts. The web-based dashboard allows users to access dozens of social networks in a centralized location, while analytics show you who is reading and responding to your posts.
All small business marketing strategies require organization. Trello acts as a board of virtual post-it notes, allowing you to move from content planning and creation to distribution in a simple, yet robust, platform. Trello can be used by an individual or a team, and can keep everyone involved up to date on the progress of every project.
Inspiration: Check out Trello's example board, which brilliantly functions as both inspiration and user training.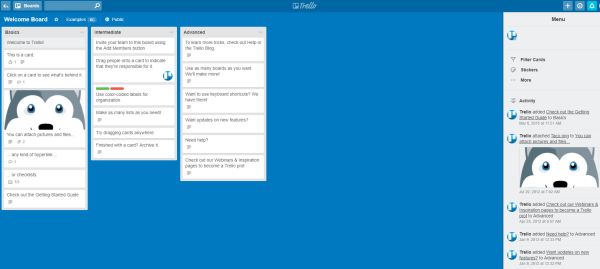 Small-business owners need to know what questions their clients are asking. Quora allows you to search for topics, people and questions and build a feed of questions and answers that relate to your product or industry. Follow your competitors to see what questions they are asking and answering, and repurpose your own answers into other content, such as blog posts. You'll learn the specific questions people are asking within your niche, and have an opportunity to present yourself as an expert by sharing your knowledge.
In conclusion
Content marketing offers a lot of benefits to businesses of all shapes and sizes. If done correctly, it can increase brand trust, sales, and the number of return customers. Creating and implementing a small business content marketing strategy is no small task. With careful planning, research, and a focus on quality content, it can make a huge difference for your small business.
Like any new venture in your small business, content marketing can initially seem intimidating. Don't be afraid to try. And don't be afraid to fail. The very best content is iterative. A focus on creation and evaluation will yield a dynamic content marketing strategy focused on content excellence and not just produce more noise.