There is one, simple concept that will revolutionize your small business. In fact, this one simple thing is so basic that you may be overlooking it completely—and that oversight is the source of almost all your sales and marketing problems.
Are you ready for it?
Follow up.
The facts on follow-up
According to Keap CEO Clate Mask:
44% of small business owners give up after one follow up with a prospect
10% make more than three contacts with a prospect
And yet:
80% of sales close between the fifth and the 12th contact
Do the math and this means that 90% of small businesses are missing out on 80% of their closing opportunities. All because they don't follow up consistently and effectively.
So why won't you follow up?
If you're a small business, you already know the answer. You're too busy to follow up.
Between all the hats you need to wear in a given day, following up with prospects can easily fall through the cracks, especially after you've already done so a couple times. You have to move onto the next thing.
Beyond that, most systems out there that manually track your leads are cumbersome and inefficient. From Post-It Notes to spreadsheets, it can be difficult to keep up—especially when you're on the go and out of pocket half the time.
Automation + CRM is the better way
This is where automation coupled with a CRM comes into play. How do you use marketing automation?
Marketing automation allows you to create email campaigns while you're working on other aspects of your business based on actions taken by prospects in various parts of your digital marketing efforts. These can be personalized based on the context and can be used to nurture your prospects until they are ready to purchase.
When you combine your automation with a CRM, you get even more benefits by making sure your leads' activities are tracked and captured, as well as your interactions with them from anywhere on your team. Informed by your automation sequences, your CRM can score your leads and let you know which ones are ready for you to contact and go for the close.
The best part is once you have these systems up and running, they work for you in the background, moving your leads down the sales funnel rather than letting them slip through the cracks.
Easy as 1, 2, 3
A lot of business will get a powerful marketing automation and CRM system and feel like they need to do the equivalent of moving mountains with their campaigns.
Truth be told, if you're a sales and marketing geek, it can be fun to go down the sophisticated automated campaign rabbit hole. But most small business owners don't have the desire or the time to spend days and days building out campaigns.
The reality is that you easily and quickly can put into place three very simple and targeted campaigns that will change your business. Mask calls them the three keys of automated follow-up.
A LeadGen campaign
Most small businesses want more sales. In our 2019 Small Business Marketing Trends Report, 28% of surveyed small business owners identified driving sales as their No. 1 goal, while 18% said they need to keep the customers they already have.
Strangely, only 6% said that collecting leads was a priority. That registered as the lowest priority response.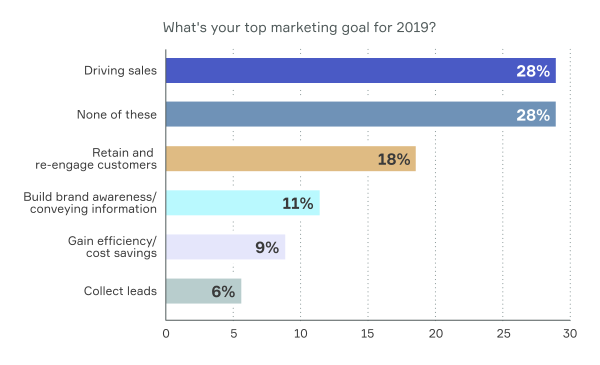 There's a huge disconnect here that betrays the fact that most small business owners don't understand how to build a fully functioning sales machine—one that starts with lead collection, continues with nurture, results in conversion, and ends with cross and upsells.
It should go without saying, a key component to achieving your sales goals is driving quality leads. And this is where a LeadGen campaign works like a charm.
A solid yet simple LeadGen Campaign utilizes a lead magnet to attract prospects. This could be an ebook, webinar, research, or a free consultation. Whatever it is, it needs to be educational and of enough value to entice someone to give you their email in exchange for it.
Utilizing webforms on your website and your landing pages (and also right in social ads if you want to get fancy), you can then use that lead magnet to collect contacts. Your webform should be connected to your CRM, allowing you to now track and segment your leads.
A welcome campaign
Once you collect a contact, you can design an automated campaign that sends an email to the prospect welcoming them. This is an awesome touchpoint for a couple reasons.
Welcome emails are the highest opened emails percentage wise. According to Experian Marketing Services, welcome emails are four times more likely to be opened and five times more likely to have click throughs. Why? Because the prospect just signed up for your list. They are never more interested than they are now.
As Mask shared in his keynote, you're nine times more likely to convert a lead if you follow up within the first five minutes
The welcome campaign is a time to introduce your prospect to your brand and to set expectations and benefits of being on your email list.
It also is the time to offer next steps. This isn't asking for a sale. It's asking for what Ryan Deiss would call a "micro-commitment"—a small ask that moves the subscriber closer to being a customer. This could be something as simple as reading a blog post or replying to the welcome email with their biggest challenge, as Francisco Rosales of SocialMouths does.
Finally, your welcome email should have an open loop that sets the expectation that more emails will come. From there, you can either send a couple more emails in a welcome sequence, or you can move them into the third key to automated follow up: long-term nurture.
A long-term nurture campaign
A reliable truism is that the customer is usually not ready to buy when you're ready to sell. That's why consistent, personalized follow up is key to sales success. With marketing automation software from Keap, you can achieve this without the manual work involved in traditionally following up. And because it's automated, you attain a consistency that is nearly impossible to do on your own.
Each long-term nurture campaign can vary depending on your business, but whatever you do, make sure it's relevant and educational for your prospect. A twelve-month series of hard sales emails will only serve to push them to unsubscribe.
That's not to say you can't sell. As Camila Gornia writes in "How to Plan a Long-term Email Nurture":
While content is powerful, you still have to make sure you are providing epic value with a purpose. That means each piece of content should be building up their belief in you, in the product, in a solution, and the hope that their pain can be resolved.

Don't share random content for content's sake. No need to record a thousand videos per week. Aim for quality, not quantity. But make sure you keep your work focused.

Make it easy for people to reply back to your emails, or to schedule a phone call to talk more, or to flat out buy your product. Obviously, the right next step is going to be 100% reliant on your particular business model. This is a big part of what I help my clients with, so don't worry if you're feeling unsure. It gets easier with time.
The cool thing about having your long-term nurture campaign tied in with your CRM is that you can then track how your prospects interact with your nurture emails over time, scoring them higher as they take desired actions. Your CRM will then help you prioritize who is ready for you to personally follow up with, increasing your chances of a sale.
For instance, the person on your list who has downloaded an ebook, read four blog posts, and visited your pricing page twice, is a much hotter lead than the person who signed up for your list but has only opened a couple emails and clicked on no links. Without a CRM it's much harder to track all this information and serve up the useful insight required to take the right action.