Nothing helps ensure the integrity of your brand like a brand style guide. Your brand guidelines help determine what your brand and your business stand for, afterall.
So, you've spent tons of time building up your business, and your brand along with it. That brand is valuable— and potentially even more valuable than the business itself, in some ways.
Some small businesses, however fall into the trap of thinking they can do without a brand or a brand style guide seeing them as unnecessary fluff needing unavailable resources.
Bu you need to ensure your brand is being presented consistently (and positively), no matter where it's showing up. That's what a brand style guide is for.
A brand style guide, which also may be referred to as a brand manual, brand standards, or brand guidelines, is key to the success of your growing business.
What is a brand style guide exactly, you ask? It's a document, shared with the rest of your organization, that describes how your brand looks and sounds, no matter what type of media is used to present your brand.
Generally, you have two types of style guides—one for visual elements, and one for writing. The former helps determine the look and feel of your brand on anything from a coffee cup to a billboard.
The latter describes how your brand sounds, both in print and out loud (say, in commercials). It determines the tone and voice of your brand, even specifying specific words to use (and phrases to avoid).
Here are some common sense items you might include in your brand style guide
Logo specifications
Approved logo color variations
Clear zone (the designated area around the logo that must be free of any other graphics or typography to ensure the logo's integrity and readability)
Minimum size of logo and placement
Alternate versions of logo (ex: horizontal or vertical orientation)
Designated color palette (guides typically contain pantone/cmyk/rgb colors)
Chosen fonts with heading sizes (establishing hierarchy)
Visual examples of application (ex: identity suite)
Examples of what not to do with the logo/incorrect logo usage
More specific information that may be found in a style guide include:
Your mission statement
Business background
Copy and tone of voice
Iconography
Photography
Patterns and textures
Employee badges/clothing
Social media images
Email signature
Powerpoint templates
Why should I create a brand style guide for my business?
First of all, it makes the process of branding any item much more efficient—there's not a question in anyone's mind about simple branding issues (like specific colors for a print piece, for example).
It can also help with the onboarding process of anyone, internal or external, who will be managing your brand in any way.
For example, if you hire a company to write blog posts for your website, they have guidelines to follow (and don't have to waste your time with questions, or worse, end up presenting your brand in a way you're not comfortable with).
Most importantly, you can rest assured that you will have a consistent visual aesthetic and brand personality no matter where your brand shows up.
Here are just a few examples on the web I found of beautifully executed brand style guides:
1. Spotify
Spotify's brand guidelines are beautifully executed—just take a look.
The Spotify brand style guide for partners and developers with multiple versions of its logo and instructions on logo use is available here.

What I love most about this guide is how chock full of personality it is, all while still maintaining a clean, contemporary aesthetic. Brand guidelines examples like this one can come in all shapes, sizes, and orientations.
2. Uber
Uber recently underwent a brand refresh and described how they arrived at brand decisions in a dynamic case study which is available to the public.
For example, they discovered that black -- one of their signature colors -- tested positively with their audiences. Other learnings included that words resignated more than symbols although they decided to bring back their iconic 'U'. Read the case study here.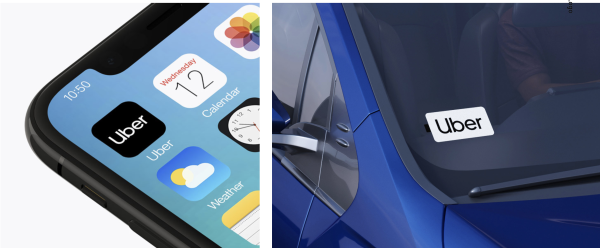 3. Asana
First of all, we love Asana—they rock! If you're looking for a project management tool, Asana is the way to go.
They also have an awesome brand style guide—check it out.
Asana used a different approach for their brand style guide. Rather than create print materials, they posted their style guide online—you can view it here.
Instead of a brand style guide, try a mini branding board
One of the many deliverables we suggest to clients when redesigning their logos is a "Mini Branding Board."
This is a neat little document that provides clients with a minimal representation of their brand, something small to refer to quickly. Think of it as a logo style guide
It includes your logo, in its different orientations and colors, your designated color palette, and your approved fonts.
If you're looking to create your own brand board, check out these step-by-step instructions.
For some businesses, a mini branding board is sufficient for the moment
A brand style guide is an involved, often complicated document—it can be challenging to try to put one together, especially you have a million other revenue-generating tasks that require your attention.
You have to start somewhere. Hopefully, you already have a brand identity in place (if not, read Clement Lim's complete simple brand guidelines template to creating a kick-ass brand identity).
Usually, you can start with two or three common branding elements, the ones people ask about the most. Often, the logo and the color scheme are enough for a small project like this.
Once it's on paper (or on pixels), you can stop worrying about it—and you can create branded materials more easily and more quickly.
The design elements highlighted in the mini branding board, like the one shown in the example, begin to establish some key design components. You can build off of these elements (logo, color scheme, typography) to build a more complex branding style guide.
Don't stray from the requirements you've established for your logo—breaking (or even bending) the rules is what creates inconsistency in your brand. That's rule No. 1 of branding and design.
Unless you have a background in design, hire a professional
Do yourself a favor, and save yourself some time and heartache in trying to do this yourself—have a designer create some form of style guide/branding board for your business, and do it now, before you're so swamped with client work that you don't have the time.
Ready to get a brand style guide or branding board for your business?
This article originally appeared in Blue Steele Solutions. 
This article was written by Cassie Green from Business2Community and was legally licensed through the NewsCred publisher network.