The amount of content on the Internet today is enormous, and more content is uploaded every second.
The content marketing industry has seen an explosion in recent years. Brands and businesses are using content to get the attention of their audience so they can generate leads and drive sales.
Since everyone is doing it, how can you gain an edge over competitors? You can do this by creating content that's better than your competition and by delivering it at a faster pace.
Creating awesome content that gets engagement is not an easy task. From the initial stage of brainstorming ideas to the content creation process itself, it takes a lot of work.
In this article, we have curated the best tools to use to automate your content creation process and get the job done faster and better.
The tools are divided into different categories, including:
Brainstorming
Content research
Editing and proofreading
Collaboration
Analytics
SEO
Brainstorming
One of the hardest parts in content creation is knowing what kind of content you want to create. Sometimes you might have a vague idea on the content but don't know how to get started. These tools will help you brainstorm and develop concrete ideas so you can move on to the next stage.
1. MindMeister
This is great software to use for brainstorming different kinds of content. It helps you to capture your thoughts, and develop and share your ideas visually.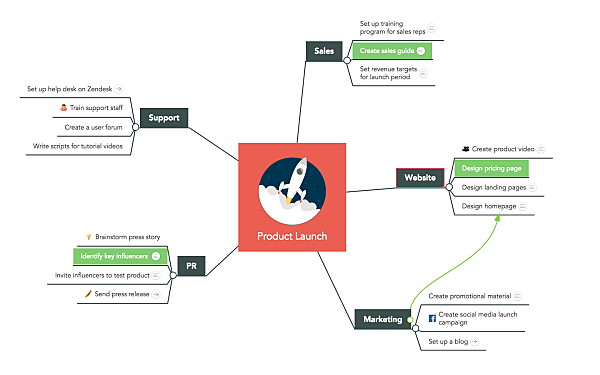 MindMeister helps you to visually organize information. It's a visual thinking tool that helps you to structure your ideas, and to analyze, organize and share with others.
No matter how large the information or idea is, MindMeister will keep expanding to accommodate your thoughts. You will be able to see all your ideas in 1 place, and rearrange or connect them using the drag and drop features available.
With the premium tool, you can add images or files to help with visualization and referencing.
2. Workflowy
Workflowy helps you to quickly create a summary of your ideas and project using an outline in the form of bullet points and nested list.
You can start by writing down your big ideas and then narrowing it down to smaller themes, research, and points in a nested list. The tool comes with a search and hashtag feature that makes it easy for you to pull up information when your list gets too long.
It also allows you to zoom in on specific bullet points by clicking on it. There are also options to share, export or duplicate your content. You can also use the drag and drop features to organize your outline.
Content research
3. Portent Content Idea Generator
Portent Content Idea Generator makes it easy for you to generate content ideas for blogs. All you need to do is input a keyword and the tool comes up with different topic ideas.
As with most content generator tools, some of the topic suggestions might sound funny. The trick is to spend time looking through the list until you find the best fit.
A feature that makes it stand out from other generators is the jokes it adds in bubbles alongside the suggestions.
4. BuzzSumo
BuzzSumo helps you to automate the content research process by helping you identify the most popular posts on the web based on keywords.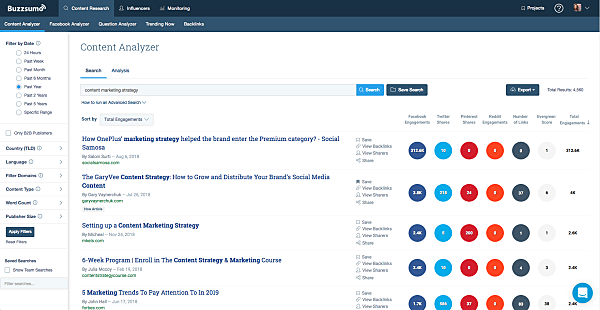 The tool helps you to explore the highest performing content based on the amounts of likes, links, and shares they have gotten.
It's important that you create the best content for your target audience. With Buzzsumo, you can make use of their research database of over 5 billion articles to identify the best content type that would work best with your audience.
You also use the location-based targeting filter to refine your search to a specific country, domain, and more.
Need extra "dough" for the holidays? Did you know that Keap has a referral program? Check out how you can fatten your wallet before the holidays. https://t.co/REox8XZjyB pic.twitter.com/msP3yx99zj

— Keap (@KeapGrowing) November 18, 2019
5. Google Alerts
One way to have an edge over your competitors is by creating trending content first. Google Alerts will keep you in the know about the latest trends in your industry by sending you a notification when something comes up.
All you need to create a Google Alert is a Google account. Type in a keyword that is relevant in your industry and click "Create Alert." Whenever something related to that keyword trends, you will get a notification.
You can also determine how fast you receive this notification. To maximize the impact of your content, click on the "show options" button and select "As it happens" in the drop-down menu. This will ensure that you create content in a timely manner.
6. SentiOne
Are you wondering what kind of content your target audience is searching for?
SentiOne is a social media listening tool that can help you understand the kind of conversation your audiences are having and what kind of content they would engage with better.
The tool allows you to track mentions of your brand, products or competitors. It also monitors the activities of social media profiles and searches the market for new opportunities.
A standout feature is being able to track audience sentiment. With SentiOne, you can track both positive and negative opinions of your brand on the web.
This will help you to create content that addresses whatever opinion your audience has. For example, you can create content to address false information concerning your brand or create a guide on how to use a product that your audience loves.
Editing and proofreading
7. Hemingway Editor
The Hemingway Editor is a writing software that helps you to create clear and concise writing. It makes your writing bold and clear.
All it requires is pasting your written content into Hemingway App and it will highlight all the areas in your text that require formatting. It includes important categories to improve your writing such as readability index, use of adverbs, use of passive voice, simplifying phrases or words, and signaling when a sentence is too hard to read.
The app offers a grading for the reading level of your content. The lower the grade, the more people woill be able to understand your writing. The app helps you to fix errors and improve your writing.
8. Grammarly
Grammarly helps you to stop making common grammatical mistakes that you would have otherwise overlooked.
The tool comes with a browser extension that you can use in checking the grammar and spelling of everything that you write. You can also download a desktop app that you can use in editing offline. For mobile phone users, you can download the Grammarly keyboard as your default keyboard. It works similarly to the browser extension.
When you misspell a word, Grammarly underlines it in red. It also highlights the incorrect usage of singular or pronoun nouns, gives suggestions for synonyms, and common homophone mistakes like "Too" and "To."
It also recognizes the names of brands and other tools online and doesn't bring them up as errors. For example, it recognizes when you type Facebook or Google Docs.
Keap Grow Demo https://t.co/uB1wEF3Syv

— Keap (@KeapGrowing) November 18, 2019
Collaboration
To optimally create content, you might have to collaborate with others.
Authorativate websites usually have people taking care of different aspects including content researchers, writers, editors to maintain quality, and marketers who take care of distribution.
You will need tools that would help collaborate, track your projects and share files.
9. Google Docs
Google Docs is a cloud-based editing platform that allows multiple users to work on a document all in 1 place.
The platform has a minimalist interface but contains all the necessary features that you require from a word processor.
You can also share and export files with other users using the link-sharing tool. The share button can be found in the upper right-hand corner of the screen.
Another important feature it offers is the ability to specify access privileges to other users. You can give users the ability to only comment, or access to editing the document.
10. Trello
Trello lets you work collaboratively and get more work done. It helps you interact with your team using a visual platform.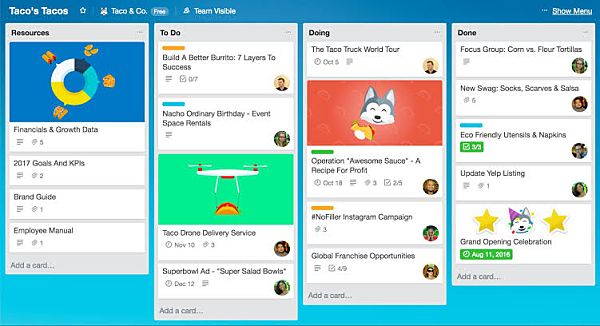 You can create boards, cards, and lists to organize your team, manage your projects, set deadlines, and monitor productivity.
Trello is important in optimizing the productivity system of any team. It allows you to place your projects into " Boards," tasks into "Lists," and manage them using "Cards."
You can also add comments, attachments, and due dates directly into Trello cards for easy access. It also supports the integration of apps that your team uses regularly and syncing across all your devices.
11. ProofHub
Proofhub is a collaboration tool that is tailored toward content development. It's a project planning software that helps teams to get work done faster.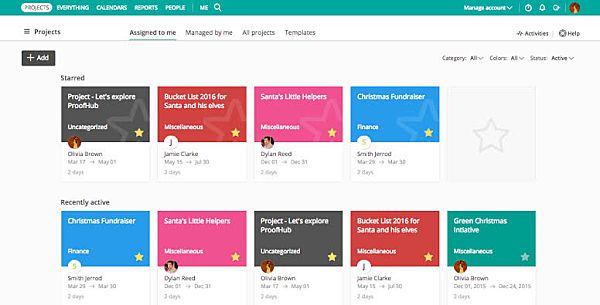 Some of the notable features is a Kanban board to self-manage and visualize workflows as they move from 1 stage to another. You can distribute tasks to various members on the team and get notified whenever the task is completed.
It also comes with a calendar feature to track the progress of your team. It can also double as an editorial calendar for content development.
Analytics
To optimize content creation, it's important that you perform analysis to determine what works and what doesn't. This will help you to make better content based on data-driven decisions.
This tool will help you get started:
12. Google Analytics
Google Analytics is 1 of the top free tools you can use in analyzing your content.
You can measure all the important performance metrics—number of users, number of sessions, bounce rate, duration, and user location.
Performing this analysis will help you understand the type of content that works best for your audience. For example, if you're performing email marketing, analyzing the results will help you know if your email copy is converting.
You can use this guide to integrate Google Analytics into your website.
13. SEMRush
SEMRush is a useful tool that helps you perform in-depth analysis on your site and also your competition. The platform reveals content errors, helps in website auditing, keyword insights, link building, site toxicity, and much more.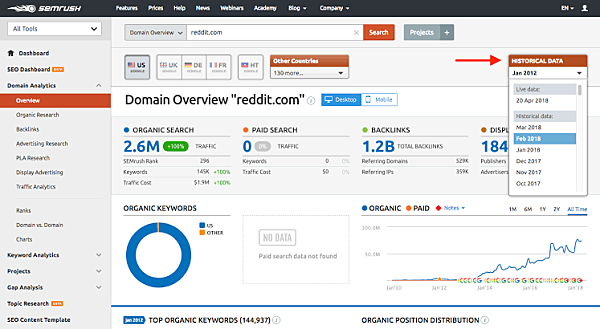 This tool is perfect for analyzing your content, identifying keywords you can rank for, and improving the quality of your site.
SEO
Along with creating content, it's important that you create content that is optimized for search engines. When you optimize your content for search, you increase the chances of your content getting found by your target audience.
14. Yoast SEO
If you use a Wordpress content management system to create content for your website, then you should definitely make use of Yoast.
The Yoast plugin is very easy to use, and once downloaded improves the readability and search optimization of your content. It directs your attention to all the areas of your content that needs work and how you can improve it.
You can also use Yoast to focus on the specific keywords you want to optimize for search engines.
Bonus tool
15. Aminstitute
Advanced Marketing Institute tool is a headline analyzer that calculates the emotional marketing value of (EMV) of your headlines.
The tool will help analyze your headlines to determine how people will react to it. The headline is calculated based on the number of the total EMV words in relation to the number of words in the headline.
This tool will help you in creating successful copy that can convert and generate leads.
Conclusion
Content marketing is an important part in determining the success of a business. There are several aspects involved in the content creation process. These range from brainstorming, creating the content, optimizing it for search engines and performing analysis.
The tools mentioned in this article will help you create better content faster, so as to maximize productivity and focus your time on other important things.