How you choose to serve your clients is everything. So why wouldn't you manage the experience intentionally?
Let's step into your clients' shoes for a moment: They need a consultant or coach now or in the very near future. They reach out, hopefully drawn in by a brillant listing, website, ad or lead magnet showcasing your business. But when they make contact, your business isn't ready to serve them as they consider making a purchase with you, resulting in a missed opportunity. Worse yet, your interaction may be so awkward that they rule you out as an option or start reconsidering their need for a coach or consultant altogether.
Not the experience you're looking to create, is it? To avoid this scenario, you'll want to make your customer's journey a central part of your operations and core marketing strategy. Whether your business follows a B2B or B2C model, a customer journey map sets the table for how you choose to serve the clients that come to you.
Getting to the ideal version for your coaching or consulting business will take some effort, but it's well worth it. It involves:
Researching your current process
Exploring how similar businesses have approached theirs
Analyzing every step in your current process
Refining your current practices and offerings
Implementing your customer journey map, including team responsibilities
Below, we'll cover why customer journey mapping for service businesses is important, some approaches to customer journey mapping for consultants and coaches, and simple examples of mapping for both. Ready to get in the game, coach? Ready to make the sale, consultant? Good — then let's go.
Or, as we like to say at Keap, let's grow.
Why customer journey mapping is important for coaches and consultants
Having insight into your customer's mindset can improve your company's sales, profits, growth and ability to scale over time.
The same goes for your company's operating efficiency. When your whole team knows how a customer should be treated at every stage, they will communicate in shorthand, collaborate more effectively, and create a seamless process for customers. Before long, you'll see a variety of other benefits that also affect your bottom line.
Your inbound leads will go through the roof
We can't say it enough: Understanding your customer unlocks so many avenues to sales and profit. By creating lead-capture programs and content that have a customer journey map at their core, it will become clear which avenues are worth pursuing to effectively find leads. This will save you marketing dollars, staff time and company effort on approaches that have a low likelihood of yielding the sort of returns you're expecting.
Your conversion will also hit a high point
You never want prospects to experience hassles or dead zones in their interactions with your company. Clear, navigable pathways will encourage your customers toward purchase the moment they are ready to get started. Again, this clean process can be planned intentionally with a customer journey map — one designed with the ideal customer experience in mind. More advanced customer journey maps can even provide touchpoints that highlight your strengths over the competition, speak to past case studies or results, and seal the deal with helpful testimonials.
You can easily integrate and sell new offerings or services
With an insightful customer journey map, you can discover and monitor any problems or missed opportunities with your portfolio of services. This not only allows you to refine your existing services as the need arises, but it can also identify new services you might consider adding. Then, the process of introducing and marketing those new offerings will become clear, as you'll know exactly where and how they fit into your overall customer experience.
You will develop lasting client loyalty
Client loyalty holds special importance for service professionals, as engagements with a client can be limited by time or budget (or both, likely). The relationships that come out of these engagements can also turn into repeat or growing business, as word of mouth from happy clients can become a source of new leads. For both coaches and professional consultants, this can be the difference between a business that is struggling to find its footing and one that is flourishing. A thoughtful customer journey map is key to this dynamic, as consistent, positive interactions with a client lead to loyalty.
What if you offer both products and services?
Let's say you are a coach with some amazing merch you'd like to sell along with your ongoing coaching services. Or maybe you're a marketing consultant who also does art direction and graphic design. Whether you're a coach or consultant, you might even have a book in progress that you hope to share with the world (once you find the time to finish it).
How will that new product work within your service-based customer journey map? Let's take a look at a few ways it may have an impact:
Your customer journey map may change shape. While many simple customer journey maps look like a one-way street, yours may have a couple of journey points that branch off. More accurately, you may have a couple pathways that occasionally intersect.
Your client communications may shift. Say you are a consultant hosting a course for an exclusive audience of clients. Your normal customer journey map might include a lot of 1:1 interactions with a client, but this sort of offering might shift to 1:many.
You'll develop valuable opportunities to cross-sell. Some clients may come to you for the product you offer, while others may engage you based on the services you provide. But would one be of interest to the other? If your customer experience is sound, you may have the chance to develop new audiences for each revenue stream.
You may need to determine what your lead offering is. Many businesses offer a combination of products and services — so you're not alone. However, you may need to identify what your company's focus is for the sake of your sanity and your customer journey map. Remember, if your customer journey map feels convoluted to you, it's likely coming across that way to your audiences too.
Customer journey map examples for professional services
Do a general search for customer journey mapping, and you'll find a multitude of ways companies define their mapping systems and design the visual expressions that result. The coaching and consultant examples below are what we'd consider solid starter models for your service-based business.
As time goes on and you feel more confident with the process, feel free to make them more involved and/or visually appealing, like these: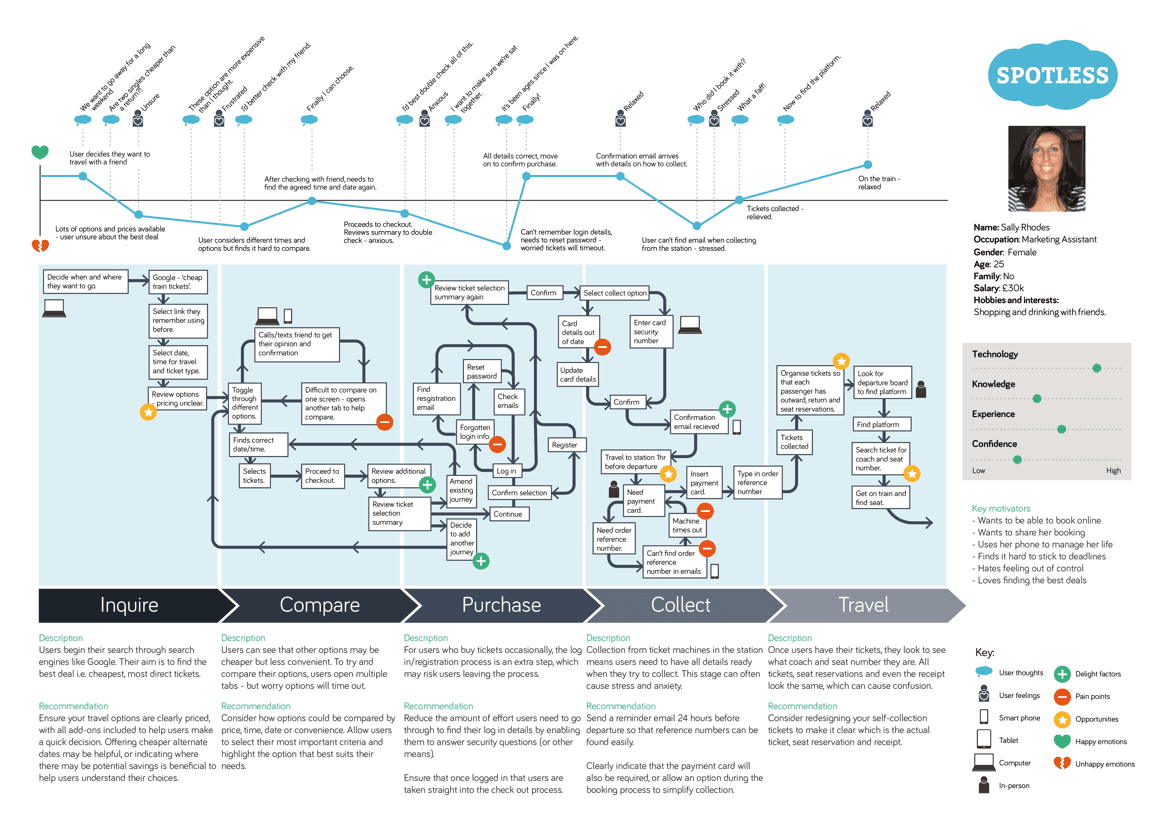 Starter customer journey map for coaches
It doesn't matter if your prospects need help with their fitness, their professional polish, or their leadership qualities. Within a customer journey map for coaching clients, you will need to think about:
Competition from other coaches
Competition from other solutions
Price
Coach-client chemistry
Personal goals
Here's an example of a simple, grid-style customer journey map for coaches:
| Questions to ask about your coaching client | Client Problem Stage | Client Awareness Stage | Client Consideration Stage | Client Decision Stage | Client Retention Stage | Client Loyalty Stage |
| --- | --- | --- | --- | --- | --- | --- |
| What does your customer think or feel? | My [health/career development/well-being] is not where I want it to be. | I could use some help with my [health, career development, well-being]. | With the right help, I can make progress. | This may be the choice for me, but I still need convincing | I am happy with my choice, but, I want to get the most out of the experience. | I can feel/see the difference in myself, thanks to the coaching. |
| What are they doing or not doing? | Working up the motivation to take the next step | General searches online, exploring options | Diving deeper into coaching options, considering personal referrals | Starting to ask questions about specific services or programs | Engaging with the coaching program and looking for results | Applying what they learned and considering how to grow further. Recommending you to others. |
| What issues or questions might they have? | What's the best way for me to get started? | What help is available out there? | Is this person the best? Are they worth their rate? | How do I know we will work well together and meet my goals? | How can I achieve my goals faster? | How can I share and/or show off what I've learned? |
| What might move them forward in the customer journey? | Clear, engaging website content, introductory content about the impact of coaching | Informative content and powerful testimonials or referrals | Clear case studies with results from other customers, content about proprietary approach | Free consultation to answer questions and start shaping a plan together | Supplemental content that can enhance the coaching experience, 1x1 "words of encouragement" texts | Content pathways for other avenues of growth through coaching, referral or testimonial requests |
Starter customer journey map for consultants
"Consultant" is a general term that can come with a lot of specific impressions, depending on your audience. This makes quick context and differentiation a huge opportunity. With a customer journey map for consultant clients, you will want to consider these factors:
Competition from other consultants and firms
Fit versus scope of engagement
Price
Types of engagement (project, retainer)
Opportunities for return business
Take a look at this simple, grid-style customer journey map for consultants:
| Questions to ask about your consultation customer | Customer Problem Stage | Customer Awareness Stage | Customer Consideration Stage | Customer Decision Stage | Customer Retention Stage | Customer Loyalty Stage |
| --- | --- | --- | --- | --- | --- | --- |
| What does your customer think or feel? | I have a gap in my work that can't be filled with current staffing. | I may need some help with a [future project, organizational weak spot, growing need] | With the right help, I can keep my business on track. | This consultant checks a lot of boxes, but are they the one for me? | I have a new or related need—can my consultant help again? | I feel good about how that project went. |
| What are they doing or not doing? | Starting to check budgets to see if contract help is possible | Exploring options online, talking to colleagues about solutions | Reviewing appropriate options | Looking into specific services and engagements | Reviewing their past work and additional resources | Sharing the results of the work completed |
| What issues or questions might they have? | Are there specialists out there that can help? | What is the best approach to solving my business problem? | Is this person good at what they do? What will the invoice look like? | How do I know they are the right fit for my company? | Can they take on this new or related project as well? | How can I best showcase the project work? |
| What might move them forward in the customer journey? | Clear, engaging website content, introductory content about the impact of coaching | Informative content and powerful testimonials or referrals | Clear case studies with results from other customers, thought leadership posts or blogs | Free consultation or whiteboard session geared toward specific needs and goals | Nurture series on how the relationship can continue, even when the project ends | Instructive content for creating successful case studies, referral or testimonial requests |
Make your customer experience even stronger with these tools
If you have a customer journey map or are in the process of creating one — congratulations! Here are some other resources that may help your business continue to refine the customer experience.
Learn more about what a customer journey is, then create your own customer journey map using our step-by-step guide and free downloadable template.
For tips on managing your customer journey map as your business grows and evolves, check out our 7 best practices for getting the most out of your customer journey map.
For consultants: Check out how Keap's CRM and sales and marketing automation platform can help you close more contracts and improve efficiency.
For coaches: Explore how Keap's CRM and sales and marketing automation platform can improve your scheduling and client relationships.
Explore upcoming events that can improve your skills with the Keap platform and push your business growth to the next level.
Ready to dive deeper into how Keap's powerful sales and marketing automations can support every stage of your customer experience? Start your 14-day free trial with Keap now.