Sometimes a tweet, a like or a compliment from a popular personality is enough to recharge your content marketing efforts. They offer a huge boost to content created by bloggers who are trying to reach a target audience.
In the early days of digital marketing, influencers didn't hold the same sway they do today. We focused on basic tactics and techniques to promote engagement online. Those were the days when content was published to gain high-quality links. It wasn't the easiest time because getting your links on top-rated platforms was a painstaking task. While getting backlinks is still one of those daunting digital marketing practices new ways of gaining the audience's attention have emerged.
Today, you can reach hundreds and thousands of users within a day. How? It's possible if you succeed in gaining the attention of 1-2% superheroes of the digital world. These are experts in their fields who inform and entertain thousands of followers across the globe. They are known as influencers.
I call them superheroes of the modern world because their one share can expose your content to thousands of users in a few hours. It will benefit you and your clients who want to reach their target audience in the shortest possible time.
Why do you need an influencer?
One share from an influencer can play a crucial role in your success as a blogger. Influencers can save extra time and money which you may spend to rank up your blog.
Initially, I was puzzled when I heard about this tactic. It was like "can't I do it on my own by using my ability to producing quality content"? Then I realized it was going to take a long time to achieve that goal. An influencer can help you achieve your goal much faster.
Many content creators realize this and most of them are trying to "create an epic piece of content that influencers will share".
Yes, you can attract some big celebs or people in the industry to share your blog post on social media, but they also need to link to it. You will get huge referral traffic along with authoritative backlinks. This is how you can do it:
Recognize influencers you want to attract
You likely understand why you need influencer support. You might even be trying to connect with them, but where would you find them? Social media is one location. You can also build social media likes and followers to establish a compelling profile. It's not difficult to build great social media profiles. While you can get thousands of followers and likes, you will never have a real interaction with any of your followers. Similarly, the number of followers never proves how popular a person is in his/her field.
An influencer who engages with 3,000 people can be more helpful than a person with 10,000 followers on social media with zero engagement, BuzzSumo is a respected tool for finding influencers with great retweet rate. It conducted a study to reveal the impact of social media shares. They revealed that if 5 people with 2 or more retweets share a post, it may receive 300% better social media shares. It would be difficult to achieve such an astounding social media share rate by implementing other digital marketing tactics.
Tips to attract top influencers to share your content
You can bypass all those struggles and reach your target audience if an influencer agrees to share your content. How would you do that? A renowned influencer might not accept pay for sharing a piece of content. He or she might share it if it is helpful for his/her audience. Your priority should be creating an epic piece of content. Follow the below-listed strategies when to attract top influencers when you have your content ready to be shared.
1. Establish a good relationshipTop influencers deal daily with hundreds of people who want them to promote their business, products, and platforms. Don't be that someone every influencer ignores. Be someone they can trust.
Put your efforts on establishing an authentic relationship with top influencers. Follow them on social media platforms and post engaging comments on their social media posts. Share some interesting thoughts to engage them on Facebook or Twitter, where top influencers can check your profiles.
Yes, it will take some time but they will eventually start recognizing you. They will know your views and it will help them in considering your content. Gregory Ciotti of Moz tried this tactic. He maintained minimal interactions on social media and still, he gained 63% positive response to his sharing requests.
2. Share their content on social mediaEven influencers want their followers to share their content. They also want to reach new people to gain more genuine followers. I got noticed by my favorite influencers by sharing their content in my network. It was for a short period but I still managed to get that Top Fan batch on Facebook.
But your goal is to get your content shared. You can achieve that goal by sharing their content. First, you need to give to get something, though.
In some cases, top influencers may not require a payment because they are already well compensated. They want your audience and you can provide them with people in your circles. Share their content and they will recognize you as one of the top fans/followers.
Sharing one or two posts daily is enough to gain their attention. They will know that you are helping them in spreading their views to new people. Therefore, they may also agree to endorse your content on different platforms.
3. Create guest posts for their blogs
Influencers are renowned figures but they also may need some help. Many of them run a blog to share their views and new discoveries. They constantly deal with the content burden. Their top priority is to provide readers and followers with new content to maintain their interest.
Every content creator knows that it takes time to plan and create something engaging. Therefore, every influencer seeks the support of talented people who can reduce the content burden. You are a skilled content creator and you want to gain top influencer's attention. Create guest posts for their blogs and you can become one of their favorite followers. Many top-rated bloggers and influencers accept guest posts.
They typically provide guidelines to follow while creating guest posts. Read those guidelines and create a post that can quickly gain their attention. Don't worry about rejection and focus on creating something epic that nobody can refuse to put on his/her blog.
For example, I wrote a piece on FourweekMBA.com and because it was so good, it was published within a few hours.

4. Feature them as an expert in your content
You can include quotes from popular people in your content to establish your point. Why add some random person when you can quote influencers you are trying to attract. Every person wants to be featured as an expert, especially if he or she is guiding the audience to do the right thing.
I have used this tactic and it worked well for me. Below is an example of a visual content I created featuring Larry Kim a while back.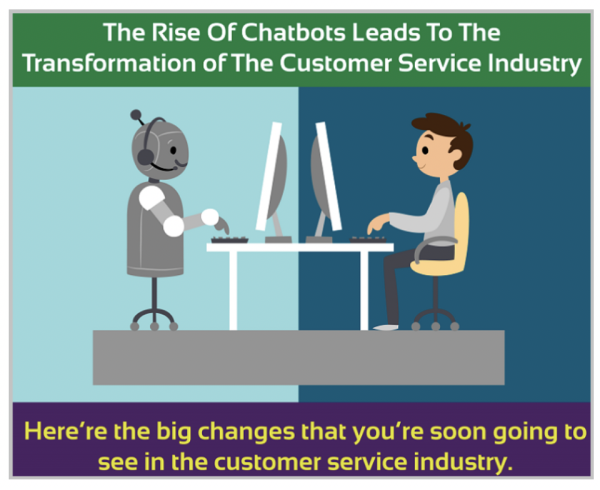 And because it was so good, it was shared by Larry Kim.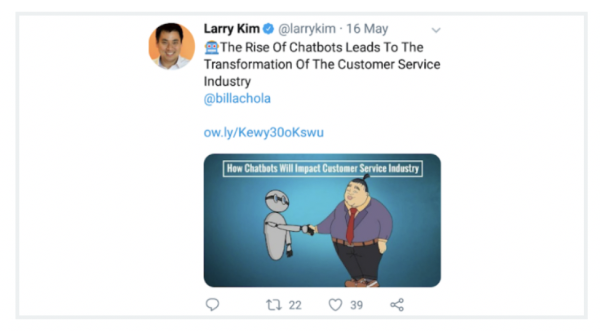 Try this only when you have a good relationship with the influencer. You can also interview them online or in-person to know their views on the topic.
It can be a little daunting to convince them through live interaction. You can communicate via chat or email and schedule an interview. Email all your queries and wait for their response. Include that response in your content in a way that it will appear like an expert's opinion. That influencer would love to share that blog in which he/she is featured as an expert.
5. Tag them on social media
When you have something useful for every reader in a particular category, don't wait too long to reveal it. The simplest thing you can try to get someone's attention is tagging him or mentioning him on social media platforms.
It will help you in spreading your content across their vast user base. Try this tactic after applying the previous four methods because thus the influencer may not remove his tag.
This is how you can make top-rated influencer share your epic post on social media and their blogs.
About the AuthorBill Acholla is an experienced and highly skilled digital marketer. He has worked with some of the best and most recognized brands to build their online presence. If you want to promote your business through content marketing, check out his business blog at Billacholla.com for more actionable information.