In our competitive online environment for brands, SEO becomes more important than ever before. But it's not enough to create a website, gain a bunch of links, and that's your lot. It's not enough to just focus on SEO practices. All you have to do is put it all together to build a trustworthy and authoritative brand online.
Google fosters business websites that have a strong brand presence aside from giving valuable information to users. They get better rankings with fewer links. If you want to do well in organic search results, branding and SEO should form the base of your marketing strategy.
Branding and SEO can't work effectively without each other. Just imagine that 1 in 2 millennials have found and purchased a new brand they knew little about by just searching on their mobile devices. You can build your brand awareness that your customers are craving to their moments of need. You can be their favorite brand.
For this to happen, you should see the real value in an SEO branding strategy because it is much more contiguous and indispensable than you think. Let's look at the following building blocks you can use to create an effective SEO branding strategy over the long term and increase branded traffic to your website.
1. Find and organize your branded keywords
A branded search refers to the queries users are searching that include the name of your brand or some variation of it. Users who research branded keywords already know about your brand and possibly intend to purchase from you.
Getting a large number of branded searches can help your business grow on many levels. Once you increase your branded search volume, you can increase rankings for your non-branded keywords. In other words, if your brand has appeared in a high volume of searches together with unbranded queries, Google could associate your brand with these keywords and make them highly relevant.
When it comes to branded search, there are different ways your customers are looking for you online. Here are some of them you should focus on:
Branded ROPO queries.
Users that type these keywords are ready to buy.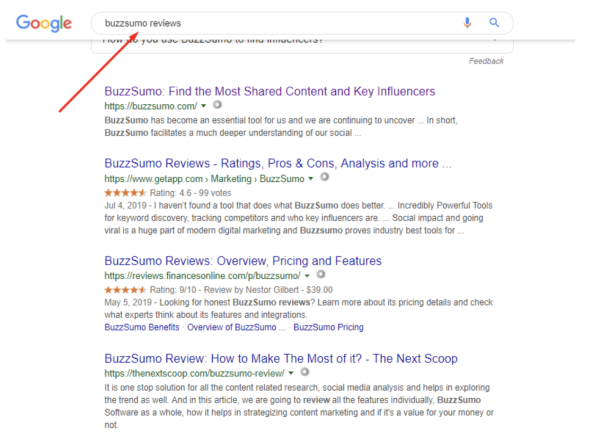 Competitors' branded keywords.
You can compare your brand with your competitor's brand name.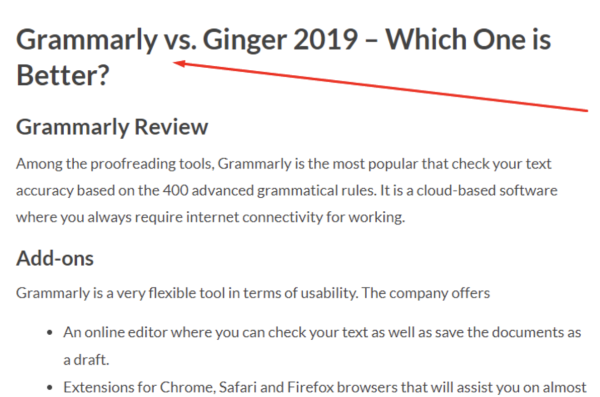 Navigational queries.
Ideally, your website will show up on both the top organic and paid search results for your brand name. As Maria Monroy from Mirman, Markovits & Landau, P.C has said it's better if you buy these keywords even if you rank organically for them as they intend to get both clicks and conversions."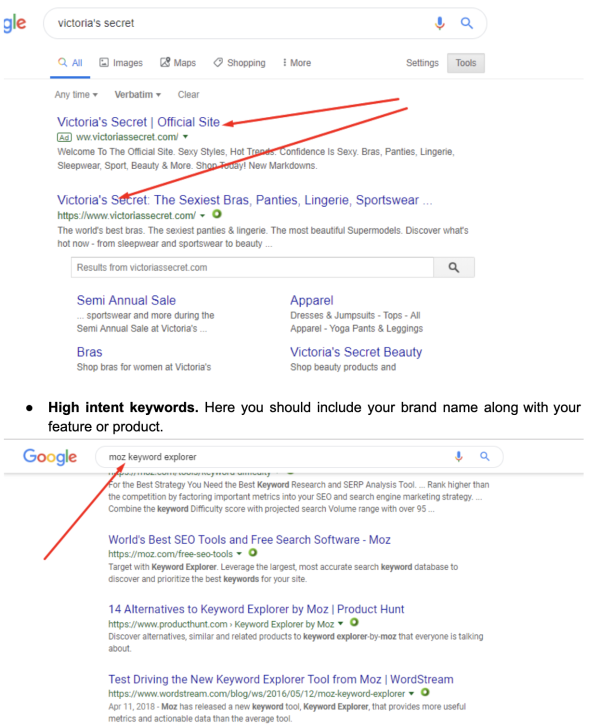 High intent keywords.
Here you should include your brand name along with your feature or product.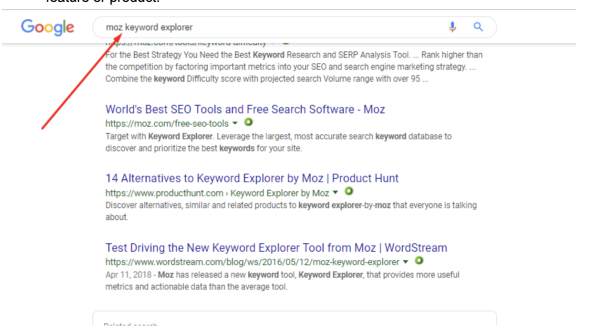 Tip: Make sure to use the full name of your brand, including brand typos. For example, if you are looking for Airbnb, you can try out "airb", "bnb" or other combinations - just be creative.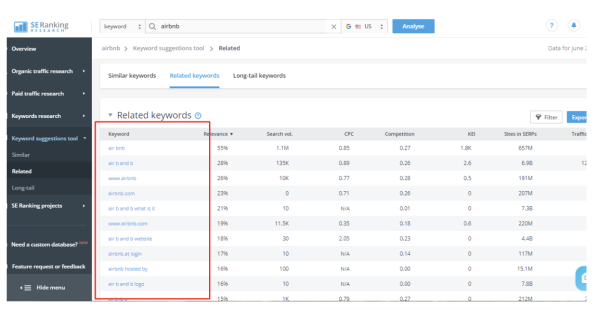 If you decide to rank No. 1 on Google for all of these branded queries, pay attention to blended search results, such as product results, videos, images, local pack, and others. Once you get featured for your branded keywords, make sure to build a separate strategy for those branded variations too. For example, "your brand name vs your rival's name needs a video."
2. Implement local SEO
Local SEO plays a huge role in local brands due to precise location targeting. It's one of the best ways to drive branded traffic to your website. Moreover, 46% of all search queries on Google have local intent. Customers who search for any information about your brand may have a high commercial intent because they already know the brand or have recently purchased the product.
It is important to implement the best SEO strategies with an added focus on geo-targeting. Ensure that local SEO is a long game that requires testing and optimization over time. Conducting a detailed SEO website audit for your branded searched will help you stick with your SEO plan to increase your traffic and conversions.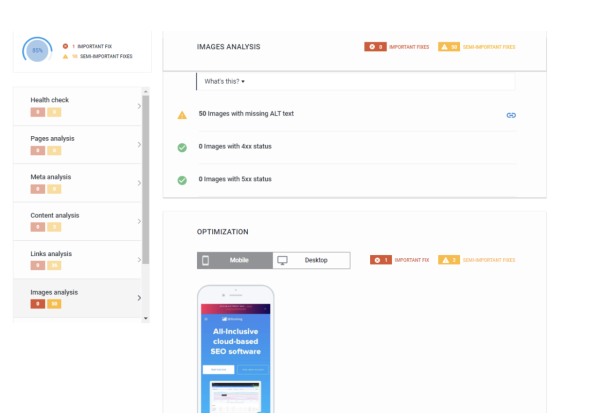 Here's what you should pay attention to build a successful local SEO strategy:
Optimize Alt tags and filenames for your brand images, including the brand's name and the name of your product or service. To be more relevant, you can add such characteristics like model, size, color or gender.
Verify and optimize your local business listing on Google (including the newer sections like Google Local Posts, Booking button feature, the Services list) to drive traffic from local and map searches.
Build a mobile-friendly website design.
Add local schema to your website.
Improve your page load speed to maximize your results and your revenue.
Add your branded keywords to your landing pages, business description on Google local, business reviews, and localized content.
Link building with high-quality websites in your local area and niche.
Make online reviews work for your business. According to Bright Local, local businesses appearing in the local three-pack have an average of 47 Google reviews.
The above steps should be enough to optimize for your Local SEO. To get maximum results, stay focused on what your local market wants and what your target customers are searching for in search engines.
3. Bid on branded terms
Paying for branded keywords instead of getting them organically may seem illogical, but you know that clicks on paid search ads provide 2x more common for buyer-intent keywords. I mean that 65% of users click on Google ads when they are searching for an item online. Branded searchers have a bunch of intent through the middle and bottom of the funnel traffic.
The biggest reason to bid on branded terms is that your competitors are doing it. They are generally targeting your audience by using your branded keywords and heading your traffic to the welcoming pages of your competitors. For example, when you search for a brand like Hootsuite, check out the following search results.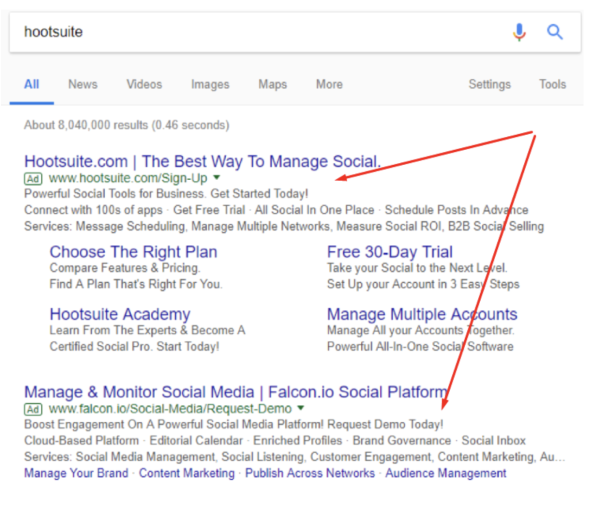 The Hootsuite's ad takes the first position, while a competitor of Hootsuite goes second. By paying for your branded keywords, you will thwart any attempts of your competitors to swipe your leads and invade your territory.
Paid ads can help you control your messaging and entice more potential customers to visit your website. You know that organic listings might not lead your audience to your ideal landing pages. Get the most out of your paid ads and direct your searchers to your high-converting landing pages. Take advantage of different, engaging ad formats like Product Listing Ads, sitelinks, etc.
I know that many marketers are skeptical about this strategy. The best way to satisfy your doubts is to give it a shot. You never know what works best for your needs unless you test your capabilities.
4. Publish content on quality websites
"Contributing your thoughts, ideas and content on high-quality websites is a great way to build your brand awareness, reach wider audiences, and increase traffic and conversions," saysTodd Lasky from Zavodnick, Zavodnick & Lasky, LLC. "Content contribution is not just about building links, it's about positioning yourself as an authoritative source of information and building credibility."
The basic idea of contributing is that you should add value to website content and demonstrate your expertise. Guest contributions on authority websites like Fortune, which accepts some guest posts, can drive people to learn more about your brand or product you've mentioned in your article. For example, in one of my articles, I mentioned SE Ranking who generated over $10,523 with a single guest post on business 2 community.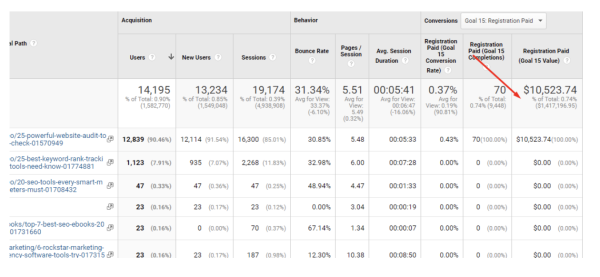 Before submitting your content, research the website first to make sure it gets a high traffic volume and aligns with your brand values, and the audience is relevant to your business you want to offer. If you do it right, you can generate new traffic to your brand, not just one kind of traffic.
5. Measure branded search traffic
Understanding what percentage of your branded traffic you get will help you figure out what works for your brand and what doesn't, how much effort you should put into brand reputation management, and just understand whether you are moving in the right direction.
Google Analytics allows you to monitor the number of people enter your landing pages through brand terms, use a browser bookmark, SEO clicks and conversions per landing page for a specified timeframe. Use Google Keyword Planner to track the volume of searches for your brand keywords, and see whether search volumes are increasing over time.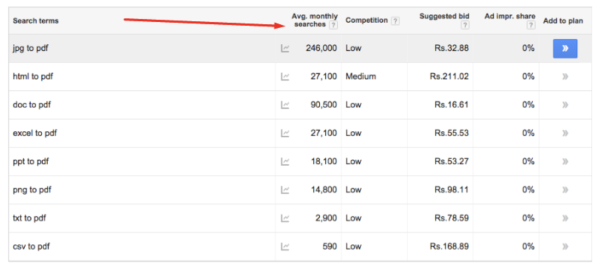 For advanced website analytics, Finteza is an awesome alternative to Google Analytics with a big focus on conversion optimization and monetization. One of its best features is the ability to analyze which keywords drive most clicks to your website, visualize tracked events, and find profitable traffic sources. Monitoring all branded traffic over time will give you an indication of changes in your brand recognition.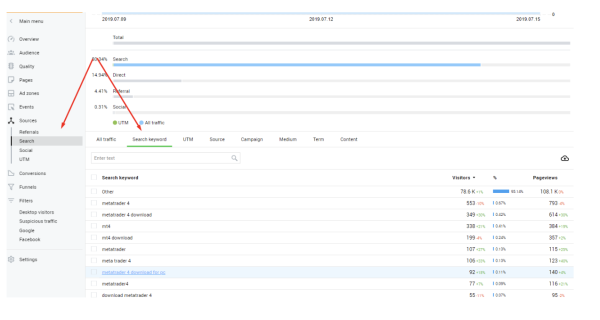 Conclusion
Branded searches are requisite and often underestimated. It doesn't matter what position you take in this, without optimization for your organic and paid SEO to get branded searches, you will lose a bunch of potential traffic and conversions. Moreover, branded searches can be the last touchpoint for customers who are ready to purchase your product or service. Once you start optimizing for your brand, you will quickly improve your brand awareness and provide a better experience to your target audience. Let us know what other strategies you would recommend increasing branded traffic.