With the popularity of instant online messengers, chatbots, and emails, we tend to forget that text messaging still remains among the most convenient and reliable ways to reach a person.
You don't need an internet connection to send a text;
It's a non-disturbing way to contact a person;
82% of text messages are read within 5 minutes.
But what do consumers think when getting a text from a business? 75% of consumers are OK with it as long as they've opted in.
This statistic does not claim that texting is the be-all and end-all of consumer messaging. Yet, it can be a handy tool in your next marketing campaign or when communicating with the current clients and employees.
For example, you can use TextMagic, a bulk SMS provider, to send opt-in confirmations, appointment reminders, special offers, and surveys.
First, you collect a list of phone numbers by getting your leads or customers to opt into your SMS program. And then, you can send text messages to the numbers in your distribution list. TextMagic allows sending texts online, has a feature like a two-way SMS chat, which can be helpful to communicate with customers when they have an issue, and you can receive reports on delivery and response rates.
But let's dive into how businesses can use text messaging in detail.
How service providers can use texting for marketing
Marketers can use text messaging to welcome new customers, inform old ones about new special offers and loyalty programs, and encourage referrals.
Opt-in confirmations
You can use these types of messages to greet the new customers and while you're at it, also get some extra marketing benefit.
Ask for feedback:

Offer discount deals:

Exclusive deals
Customers redeem SMS coupons 10 times more often than any other type of coupons. Starting a loyalty program with discount deals, or just sending individual special offers might bring some extra bucks.
Use TextMagic to send exclusive deals to your subscribers' list: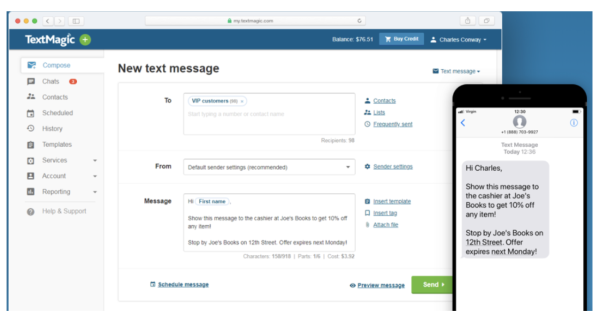 Messages for attracting returning visits/orders
Let's say you are an owner of a fitness studio that's just introduced new yoga classes. Or, you're a manager of a restaurant, and you've made some changes to the menu. This would be a bit of an opportunity waster if you didn't send out informational texts with that news to your subscribers.

These bits of information could remind the clients, who you haven't heard from in a while, that your business still has something interesting to offer. And, they would be missing out if they hadn't dropped by.
Messages to encourage referrals
Loyal customers are great for your business not only because they bring sales on a regular basis, but also because they can attract new customers. Sometimes good product and customer care are not enough for referrals, and some extra effort is needed. Use text messaging to ask for referrals directly and squeeze in a little incentive.

How to use text messaging for customer service
You've probably heard that good customer service is vital to keeping your business afloat.
For service providers, this means reminding customers about their appointments, notifying of any changes, and giving informational support should that need arise.
With tools like TextMagic, you can schedule appointment reminders, notifications, and alerts to be sent later at a certain time.
Appointment reminders
Appointment no-shows can have a devastating impact on your business. Clients tend to forget about the appointment, or they change their mind, or they choose another business over you. In any case, it would've been great if you'd known beforehand the client wasn't going to show up.
One way to solve this is to send out appointment reminders. If a client has other plans, they can just respond to your message and let you know about it. Prospect Expert, a leads management company for car dealerships, had a hard time getting appointments for their clients — 30-40% of them were often canceled. To reduce that number, Prospect Expert used text messages to remind customers about their appointment. This resulted in the following:
The number of appointments grew by 60-80%
When the customers chose another car dealership they could notify Prospect Expert through a text, which had saved the company's time significantly.
SMS infoline
Sometimes a client needs information from you, and they don't have internet access. That's where text messaging comes in handy.
Customers can send you a text and this way, a conversation starts, where they can learn anything they need to know. TextMagic's two-way SMS chat feature can help here.

SMS for staff communication
If you own a business with a team of field employees, you must've encountered one of these situations:
When a certain employee's appointment with a client has been canceled and you have to inform them at once;
You have to call an urgent meeting;
One of the employees has called in sick and you have to find a replacement for an appointment with a client.
Text messaging will come in handy here because your team might not have internet access where they are working, while a text will be delivered regardless.
This will work for an office team as well. If you want to urgently inform your colleague about something, a text will probably be the fastest way. An SMS open rate is 98% comparing to only 20% when it comes to email.
Moreover, SMS can be used not only for urgent business. Sending a text with birthday wishes and maybe a voucher for a free class, product or whatever, to your employee can be a nice gesture showing that you are involved.
How to get feedback with text messaging
To improve your services, to grow and develop as a business, you need to ask customers for feedback. Creating surveys for customers to fill out can help with that.
Now, when it comes to getting feedback through SMS, there are two ways to do it:
You can create a short poll and ask customers to respond to a short question with a text. This can be, for example, their favorite flavor of your product.If you want to run a more detailed survey, you can create and upload it online, and then share the link via SMS.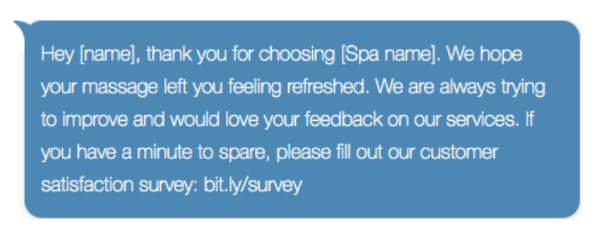 TextMagic has a separate feature for sending surveys, where you can choose from a number of templates, create surveys, and schedule them.
SMS can also be a good tool to remind the customers to fill out a survey.
Conclusion
In a world where people get bombarded with digital messages daily, text messaging still remains a reliable tool. While WhatsApp messages and emails can be ignored, 90% of texts are often opened within 3 minutes of receiving. That's why texts can be used for sending time-sensitive promotional offers, urgent information for clients and customers, and reminders about appointments.