The pressure is always on for tech companies because constant growth is demanded and hyper-growth is expected. Tech company marketers can often feel alone and overwhelmed, which quickly takes their work-life balance out of whack. The solution is to use Slack.
Slack is a group messaging app that provides easy and pleasant communication with a niche community. Slack channels can provide work-related resources and a lifeline of support and encouragement. With that noted, let's take a look at the top-10 Slack communities for marketers in tech companies.
1. Online Geniuses
Online Geniuses was started in 2015 by David Markovich. Today it boasts 25,000 members and Q&A sessions with prominent marketers, such as Gary V. and Guy Kawasaki.
Access is free, but there's a two-four week waitlist for manual vetting that can be bypassed by paying $25. Pro access costs $599 per year and is meant for bigwigs. There's also Marketplace, a place where Pro members can list products and services to everyone else using the channel.
Online Geniuses promotes webinars and local events, and since the Free tier serves as a talent pool, you can get advice, find a consultant, or hire a part-time employee. If using it as a Free member, learn; if using it as a Pro member, hunt for talent. All members of Online Geniuses call themselves "OG."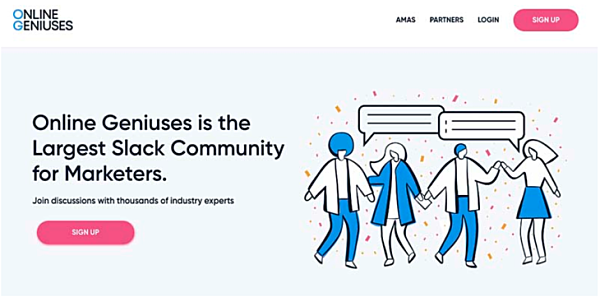 2. Demand Curve
Demand Curve hosts eight Slack channels, each with a distinct set of topics. From copywriting to Shopify plug-ins, Demand Curve is a one-stop-shop for marketers, with optional paid marketing courses and access to vetted freelancers and agencies for hire. The application process is free through the website but there's a 30-day wait.
The main focus of Demand Curve's Slack channel is growth hacking. As the name implies, this is aimed at marketers who aren't afraid of using jury-rigged solutions to get the user or traffic numbers they need. When joining, choose one of the available topics on Demand Curve and master it rather than diluting your efforts.
Demand Curve's Slack administrators observe all members before reaching out and inviting the select few into a hidden Slack channel. The bar is set at "those who contribute meaningfully."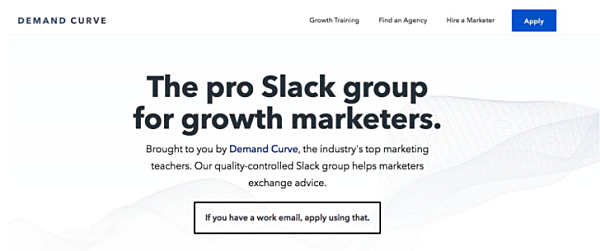 3. Marketers Chat
Upon visiting the Marketers Chat website, you'll be asked to provide an email address. If you do, you'll instantly get an invite to the Slack channel.
The Slack workspace has 10 channels, counting 6,000-strong users. Go to #introduction to say "Hi" to everyone and check out #offers and #tools for freebies, such as data audits, software, and consultations. If you're a seasoned marketer, you can advertise in #services. Other than that, Marketers Chat moves very slowly but is loaded with info useful to newbie marketers.
4. Growmance
Here's another Slack community that you can instantly join. Provide an email address, click the invite button, and you're in.
Growmance covers marketing, growth hacking, and design, with some programming sprinkled in. Use #feedback to ask for feedback on a document, app, or whatever else comes across your desktop. There are plenty of conversations and users are willing to answer questions, so ask away. Join #tech for cool programming tutorials.
Growmance is for the self-starting marketer, one who doesn't mind piecing together a Python script to automate some tedious CSV task. If you're willing to learn, Growmance is perfect for you.
5. Vidico Community
As video's momentum accelerates and many businesses are expanding their use of video, it becomes essential to learn and discuss the best practices around video marketing.
This private community moderated by an award-winning video production company brings together marketers, brand managers and founders to be empowered around their understanding and use of video marketing.
Its expert team and members provide advice on video marketing, video content strategies to implement, types of videos to use and addressing common video challenges that every business is facing.
Expect less noise and more meaningful conversations as you will need to apply for an invite to be reviewed by Vidico's Slack administrators within one-two business days. However, the form takes less than 60 seconds to fill out and you can receive insightful feedback for your video campaigns pretty quickly.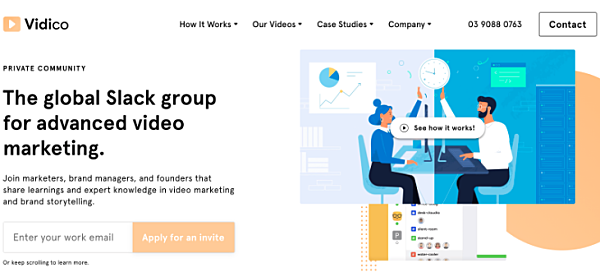 6. CRO Growth Hacks
CRO, or conversion rate optimization, is the strategy of encouraging visitors to become customers. And this community is all about making your CRO the best it can be. There is no payment required to join CRO Growth Hacks but there's an approval process, usually completed within two weeks.
In cases where your CRO strategies seem to be too simple and you get traffic but nothing else, CRO Growth Hacks is the answer. There you'll learn how to synergize different approaches and combine their effectiveness. Just be aware that self-promotion isn't allowed on CRO Growth Hacks.

7. Unicorn Think Tank
This Slack community was created by Elizabeth DeMere, a B2B SaaS marketer. Her motto is to "combine the right words, mindset, and people for success." Her vision is to create communities around brands by using marketing. Joining is invite-only and there's no fee involved. Try contacting DeMere on her Twitter account to get invited.
From employee retention to qualitative data research, DeMere wants to introduce quality relationships in the corporate culture. If you're looking for B2B customer acquisition with a soul, this is the right Slack community for you.
From this Slack channel, you'll get ideas related to branding, storytelling, and language that aim for top clients and treat them the way they deserve.
8. Automated
This Chicago-based company focuses on marketing automation for teams. From API integration to customer relationship management (CRM), Automated wants to find the cheapest possible way to market on a budget.
The best part of visiting the Automated website is nabbing its Slack app that can use Google Spreadsheet data to create automated alerts for a Slack channel. Automated's Slack channel is invite-only. Your best way of getting in is to contact one of the employees through LinkedIn or the official website for access.
No strings attached. No credit card needed. Sign up for our free trial today and see how your business can be automated and grow using Keap. ↗️ https://t.co/TgIDy3ZmUc pic.twitter.com/xdUQHSYQzY

— Keap (@KeapGrowing) June 20, 2020
9. Product-led Growth
Wes Bush, a growth mentor from Canada, heads the Product-led Growth company and its Slack channel. He offers one-on-one mentoring that helps people understand the value of products and services.
His philosophy is that success comes through setting up a free or freemium product model that gets users excited. By focusing on good design and solid user experience, users don't want to simply get value out of your offer—they want to stick around, participate, and build something.
Getting into Bush's Slack community is as easy as providing your email address. There is no vetting process or fees. This Slack community has a #jobs-board channel with interesting marketing jobs posted regularly, with some being remote. Inspirational posts and messages are shared and welcome as well in the #reading-list.
There are approximately 2,000 users at any given moment in this community.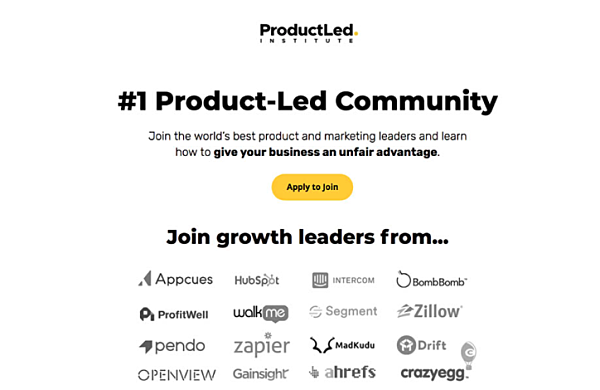 10. Tech London
This Slack community touts itself as a "bridge between you and the tech community." It connects everyone from freelancers to movers and shakers in one happy Slack community. There is a 1 GBP fee to join to fend off spammy requests.
TechLondon Slack channels cover diverse areas, such as law, food and drink, office space, and finance. The goal is to foster positive experience online that will translate into a productive work environment offline. If you live in the United Kingdom, this is the right Slack community for you.
Cross-posting, data scraping, and heavy self-promotion are forbidden.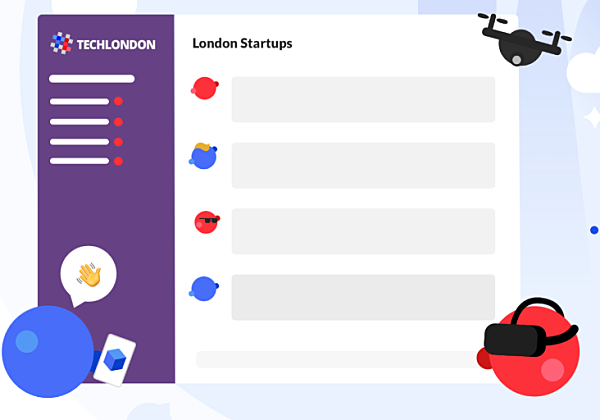 Slack community etiquette
Every Slack channel has its vibe. Some are casual and others are formal. Look at the list of participants and skim through the conversation to feel the vibe and only then engage with others.
It's an unwritten rule across Slack that self-promotion is frowned upon. However, when you find a community where you're allowed to self-promote, definitely do so.
While you might be tempted to share the funniest GIF ever to a Slack channel, tone it down. There will typically be a #humor, #funny, or #random channel in a Slack community, so direct your wits there. Still, share sparingly and try not to overload people with zaniness. Remember that everything you do online contributes to your personal and professional branding.
Use emojis sparingly and don't overload people with information, especially if they're not responding. Nobody wants to go AFK for a couple of minutes and get back to 50+ unread messages. Avoid splitting your Slack messages into tidbits, since that creates a deluge of notifications for the recipient.
If you have something important to say, write it out in a word processor and copy it into Slack. In this way, the recipient gets only one notification. Use bullet lists and bolding to make your message scannable. Avoid making walls of text.
Final thoughts
Trying to market on your own is very difficult. But, if you put a bunch of marketers in one Slack channel, all of a sudden they provide support and help each other. Just by networking, each of them provides value to the group.
Digital marketing is about networking and the network effect. The more people you know, the easier it becomes to get ahead and find creative ideas by simply rubbing elbows. Slack provides the perfect platform for getting to know people to share ideas and concepts through osmosis.
There are tons of interesting Slack channels. Even just a dozen people put together in a Slack channel can share, communicate, and bounce ideas off of one another to create something worthwhile for everyone. Find a Slack environment that suits you and become active in it to create growth and generate value for yourself and the rest of the world.
About the author
Michael Pirone is the co-founder and creative director at Vidico, a video production agency that produces high-performing video content for start-ups and tech companies like Square, Uber, and Amazon Web Services. He and his team like to explain "the hard stuff" with the aim of bringing more clarity to the messaging of new and innovative tech products around the world.
Before you go ...
SEE HOW YOU RANK: Take Keap's Lifecycle Automation Self Assessment and compare your business against the industry's top performers with our proven formula and instantly reveal the strengths and gaps of your business.