Without a consistent flow of customers, your business cannot survive. That's why it's important to employ effective lead generation techniques to boost your customer base and increase sales.
In this article, we take a look at 10 proven ways to bring in more customers in a timely and cost-effective way.
But first, to make sure we're all on the same page, let's take a look at exactly what email lead generation is, and why having a lead generation strategy is important.
What is email marketing lead generation?
Email lead generation is a means of collecting leads through the use of an email opt-in form. It's all about gathering information on potential customers, such as their name and email address.
But, an email lead generation strategy does not end with the lead capture form. It also involves strategically nurturing leads to ultimately transform them into customers.
Why having a lead generation strategy is important
Having an email lead generation strategy is crucial for businesses to grow their customer base and generate more sales. Without an effective system for gathering leads, your business will struggle to make sales and grow.
But with the right plan in place for attracting leads, you will be able to nurture your audience and guide them to the ultimate conversion from prospect to paying customer.
Research shows that over 48% of marketers believe that email marketing is the most effective strategy for generating leads online.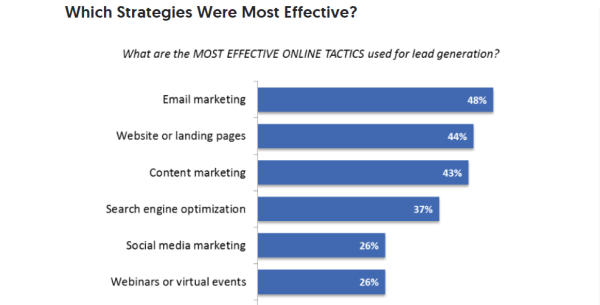 A good lead generation strategy will also benefit your business in the following ways:
It allows you to target your desired customers
It helps you boost your brand awareness
More leads equate to more customers, which means more revenue
While there are many different types of lead generation strategies that are helpful, specifically like the LinkedIn lead gen strategies listed here, the focus of this article is on email marketing in particular.
Email marketing techniques for better lead generation
Now that you understand the importance of having a lead generation strategy for your business, let's take a look at the different ways you can attract new sales leads.
Listed below are 10 email lead generation techniques that you can use to drive a steady stream of leads to your business.
1. Optimize efforts with lead scoring
A big part of marketing is the ability to reach the right people with the right message at the right time. Lead scoring can help you do that by ensuring that you capture higher-quality prospects.
Lead scoring is a way to help you sort and prioritize your leads. It's an effective technique for ensuring that you get qualified leads that are most likely to welcome your emails.
One way to use lead scoring in your marketing is to use email automation to help you score leads.
For instance, if a potential customer has already viewed a certain product on your website, it makes it more likely that you will be able to convert them with an email offering them a 25% discount on that product.
If the visitor isn't already on your list, you can use this as an opportunity to get them to sign up by displaying an exit intent popup as they're leaving the product page.
2. Design clean and concise emails
When it comes to lead generation, the design of your email is extremely important. It's important to have clean and concise emails, and they should not be overly long. A lot of excess in the design of the templates can distract from your message. Here are a few best practices to follow when designing your emails:
Plain fonts: Your emails shouldn't be flashy. They should be easy to read, so use plain fonts.
Simple Design: Choose a clean, simple template design that makes your emails easy on the eyes. This will help you generate more leads.
Text Formatting: Use well-spaced, concise wording, and highlight important information to make it as easy as possible for your subscribers to digest your email content.
Clear CTA: Your call-to-action button must be easy to see and click on, particularly for readers on mobile devices.
3. Learn to grab attention with subject lines
It's important to get creative with ways to inspire curiosity or urgency to click. Use elements like bold, italic font, and emojis to capture the attention of your audience and draw their gaze to the most important part of your email - the subject line.
This tactic can make a massive difference to the success of your email campaign by increasing your email open rates, and ultimately your customer conversion rates.
For instance, if you started a sports blog and had an email list of engaged contacts, you'll want to focus a lot on current sports news to connect with your audience. But, to go even a step further, you'll want to leave a hint of curiosity to engage the subscribers.
As an example of a great subject line for a sports blog:
What Lebron James Said in Last Night's Game is Shocking
This is almost certain to get opened, as people are curious what Lebron James said, and if the body of the email is good, people will surely want to view the story.
4. Always include a strong call-to-action (CTA)
Every email should have one clear and compelling CTA that is easy for readers to act on. To incorporate a strong CTA in your emails, use creative language that will attract your readers' attention and encourage them to follow through.
The most effective CTAs are those that incorporate an element of urgency, excitement or mystery. They are hard to ignore and spur readers into action, helping you to improve your conversions.
Listed below are a few ways to help you get more action from your CTAs:
Use action oriented text: Draw the reader in and compel them to take action by using text like "Get the Discount", "Reserve Your Spot", "Try for Free", and so on.
Keep it short: As a rule of thumb, keep your CTA text to just two to three words. If necessary, you can use up to five or six, but no more than that.
Create urgency: Use phrases like "Shop Now!" "3 Spots Left", "60% Off Today Only" to create a sense of urgency in your CTAs and generate higher click-through rates.
5. Utilize content upgrades and gated content
Content upgrades and gated content allow you to leverage your most valuable content into an email collection tool.
Gated content is content that is accessible only after your visitors have provided their contact information. You can use gated content as a content upgrade to entice your readers to subscribe to your email list in a non-invasive way.
For instance, after visitors read a post on your blog, you can then suggest that they download a relevant article, ebook, report, etc. in exchange for their email. Not only will this help you make more money blogging in the long term, but it'll help you grow an email list in the short term.
This type of content is great because it incentivizes lead generation. Content upgrades are particularly effective because they are contextual and relevant. The reader's interest is predetermined, which makes it more likely that they will convert.
6. Leverage social media channels
Your social media channels can be a powerful tool in helping you grow your email list. You can add a CTA to your profiles and schedule daily posts to help you promote your free download so that you continue generating leads on autopilot.
In addition to promoting your email list on social media, you should also promote your social accounts through your email list. This way, you will grow your social media audience and your email list at the same time. For best results on social media, you can also try tools like Facebook marketing tools, Twitter marketing tools, etc.
Here are a few additional ways to leverage your social accounts to build your email list:
Add content upgrades to your blog posts, and then promote them on Pinterest to grow your traffic and your audience. I personally recommend that you use Thrive Themes for this, as it's the tool I use. You can read my full review of Thrive Themes here.
Add a sign-up button and opt-in form to your Facebook page to give people even more opportunities to sign up for your list.
Use promoted pins and Facebook ads to grow your list at a faster rate.
Add click-to-tweets to your content upgrades so subscribers can share your lead magnets with their networks, thereby expanding your reach.
7. Use email automation
Email automation is about using email software to automatically send bulk emails to specific recipients at specific times.
Automation allows you to set and forget your email marketing strategies so you can free up more of your time. Email automation also allows for automatic personalization, which helps you improve your email campaigns.
You can use specific triggers to send the right emails to the right subscribers at the right time. Potential triggers could be when customers do any of the following:
Opt in to your email list
Buy one of your products
Register for a webinar
Subscribe to a service
Automation makes email one of the easiest and most effective tactics you can use for lead generation, as evidenced by the graph below: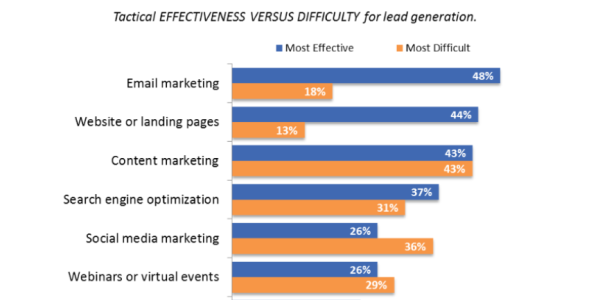 8. Split test to increase open and click-through rates
Split testing your emails is important for optimizing your copy and your strategy. There is always something that can be improved, and by testing the different versions of your emails, you will be able to find the best performing emails in order to improve your conversion rates.
For each email that you want to test, first decide on what you need to test. This could be any of the elements, including the CTA, subject line, body text, images, or the layout of the email message.
Once you've decided which elements to test first, you can then use the built-in AB testing tools in your email marketing software to begin running the test.
9. Provide valuable content
Rather than sending out "fluff content" just to send an email, provide useful, targeted content that will keep your email list subscribers engaged.
Always prioritize value over all else. To accomplish valuable content, all you have to do is find your audience's major pain points and create intent-based content around them.
For instance, if your audience's biggest challenge is building a profitable online business, you might create high-quality content that answers the question of "How to build a successful site starting from scratch" and then break it into sections and send it out in a series of emails.
10. Incentivize referrals from current subscribers
One of the best ways to generate leads for your business is to put your existing customers and subscribers to work for you.
Offer appealing rewards to incentivize your current subscribers to refer their friends to your email list. This is a lot simpler than trying to get them to refer customers to purchase your products.
You are likely to experience higher conversions if you offer an attractive reward, such as a small discount for a future purchase, or any other similar benefit. Make sure that what you offer is worth their while, and your subscribers will be happy to promote your list to their circle of family and friends.
One last side note, I highly recommend that whatever email database you develop, you download the contacts to your computer on a routine basis. I know many email platforms have their own databases, but I do this myself to make sure that I have a copy just in case the platform you're using has issues. If that redundancy fails, like it did with me previously, you can use recovery software to get your data.
Summary
Each of the 10 techniques listed above has been proven to be effective over time, particularly for small and medium-sized businesses. Implement them in your email marketing and start growing your customer base today.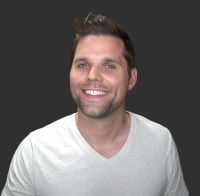 Ron Stefanski is an online entrepreneur and college professor who has a passion for helping people create and market online businesses. You can learn more from him by visiting OneHourProfessor.com.
You can also connect with him on YouTube, LinkedIn, or by joining his Facebook Group.