What is an order confirmation email? It's the first email your customers receive from your company after making a purchase on your website. Statistically, confirmation emails have a very high open rate so this is a great chance to solidify your brand image, engage with customers, and increase sales.
Many businesses don't place enough importance on the order confirmation email and consider it nothing more than a necessary means of confirming a transaction. Here's a list of tips for order confirmation email tools that can yield more business:
Utilizing order confirmation emails for business growth
Driving your brand
When sending your order confirmation email, include a brief thank you for their purchase, a brief description of what the customer ordered, how much it cost them plus any other fees such as shipping or tax.
Your company logo should be displayed at the top of your email and throughout your receipt, as should the link to your website and your address if you have a brick and mortar location in addition to your online store.
This is also a smart way to subtly upsell or cross-sell by displaying links to other products the customer may desire. You can also offer a discount on their next purchase as a thank you for being a loyal customer. This would encourage them to log back in and apply their savings toward something else either right away or eventually.
Responsive design
With so many people using their mobile phones to make purchases these days, it's essential to structure your emails to be optimized for any device.
Limit your email subject line to fewer than 30 characters so it doesn't get truncated and therefore, discarded. "Thank you for your purchase" lets customers know everything with the transaction went smoothly. With fewer characters to work with, you need to be brief, but also compelling.
Make the email content concise and break it up into smaller paragraphs, or bullet points. Also, make sure to include an image of the product they purchased–sometimes confirmation numbers don't always spur confidence that the customer will be receiving the correct color or size of an item. This will make the information more digestible for people on the go.
Communicate on a personal level
What we mean by this is avoid clichés and "big business" terminology. Show some empathy in how you respond to certain situations. For example, when a delivery is going to be delayed, say, "We're really sorry about this" instead of "We apologize for the inconvenience." The latter sounds insincere and scripted.
When a customer makes a purchase, immediately relay gratitude for their business. "Thank you for your purchase! Your order has been processed" works well rather than the other way around.
This is very personal, but another scenario none of us ever want to think about is cancelling a subscription when there's a life change. For example, I had to cancel my cat's microchip account today because she passed away from an illness earlier this week. When I logged in to my account, they made it very easy to discontinue service and state the reason. They sent an email with a very heartfelt confirmation: "We're so sorry for your loss. We will update our records." Empathetic and informative.
There's obviously a time and place to be emotional and, in most cases, it should be separate from business, but when extenuating circumstances come into play, it's nice to see some compassion when warranted.
Confirmation email examples
The following companies' emails demonstrate concise, informative, and organized layouts. Another way to make a retargeting move in your confirmation emails is to include a call-to-action (CTA). This is a different method to upsell or cross-sell any products that might complement the item the customer just purchased. Here are a couple of examples:
Amazon: When it comes to marketing, Amazon is king. In addition to a polite "thank you for shopping with us," their confirmation emails always include an order number, which is hyperlinked so you can click on it to find your item again and track when it's arriving, and how much it cost. It's the perfect email to save for your records. And they always include some "Recommended for you" items below your original purchase. It's subtle, but just effective enough to generate another sale if not on the spot, then to at least give the customer something to ponder that might get purchased later.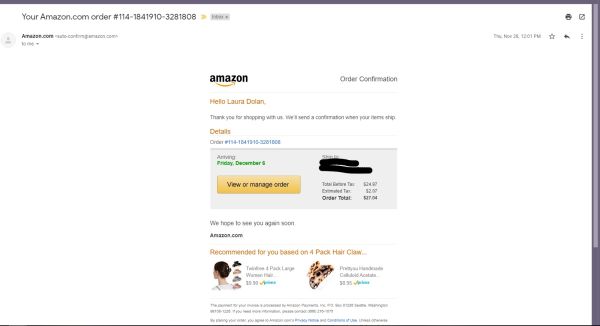 Costco: Costco is another company that sends a straightforward email. The subject line has your order number that is also repeated in the body of the email with a hyperlink to the product. It also includes: "Thank you for ordering from Costco.com" with another hyperlink to its website. It has the date you placed your order, your membership number, your shipping address, how long before you'll receive the items, the list of items purchased, and the cost, (which didn't get in the screenshot, but I promise you it's there). Costco also gives you the option to view and manage your order just in case you want to change the quantity of an item, cancel, or add more to your order before it ships; another subtle upselling tool.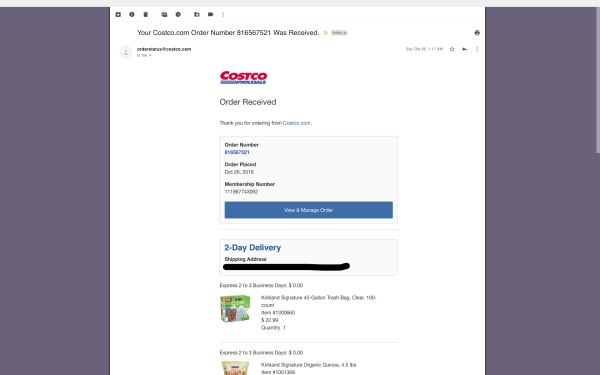 Hickory Farms: It's the holidays, so the amount of purchases you're making online is most likely exponentially above normal than the rest of the year. I'm no exception so I'm receiving a variety of confirmation emails right now and it's fun to see what each company includes in its own unique message. I found Hickory Farms' email to be endearing. "Confirmed: You have great taste" the subject line reads. The rest of the email includes an order number, order date, your billing address, shipping address, item number, cost, and purchase method. That's a lot of information, and yet, it's presented in a very organized fashion, it's easy to read and it's visually appealing with the company logo that links to its website. This one doesn't include an opportunity for upselling or cross-selling, however, depending on the customer, they may take that into consideration when going back for another purchase, as they didn't feel coerced to do so.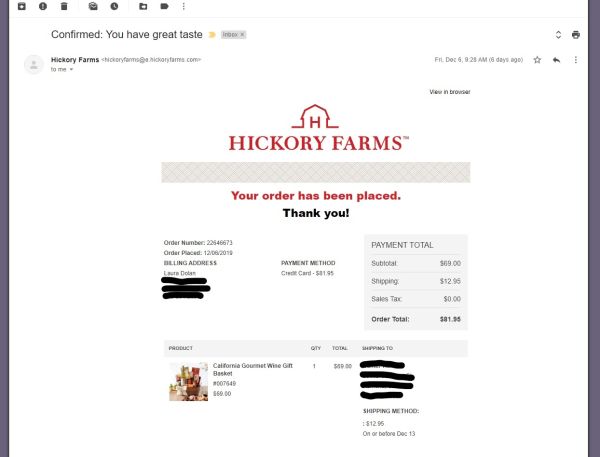 Send a test
Once you have assembled a confirmation email that reflects your company's logo and implements some of the tips for order confirmation emails above, test it. Send it to yourself, your coworkers, your family and ask for feedback. Test it on different devices to make sure none of the information gets truncated due to incompatible screen resolutions. Try A/B testing the subject line to determine which gets a better open rate. One that includes the order number or one that includes a thank you? You also need to ask the following questions:
Does my order confirmation email properly portray my brand image?
Is the information concise, clear, and readable?
Does it sound authentic?
Does it include pertinent pieces of information including the order/confirmation number, a shipping tracking number, a product recommendation, and above all, a genuine thank you/customer appreciation?
Time will tell how well your customers respond to your confirmation emails. Considering their higher than normal open rates, you're already winning half the battle just by sending them. The beauty behind sending digital confirmations is that you can improve them over time, each time if you need to, giving your customers a fresh way to follow up on their orders and check back to see that next exciting email from you, which lets them know their order has shipped!
Looking to focus more on nurturing your leads instead of repetitive tasks? Keap can automate numerous business tasks to save you time.