Getting new patients into your healthcare office is what ultimately fuels growth of the practice and makes the business sustainable. Like many healthcare operations in the current age, we've worked to create a system that attracts patients to our practice. We do this by using digital marketing techniques like:
Google ads
Facebook ads
Display ads
Search engine optimization
Google My Business optimization
Using these forms of digital marketing, we became quite adept at attracting patients and getting them to schedule a new patient exam for braces or Invisalign. But we then ran into a big problem: 50% of our "new" patients never showed up to their first appointment. In other words, we were spending a good amount of money to get new patients interested enough to schedule, but it wasn't paying off for us because they didn't show.
A new goal for us became clear: we had to improve our new patient show up rate. This would help us to dramatically improve our ROI, grow our revenue, and increase our total patient numbers—all without spending more on marketing.
Using Keap's email marketing to decrease new patient no-shows
For some context, here's a quick history of our orthodontic practice, Premier Orthodontics. We grew from a single location (with one doctor) to a seven-location multi-doctor operation in just eight years.
We relied on Keap through this period of great growth in order to automate as many of our systems and processes as possible. We already understood that automation was the answer to our new problem. The new question, however, became how to apply automation techniques toward getting more patients to actually come in for their scheduled appointments.
So I came up with a two-step game plan:
Find out the most common new patient concerns
Create an automated system that helps to resolve these concerns before they arrive to their first appointment
Most common concerns of new patients
Let's face it, scheduling a new patient exam at any new healthcare office requires a leap of faith for the patient.
While the initial excitement of getting started on their braces or Invisalign journey may have convinced them to schedule their appointment online or over the phone, it's often the case that doubt or anxiety begins to creep into their mind once they've made the initial smaller commitment. If this concern grows large enough, and without any response or feedback from us, the new patient will likely not come after all.
We knew that if we could find a way to resolve their concerns during that in-between stage of doubt and uncertainty that we could get more people into the office. After speaking in-depth with our sales team and scheduling coordinators, we found that most new patients had three major concerns:
With whom will I be meeting and can I trust them?
What actually happens at the first visit?
How much is it going to cost?
To answer all three questions before their initial appointment, we decided to design an automated healthcare-specific email marketing campaign.
Question 1: With whom will I be meeting and can I trust them?
When people go to a new healthcare office there will be a certain level of anxiety surrounding who will be their doctor/healthcare provider. For our practice, we know that patients are trusting us with their and/or their child's smile. The last thing we wanted was to send them an impersonal generic email welcoming them to our practice, so that's why we decided to send every new patient a custom video message.
Using Keap automation and a third-party app called Bonjoro, this process is really quick and simple.
Bonjoro is an application that allows business owners to send custom video messages to customers. When a new patient schedules an exam in our practice, this information is synced from our practice management software and sent directly into Keap. From there, Keap sends this information to Bonjoro.
We then equipped all of our doctors with the Bonjoro app. Whichever doctor will be seeing that new patient gets a push notification to their phone that they need to send a video message. From there, the doctor simply taps the icon on the smartphone and records a short message. As soon as they're done, the video goes to the new patient's email inbox.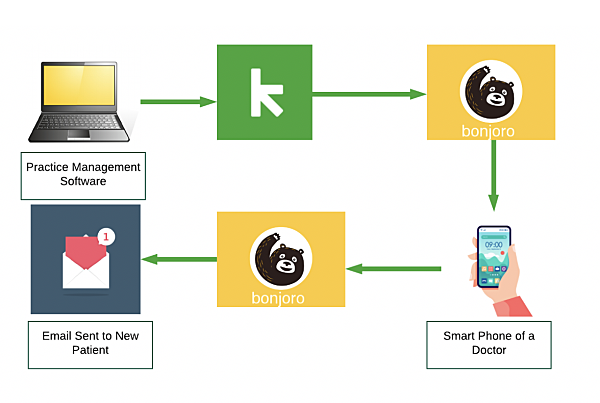 The entire video message takes less than a minute to record.
Our doctors typically take a few minutes before lunch or after work to send these messages. In total it takes less than 10 minutes per day to accomplish this task. It is time well spent.
Ever since we started sending custom video messages, we have received genuine feedback from new patients. When they come for their first appointment, they often remark at how impressed they were by the video and that we took time to reach out to them personally right away.
It's important to keep in mind that many new patients are "shopping around" and going to three or four orthodontic offices. Most offices won't send anything to a new patient prior to the exam. Just by sending these messages we instantly make ourselves stand apart from the competition while simultaneously resolving one of our patients' big concerns.
Question 2: What actually happens at a new patient exam?
It's sometimes easy to forget that most new patients have no idea what actually happens at a new healthcare provider, especially because we know the process inside and out. This uncertainty can lead to anxiety and doubt, and when the big day of their appointment arrives, many will find a reason why they can't make it.
That's why we wanted to answer the second big question, "What actually happens at a braces/Invisalign consultation?"
To do this, we wrote an article on our website covering this topic. It's titled What to Expect at a Braces Consultation.
In this article we outline what a typical first office visit is like. Here are the sections we included:
Who will meet them when they arrive
What paperwork is required
What the new patient exam will entail
What records and X-rays will be taken
Who will answer any finance and insurance questions
Within the article we embedded a video that answers the same questions. In today's smartphone-centric world, we realize that many of our new patients would rather get the information in a quick video rather than by scrolling through several paragraphs of text.
As soon as a new patient schedules an exam, we send them an email letting them know about our article and video, and direct them to the page.
Question 3: How much is it going to cost?
This is probably the biggest question on every new patients' mind—how much is it going to cost and can I afford it?
Many have no idea what the total cost is for braces and aren't sure what financing options are available. However, we find that nearly all new patients who come to their initial appointment are pleasantly surprised with how affordable braces and Invisalign treatment can be. The problem is, if the patients never make it to the office, then they don't learn about our pricing.
That's why we decided to be 100% transparent with our pricing and let everyone know what to expect regarding the cost of braces and Invisalign before they arrive to our office by devoting an entire page of our website to pricing.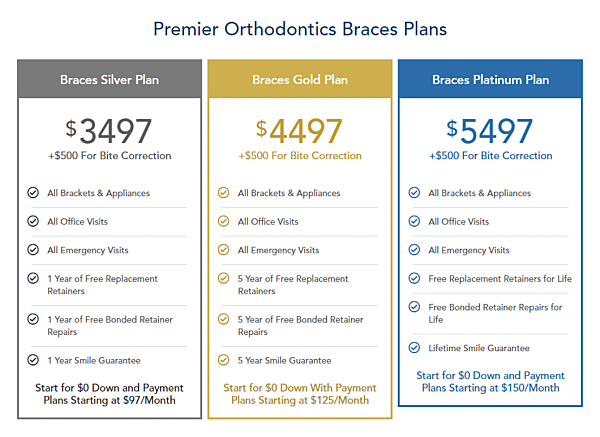 Our goal was to get every new patient to at least skim this page before their scheduled appointment. To do that, we send an automated email to all new patients directing them to this page and sharing why they should check it out.
Since implementing this step we found that most new patients come in with almost no concerns regarding cost. Price was no longer the elephant in the room, and they didn't have to fear an uncomfortable conversation with us about it because they already knew about our pricing and financing options.
Besides the fact that you are being transparent, a website page devoted to pricing also shows each new patient that you trust them to make the right decision for themselves. This trust goes a long way toward overall patient confidence and satisfaction.
The Keap Advocate Referral Program is great way for customers, like you, who 💚 Keap to earn cash rewards for sharing the product with your network. Start getting paid here: https://t.co/KhTfT9xU3Z

— Keap (@KeapGrowing) June 16, 2020
The results of our 3-step email marketing campaign for new patients
Since implementing this 3-step process we've seen our no-show rate drop from 50% to 30%.
We effectively got a lift of 20% on our new patient exams completed—all without having to spend one extra dollar on acquiring new patients. We just simply got more of them to show up. Now that the webpage and emails are created, the process is mostly automated.
This significant uptick translated to an overall increase in new patients starting treatment and increased revenue for our practice.
As another benefit, our cost per lead went down by 20%. This means that we can afford to spend even more on marketing because our ROI makes the marketing costs more affordable.
We know that Premier Orthodontics is not the only healthcare provider to ever run into the problem of new patients not showing up to their first appointment. Not only is it a problem that negatively impacts your business, it also isn't good for patients who need healthcare to avoid going to a healthcare practitioner.
The concerns of patients in your field may be different, but our solution to resolving concerns for new patients can likely be translated into any healthcare discipline.
Just remember this two-step formula to begin automating the process of getting patients to attend their schedule appointments:
Learn what the most common concerns new patients have
Create an automated system that helps to resolve these concerns before they arrive to their first appointment
About the author
Dr. Tyler Coles is the co-owner of Premier Orthodontics, which is located in the Phoenix metropolitan area. In addition to treating patients, he also acts as the Director of Marketing for the practice. Dr. Coles is a speaker, teacher, author, digital marketer and orthodontic practitioner. He has been an Keap Certified Provider since 2014 and has lectured to other marketing professionals and healthcare professionals on topics including practice automation and digital marketing for healthcare professionals.