Small businesses need to continually think of effective and affordable ways to get products and services in front of their target audience.
YouTube is a great tool to use for generating leads. This platform is the second largest search engine and the third most visited website in the world - surpassed only by Google and Facebook respectively.
Over 4 billion videos are viewed each day, and it's easy to see why YouTube is essential for any business that wants to expand its reach online.
With the increase in video consumption time, there is also a higher ROI, which is why it's not surprising that there has been an increasing number of marketers who state that video is an important part of their marketing strategy.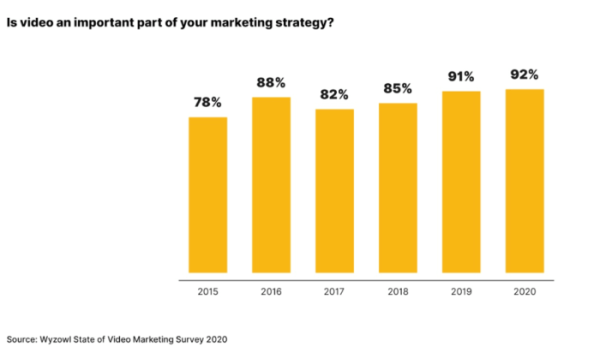 This trend is set to continue, and no business can afford to be out of the loop when it comes to connecting with prospects on YouTube.
The good news is that with the right video strategy, you will be able to drive leads to your business starting right now.
In this article, we take a look at seven amazing ideas to help you generate business leads from YouTube.
1) Focus on SEO (At First)
When creating a strategy to help you generate leads from YouTube, the first thing you need to focus on is your SEO.
You are probably already familiar with website and blog SEO, and YouTube SEO is no different. Just like its counterparts, it's also an ever-changing practice of creating video content and optimizing it so it will rank high when viewers conduct relevant searches on YouTube.
When you are just getting started, SEO is something you should put a lot of focus into. It's best to try to rank for keywords and phrases that can drive lots of leads to your brand.
Make a list of the important keywords in your industry or niche, and then use the following best practices to optimize your videos for YouTube search.
Use your primary keyword in your title: Seeing as the title of your video is among the most important ranking factors, it's vital that you make it as compelling as possible. If you can, you should always include your main keyword in the title.
Add a detailed description to your YouTube video: Do your best to include your main keyword as well as a variety of supporting keywords in the video description. Just don't overdo it because your description should tell a story about what's in your video instead of simply being a list of keywords.
Use transcripts and captions: These are two of the most powerful components of your YouTube SEO. Harness the power of your video text to help your video rise to the top of the page rankings by adding a transcript as well as accurate close captions to all your videos (not the auto generated YouTube closed captions, which are often inaccurate).
I've done a lot of this myself in my own business and have found that SEO is extremely powerful to get people over to my website. The reason is because SEO continues to promote your content for quite some time after you've completed it.
As an example in my own business, in my YouTube video descriptions I often point people to my post about finding the best online course platforms and once they land there and click somewhere on the page, it typically results in a lead for my business.
2) Think about User Intent
Each brand should think about user intent when it comes to searches related to the video. With each video you produce, you must do your best to determine what the viewer wants to achieve as an end goal. This will help you come up with relevant video content that resonates with your ideal audience.
One of the main reasons why you need to focus on user intent is that Google's main goal is to provide users with the most relevant content on all their platforms.
The search giant looks at how viewers respond to the videos on your channel to see whether your content is relevant to them or not. That's why metrics like "watch time" and "session watch time" are so important to keep track of.
Watch Time
As you may imagine, watch time is vital because the longer people watch your videos, the higher they will rank since it tells Google that your audience finds your content relevant and useful.
Session Watch Time
Session watch time also measures user engagement, and the more people stay to watch additional videos on your channel, the more favor your videos will get from YouTube.
So, if you focus on user intent when creating your videos, you will have the ability to provide your audience with the type of content they want and therefore, keep them engaged with your videos for longer.
3) Use YouTube Cards
Adding YouTube cards is yet another amazing way to help you generate business leads from YouTube.
YouTube cards are interactive cards that you see in many YouTube videos, usually toward the end. They allow video creators to share clickable links throughout the video. YouTube lets you add up to five cards for each video.
Try to focus on adding cards at least halfway or after the halfway mark so that you retain your audience's attention and not have them leave your video too early.
YouTube cards should link to relevant content that is of high value. You can use them to promote:
Related content on your blog
Encourage viewers to take a survey or poll
Ask viewers to donate
Direct your audience to a specific landing page
You can think of your YouTube cards as an additional call-to-action (CTA) that you can use to nudge your audience in the direction that you want them to go.
For instance, if you're looking to push them to your website, use a tool (I personally like Paperform) to build online forms that get the data you need and then link to your website via YouTube cards to capture the leads.
You can also use content cards on your YouTube videos. Similar to standard YouTube cards, these appear as a simple icon at the top of the screen and are visible throughout the entire video.
When a viewer clicks the icon, it will drop down and reveal additional content from the same channel. Both of these tactics are easy to implement and they will help you generate more leads for your business.
If you want to bring it to the next level, here's a tactic I've used before. I like to build an e-learning product that's free and tease the viewer with a YouTube card. When they click on the card and arrive at my website, I ask for an email address to give them access.
From personal experience, this is a great way to generate leads at a rapid pace with a small amount of effort.
4) Use Playlists
A playlist is simply a collection of related videos that you group together on your channel to make it easier for your users and for the search engines to find relevant content. It's also a great way to keep your videos organized and avoid clutter on your channel.
Playlists are a crucial part of any YouTube strategy and as soon as you have a group of related videos, you should create a playlist.
Creating playlists ensures that your videos get indexed twice (once on their own, and also within the context of the playlist), making it more likely that even more viewers will discover your videos.
It also makes it more likely that the viewers will stay on your channel longer to watch more of your videos as they don't have to manually search for and click on videos to continue watching.
Playlists are a great way to boost your engagement and they are also an effective way of nurturing YouTube leads and showing them that your brand has vast knowledge and expertise on the subject.
Below is an example of how playlists are used on my channel to group together videos that are based around a similar topic.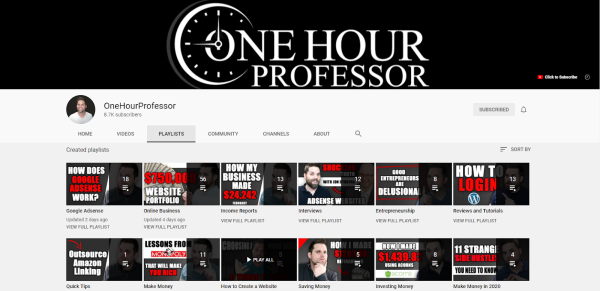 5) Partner with Influencers
Partnering with influences is a great way to boost your reach on YouTube and generate tons of leads for your business.
You need to find ways to connect with influencers in your niche and appear on their channels so you can grow your business quickly.
Research into the impact of influences in a consumer's decision-making process shows that 92% of consumers place more trust in an influencer than they do traditional advertisements from brands.
In other words, if a trusted influencer were to recommend a product, most consumers would feel that it's more genuine coming from them than from the actual brand saying how awesome its own product is.
Influencers in different industries often have impressive engagement rates and by working with them, you can expose your brand to a massive new audience in your niche.
When looking for the right influencers to work with, just keep in mind that they don't have to have a massive following. Even an influencer with a relatively small audience can make a big difference to your marketing efforts.
Do a simple search in your industry to find the individuals you can reach out to that can act as your brand advocates. Once you find them, it's time to reach out to them about a collaboration.
This is a surefire way to boost the reach of your video content and get your message in front of the eyes of brand new audiences that you otherwise may not have been able to reach.
6) Try YouTube Ads
Yet another method to generate businesses from YouTube is by leveraging their ad platform.
Some marketers and business owners hesitate when it comes to paying to promote video content, but this is something that is certainly worth doing especially when you consider the fact that YouTube has an unmatched reach of billions of viewers each month.

While you may find it easy to get people to promote and share your videos for free, it's always a good idea to use ads to promote your content in order to maximize the reach of your videos and boost your lead generation efforts.
With YouTube, you have the ability to run specialized ads that offer higher ROI at a fraction of the cost of advertising on other platforms.
This is one of the main reasons why focusing on YouTube ads can produce massive results for your marketing campaign. It starts with you creating ads to be placed on YouTube, then you collect leads from the ads you're running, then you use a CRM (or a free sales funnel template if you can't invest more money into CRM software) to track your prospect to conversion.
For a very affordable price, you will be exposing your business to the platform's over 2 billion members.
Check out this case study of Mindvalley, a brand that is doing this successfully to drive leads to their business.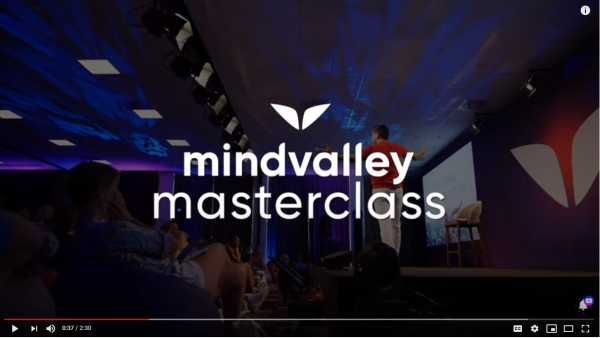 When creating videos for your YouTube ad campaign, keep in mind the following best practices:
Keep your videos between 15 and 60 seconds long: YouTube may be an entertainment platform, but it's also one that is focused on intent. So keep your ads short and to the point. 30-second ads on YouTube have the highest view-through rate (VTR).
Design video ads for mobile: The majority of YouTube videos are accessed from mobile devices. This means that you need to ensure that your video ads are geared toward mobile audiences.
While shooting your videos, use bright backgrounds and scenes, keep frames tight, leverage clear text and graphics to help you convey your message effectively - even on mobile-sized screens.
Tell your viewers what to do next: If you're going to spend all that money and effort on creating and promoting your video ads, you need to ensure that you get the best return possible.
One way to do that is by adding a clear and compelling CTA in your video.
Tell your viewers exactly what you want them to do after watching your ad. Make sure you reinforce the ad in both audio and visual. And don't forget to test the CTA and other elements of your video ad to find out which combinations get the best response.
7) Use Video Descriptions Wisely
Video descriptions can include a CTA and they can also help you with YouTube SEO.
With over 3 billion searches performed each month on YouTube, it's vital to ensure that you optimize all the content you create and publish on the platform if you want your target audience to find your videos.
If you are not using your video descriptions wisely, then it's likely that you are missing out on a massive number of views on YouTube.
Follow these best practices to ensure that you're creating the best possible video descriptions:
Utilize the character limit wisely
Use long-tail keywords
Generate curiosity
Make it relevant
Provide time stamps (if your videos are long)
Promote your other videos
Use hashtags
And, most importantly, add CTAs
Conclusion
YouTube continues to grow at an explosive pace. If your business isn't already leveraging the full power of this platform, then get started right now by using the seven tips listed in this article to help you generate business leads from YouTube and make more money for your business.
---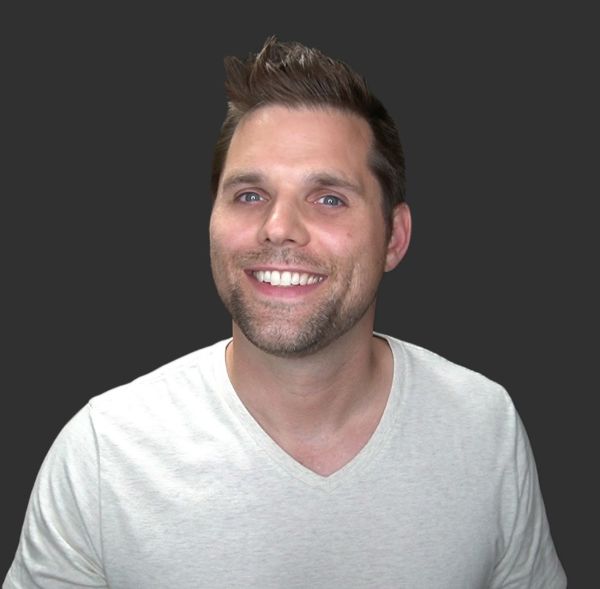 Ron Stefanski is a professor and a successful web entrepreneur who has a passion for helping people create and grow online businesses. Visit his website to learn more: OneHourProfessor.com.