John Bellamy is the Founder and CEO of Marketing Systems International — and he really loves LinkedIn. He loves the platform, the professional mission behind it, and, most of all, the opportunity it provides to marketers and consultants looking to generate leads and sales. Check out John's featured presentation from ikon 2022, Keap's annual marketing automation event for Keap users and partners.
Highlights and takeaways from John's presentation:
Three reasons to love LinkedIn marketing
LinkedIn may not be the largest platform out there, but it still offers the largest professional online network with more than 850 million users
LinkedIn is the ideal place for marketers and consultants to be found online by peers, job-seekers and those seeking professional services.
LinkedIn is where business owners and decision-makers go to find answers for problems they are facing in their current business state.
Three reasons people choose to use LinkedIn
They want to connect with other like-minded professionals, businesses, peers and leaders within their areas of expertise.
They are seeking more information on their industry, including the latest innovations, best practices endorsed by other businesses and educational content that can keep them current.
They are actively looking for solutions to a business problem they are or will be managing.
How to focus your targeting on LinkedIn
It may sound pretty simple, but the first thing you can do to improve your LinkedIn targeting is to give your personal profile and company page some love. They both need to be complete, taking full advantage of every section and field you can use to showcase your company and yourself.
For both personal profiles and company pages, the goal should be to create the most authentic representation of you or your small business. That means making use of the visual real estate that is available with both the profile photo and the larger banner. For the headline and about section, you don't just want to share your job title or company overview — make a statement about what you do.
While optimizing your profile is more of a passive (though important) targeting task, you'll also want to get very active in your search for new leads. To accomplish this, John suggests using LinkedIn Sales Navigator, a deep sales version of the platform designed with powerful search features, improved visibility into extended networks and personalized algorithms that help you reach your audiences. While this robust version of the platform offers more than 25 filters to use, John has seen the greatest results when focusing on five: Geography, Relationship Status, Industry, Seniority (job title) and Headcount.
How to create a framework for LinkedIn messaging
Whether you are sending a connection request or posting content for your target audience to see, you'll want to have the right strategy in place to maximize results for your small business. To manage the messaging process, John makes use of the C4 Method:
Connect - How do you plan to get people into your database? Who are you targeting and what is your ideal messaging cadence?
Communicate - What could you share that will move the needle with your target audience? Questions, polls, educational content and lead magnets are all options, but what is the right message at the right time?
Convert - What actions do you plan to take to convert a LinkedIn prospect to a new client? What does that journey look like? Free trials, consultations and webinars are all good options.
Cultivate - How do you fulfill your company's promise and cultivate long-term partnerships? Managing this step correctly can lead to video testimonials, recommendations or reviews for your small business.
How to automate follow-up to your new LinkedIn leads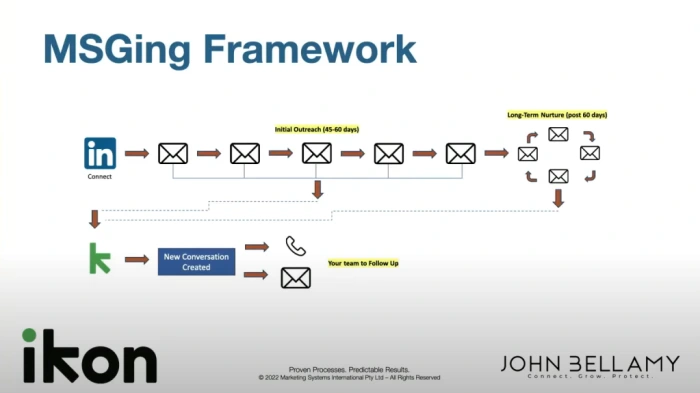 You've likely experienced a wide range of sales pitches on LinkedIn. Some good, some bad. Assuming you use the C4 Method to dial in your messaging framework, you're going to have some new leads added to your sales pipeline.
So what does converting those new leads look like? For John, that initial outreach begins with a drip campaign that lasts for about three months from the initial point of contact. That's followed by a long-term nurture sequence that serves them content consistently, though a little less frequently.
If the lead responds to the content you are serving them at any point, they should be added to your CRM in the Keap platform, and a follow-up automation should be triggered. Is that a request to make an appointment? An offer for a free consultation? The type of automation may differ from business to business, but the result should always be the same: You deepen the engagement and establish a relationship with the new lead.
"Your prospects are buying from someone. It just may not be you." - John Bellamy
Did you enjoy John's presentation from ikon 2022? Then you'll want to explore future Keap events.
Whether the hands-on Keap Academy Workshop, a free trial session hosted by Keap product experts or a networking event with Keap users and partners, there's a Keap event for everyone. Check the upcoming schedule of events held remotely or in person (sometimes both) to find events that will help your small business grow.