Evan Paquette is a professional magician and owner of Magic Evan LLC, who has been a member of the Keap user community since 2015.
Before using Keap, Evan had just become a dad and wanted to find a new way to balance the chaos between his life and work. He knew he needed to figure out how he could simultaneously shower his wife and newborn son with love and attention while also growing his business as a professional magician. Doing both felt impossible, and became a source of frustration, conflict and resentment – until he discovered Keap.
"Keap has helped me personally, as a husband and father, and professionally as a full-time professional magician," said Evan.
He was able to reclaim 10 hours per week to spend quality time with his wife and now two children, which for him, is the ultimate measure of success.
On a professional level, Evan's income grew from $50,000 to $100,000 in 2015. It has increased every year since then, and he's now on track to make the most money he's ever made with his business despite the COVID-19 pandemic.

Check out one of our webinars: Using lead magnets to target, attract and capture leads
Pivoting to virtual
"When the pandemic hit in March 2020, and all events were canceled, I was able to re-imagine my campaigns and pivot to virtual events," said Evan. "Since then, I've performed over 300 events, brought joy, connection, and wonder to families all around the world, and I'm on track to the most profitable year yet."
Evan's events require a keen attention to detail, and Keap's CRM is the magic ingredient that allows him to deliver personalized messages that consistently delight customers, generate glowing testimonials, referrals and repeat business.
"When I pivoted from in-person to virtual events in March, I was able to quickly reimagine my automated follow-up and sales process," said Evan. "Over the past six months, I've launched a Virtual Magic Camp, performed for over 300 virtual events, and have brought joy, laughter, and connection to countless families nationally and internationally."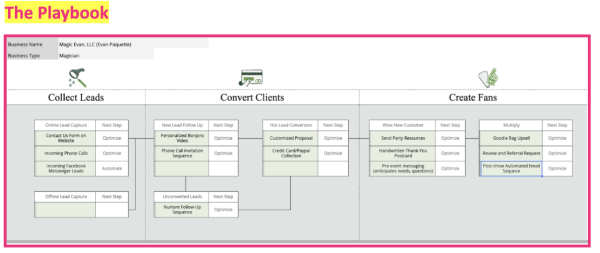 Take Keap's Lifecycle Automation Assessment to identify growth opportunities for your business.
Keap Product Usage
Evan uses Keap's CRM, marketing, and ecommerce features so he can connect, serve, and impress his customers at all stages of their buyer's journey. He leverages automation to trigger reminders, schedule appointments, and deliver personalized follow-up sequences via email, video and snail mail.
Thanks to Keap, Evan has been able to collect leads by targeting parents with children between the ages of 4 to 10 years old. His leads list grew from 235 to 1,306, and he attracted new business by leveraging SEO blogs, Facebook promotions, paid advertising on Facebook, Yelp and Gigsalad, as well as asking for referrals and sending out postcards. He would also try to capture leads by creating a Contact Me form on his website, and reaching out via Facebook Messenger.
Evan also converted clients by engaging them with email marketing, personalized videos and an invitation to schedule a phone call to determine if they were a good fit as a client.
"In addition to a personalized Bonjoro video, the prospect receives up to five emails that educate, engage, and invite them to schedule a phone call," said Evan.
He would also present an offer in the form of a customized proposal, then close the deal with payment processing in the form of a credit card or PayPal. Leads who do not want to book at the time of contact are entered into a nurture sequence.
"Even when I don't book a show, I continue to engage, educate, and invite people to connect," said Evan. "If I don't book a show (I'm not available, not the right fit, out of their budget, etc.), then they receive an email from me the day after their event to check in."
Finally, Evan creates fans by impressing them with emails leading up to the event to anticipate needs and questions, a personalized show that includes the guest of honor's favorites such as characters, etc., and the guest of honor also receives a Deluxe Magic Set.
Thanks to Keap, Magic Evan's business now sees an annual revenue of $156,000.
"Without Keap, there'd be no magic," said Evan.