Attending corporate events can sometimes be a chore. You'd like the enjoy them, but, sadly, many fail to spark excitement and a sense of fulfillment after the fact.
Knowing this can make it feel like a lot of pressure when it's time for you to host your own. There's a lot that goes into hosting a successful small business event, especially if you want it to be enjoyable and helpful for your attendees.
This three-step guide to hosting a successful event is here to help you tackle all the hurdles, and ensure it remains the talk of the town for reasons other than Joe Rando spilling wine all over his neighbor.
Stage 1: Planning an engaging event
Set a clear goalThe first question you need to answer is "Why are we putting this event together in the first place?" which will determine the goal for your event.
Are you looking to promote a new product? Have you just opened a new office and are looking to celebrate? Are you looking to generate new leads?
Your answer to this question should be your guide for all of the following steps. The location, the mood, the way you promote the event, even your budget, will all depend on this initial purpose.
For example, Namely held a Hackathon to help them design the new features of their product. This is an outstanding way to market their brand and solve an actual problem—all while bringing customer and advocates together to network.
Know your audience Now that you know what it is you are trying to achieve, you must think about the most important ingredient in any event mix: the guests.
Your guest list must be driven by your goals. For example, if retention is the goal, you should focus on your best customers, as these are the people who have the greatest potential to become advocates for your brand. If you're after awareness and lead generation, you'll need to target guests outside your list of customers.
Never underestimate the power of an event for lead generation. Sixty-eight percent of B2B marketers say they use events to generate new leads.
A helpful tip to keep in mind when planning your event is to put yourself in the shoes of your target audience. What kind of event would they want to attend? For example, a c-suite audience may be more interested in sitting around a table at a nice restaurant with their peers, while more "tactical" roles will find more value in keynotes and workshops.
Check your calendarArmed with these two very important event building blocks (goal + target audience), you can now take the leap and set a date.
Check your calendar for other important or clashing events around your desired date and time of your event. You'll want to be sure you don't book an event around the same time as "the big game" or a popular industry event your audience is more likely to attend.
This is where clearly defined buyer personas come in handy. By understanding the interests of your audience, you can build an event around their priorities.
Make sure to take a peek at what the competition is doing, and ensure they have not already started marketing their own event around the same time. Look on their website for an events page, or their social media profiles for listed events.
Or, you can simply head to Eventbrite and search for your competitors or relevant topics: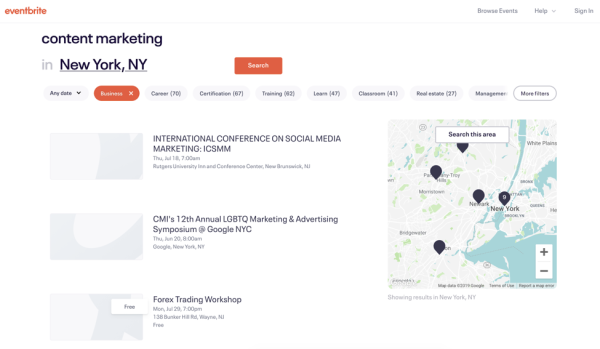 Envision a moodWith all of that done, you are now free to engage in the most fun (and possibly most challenging) part of the planning process. This is where your event will start to take shape.
Decide on an event format and style that your customers would benefit most from. Should it be a black tie affair for your upscale business partners, or a laidback buffet your customers would enjoy more?
Once you have a general idea, consider using Pinterest for additional inspiration. There are countless event planning boards to peruse and borrow "pins" from to create your own design and unique setting for your event.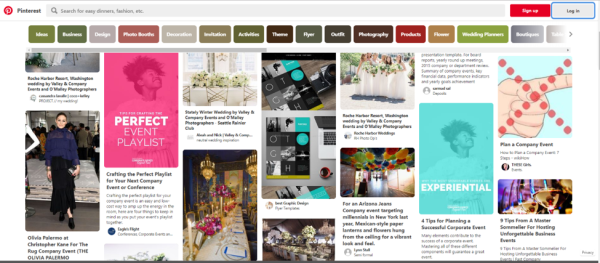 Keep it realDon't let any illusions of grandeur blind you: Your event might not exactly be the most talked about night in the social calendar.
Make sure you have a very realistic look at your guests, the location, the appetizers, and all the moving parts of the event. Make a prediction on numbers and potential interest. Never expect all confirmed attendees to show up. You must embrace and plan for dropouts.
Fun fact: The average return on investment from an event will be somewhere in the 25-35 percent range, so don't expect to kick it out of the park on your first few tries.
You will be limited by your budget, your venue, and the date of the event. Just remember that your aim is to achieve your goal to the best of your abilities, with the resources you have at your disposal.
Rely on your "run of show"As you get deeper into planning your event, you will start to rely heavily on a "run of show". These act as lists for everything you need to make your event a success. Make one for every aspect of your event.
Think about things like parking and coat checkers, name tags and napkins, product samples and business cards. In short, for everything you think might be needed for your event, stick it on the list.
Run through your lists daily, and see how many items you can tick off. Never expect yourself to be able to put everything together in a day.
You can use an app like Trello or Basecamp to help you say on top of everything. It will also allow for seamless communication between all members of the team, making sure nothing gets lost in the shuffle:

Set a maximum budgetBudgeting for any event is never an easy task, and there is no one-size-fits-all advice anyone can offer for your specific event.
The best rule of thumb, though, is to set a budget maximum—a figure you can absolutely not go over.
The next step is to segment out the different major elements of the event: venue, catering, entertainment, lighting, etc. Once you have a rough idea of what the big things will cost, you can section off your budget accordingly.
Try to save a bit here and there, so you can splurge on more important items you feel will contribute to the mood you are looking to achieve, as well as your goals.
Having a balanced budget will help drive a greater ROI from your event marketing. Check out this guide from The Balance to learn how to do this.
Getting killer sponsors While we are on the subject of funding your event, depending on the goal and general idea behind it, you can reach out to sponsors who might be interested in lending a monetary hand.
This is more likely to work if you are running your event for charitable causes or bringing a large number of potential customers together.
True, people are more likely to invest in products than event planning. But if you give your sponsors valuable "real estate" at your event (say, for a booth, or to display their company name), you can likely gain local support to give your event the added push it needs.
**Have a backup plan **Finally, make sure you have a Plan B in place for all of the major moving parts. If your keynote speaker comes down with the flu last minute, have a pinch hitter lined up to make the keynote. If catering falls through, have a backup catering company on speed dial.
Whether you're creating your first event or your hundredth, you'll need to accept that some things are bound to go wrong. An important speaker can run late, a caterer might underestimate how much food your event needs, etc. If you roll with the punches, you're less likely to show your anxiety and frustration in front of your guests. Save that for after the event.
Stage 2: Promoting your event
Send out invites on timeYou'll need to make sure you give your guests enough notice to plan for and schedule in your event. General etiquette recommends sending invites six to eight weeks in advance for a more formal or larger event (especially if travel is required for your invitees), and three to four weeks in advance for less formal events.
You should also send friendly reminders to your invitees about the events a few weeks prior to the event to ensure they RSVP on time. Don't go overboard though. A couple of reminders throughout the month should be all it takes.
Harness the power of social mediaYou should also use the power of social media to inform your audience about your event, remind them to RSVP, and to get them hyped up for your event.
Create a unique hashtag for your event and use it across all announcements and images you use leading up to your event. You can also ask attendees to use that hashtag on any social posts they create during your event to drum up outside curiosity and awareness of your business.
To avoid jolting awake in the middle of the night because you realized you forgot to send the day's Tweet or Instagram post, use an app like Buffer to schedule your posts on different social networks for specific dates.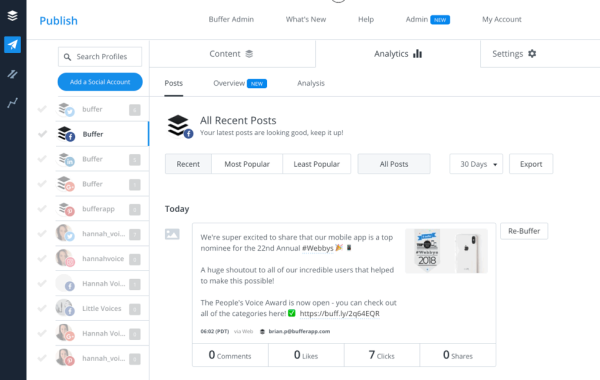 You can also use your various social media platforms to measure the success of your event by centralizing communication around one or two hashtags that can be monitored during and after the event.
You can also use geotags to see who checked into your event and from where social content was being posted.
Don't cast too wide a netYou might think inviting anyone and everyone to your event increases your chances of attendance to your event, it can actually be counterproductive.
As we've already established, prior to planning your event, you'll need to have a clear target audience defined. Don't stray too much from this vision. Inviting a couple of "odd men out" will do no harm, but remember that every invite you send is likely to be a prospective customer, so send out invites accordingly.
Use email effectivelyNo matter what industry you're in, email marketing is still highly effective.
When creating your email campaign for your event, be sure you're including content that adds value to your contacts' life, like event updates (i.e. new speakers added to the lineup), or a recent blog post you wrote, etc. Demonstrate your expertise on your industry and position yourself as an authority using how-to articles that provide key insights for your audience.
It's also key to follow best practices and stay out of Spam folders. Be sure to use permission-based marketing principles and choose a trusted email platform to manage your outreach efforts.
Stage 3: Executing a successful event
Educate your staffMake sure everyone knows where they need to be on the night, and what needs to be done. Educate your team on the main talking points, and make sure they are well versed with the goal and the target audience, so they can offer information and keep your guests engaged.
Be presentOn the day itself, make sure you are completely present and active on the spot. Don't keep obsessing about the time the food will arrive—let your staff take care of that.
You are the face of this event, and you need to be there, smiling and engaging with your guests. Talk to as many people as you can, work the room, and try to get your message across without being too pushy at the same time.
Use an event management platformYou can't manage your event all by yourself. With all the organizing, promotion and attendee management, you'll need tools to create a smooth experience for all involved.
This is why using event management software is key. From online event invitations and guest lists all the way to in-event engagement, you can manage every aspect of your events.
Not only that, but the insights generated can inform future events. Use data to uncover the most popular sessions, which sponsors/exhibitors get the most attention and uncover new ways to drive attendees for your next event.
**Mind the mood **Keep one ear and eye on the atmosphere at all times. Are people starting to get bored? Is there too much of a congregation around a specific area of the room?
Try to guide the crowd to where they need to go, and don't let the atmosphere sink into a dull and unengaging one.
For example, illy regularly run coffee workshops and taste events in San Francisco. They've set up an impromptu café to keep their visitors satisfied, which is precisely what you should be aiming for: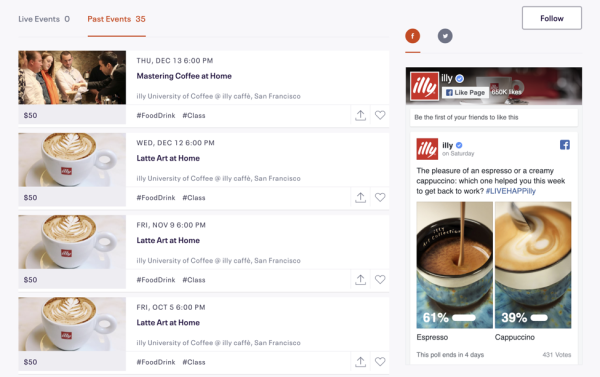 Incorporate what the event is about and your product or service into the mood of the night, rather than merely talk about them.
Bear in mind that you can't influence the mood completely. But getting people talking throughout the floor will help others get involved as well.
The follow-upFinally, remember to follow up with your guests, and thank them for attending your event. If they respond to your message, you can use their feedback as a gauge for how their experience was and how you can improve future events.
After the exhaustion and excitement are over, it's time to evaluate your event. Have you achieved your goal? What could you have done better? What have you learned? Hosting successful events takes practice and patience, so never miss an opportunity to learn.
David Becker is the CEO of zkipster, an Event Management platform that helps companies like Airbnb, GQ and Facebook run the world's best events.