A June 2018 survey from Statista reveals that the Google Play Store boasts over 3.3 million apps, while the iOS App store is accountable for more than 2.2 million apps (as of January 2017). Additional reports also show that an average of 6,140 mobile apps were released to the Google Play Store and 1,434 mobile apps were released to the Apple App Store every day from 3rd quarter 2016 to 1st quarter 2018, causing not only an overpopulated database, but also enhanced competition amongst app developers.
Today, with such an abundance of mobile apps to choose from, just having a great idea for an app does not work in the app industry.
A successful app developer invests his time, effort, and resources in designing an app, after which he goes through the gamut of testing it for usability, marketing, and launch success. However, most apps introduced to popular app marketplaces receive little-to-no buzz or recognition from major app reviewers, which means no downloads.
In fact, a report by Gartner states that most apps see only 0.01 percent of financial success. What's more, most mobile users are also extremely choosy with the apps they download. In fact, most average precisely zero app downloads per month.
So does this mean your app is doomed before it's even launched? Or, is there a legitimate way to create buzz around your app to help enhance its download rate? Read on to find out.
Social media is your savior
According to another survey by Statista, there are currently more than 2.46 million social media users, and it is predicted these numbers will increase to 2.77 billion in the coming year.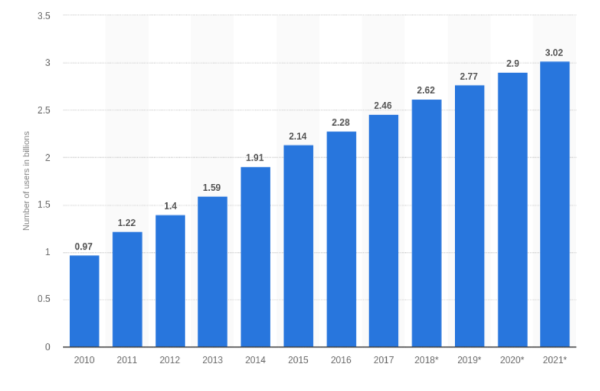 Image source: Statista
Social media provides business owners with a platform to display their products to a larger audience, gives them a chance to engage with their prospects effectively, and gain loyalty. Therefore, although initiating a social media strategy can be time-consuming, it definitely yields quick results—more than other digital marketing methods.
Here are some of the best social media strategies you can incorporate into your own marketing methods to help increase download and retention rates of your app.
1. Opt for the most popular platform
By far, Facebook remains to be the most widely-used social media platform by a healthy margin: some 1.47 billion individuals log onto Facebook daily. Additional reports also suggest that more than 50 million small business owners connect with their consumers through Facebook. Simply put, Facebook is the number one platform for lead generation.
TVibes, a cloud-based, video streaming platform that allows consumers to create their own "TV channels"and broadcasts of their personal videos to both public and private audiences, found its success through Facebook.
When the company was in its infancy, getting sign-ups and downloads of its app was a challenge. But, once the founders used mobile app install ads on Facebook, they made it more convenient for interested users to sign up and log in directly from their Facebook account. As a result, the company experienced a 50 percent increase in new installs, and 20 percent higher engagement rates.
Other leading social media platforms include YouTube, Twitter, Pinterest, and Instagram. When executed properly, these social media platforms can also prove to be profitable avenues for app marketing.
Image source: Comscore
2. Optimize your social media profile for search engines
Similar to the way you optimize your website for SEO, your business's social media account should also be visible to your target audience when they search for apps like the one you offer.
So, how do you achieve this? For starters, make sure you've set up your social media profile to include all the details about your app. Be as descriptive as possible, and use keywords relevant to your audience's interests. This way, when interested users search for those keywords on Google or in their preferred app store, your profile will have better visibility.
In fact, social media profiles have a higher authority on search engines and will rank higher if implemented properly. As per the Econsultancy's State of Search Marketing Report, 74 percent of companies and 82 percent of agencies agreed that social media is highly integrated into their SEO strategy.
Additionally, internet users are also heading towards social media to search for their preferred product/service. In 2012, Facebook claimed to receive one billion searches per day, while Twitter boasted more than 19 billion search queries a month—five times more queries than handled by Bing.
The key takeaway: App companies should not stay limited to search engines like Google and Bing but also optimize their profiles for social media searches.
3. Include a CTA
In 2016, Glu Mobile, and American developer and producer of mobile games, wanted to increase the download rate for their new gaming app, Diner Dash. In addition to using Facebook ads, the company also used images of a real-life chef along with food items from the game to attract an audience. Within the ad, they added an "Install Now" call-to-action button that resulted in 39 percent more downloads.
Including a direct and clear CTA in your social media profile is critical. According to AdRoll, adding a CTA to your Facebook page can increase the click-through rate by 2.85 percent.
A CTA such as "Install Now" or "Use App" can effectively direct your audience towards the relevant store from where they can conveniently download your app. This is also a great way to increase organic app installation and increase the download rate of your app.
4. Create interactive content
Content is king and marketers of today are creating more content than ever. But how often do you make the effort to read a whole blog post on your mobile device? Seldom, right? Nevertheless, if a post is combined with images, infographics, and surveys, readers are more likely to get a better understanding of what the content is about and will be more likely to read it until the end. This is what interactive content is all about.
The Content Marketing Institute conducted a poll wherein 81 percent of marketers said that interactive content such as polls, giveaways, quizzes, etc. grab a reader's attention more effectively than static content. Marketers also claim that interactive content is more helpful in educating the buyer regarding their product or service when compared to traditional social posts and blog articles.
Ninety-one percent of buyers also prefer to consume interactive content, and it's been found that interactive content converts twice as much as regular content.
So, to gain more installs for your app, be sure to include videos, graphics, and surveys on your company's official social media page. Add content that grabs the attention of your readers and compels them to install your app and share good reviews about it with others.
5. Be consistent
Using social media marketing is par for the course these days. No matter whom you are selling to and what you are selling, using the power of social media is an effective strategy to gain consumers and generate revenue. Today, 90 percent of marketers say that social media has increased their brand exposure and, for this reason, they are spending more and more time on enhancing their strategy.
However, managing a social media page is a time-consuming task and requires consistent effort. To establish authority on the platform, you must regularly update your account with relevant posts to keep the audience engaged. In fact, failure to periodically interact with the audience may result in loss of revenue.
Create a high-quality app
Besides employing these marketing efforts, having a high-quality app is essential to survive in such a competitive marketplace. Today, when the demand for apps is higher than ever, entrepreneurs must make sure their product maintains the standard set by the consumers. This means that merely having the necessary coding skills is not sufficient enough, and perhaps investing in an app development company may be the best thing to do.
Mehul Rajput is a CEO and co-founder of Mindinventory which specializes in Android and iOS app development and provides web and mobile app solutions for start-up- to enterprise-level companies. He is an avid blogger and writes about mobile technologies, app marketing, app development, startups, and business.