It's no secret that a commonality among successful small businesses is a compelling social media presence. Whether it's being on Facebook, Instagram, Pinterest, Snapchat, Twitter, or all of the above, exposure and engagement with your followers is directly proportional to how much you post. If you want your business to reflect decent analytics, it's imperative to post rich content that reflects the essence of your business, and often. This will increase your posts' chances of going viral and gaining followers.
One of the more conducive platforms for marketing with visual posts is Instagram. If your business is new to the social media scene and you don't know where to begin, here are some Instagram ideas for small businesses that are sure to inspire:
Instagram photo ideas for small businesses
Business exterior and surrounding areas
A great way to entice customers to visit your place of business is to reveal how friendly and approachable it is. Post some pictures of your building's exterior and the areas around it. This will give your customers a sense of community and connection. Instagramming your local area will offer a myriad of photo ideas, everything from landmarks to art to the closest city skyline. Show pride in your community by creating a sense of belonging, that you're all part of a unique culture.
The examples below show the exterior of Keap's headquarters as well as an Instagram from one of the employees capturing a rainbow just outside the office. This is also a great opportunity to share a customer's post if they captured your business in a special way. Reach out and ask permission to share their photo on your account. They'll really appreciate the acknowledgement and feel more connected to your brand with their contribution.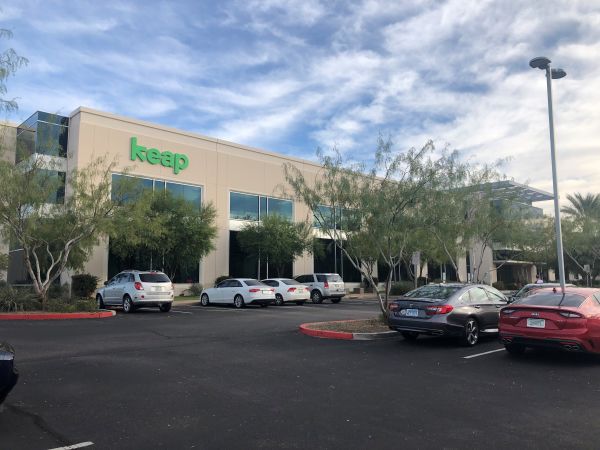 Keap's front entrance. Image source: Laura Dolan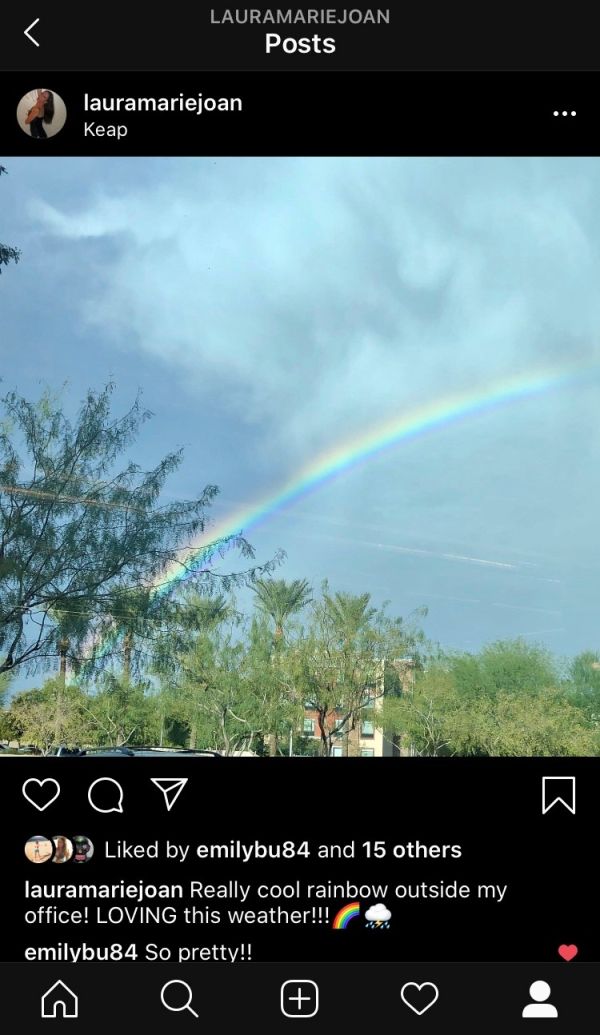 Image source: Laura Dolan
Instagram photo tip:
Lighting: Illuminating the subject of your photo in an enriched way will ensure an eye-catching experience for your followers. Taking photos of your business during sunrise or sunset with the bold, beautiful colors of the sky is bound to fill your notification bank with hearts and followers.
Go behind the scenes
You're a small business trying to get off the ground, working hard every day, so show off your progress. Take photos of what goes on at your company. Capture meetings, people working at their desks, and the office space in general so followers can put a visual to a brand. If you're a manufacturer, show some of the machines that you use. If you're a crafting store, show off some of your best fabrics. This is a real opportunity to flaunt the nitty-gritty of what it takes to make your operations function day in and day out.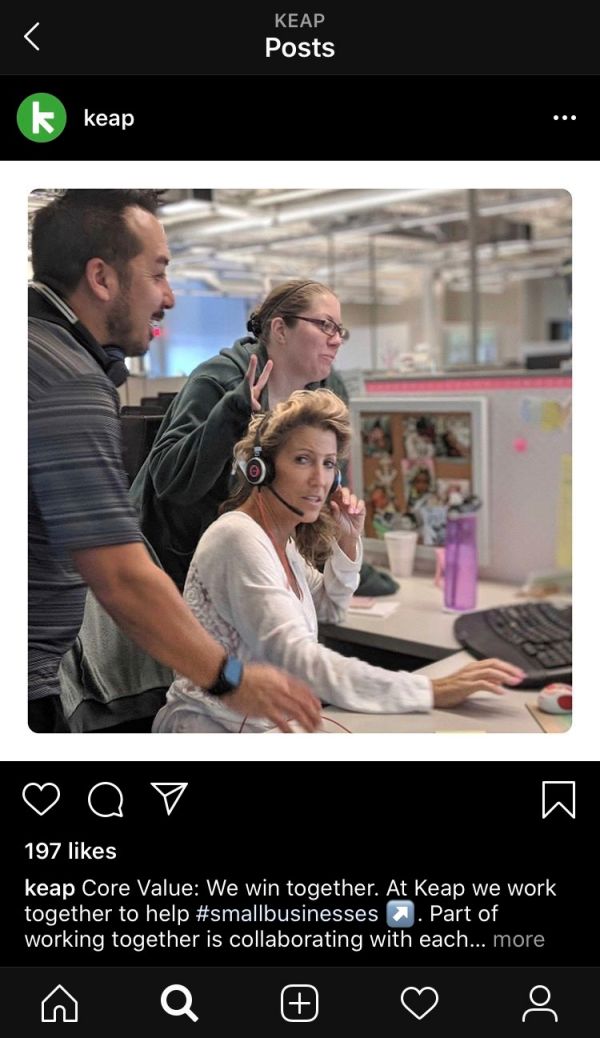 Keap's staff working hard to ensure it's providing the best service for its customers. Image source: Keap
Instagram photo tip:
Be colorful: Does your company have colorful walls? Place an object, or person in front of them and do it often enough so that your followers can associate you with that particular design—they'll know it's you before they even read your caption.
Company culture
The key to a successful company culture is good morale. Different values, rules and rituals are observed every day to make a business run. What does your company do to make employees happy and therefore, work as hard as they can to keep the company thriving? What's the secret behind your company's success? If your followers see a happy company culture with satisfied employees, they'll be more encouraged to do business with you.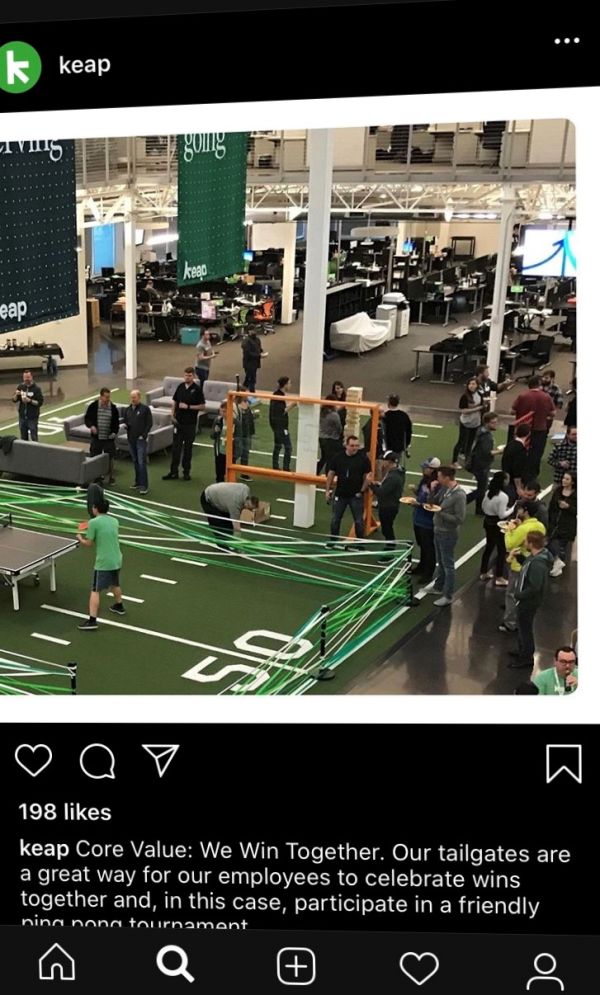 One of Keap's traditions is to hold a company tailgate for special occasions that includes food, games, and prizes. Image source: Keap
Instagram photo tip:
A view from the top: If you work at a company that has multiple levels, it would be cool to capture what's happening down below if you have an open floor plan and you can see all the way to the ground floor. This will capture activities happening on multiple levels, literally. Perhaps you work in a high-rise and want to show off your breathtaking views. Don't be afraid to hold your phone's camera at different angles. Try capturing an object by holding your phone directly above it, creating an aerial effect.
Show off your company's product
Every company sets itself apart with its distinctive product; this is your chance to exhibit it and demonstrate how it works. Instagram allows you to upload 10 pictures at a time in one post. If need be, you can create a series to show how a product was built from the ground up. You can also post videos and edit them down to 1 minute per post. Create 1-minute videos in a 10-part series in 1 post, this way you're not completely flooding your followers' feed uploading videos 1 at a time. The idea is to be present without dominating or littering your followers' feeds to the point where they just give up and press the dreaded "unfollow" button.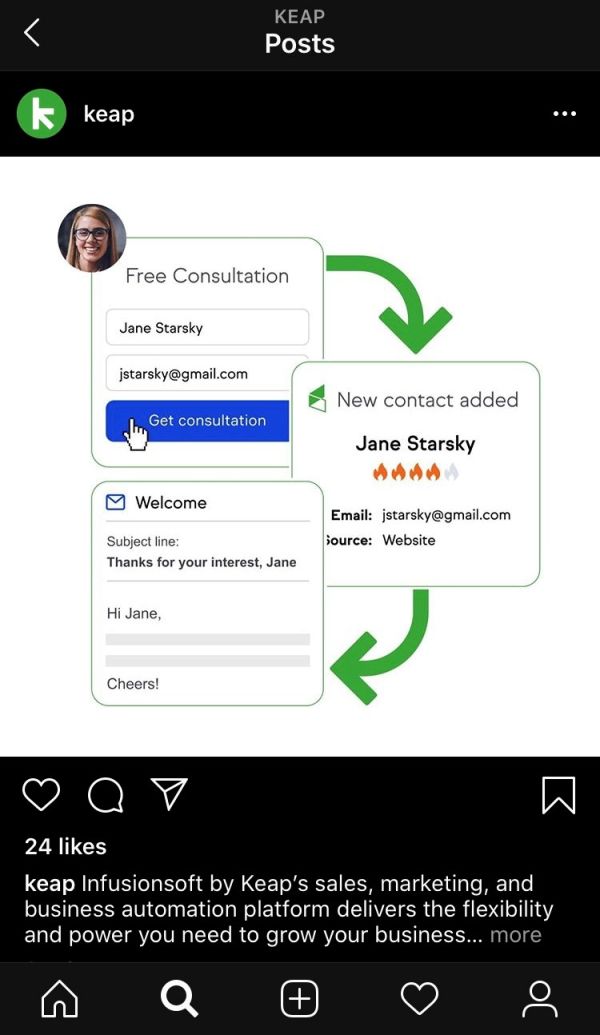 How Keap's proprietary product, Infusionsoft, works. Image source: Keap
Instagram photo tip:
Photo design: Smartphones' photo apps give you so many options for enhancing your photos. You can manipulate photos by changing the placement, creating new angles, and cropping so anything surrounding the subject of your photo doesn't take away from what you're trying to capture. And of course, Instagram offers its own variety of filters to improve the quality of any photo.
Inspirational quotes
When things are slow but you still want to ensure a social media presence, this is a great time to rely on something evergreen in the way of an inspirational quote. Reveal something that motivated your CEO or a famous saying that your company stands by every day. This is another method of pulling the curtain back and revealing your company's true values. What do you stand for? Who do you admire in the business world?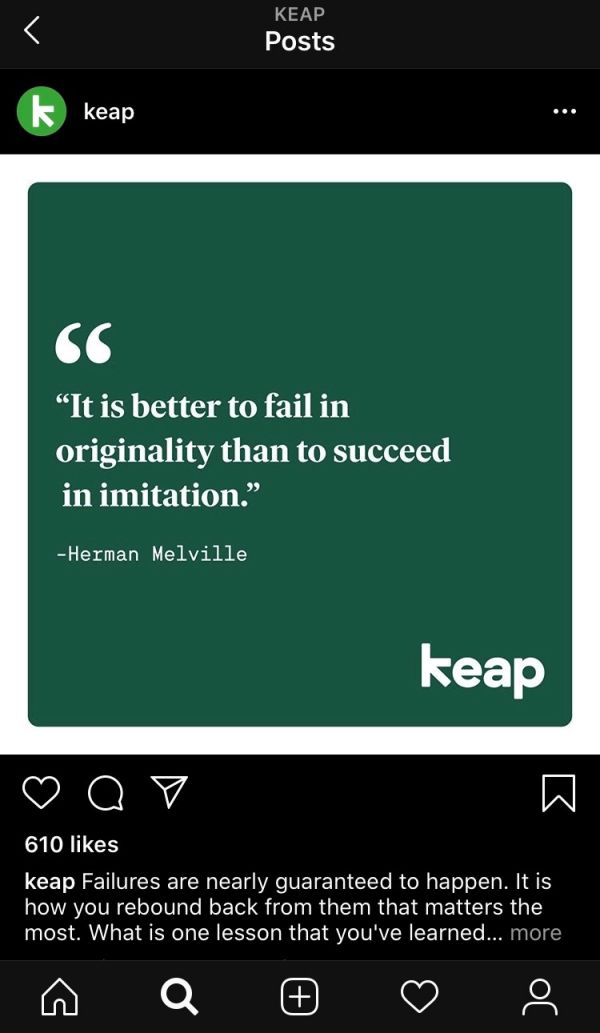 Motivational quote posted by Keap. Image source: Keap
Instagram photo tip:
Take risks while taking photos: I say to do this within reason. Don't take a selfie on the side of a cliff or risk falling off a ship, but be open to crawling or reaching up without being able to see what you're doing to get the perfect shot. Sometimes you have to think outside the camera lens to capture an image that is truly out of the ordinary.
Utilizing all of the techniques above is sure to get your small business noticed on your Instagram's news feed, creating more opportunities to collect more followers. Just be aware of post frequency. It's a delicate balance between posting too much and too infrequently. You want to make yourself known and do it with stunning images that will reveal your company in the best way possible.