Want your law firm to stand out online? Then it's important to make sure that your social media channels are active to attract new clients and make your loyal customers come back anytime.
For today's legal industry, social media marketing should be a crucial part of the overall marketing plan. The recent survey collected responses from 302 lawyers where 96% of respondents said they use social media. Linkedin (27%) and Facebook (31%) were ranked as the most successful platforms for bringing in business. Based on Legal Futures, Twitter is becoming the critical referral source for lawyers, with a 663% increase in people asking for recommendations around professional services.
Unfortunately, there's no one-size-fits-all formula to make your social media strategy successful. Some law firms might do well on Twitter, while others might do well on Facebook or Linkedin.
Why is a law firm social media strategy so important?
Social media for law firms is important for a number of reasons. First of all, social media enables them to reach a large audience at a lower cost than it would take to use traditional marketing methods.
Another benefit of marketing via social media is to target different people with different approaches and needs who would like to use legal services. Ultimately, you can directly interact with social media fans on a personal level and convert them into paying customers. Social media marketing for lawyers is a really tricky business. People see a lot of posts and ads every day. Want to achieve great results for yourself? Start experimenting with different social media tactics. I hope that the following five social media tips will help your law firm spread word-of-mouth about your business to sway stays.
1. Show and respond to all client reviews
Like any law firm owner, you know how important high ratings and reviews are to your business. LawRank conducted a new study to find out what impact people's decision on which lawyer to hire by asking 400 respondents in the U.S.A. who have just used a lawyer.
About 82% of participants said that they wouldn't hire an attorney who had less than a 3.5-star rating. Almost 15% said that they wouldn't hire a lawyer who had less than a 5-star rating.
Showing positive reviews, industry accolades and wins can help people decide whether or not they can trust your law firm. Create profiles on top review sources (Google, Facebook, Avvo, and Yelp) and engage with your clients. If you feel your customers are satisfied with your service, you can ask them for reviews and share their quotes on your social media channels. Here's the Lorenz & Lorenz, L.L.P sharing an endorsement to be selected to the Rising Star List with their followers on Instagram: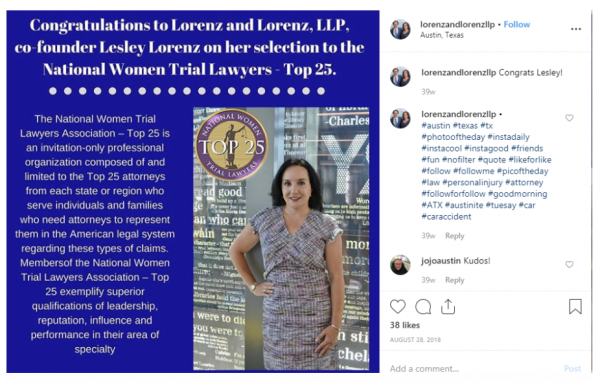 Cross-promoting your positive reviews though different social media channels is also a great way to promote your business in a compelling way and encourage other satisfied users to share their positive experiences with your business.
Unfortunately, we can't control what customers think and write about your business, but we can improve your brand reputation by responding to all of your client reviews on different sources. Even if you have bad reviews, you can still continue building credibility and relationships with potential consumers.
Provide polite and professional responses to people with appreciation and insight, instead of simply ignoring when they leave a comment on your service. Remember you can always dispute the validity of any review if you feel that it is fake or doesn't come from your former client.
2. Share informative and educational content
Marketing on social media is all about creating and sharing informative, educational and entertaining content that will support your passion to the law and engage your audience. Based on the 80/20 rule of social media, 80% of your social media posts should answer customers' questions, share informative and educational posts and retweet useful sources. In other words, everything should be about your customers. The remaining 20% of your posts can promote your business.
Some of this content can be related to industry news or interesting stats. Let people know what they should know about your field. For example, when it comes to personal injury, you can share some tips and rules after a car accident or dog bite.
Provide actionable, step-by-step instructions for each case or create a video library with a series of videos on different issues that you tackle. You can see how Lavent Law does a good job by sharing educational videos on both YouTube and the website.
One of the best formats to keep your audience engaged is live FAQ sessions. You can try out a Facebook Live interview to offer interesting content to your followers and promote your business on social media at the same time. Be sure to create an appealing title of your video, add the thumbnail image and share your live interview on other social media platforms. Let your audience know when you plan to go live and ask them for questions and ideas they want to get.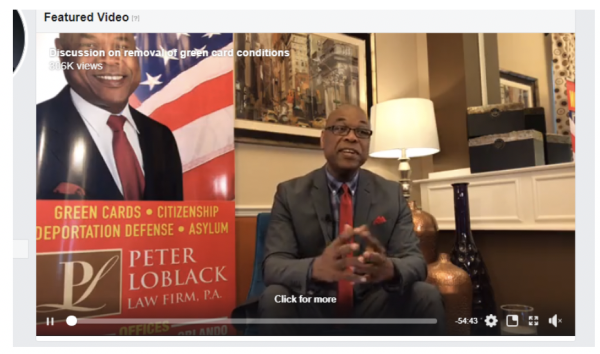 3. Add a live chat solution
According to this research, 38% of people have made a purchase due to a good live chat session. Adding a live chat feature to law firm websites can encourage customers to contact you directly than just provide a contact form or an email address. But giving your support on Facebook will increase more revenue and the profitability of your marketing campaigns. You know why? Because people spend more and more time on social media, and a live chat seems more casual and gives immediate answers in real time.
Zotabox provides a free Facebook live chat tool that will enhance your website visitor value. It is easily set up and use on your website. For example, Rosen Injury Lawyers got a 70% increase in sales requests sent via the chat tool since launch. Using a live chat can be a great lead generation tool in case you put more efforts into interacting with your customers, supporting and helping them solve issues.
4. Run targeted advertising campaigns
The best thing about social media marketing is that it's free. But if you want to find a potential audience that might be interested in your services or promote a special offer, you should consider advertising as well. Bear in mind that advertising can be limited to some practice area. You need to understand that people don't want and plan to suffer from an injury, so that's why you should use each advertising platform effectively and carefully examine its targeting characteristics.When it comes to targeting on Facebook, here are several tips I recommend for lawyers and law firms:
Target based on life events. Many legal areas of practice tie with certain life events. For instance, your law firm provides services to retirees. Make sure that there is a difference if you target people who just turned 65 and over 65. Probably, people who turned 65 need more advice or consultation than people over 65.
Target based on demographics. Facebook advertising offers a lot of demographic options that can help you reach a larger audience for your business. You choose and show your ads based on income, age, location, education, buying habits, etc. This strategy will be useful for those who are promoting services for a very specific group of people.
Target Lookalike Audiences. You can find people similar to those who have already connected and converted on your site. Facebook creates a list of potential customers similar to people who've already converted on your site. You can also add a list of email addresses you've gathered to create a similar audience.
Focus on retargeting. You can create and show ads to audiences who have already visited your website or Facebook page, engaged with it or ordered a free consultation.
I mentioned earlier Avvo as a great service for helping lawyers and law firms get more exposure and show up at the top of the lawyer directory pages. You can easily target specific demographics and people who need to find a lawyer. This service allows you to include display ads and custom websites, especially if you want to appear on competitors' landing pages.
5. Gather competitive intelligence It's always a great idea to learn how other law firms promote their services online, what content performs best, what events they attend and what people talk about your adversaries in certain court cases. You can reveal their weak points, decode their competitor's social strategy and instantly work over that intelligence.
You know that social media marketing is about creating a deeper relationship with your customers and engaging with your audience. Your competitors can have a lot of potential customers who have asked questions online that probably went unanswered. Just be active and respond to them.
A good way to evaluate your key competitors and learn what works for them is to use competitor monitoring tools like SE Ranking and Mention. SE Ranking is also useful for monitoring competitors' paid ads strategy and backlinks, and use their knowledge for your law firm.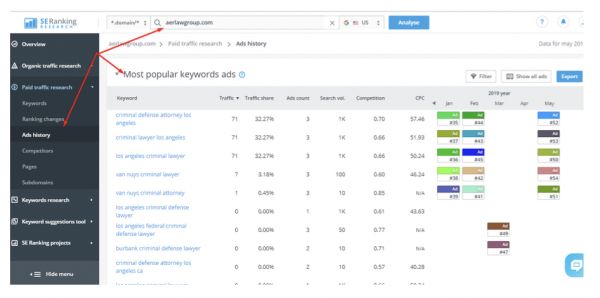 Bonus tip: Measure your law firm's success
If you want to improve your marketing strategy, you should closely measure how your audience is interacting with your website, which calls-to-action you should implement on your social media landing pages, and have a better understanding of the effectiveness of your marketing tactics you are using.
Finteza gives you a detailed report into how your site users engage with content and your CTAs. It tracks the full path to the desired action and shows reports on the most effective ones. The tool also offers the integration with WordPress that makes it easy to add links as tracked events.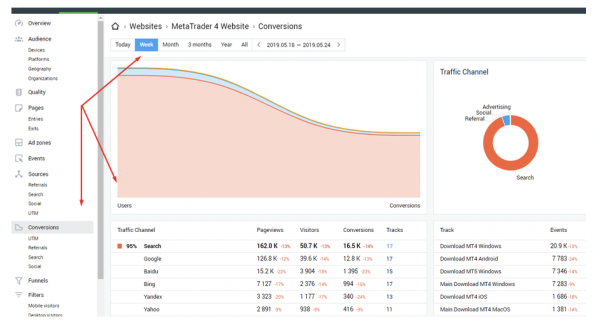 Bottom Line
There's no secret that building a strong law firm social media strategy can take some time and efforts. But it's important to make sure that your social media channels actively work to attract new clients and keep your customers coming back to you. Start engaging with them like never before and make your law practice stand out in such a crowded market