If you have an online shop, it's natural to want to promote it in the best way possible to attract new customers and drive sales. There are many different techniques you can use to try and market the products you sell, but one of the most effective is Google Shopping.
If you own an online store and you're hoping for an upturn in profits, this is a marketing method worth considering. This guide will provide all the information, tips and tricks you need to put your products on the map using Google Shopping.
About Google Shopping
Google Shopping is a platform that enables you to use the power of Google to promote the products you sell. If you've ever used Google to search for an item before, there's a good chance that you've come across Google Shopping.
At the top of the search results, you'll see a series of boxes, which have images and a short product description. You can also click on the Shopping tab to see more results.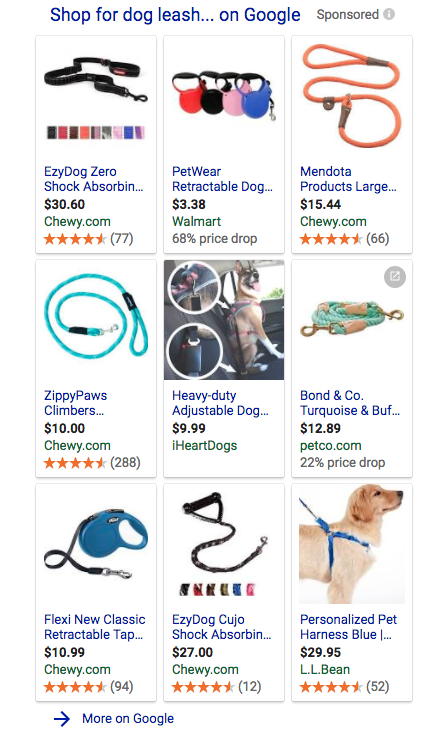 These images that you see sitting pretty at the top of the page are paid ads, which are there to attract your attention and hopefully, encourage you to click on the link and add the product to your cart.
If you have an online shop, using Google Shopping could be an incredibly effective means of increasing sales and encouraging more people to check out your store and make purchases.
Getting started
If you're interested in using Google Shopping as a marketing method, it's very easy to get started.
You'll need to provide product descriptions to Google's Merchant Center, and then you can begin setting up an AdWords campaign, which will match your images and meta descriptions with relevant search terms and commonly used keywords.
Google will use the information you provide to create shopping ads, which will attract customers who are looking for items similar to those you have listed.
You can list individual ads, or you can choose to include your entire inventory and launch a campaign that ensures that the relevant ads appear when linked search terms are entered in the search box by the consumer.
What Google Shopping offers
Google Shopping is not the same as other Google features. When you use Google as a search engine, you'll see lists of results, which have been generated using organic SEO techniques.Google Shopping is a paid service, and it matches your ads to customers who actually have an interest in the products you sell.
As well as advertising the products you sell in your store, Google Shopping also enables you to list local ads, and it provides a platform for users to rate and review your store. It is also possible to take and manage payments using Android Pay and to arrange delivery through Google Express.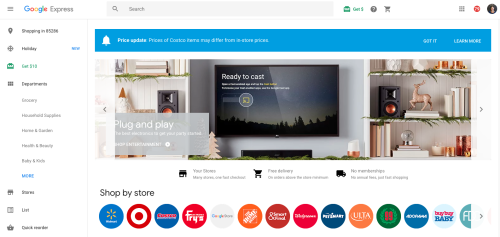 Google markets its shopping tool as a virtual shop window that is visible to millions of people. If you think about how often you use a search engine as a consumer and then consider how many people shop online around the world, there's scope to really push sales using this technique.
Making the most of Google Shopping: Getting your campaign right
Google Shopping has numerous benefits for retailers of all sizes, but it's important to get it right when it comes to planning your campaign in order to make the most of the opportunity.
To take advantage of this platform and use it to promote your products, it's important to understand what customers are looking for and how you can make your ads stand out.
Designing your ad
If you're selling branded products, it's a good idea to put the brand name at the beginning of the description, as most consumers will start their search looking for a particular brand. If you're a customer searching for Nike shoes, for example, you probably have some idea of what you are looking for, so the ad copy should reflect that.
It's a good idea to include the brand name, style, product category, color, and size. Be specific in your ad.
You're going to generate more leads by advertising "men's size 12 Nike cross-trainers" than "running shoes," for example.

If you're offering a discount or you have a special offer running, this can help your listing stand out, so make sure you include details of the offer or a logo to alert the customer to the sale in your advert.
Offers don't have to be related to the price. You could also include details of free shipping or entry into a competition, for example.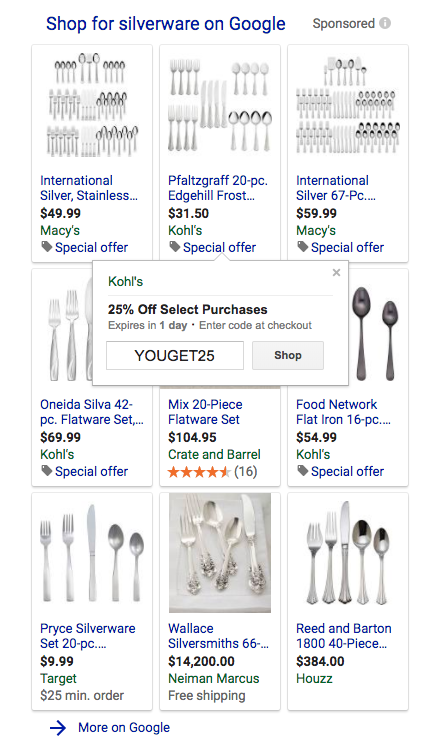 Using reviews and feedback
Many of us read reviews and look at ratings before we make a purchase online.
It's beneficial to include reviews in your listing to give customers more information about the product and encourage them to view you as a trusted seller.
If you're competing against another seller and you have five-star reviews, the consumer may be more likely to click on your ad than the other.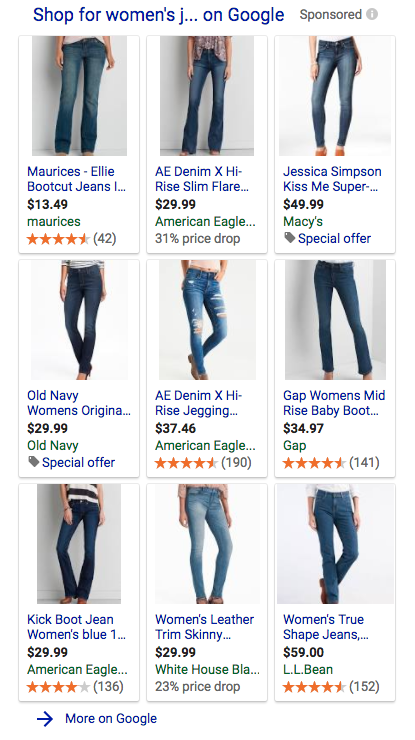 Picture quality
If you're using a picture, it's so important to ensure that you use a high-quality image that showcases your product in all its glory. If you use poor quality pictures that are out of focus or you can't really see what the product is, this is going to put buyers off.
One tip is to display your item diagonally to make the most of the space available within the square box.

Mobile-friendly advertisements
More and more people shop online using mobile devices according to Justin Smith from OuterBox, so it's essential to ensure that your ads are accessible to phones and tablets if this is a market you're planning to tap into.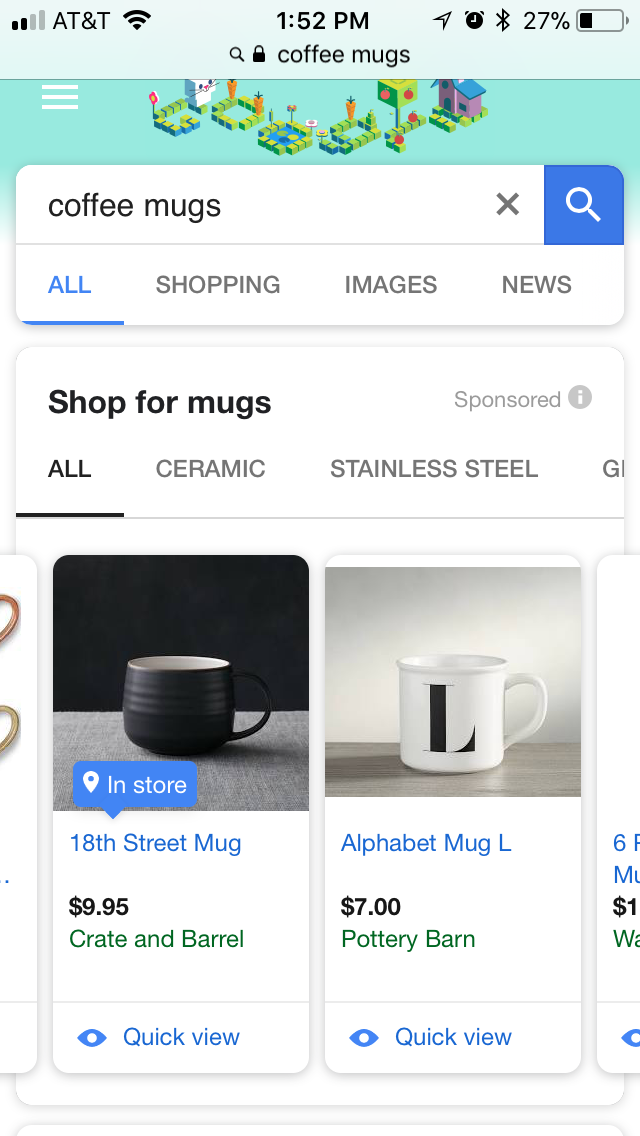 Targeting a local market
If you have a physical store, as well as an online shop, you can make use of local inventory ads, which will give your customers information about how to get to the store, as well as providing them with details about the product.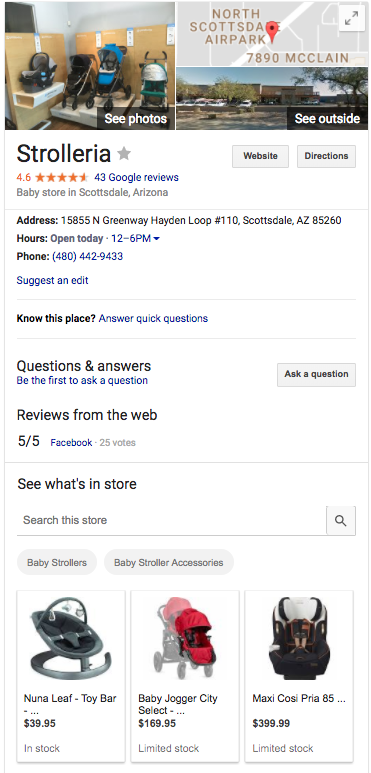 What are the advantages of Google Shopping?Google Shopping offers a host of advantages for online retailers. Here are some of the most significant benefits it could offer your business:
Scope and reach: did you know that Google handles 40,000 searches every second? Today, more than a third of people start their search for an item or product on Google. If you have a presence on this website and your images are popping up when people search for products that you sell, there's a much higher chance of attracting new customers. Whether you sell branded trainers, the latest speakers or prom dresses, you're likely to garner a lot more interest with a shopping advert than you would with traditional SEO techniques or a social media page, for example. If you can appear at the top of the page and your product is there for everyone to see, there's a good chance that consumers are going to click on the link and make the purchase. With Google Shopping, you can also post more than one advert. If the search term is relevant to your product, you can place both shopping and text adverts, giving you a broader reach.

Catering to the market: Research suggests that Google Shopping accounts for more 50 percent of paid Google adverts, and 55 percent of searches are conducted on mobile devices. As a modern business owner, you can cater to your market by providing a quick, simple and convenient way of buying online. If you've got ads appearing on Google, the user can simply click and add the item to their basket in a matter of seconds, regardless of where they are in the world. Modern buyers are always on the lookout for ways to save time and make life easier, and this is a really easy and appealing way of shopping on the go.

Conversion: When you use Google Shopping, there's a high chance of converting leads. With organic search results, the top result on the page has a conversion rate of around 31 percent. The second and third place links have a conversion rate of 9 percent and 6 percent respectively. With Shopping ads, the adverts appear before the top organic results, and they attract even more attention. Research suggests that stores that use Google Shopping can enjoy an improvement in click-through rates of up to 40 percent. It is estimated that the average user is twice as likely to click on a shopping ad than a conventional PPC advert.

Reduced costs: Google Shopping can reduce the rate you pay-per-click, as the fee is linked to the click-through rate. If you manage to reduce the cost-per-click significantly, this could save you a substantial amount of money over a period of time.

Targeted campaigns: When you're paying for adverts, you don't want to attract customers who have no real interest in buying your products. Google Shopping enables you to create a targeted, customer-focused campaign, which will ensure that your adverts reach people who have a genuine interest in those items. This means that you don't waste money and that there is a higher chance of making a sale when your adverts appear. It is common for consumers to use Google Shopping when they have already done a bit of background research, and they have a good idea of what they want. This method targets customers at a later stage of the buying process when they are ready to commit.

Visual appeal: Put yourself in the position of a consumer for a moment. You're looking for a specific item. You log onto the Internet and open the Google homepage. You enter the product name. You are greeted with a selection of shopping ads and then a page of links with short descriptions. Which links are you more likely to click on? Are you going to take time to read the descriptions or do you automatically go for the box that has an image of what you're looking for? The vast majority of people would go with the shopping ad because they can see for themselves that this is what they're looking for. Even if you're not 100 percent certain, for example, you can't choose between two different designs of a branded kettle, seeing images can help you make a decision.

More information: When you place a Google Shopping advert, you can include more information than a traditional PPC ad, which is more attractive to consumers. If somebody is searching for new Bluetooth speakers, for example, you can include the brand name, the price, and a brief description. By the time that consumer has looked at your advert, they will have a good idea whether or not they want to buy the product.

Performance analysis: It's really important for businesses to be able to analyze how effective their campaigns are and you can track your performance very easily using Google analytic tools. If you're keen to see how a particular brand of shoes compares to other brands, for example, you can determine the number of clicks that advert has compared to others at the touch of a button. If you have detailed information about your campaign, you can modify it to improve it and further increase sales.
Is Google Shopping beneficial for all online retailers?
Google Shopping is most beneficial for online retailers selling products that have proven demand and a high search volume.
If there are a lot of people searching for the products you sell and your landing pages are geared up to make sales, this should bode well.
Take care with Google Shopping if you operate in a saturated marketplace, you can't compete on price, or you're trying to increase demand for a product, rather than drive sales. In some cases, it may be best to invest your marketing budget in other techniques.
Google Shopping can be a hugely effective technique for promoting an online shop. If you sell products online, there's a demand for those products and your website is ready and waiting to process orders and make sales, it's worth investigating buying shopping ads.
Ads are placed at the top of the search page, the images are more appealing to consumers than traditional PPC ads, and you can add features, such as special offers and user reviews to ensure your advert jumps off the page.
Paul Granger is a content writer at WebsitePromoter, a site that helps small businesses and website owners with advice on how to grow their reach online using SEO and PPC.