Appointments video:
If you run a service business, you know that meeting with prospects and clients is a critical step in building trust, selling yourself, and ultimately growing your business. Unfortunately, scheduling and managing all of those appointments feels a lot more like a time-consuming hassle. The back-and-forth emails, texts, and phone calls to find a time that works for everyone is enough to drive a person crazy. To make matters worse, calendars don't always sync and schedules can get mixed-up, meaning late arrivals or no-shows. That's more lost time for everyone.
Thankfully, we've come up with a built-in way to put an end to those scheduling hassles: our new Appointments feature.
Here's how it works
Select your available meeting days and times—these are the timeslots your customers will have to choose from when it's time to schedule a meeting with you. Keap stays in sync with your online calendar and won't let customers choose from times you haven't OK'd. You'll also get your business' own scheduling link which takes customers to a dedicated appointment booking, mini web page for your business.
When you need to set up an appointment with a new client, simply email or text that person your scheduling link. Your client will choose a time that works for both of you based on your availability (and their own). That's it. No phone tag, voice and text messages, or emails needed to find a time that works.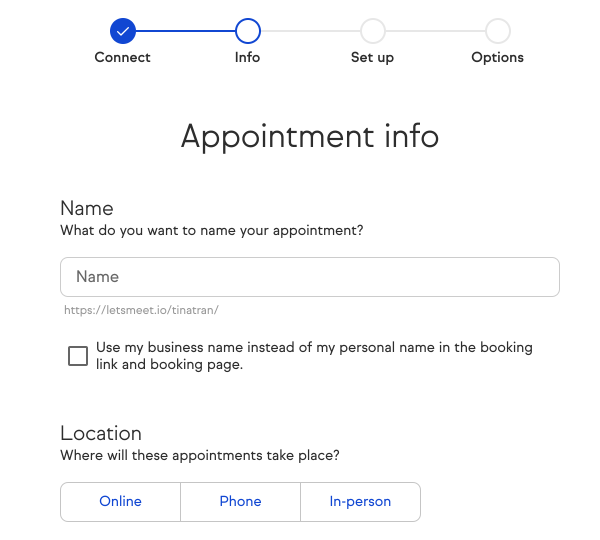 It's all connected
Keap syncs with Google Calendar (syncing ability for other online calendars is on the way) to ensure that our software and your calendar are always showing consistent information. Even better is the fact that your appointments are now linked to a contact's record in Keap, so the dates and details of the appointment (along with notes, etc.) are saved with the rest of that contact's information in your Keap app, keeping everything organized and in one place.
So say goodbye to wasting time scheduling and re-scheduling appointments only to find that someone got the details wrong and isn't able to make it. Instead, say hello to more confirmed meetings, better-prepared attendees, and less hassle for everyone involved.
Sound useful? Appointments is included for all Keap users now at no extra fee, so give it a shot if you're already a customer, or sign up for a free trial of Keap today.