Having a great marketing plan but no way to generate leads is like ordering everything you need for an event and paying for it without reserving a venue.
Make no mistake, a solid marketing plan is key to driving online traffic to your website or foot traffic through your store's doors. But you won't get anywhere if you carry out that plan without a system in place to drive that traffic to you.
Keap helps you build sales pipelines that keep interested visitors, casual customers, and faithful followers engaged with your business so they feel compelled to take action, whether it's buying a product, registering for an event, or committing to a newly minted deal.
Meanwhile, JotForm is an online form builder that gives you the ability to create customized forms, share them as you please, and collect information even when you're on the go. It's also possible to pull up forms and collect information offline on mobile devices in places with patchy internet access or cellphone reception.
JotForm's integration with Keap enables you to gather important information from your online forms and automatically send it into your sales pipeline by creating new contacts, updating existing contacts, and adding tags that allow you to segment your outreach efforts.
This automated process eliminates the need to manually enter names, addresses, phone numbers, and other data collected from JotForm into Keap.
Once you create an online form in JotForm, adding the Keap integration takes only a few quick steps.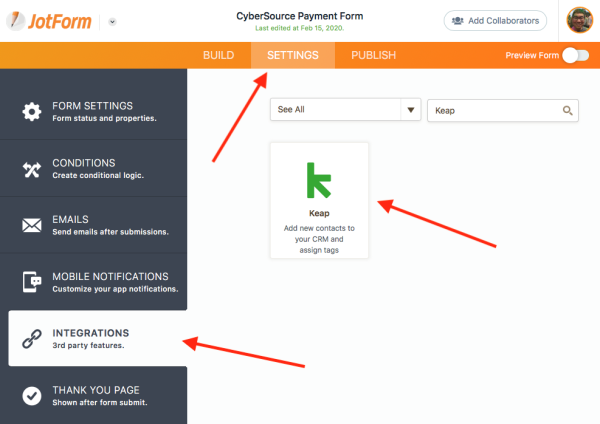 Combining both platforms creates a seamless workflow that ensures everyone in your sales pipeline — from leads to existing customers — is nurtured so you can win their trust and their business.
Inject new contacts and leads directly into Keap
Whether you want to add subscribers to your email lists or contact people who are interested in your services, entering all of their contact information into your sales and marketing database is a pain.
All of this repetitive manual data entry takes time away from more important work.
JotForm's integration with Keap streamlines this process by automatically matching information from submitted online forms with specific fields for individual contacts in Keap.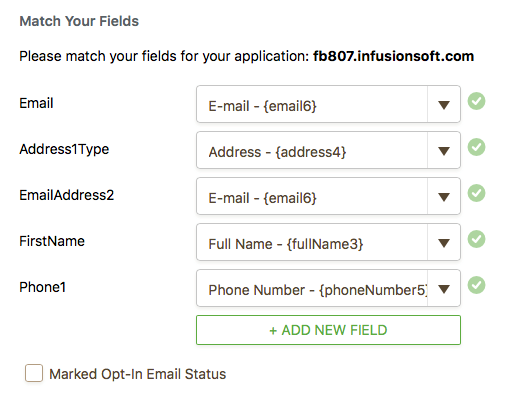 When people fill out your online form and submit it to you, the information is populated into corresponding contact fields in Keap's CRM system.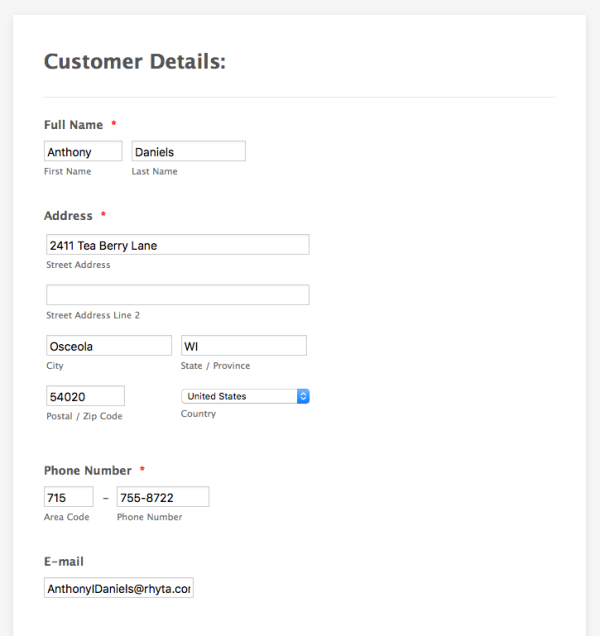 Since this process is initiated automatically, you don't have to worry about doing anything beyond setting up the integration when you build your form.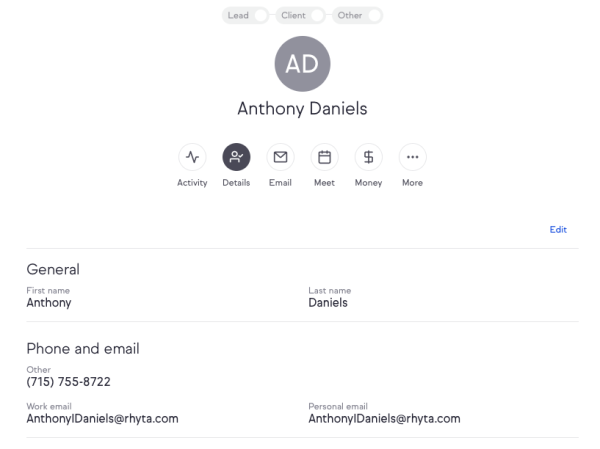 Update contact information automatically in Keap
It's important to ensure the contact information for each person in your sales and marketing database is up to date so your outreach efforts aren't in vain.
Still, even when you take steps to update someone's contact information, sometimes you'll run into duplicate entries with different phone numbers, physical addresses, or email addresses, among other things.
These issues can easily arise when someone changes jobs, gets a new phone number, or even relocates to an office in another state.
You could manually update contact information, but that takes time and opens the door for data entry errors. It's also a task that's easy to forget when you have other, more pressing jobs to tackle throughout the day.
JotForm's integration will automatically update your existing contacts in Keap when they fill out a form and submit their information. The integration does this by cross-checking submitted form information with contact details in Keap, so changes are only made when discrepancies are detected.

You can also direct the integration not to transfer any submitted form information for people who are already in your contacts list. This means you won't have to worry about duplicate entries if someone accidentally submits a form more than once.
Rather than setting aside time to manually enter data in Keap, using JotForm's integration will allow you to spend more time on meaningful work.
Tag customers for targeted campaigns
Once you create a system that can seamlessly gather contact information and transfer it into Keap, you'll probably need to do a few more things so all of this new data doesn't just take up space.
With Keap, you can add tags to individual entries in your contact list. This allows you to place your contacts into specific groups and craft targeted or personalized messages for each group.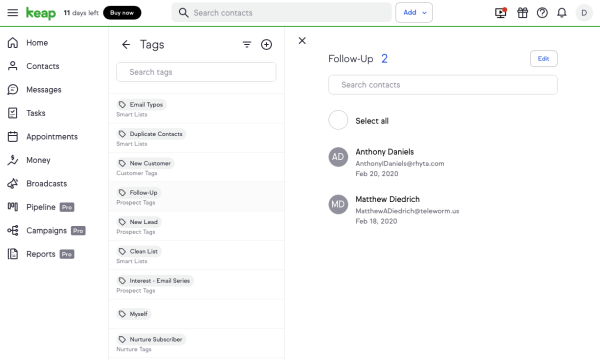 The ultimate goal, as Keap points out, is to organize your contact list and "intelligently send people messaging that will push them along on their journey to becoming one of your best clients."
JotForm's integration can make this task a little easier by applying tags to new contacts created from submitted form information. Depending on what works best for you, there are two ways to include tags on contacts transferred from JotForm into Keap.
The first option, static tagging, allows you to select the tags that will be applied to all new contacts in Keap using submitted form information. This option is particularly helpful if you want people who fill out a form to be grouped together under a single tag.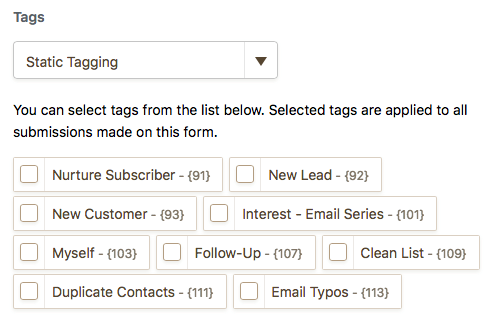 The second option, dynamic tagging, is a little more complex; it applies tags to new contacts based on the answers they provide while filling out your form.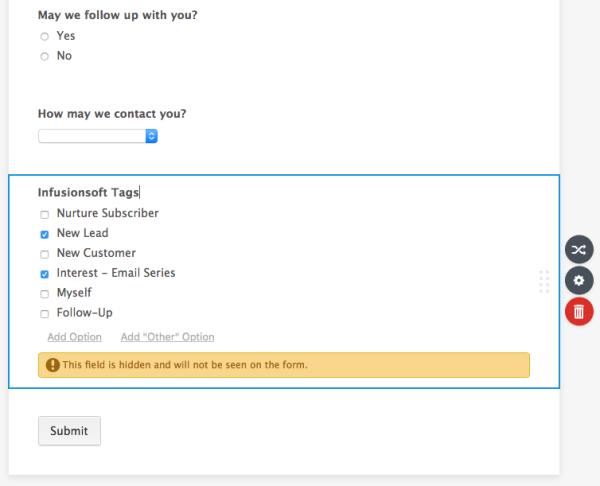 When you build your form, determine which questions will trigger the Keap integration and apply a specific tag or set of tags to a contact.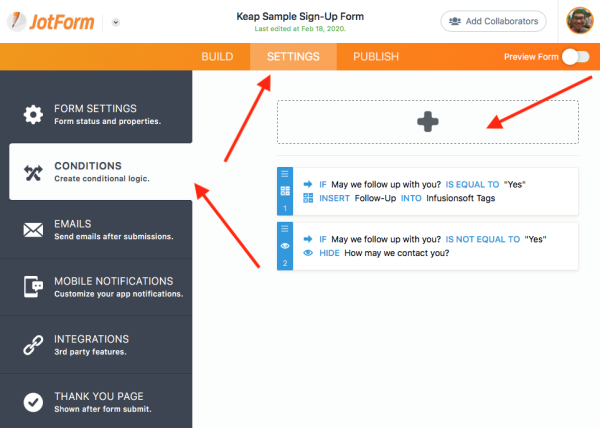 As you set up these conditions, you must enter the name of the tag exactly as it appears in Keap or the integration won't work.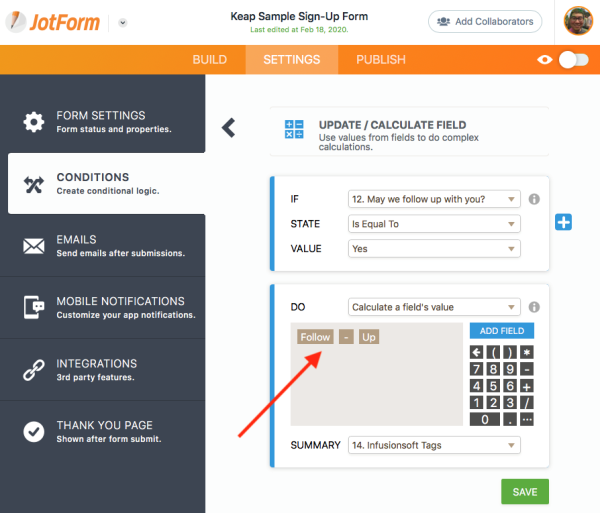 Conclusion
When it comes down to it, your marketing and sales efforts are only as good as the data-collection tool you use.
JotForm's integration with Keap doesn't just collect data about people who are interested in your business. It can also organize that information, segment people into groups so you can create targeted outreach efforts, and funnel them into specific campaigns, saving you time and effort.
Your Keap and JotForm accounts shouldn't just be places where your data is stored and only used sporadically to look up a phone number, send an email, or follow up with someone after weeks of inactivity.
Combining JotForm's data-collection abilities with Keap's capacity to organize that data and spur engagement creates an inbound marketing strategy that can turn leads into dedicated customers, users or buyers.
Check out JotForm's Keap integration for more information.