As a small business owner, responsiveness often determines whether you'll win and keep clients. But the everyday chaos that comes with growing a small business can get in the way of winning leads and keeping your clients happy. If you don't follow up with leads or schedule appointments promptly, customers will move onto the next business. In fact, 'poor follow up' is why 44% of clients chose not to hire a small business. Automating your client communications and business processes through one of Keap's products could be the answer regardless of your stage of growth.
Keap Grow is the simplest product in the line-up and offers small business owners an easy way to manage sales and impress clients. If Keap Grow were a food, you could compare it to instant ramen. It's fast, easy and you'll get to what you need very quickly. For example, it includes the most essential tools for managing clientele and winning more business including:
CRM
Appointments
Phone, text and email messages
Quotes
Invoices and payments
Tasks and reminders and nudges
Simple reminders when it's time to follow up with a lead or client.
This is a great option if you're a business consultant or local home service provider and it's just you. Also, if your business is on the go, Keap Grow can help you ensure nothing slips through the cracks. Below, you can see a sample of how your leads and clients are properly segmented and the communications functionality of Keap Grow as it relates to following up with those clients.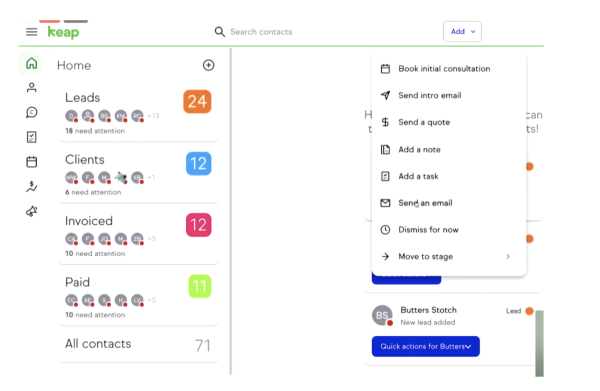 While Keap Grow is a good start, Keap Pro comes with a complete marketing and sales toolkit, which small businesses can customize to save time and win more business. Think of it as your Hello Fresh. Enough of what you need but it will require some customization or assembly on your part. This could be a great option for a small team of realtors or a consultant who has promotions and quotes.
Keap Pro delivers:
All the features of Keap Grow
A campaign building for sales and automation
Visual sales pipelines and lead tracking
Smart forms
Recurring billing and user roles for multi-users
Below you can see an example of the pipeline functionality in Keap Pro which allows you to expertly handle the sales aspects of your growing business and follow up like a pro.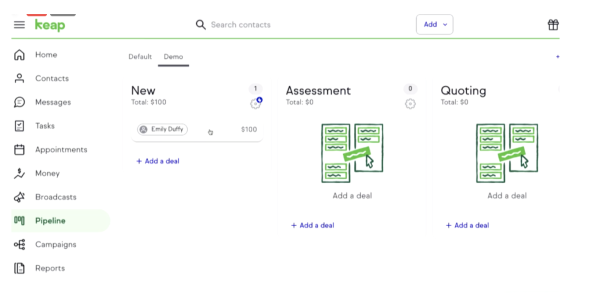 Then, there's Infusionsoft. Infusionsoft is the most robust all-in-one CRM, sales and marketing automation platform for small businesses. It's for those businesses which need a little more power and customization. Think of Infusionsoft like the grocery store. You need to assemble all of your ingredients but you will come closer to getting exactly what you need from it. Other businesses which could benefit from Infusionsoft might be those coming from other software or a combination of software. This software is for growth-minded businesses with larger teams.
Infusionsoft includes:
Campaign Builder for sales & marketing automation
Full CRM with a sales pipeline
Lead scoring and advanced capabilities like reporting, integrations, e-commerce and more.
Below is an example of the dashboard inside of Infusionsoft.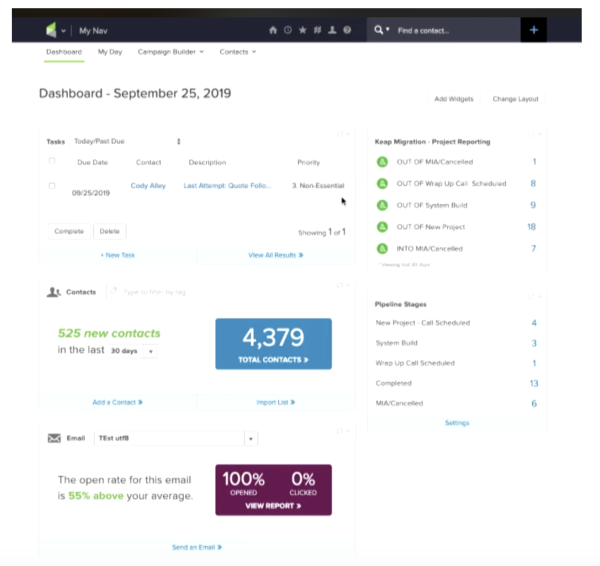 The dashboard in Infusionsoft offers an all-in-one solution for you to check the contact, project reporting and pipeline stages in a single location.
And if those aren't enough for you, there's also Keap Phone, where you can follow up with leads and clients like a pro while on the go on your phone.
Whether you're a small business of one or a marketing-savvy business with growth on the horizon, Keap has a solution for you.