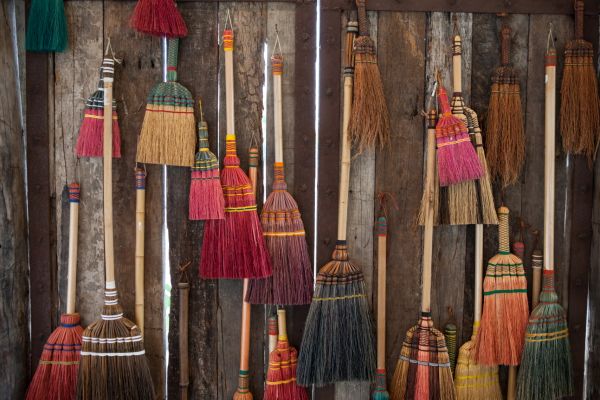 Before you get your broom and dustpan out, the first thing you'll want to do is understand why you're disorganized. While we can't pinpoint the exact reason why your office is cluttered or why your business isn't producing the level of growth you're after, we can share some tips and point out some common behaviors among people with cluttered offices.
People who view possessions as a type of security
For some, it boils down to a matter of scarcity. They view their "stuff" as a type of security against change. Even worthless items like way too many pens or a mountain of unopened junk mail stacked high on the corner of the desk creates a barrier against scarcity.
People who hate making decisions
People who hate to make decisions would rather put off making a decision as long as they can. Of course, there are things they can't put off, like paying bills or filing taxes, but in areas they can fully control, like going through that pile of junk mail and making the decision to toss it, they prefer to put it off as long as they can.
People who struggle with time management
These people want things like a clean, uncluttered space. They dream of it! The problem is, they struggle with managing their time and can never get around to those chores they know will help them get organized.
Can you relate to any of these behaviors?
Are you a "pack rat"? Do you put off making decisions? Or, do you find yourself wishing for more hours in the day so you can get to everything you want to do? Not sure?
Here are some questions you can ask yourself to determine what's causing disorganization and clutter in your business.
How does my workspace make me feel?
People with clean workspaces are …?
My workspace would be clean if I only had more (time/money/space)?
Cluttered workspaces are OK when …?
How do I get most of my work done (paper or paperless)?
What are some ways I can go from paper to paperless?
How does throwing stuff away make me feel?
Clutter doesn't magically appear overnight. It's the result of an underlying reason. Answering these questions can help you identify the underlying cause of clutter and disorganization which may be preventing you from growing your business to its fullest potential.
OK, now it's time to get out the broom and dustpan and tackle a few simple things that'll go a long way in helping you save time, reduce stress, and increase your productivity. Don't worry, we'll start small so it's not overwhelming.
Organization tips
Tip 1: Clear your main workspace
This is a great place to start if you don't know where to begin. Clean off your main workspace.
Go through papers, mail, coffee mugs, whatever you have lying around in that space.
Give it a good wipe down with a cleaner, and start fresh.
When the surface is clean, it'll start to give you a sense of instant organization. Plus, it'll subconsciously allow you to think clearly.
Bonus: If you're feeling overambitious and want to organize your entire office, consider using vertical storage to maximize productivity throughout your day.
Tip 2: Clean out your bag
If you use a laptop bag or a tote bag to meet with your clients, take a few minutes to give it a good cleaning.
Take everything out and give it a good shake to remove any crumpled gum wrappers or receipts.Go through all the items and get rid of anything you've been carrying around that you no longer need and then put anything you decide to keep back in the bag.
This will help you feel less stressed the next time you reach into it—say at your next meeting with a potential client—and make it easy for you to find what you need right away.
Tip 3: Always store things in the same place
Do you often run around looking for your keys or your phone? If you're the type of person who tosses things aside without thinking where you're putting them, you're probably misplacing things all the time and wasting valuable time trying to find them. This is easy to fix.
Start designating a place where you'll be placing an item all the time. For example, if you're always looking for your keys as you're rushing out the door to a client appointment, designate a place where you'll put your keys, like a desk drawer or key hanger located in a spot that's conveniently located on your way out the door. Just imagine, you'll never have to waste time looking for things.
Tip 4: Organize your time
Do you feel like your days fly by, and you barely got anything done? You're probably spending a lot of time on things that draw you in and suck up a couple of hours without you even realizing how quickly the time has gone by.
Start by getting a clear idea of where you're spending your time. Use a time tracking app to record what you're doing for a week.

At the end of the week, review your records, see how you're spending most of your time and pinpoint the "time-sucking culprits." (Social media and YouTube videos are some of the biggest culprits.)
Start scheduling your days to keep you on track. If you have multiple calendars, merge them all into one to reduce confusion and missed appointments.
Tip 5: Plan ahead for the next day
As a small business owner, you're most likely running from one thing to the next daily. The best way to avoid getting bogged down with distractions is to plan ahead.
At the end of your workday take a couple minutes to jot down (on paper or in a free reminder app, whatever works best for you) the most important things you want to complete the next day.

The next morning, take a look at your plan for the day and stay focused on getting those things done.

Don't forget to plan for Monday at the end of your day on Friday so you can start on track and never have to try to remember what you were working on last Friday.
Yes, distractions are the norm, but when you have a list to go back to throughout the day, it helps you stay focused even after you've been derailed with a fire drill.
Bonus tip: Plan out other tasks to save time during the most stressful times of your day—pick out your outfit for the next day and pack your lunch the night before. This will help you feel in control and more organized. Plus, you'll be a lot less likely to be late for an early morning appointment with a client.
Beyond organizing your physical space and your day, there are more aspects of your business which can be organized to make your business operation productive from start to finish.