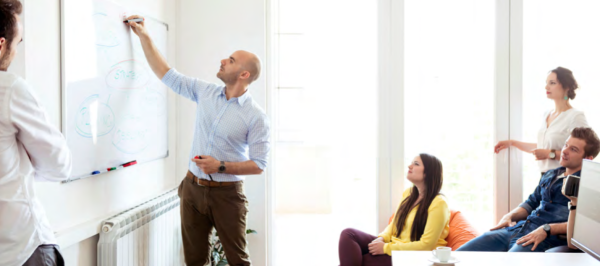 All this may seem like a tall order —if not a major headache. Where are you going to find the time (let alone the cash) for a content program, when running your business takes everything you've got? There's no question that great content takes effort and money. But as with any new initiative, the more you learn, the more natural it feels.
With a little of your own elbow grease— plus some judicious outside help where needed—you may find yourself creating killer, cost-effective content—and loving it. After all, here's your chance to tell the world about the things you know and love best.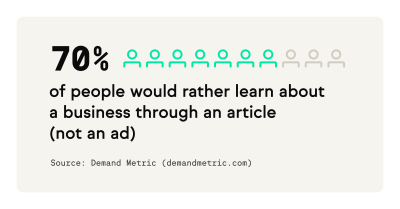 In this chapter, we'll cover how marketing has changed and how you as a small business owner can create content— on a budget—that drives business and builds advocates of your brand. While 77 percent of B2C small businesses say they have a content strategy, only 40 percent have taken the time to document it, according to Content Marketing Institute. Be a part of the smart 40 percent. A written document outlining the scope of your content, what you plan to spend and how you'll measure success can help you get the greatest return on investment.
5 first steps to a great content plan
Step 1: Identify your goals
It's a basic (but often overlooked) step—and perhaps the most important part of keeping a content strategy on track. What, precisely, do you hope to achieve with your content? Who do you want to reach? Do you want to drive more traffic to your website? Build brand awareness? Create sales leads? Provide ongoing support and information to clients? Once you identify these goals, prioritize them.
Step 2: Consider what to cover—and how
You've identified your goals—now how will you achieve them? How many pieces will you produce? How often? Once a user finishes consuming a piece of content, what action should the person take: click on a related article, schedule an appointment, chat with a sales rep?
Then comes the biggest question: What will you write about? There's no set answer, of course—that depends on your business, clients, creative instincts, and other factors. But you can start by putting yourself in your clients' shoes. What is that pleases (or bothers) them most? What questions do they most often ask? And, which of their problems did you go into business to solve? Whatever topics you cover, make sure they address some identifiable client need or want, and are pertinent to your business.
Content types are nearly as numerous: ebooks, newsletters, stand-alone articles, webinars, B2B white papers—just to name a few. Using a few exceptionally good pieces that capture attention beats the scattershot approach. So plan to concentrate on a few areas and build from there. Always focus on quality over quantity.
Tip: If writing isn't your thing, or you don't have the time, you can hire an affordable freelance copywriter and graphic designer. Upwork and Freelancers Union conducted a study that estimates 57.3 million Americans are freelancing. Freelancers are incredible time managers and welcome new work. Start small to ensure a good fit. The best of them want to build relationships and may even negotiate on price if there's a chance for ongoing work.
Step 3: Set a budget
Decide on a percentage of your overall advertising and marketing budget to devote to content—and recognize that spending on content may mean cutting back on other types of marketing. While you can always adjust, depending on your needs and results, a solid budget will help keep costs in line with your strategy.
Budget line items to consider:
Incorporating content into your website (design, development)
Content creation (writers, photo rights, videographers)
Paid search (PPC) and social media advertising
Step 4: Take stock of available resources
Original content is a mark of distinction and can set you apart from your competition. But it takes time and money to produce. To make sure you'll get the most from that expense, consider what information you may be able to pass along to clients as a "curator" of existing content. Your content strategy may include your own articles, or pieces repurposed from other sources (with appropriate permissions). You may want to highlight content by or about your clients.
Thinking carefully about existing resources will help you determine how best to fill the gaps with content you create on your own.
Step 5: Select a content team
When it comes to original content, depending on your creative bent and what type of content you envision, you or your staff may want produce some or all of it yourself. After all, nobody knows your business and field better than you—and outside talent costs money.
But maybe you just want to focus on running the business. Fortunately, the digital economy has produced a bumper crop of skilled freelancers who help support the work of small agencies that specialize in content marketing. While rates vary by region, these talented, reliable "outsiders" can be cost-effective (no benefits, no paid vacations and they use their own equipment) and produce quality results you'll be proud to showcase.
If freelancers are part of the plan, identify which staff members will be their primary point of contact and what revision-and-approval processes you need to put in place to ensure the content is in line with your brand, values, and goals.
[button: 2]