"Service, in short, is not what you do, but who you are. It's a way of living that you need to bring to everything you do if you're to bring it to your customer interactions."- Betsy Sanders
Sanders started as a Nordstrom sales associate in Seattle in the late 1970s and within a few years, she'd moved quickly through the ranks—becoming the retailer's first female store manager. From the sales floor to the executive level, Sanders took her commitment to hear the voice of the consumer with her. Her sales team made retail history, leading a brand-new fleet of Southern California stores to $1 billion in profit.
Customer service theory hasn't changed much since Sanders stepped onto the scene. Savvy professionals know that customer service has a voice at all levels of business strategy, from product development to marketing and logistics. What has changed are the mediums by which consumers communicate with brands and each other, the expectations they hold, and the ease and convenience of modern retail experiences.
So how can your team tackle customer service in the digital age? We surveyed a team of experts to learn tips and predictions for customer service strategy in 2020. Check it out below:
Social media solves problems
No matter what type of business you operate, chances are your customers are active on social media. Since 35% of consumers state they have posted negative comments about a brand online, social media customer service has become crucial.
Hugh Beaulac, Content Strategist and Social Media Manager, MC2
"Today, 2.96 billion people use social media networks, so it's no wonder that modern customers find it easier for them to call out brands here. What's more, people expect to get a reply or resolution without spending much time. And if you don't meet their demands, your customers are more likely to choose your competitor. For brands of all sizes and niches, omnichannel customer service on social media is a must."
Beaulac calls to AirFrance as a great example of this strategy in action. The airline is highly active on all major social media platforms, however it leverages Facebook Messenger and Twitter to funnel support requests to its customer service team. You can see this in play as AirFrance uses Instagram to route followers to their customer service team: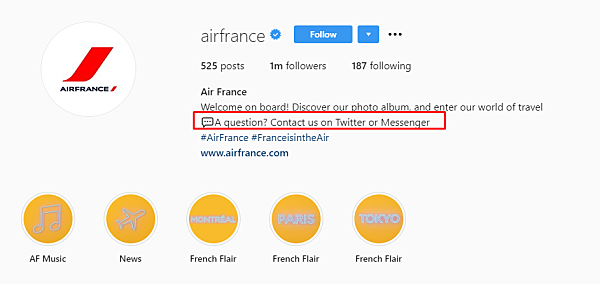 Source
However, this doesn't mean that the company ignores dozens of comments and brand mentions it receives daily. Instead, AirFrance replies to all customer requests on Instagram and it goes the extra mile by using the language of the customer. Big brands are ready to provide excellent customer support on social media, as is apparent from standout examples like AirFrance.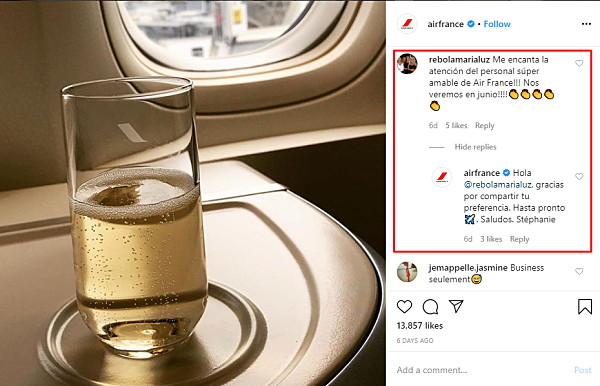 Source
Donald Chan, Founder & Business Director of IMPACT! Brand Communications
"Today, more than ever, businesses are leveraging on building online communities to support their customers. One good example in the online marketing space is Digital Marketer's thriving Facebook group for it's DM Lab members. The community is a vibrant one with lots of engagement and questions being answered by both admins, moderators and group members. Besides Facebook groups, businesses are also leveraging Slack channels, Telegram groups and LinkedIn groups, amongst others."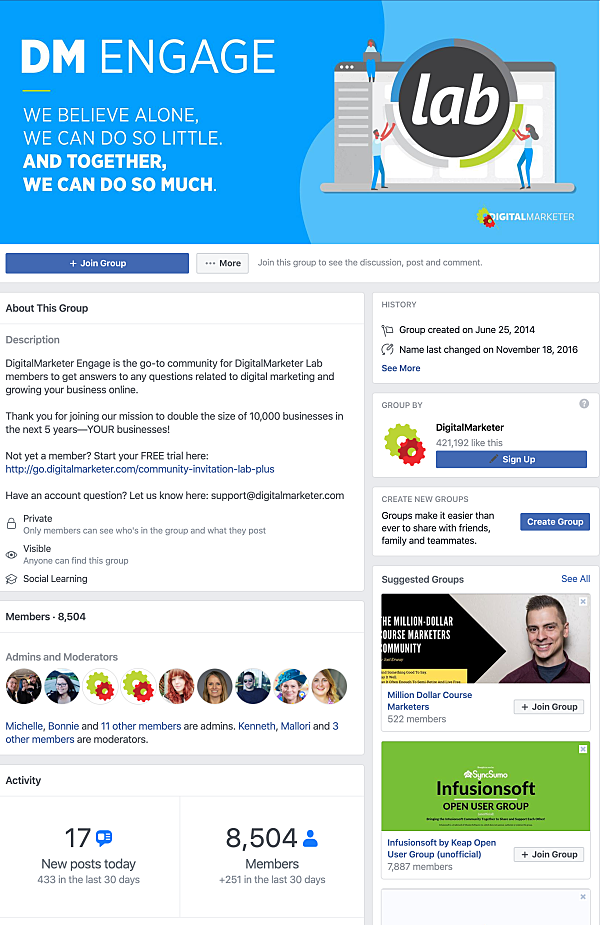 Source
Transparency and honesty trumps all
"A brand for a company is like a reputation for a person. You earn a reputation by trying to do hard things well." - Jeff Bezos
If your company fails to deliver on customer service, it's an easy correlation to customer attrition and loss of revenue.
Kas Andz, Marketing Professional, KasAndz.com
"In today's evolving world, from the bias media to the various internet scams out there, the biggest loser of it all is the trust that we have for one another. Statistics have shown a growing amount [sic] of consumers would rather pay more for a service if they know that the source is reliable and provide [sic] good customer relations. In other words—pricing is not an overriding factor—and people would rather give business to a company that exudes honesty and good customer service, rather than a discounted service that makes them feel uneasy."
Jonas Sickler, Marketing Director, ReputationManagement
"Companies that don't exude honesty have a bad reputation—plain and simple. Brands can't afford to ignore the ramifications of credibility issues: 25% of their approximate market share is derived from their online reputation. The impact of this is pervasive across a company's various departments, but I think we can all agree that much of a brand's overall reputation can begin with its approach to customer service (which is becoming increasingly more publicized in the online age)."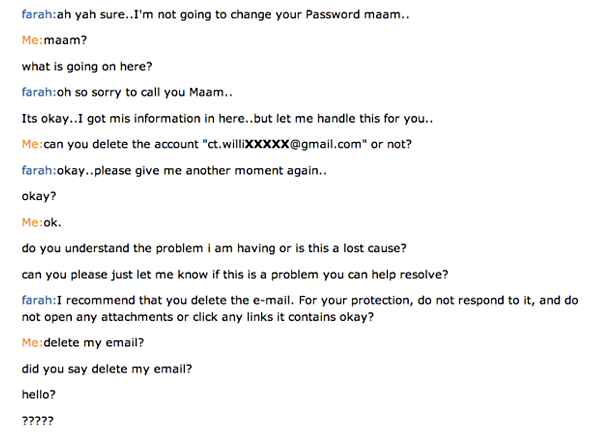 Source
Intentional automation
Don't worry — the robots are not coming to take your job. However, customer service teams are beginning to use shrewd judgment when it comes to automating certain tasks and services. In this way, brands can ensure there's no gap between a customer complaint or comment and a resolution.
Kasia Majewska, Marketing Executive, NapoleonCat
"Automation in customer service is broadly perceived as an artificial and impersonal means of communication. People believe that the lack of human touch results in little value for customers. This might have largely been the case in the early days of AI but it's 2020, and social media automation has come a long way. One thing you should always think of is knowing where to draw the line—some issues will always require personal help. Automatic moderation tools work best for solving simple, predictable issues. Knowing what questions social media users are most likely to ask (e.g. sizing, stock availability, and shipping questions in ecommerce), you can program answers into your automation tool and only hand it over to the customer service team when more complex questions arise. Think of this as an interactive add-on to your FAQ section. Automatic replies can also be used to redirect urgent issues to other communication channels for a prompt response."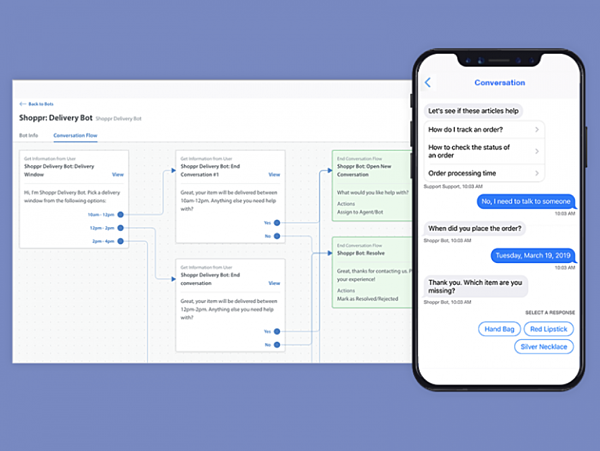 Source
Cole McKeon, President, Revealize
"For consumer-facing businesses, customer service will adopt a mobile-first strategy, completing the change in how companies communicate with their customers—and that may transform the shape of the business as well (such as how it communicates internally). Customers will push companies to respond more by text and chat as they become less tolerant of calling to be put on hold to wait for service. Also, customers will want companies to have full records handy on their end so that consumers don't have to look for receipts or other documents, other than their phone, to get help. This will result in companies making greater use of AI to guide consumers through chats before connecting with a human. Although they'll expect more types of service, customers will want easier, faster apps."
Adam Enfroy, Founder, AdamEnfroy.com
"91% of businesses with more than 11 employees are leveraging CRM and database software to manage customer interactions. This personalized, data-driven approach to customer service provides quicker time to respond, more customer touchpoints, better-informed customer service reps, and improved data management. As the workforce shifts from offices and desktop computers to remote workplaces, laptops, and smartphones, CRM and database tools will make customer service mobile. This 24/7 access may be stressful to some customer service reps, and employers need to balance employee burnout with happy customers."
Nikola Baldikov, Digital Marketing Manager, Brosix
"As our personal incomes rise, our personal time becomes more limited than ever, which thing [sic] consumers are trying to somehow balance. Therefore, the fastest-growing segments are companies that help their customers buy time. Even though many people are still skeptical when they think of automation in customer service, if a virtual agent manages to interpret behind your chat or phone request, it can get you an answer more quickly and efficiently than a human agent. This does not mean that a bot will be doing the whole job. Humans and bots have different skills, which fact [sic] would enable human agents to concentrate on exceptions—problems the system has not encountered before. It is all about balance here—identifying strengths and weaknesses in a cautious manner."
Help grow the community by referring friends and family that could benefit from the product and get rewarded with $100. https://t.co/k3S9ptO0VQ pic.twitter.com/lQGmtFvQv2

— Keap (@KeapGrowing) March 24, 2020
The evolution of chat
Digital transformation in businesses pushes customer service expectations to a higher level. As such, brands are finding that they need to be proactive rather than reactive in their conversations with customers—which is where live chat comes into play.
Darren Foong, Marketing Manager, CandyBar.co
"Customer service strategy will evolve so live chat feels like shopping in a luxury boutique. The chat will greet you at the door (but not be pushy); they have answers to any questions you have, and they can even make thoughtful, curated recommendations based on your purchase history. Drift already has a feature to scrape your internet profile for your business. Personalization—with a person at the other end of your live chat—will make live chat feel like the VIP treatment."
Iris De Geest, Content Marketer, Survey Anyplace
"We see a high demand for SaaS solutions. This results in a rapid expansion of online B2B users. These users want the whole package, and consulting a Help Center often just isn't enough. With live chats like Intercom, we've lowered the threshold for users to ask technical questions. That's why we see a clear tendency towards 24/7 availability and support."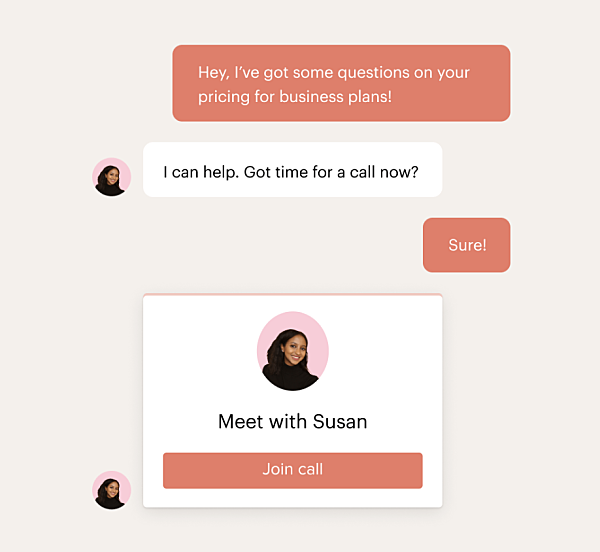 Source
Managing customer expectations
We live in an era of convenience. Consumers expect fast, easy, and reliable experiences. Thus, connectedness is key to improving customer experience (CX).
Vincent Buccaicho, CEO, SociallyInfused Media
"Everyone's on the go, and it's no secret that we are in the midst of the convenience revolution. To cater to their customer-base, service-based businesses are implementing more online self-service features now than ever before. One customer service strategy is the merging of calendaring and chat functionality into their CX funnel—visitors can book a time slot for a manicure or four-course dinner, or schedule a product demo seamlessly, you name it. All this, after hours with a live or, better yet, effective automated agent. This eliminates the inconvenience of phone (perish the thought!) or email-tag that are usually involved with pinning down a date and time. A lot of CX software even has the built-in capability to empower the customer further by permitting them to reschedule appointments themselves, interact directly with the company, and of course, pay online, all in one central location. Consumers want and expect convenience and personalization. Self-service through customer experience software tools is the best way to give it to them."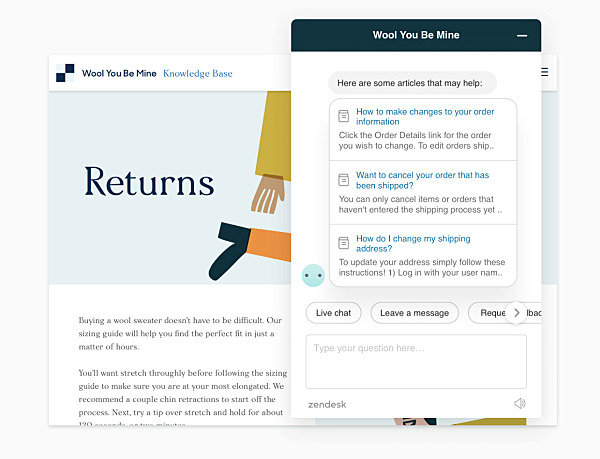 Source
Key takeaways
From social media to chatbots and CRM, customer service is evolving to keep pace with the digital world. If your business wants to succeed, follow the blueprints left by customer service icons like Betsy Sanders and the modern takeaways by experts like the ones above. Your customers will thank you for your efforts.