Customer experience can make or break your business.
73% of businesses with above-average customer experience get higher revenues
96% of customers say customer service is an important factor in their brand choice
80% of customers are more likely to buy from a brand that offers personalized customer experience
Since everything you do impacts customers' perception of your business, creating a strategy for achieving and maintaining good customer experience is a must.
What is customer experience and why does it matter?
Simply stated, customer experience is the interactions between a company and its customers.
Customer experience directly affects the way customers think about how you treat them, so it defines their loyalty and interest in buying from you.
Positive customer experience can help to:
Increase revenue thanks to repeat customers
Improve the customer satisfaction rate
Reduce customer churn and complaints
Providing a positive and personalized customer experience is a proven way to achieve these benefits for every business, regardless of what industry or niche within you're operating
Here's where to start:
1. Develop detailed buyer personas
Creating a positive customer experience strategy begins with understanding who your customer is and what they need.
To personalize the experience of your customers, you need to learn about them and note the most important findings.
This is where a customer persona comes in. It's a visual representation of your ideal customer that contains information about their needs, goals, and desires.
With visual creator tools like Venngage or Visme, you can design personas based on your customer research.
Here's an example of a persona created with Venngage, along with the information to include.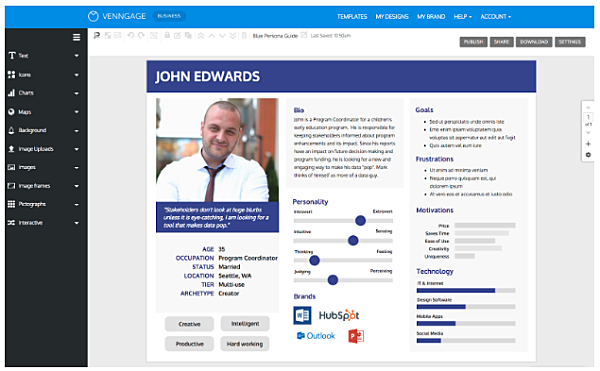 I recommend you create at least three detailed personas to assign to different customer groups.
Having multiple personas will help with personalizing communication, landing pages, and offers for different segments of your target audience.
The persona-based segmentation will help to identify how to improve communication with customer groups. This means providing relevant product recommendations, creating loyalty programs, or even allowing customers to customize products or services.
The payoff?
As noted above, 80% of customers prefer buying from companies that personalize their experiences.


2. Create a documented customer journey map
The customer journey is an indispensable part of a customer experience strategy.
Simply stated, it's a visual representation of the customer's typical experience with your business.
This means using interactions and touchpoints through the communication channel you're using to connect with customers.
Before creating a customer journey map, you need to:
Consult with your Google analytics tools to see how customers interact with your website
Read testimonials from customers to learn how they're trying to communicate with you
Collect feedback with surveys and from your customer service
When you feel as if you have enough information to describe a typical customer experience, it's time to put it into writing.
Include these elements in your map:
Customer: This will be one of the customer personas you made previously. The entire map will be created from their perspective.
Scenarios + customer expectations: A scenario is a situation involving a customer interacting with your business where a specific need or goal needs to be met. It has a sequence of events and often multiple communication channels (social media, email, phone, etc.)
Journey phases: For an ecommerce company, they often include Discover, Try, Purchase, Use, and Get Customer Support. For B2B, they can be Buy, Adopt, Benefit, Expand, Advocate.
Mindset and emotions: A customer experiences certain emotions resulting in a different mindset throughout the journey phrases. They need to be identified to personalize communication.
Opportunities: These are the insights you obtained from customer journey mapping that can help with selling to them.
To make the customer journey map contribute positively to your customer experience strategy, you need to ensure that:
Communicating with your business is easy and accessible to customers. To make that possible, businesses use many communication channels; also they do things like check email deliverability to ensure that their messages get delivered.
You integrate and automate customer communication channels (email marketing, social media, VoIP, live chat, etc.) to collect all insights in one place.
3. Refocus your customer service
Your customer service will now play a strategic role in the larger customer experience.
Why? Because it can drive positive customer experience by providing fast, helpful, and personalized support.
But this time, you need to go beyond the standards of traditional customer service. Your agents need to be empathetic and do their best to understand a customer's situation.
By being empathetic and viewing support-related situations from the customers' perspective, they can ensure continuous customer success with your products.
Only then they can become customer experience leaders who can contribute to your overall strategy.
To make that possible, you should seek naturally empathetic people when building your customer service team and enhance the service skills of existing support agents. Apple, for example, has special empathy training for its employees.
Companies around the world have already started adjusting their hiring and training strategies due to more people working from home. When managing a remote team, make sure that customer service is at the forefront and your staff is onboarded and trained as effectively as possible.
To help them provide instant support, you should also think about using a support tool such as a live chat, which has the highest customer satisfaction score, with 82% preferring it for communication with businesses.
For example, one popular option is to use a live chat app to make it easier to get support.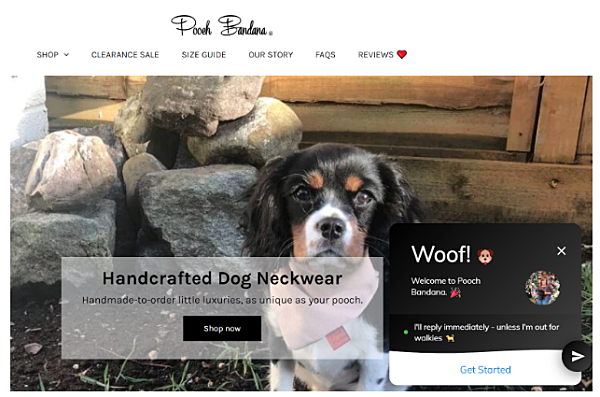 Another important customer service option is the knowledge base. It's a collection of support-related resources on your website. It can help people to get support without contacting service, which improves the overall experience.
Refer a friend, spread the love, and get CASH! Help small businesses in your circles get organized, follow-up and provide great service by referring them to Keap. https://t.co/SnBB3KX5H3 pic.twitter.com/dUqg43jn0a

— Keap (@KeapGrowing) June 29, 2020
4. Focus on user-friendly UX design
UX is an important part of your customer experience because it defines how usable your website or digital product is.
A poor UX design results in negative user experience and a high user churn. But a user-friendly and easy-to-use UX design will allow customers to achieve their goals quickly and easily.
That's why you need to make good UX part of your customer experience strategy.
If you invest in creating simple and usable digital products, you can:
Increase customer satisfaction: Simple, well-designed UI results in users accomplishing their goals faster and easier.
Reduce support inquiries: Problems with UX can lead to people contacting you asking for help using your software/app/website.
Creating such digital products requires using certain UX techniques and strategies.
Here, your knowledge of customers will come in handy, as you need to understand the target user of your digital products.
So, here are the tips for creating UX that contributes to customer experience strategy goals:
Keep the overall design simple and responsive: Eliminate unnecessary design elements and focus on the most important features and content based on your customer persona's goals and needs.
Conduct usability testing: It evaluates a digital product by testing it on real users. By doing usability testing, you can get useful feedback directly from real customers and fix errors preventing them from achieving their goals.
Keep the user flow consistent throughout their journey with your digital product: The "user flow" is the transition from one production section (web page, app page, etc.) to another is understandable and doesn't change much.
Keap CRM's dashboard is a great example of clean and intuitive UX.
Its menu visualizes particular KPIs that correspond to the users' goals. The user can quickly go over them, notice positive or negative trends, and make changes.
The overall design is very clean and modern, and includes only essential features that are also easily accessible.
In the Contacts menu tab shown below, for example, the search field is at the top so users find it quickly.
Also, it has the words "Search contacts" on it to let the user quickly find the client information.
The clean design, helpful features, and simplicity result in positive user experience.
To create such UX, you need to follow the best practices and the latest graphic design trends.
If your business has a limited budget for web design, though, consider using a website builder to reduce the cost. But be mindful of testing. Even when it seems that the design is clean and intuitive, the users might still have challenges.
That's why you should conduct many usability tests and collect user feedback before launching your digital products.
Final thoughts
Your customers want your business to provide personalized, positive experiences, so you need to honor that.
Being strategic about customer experience is also a great idea that ensures an orderly approach.
Implement the tips above, and you'll increase the chance of enhancing the experience of your customers and ultimately driving more sales.
About the author
Pawel Lawrowski is Head of Growth at Tidio. He has 10-plus years of experience in marketing and sales in the IT industry, and enjoys sharing his knowledge. Connect with him on Twitter and/or LinkedIn.
Before you go ...
SEE HOW YOU RANK: Take Keap's Lifecycle Automation Self Assessment and compare your business against the industry's top performers with our proven formula and instantly reveal the strengths and gaps of your business.