Relationships are a huge part of sales.
How many times have you purchased something simply because you liked the salesperson, or tipped your server a little extra because they were friendly and outgoing? Human connections can influence purchases and spending habits. It has even been statistically proven that when customers feel an emotional connection to a business, they spend more, are more likely to re-purchase, and have a higher chance of recommending the brand to others.
Making these connections is a little bit easier for businesses with physical locations and associates that meet customers face-to-face. However, building meaningful relationships with customers is much more difficult for online businesses. Digital communication can only take you so far, and the majority of your customers will never interact with your business outside of your website.
Clearly, building relationships is important for helping your company grow and succeed. Humanizing your brand and connecting with consumers should be a top priority for any business.
But how can online brands do this when they only interact with customers through digital methods?
Let's discuss.
1. Use a live chat service
Customer service is an incredibly critical part of building relationships with customers. This will allow your business to interact one-on-one, even though it may only be through written communication. In addition to offering a superior customer experience with your support team, your online business should also be using methods that allow for instant communication and connection.
Live chat services are becoming incredibly popular, and are also starting to become the preferred method for consumers to get in touch with customer support. Since live chat means little to no wait times and it is extremely convenient for customers to use, it has extremely high satisfaction rates.
It is important that the e-commerce platform service you use offers live chat support widgets so you can interact with customers instantly. In order to provide efficient services, your customer support team will likely have pre-written responses to handle common FAQs. Be sure that these responses are as conversational and natural as possible to humanize your brand and make the correspondence friendly.
It's also good to share the rep's name and picture with a friendly pop up message upon arrival. This is so customers know there is a real person behind a keyboard, ready to help. If you can't hire round-the-clock customer service reps, you may want to consider a highly conversational chatbot that is able to handle common customer questions and offer product advice.
For example, Sephora's Facebook chatbot is highly interactive and incorporates touches like emojis to make the conversation amusing. Customers almost feel like they are chatting with a friend through this live chat service, which helps to build connections and make the experience more engaging.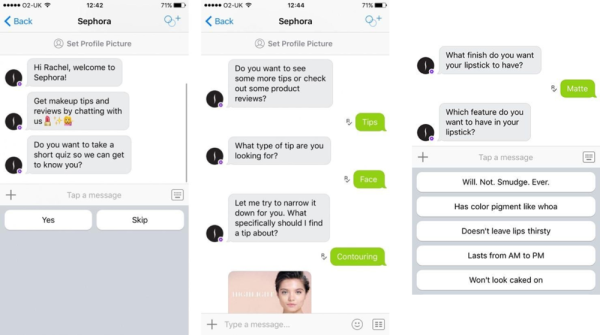 2. Get personal
Personalization is a great way to show customers that they are more than just a number. But it takes more than simply mentioning their name in emails for real human connection. According to Accenture's report, 65% of consumers stated that they expected brands to know their history with the business, and offer customized options based on past purchases and product views.
Customers tend to prefer personalized promotions and recommendations over smaller customized details.
Personalization often seems like an incredibly overwhelming task that requires lots of data. However, it is totally possible for online businesses to offer customized details to every single customer through some incredibly simple but effective methods.
For instance, using interactive content like style quizzes can help you understand each customer's preferences and send product recommendations that will match up. Online stores like Fabletics and JustFab require customers to narrow down their preferences in order to curate customized product lists for each customer. This instantly makes people feel like they are having an exclusive experience, while simultaneously increasing the chances of conversions through curated content.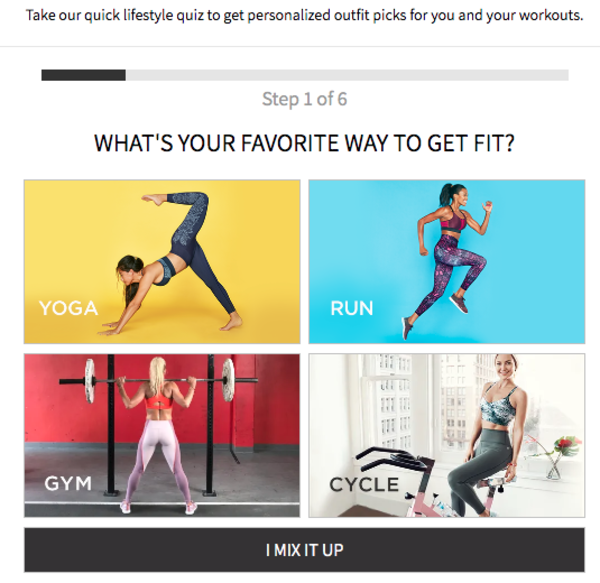 Personalized details do not have to be complicated. Customized rewards or offers can make your customers feel special and appreciated. For example, sending out a birthday reward or celebrating a client's anniversary with your business can be one way to connect with customers through experiences that are totally unique to them.
3. Respond, acknowledge, and engage
Your brand's social media presence is not only crucial for marketing and sales purposes—it is a primary platform where you can engage with customers one-on-one. More and more consumers use social media to reach out to businesses and ask questions or call attention to an issue. People also use these sites to share their recent purchases or talk about brands with their networks.
Obviously, it is important that you respond to brand mentions, no matter where they occur—whether it be a review or a social media post or comment. Social listening tools can be quite useful here so your marketing or PR team is alerted every time that your brand's name is mentioned online.
Be sure to take the time to reply to each person individually, whether it be simply to thank them for mentioning your brand, or to answer a question. If a customer is presenting an issue or complaining about your business, it may be best to issue a public response with a request to handle the problem in a private message. Whatever the circumstances, be "human" in your reply rather than traditionally formal and business-like.
For example, check out how Starbucks handled a customer issue that was taking place on their Instagram page: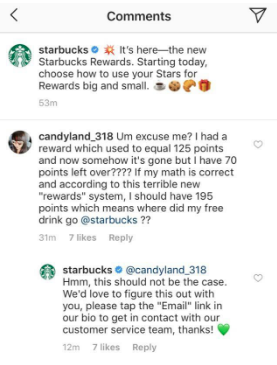 They publicly acknowledged the customer's question and let them know exactly how to get in contact to fix the problem.
Conclusion
At the end of the day, the way that your business makes customers feel is what will determine their purchases and their loyalty. In order to make customers feel special and appreciated, online businesses need to take extra care to build emotional connections and humanize their brand.
Manish Dudharejia is the President and Founder of E2M Solutions Inc, a San Diego Based Digital Agency that specializes in Website Design & Development and eCommerce SEO. With over 10 years of experience in the Technology and Digital Marketing industry, Manish is passionate about helping online businesses to take their branding to the next level.