Our highly connected world—and the proliferation of blogs, social media platforms, and review sites—makes it easy for customers to speak their minds about the businesses they frequent.
While negative reviews get all the buzz, there are happy customers who have great things to say. And it's those happy customers we need to spend a little bit more time and effort with to get them to share their customer reviews online.
Read on for several small-business success tips on how to get online reviews, leveraging positive reviews, and managing negative customer reviews with grace.
The importance of online reviews
"Thanks to Yelp, I've carved out an entire niche business for curly hair because of two reviews initially posted by clients," reports Sarah Kelly, owner of P3 Hair Design in suburban Minneapolis. "Yelp has been a boon to the SEO of my website and now through its association with Apple, Siri directs clients to my shop because of the five-star reviews."
It matters when a customer takes the time to go online and share a good experience.
Good customer reviews—on Yelp, Facebook, Twitter, TripAdvisor or wherever—are powerful social proof, and indicate good value to your prospective customers.
According to USA Today, "Harvard business school research says that a one-star increase on Yelp can lead to a 9 percent increase in sales."
Bad reviews have the opposite effect—and unfortunately, can be even more powerful social proof than a good review. In the case of negative reviews, they indicate a lack of value, and can send prospective customers running…and tells others to run, too.
Sure, The New York Times may not be paying attention to a bad customer review on Yelp, but other customers or potential customers are—and that can make or break your next sale.
According to Prospect Theory, created in 1979 and developed in 1992 by Daniel Kahneman and Amos Tversky, people naturally rely on the psychological bias of loss aversion when they make decisions. In other words, people are more likely to choose things based on their need to avoid negative experiences, rather than their desire to get positive experiences. In other words, fear of having a negative experience impacts a prospective customer's decision whether or not to buy from you more than their hope that they'll have a positive experience.
You need to care about what your customers are thinking, and more importantly, what your customers are saying about your brand online.
How to get customer reviews
The importance of online reviews can't be overstated. But how do you get those positive customer reviews coming in?
Irate customers may be quick to tap out a review, but how do you get happy customers to do the same?
Make it easy.
Tell visitors on your website exactly where you want them to leave reviews, and include a direct link to the customer review site or social media platform.
If you're face-to-face with customers, or on the phone with them, tell them you'd like to hear from them, and point them to the exact place online where they can write a customer review.
"My website directs clients to 'like' us on Facebook for discounts," Kelly says. She also tells customers where to leave their reviews online:

How to ask customers for reviews
"In today's world you have to ask people to give reviews," says Bruce Wedding, founder of Thumbs Up or Down, a reputation management company.
That doesn't mean offering a deal for customers who post a review, because that will be posted about as well (and is generally considered unethical). Wedding suggests putting posters by the cash register of a brick-and-mortar business with a QR code that takes customers to a landing spot for their reviews.
Another simple yet incredibly effective way to get customer reviews is to follow up after a sale.
When someone makes a purchase from your e-commerce store, send a follow-up email thanking them for their purchase and asking them for a review. Again, point them to the exact place you want them to leave their online reviews.
In a bricks-and-mortar store, ask customers to share their email address with you at the register. Make it enticing—offer them a small discount in exchange for their email address, or inform them they'll be the first to know of upcoming sales. Once you have their email address, you can send the follow-up email asking for a review.
If you can bank good reviews, that will offset the occasional inevitable bad review. "If you have a ratio of better than four to one, positive to negative," Wedding says, "it is going to be okay."
How to fix bad reviews online
If a customer is highly dissatisfied with their experience, they will likely talk about it online.
And unfortunately, as hard as you might try, you just can't please everyone.
There's a good chance you'll be the recipient of a bad review someday. Learn how to handle it now so it isn't as much of a gut-punch down the road.
Here are the three steps you need to take to respond to bad online reviews:
1. Assess the review
When you receive a bad review—especially if it's your first—the kneejerk reaction will usually be to get defensive, profusely apologize, or spit in the face of the customer's criticism. But it's important that you take a moment to assess the review before taking action.
Here are things to consider as you're assessing customer reviews:
Was it an issue with the product/service, or with the customer's experience? Believe it or not, the majority of negative customer reviews are based on the customer's experience. A product or service issue may be a quick fix—but a customer experience problem may require a deeper look into your business processes.
Can you solve this? If someone gives a bad review that and you have a solution for resolving the customer's issue, it is much easier to deal with the review in a positive way. When someone gives you a review that is opinion based, it can be hard to know how to make amends. More often than not, a simple email reaching out to the person and thanking them for their constructive feedback will go a long way. In other circumstances, it may take more than that, but the trick is identifying what options you have for solving this issue.
Can you look at this as great feedback? While a negative review is always a tough blow, it can also be a great opportunity to improve your processes.
2. Address the review
Reach out to your detractor in a very authentic way. The last thing that will help is to be rude or accuse someone of lying. There are dozens of examples of why that is a bad idea. Here are three of them:
Put yourself in their shoes: Look at the problem from the perspective of the customer. Would you be frustrated too, why, and what would it take for a company to make you feel good enough to buy from their business again?
Here's a great example of how Preston Smith initially addressed a negative review for one of his clients: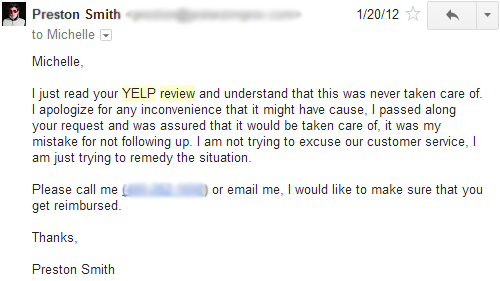 Reassure your upset customer that you will be fixing the problem. Be as specific as possible. You want to make sure that you set their expectations in a way that you can deliver on—and over deliver in some cases.
After the customer responded to Smith's email, he sent the following response—and unbeknownst to the upset customer, arranged to send a couple of free tickets along with the refund check.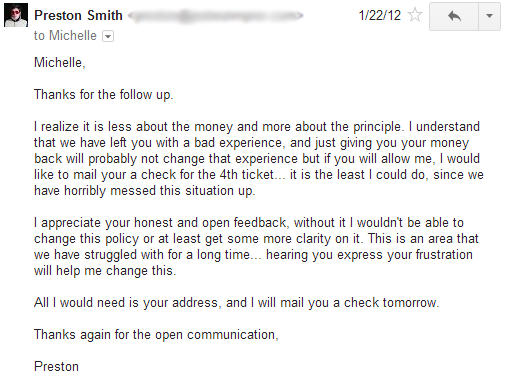 3. Deliver a solution to your customer in a timely manner
You aren't done with this process until you deliver on what you promised. Make sure your follow through is timely enough that they can still remember the initial interaction. And with any luck, share the improved experience.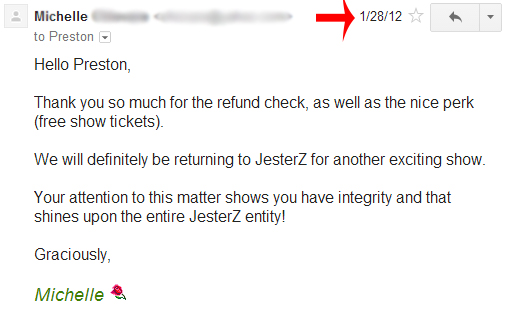 Calm down and move on
If you've fixed the customer's problem, with any luck they will delete their negative review. If they don't do it right away, don't press them on it. Give them a little time, and then reach out again—kindly—a few weeks later to ask them to consider deleting their bad online review.
And whatever you do, don't make the situation worse by overreacting. You don't have to issue a press release, contact the press, or make a company-wide change
Here is a good fictional example of someone turning an honest mistake into a crisis management situation. In The Office episode "Product Recall," the office manager Michael Scott wants to issue a press conference for a local product recall issue:
Michael Scott: We gotta do something. This is spinning out of control, Pam. This is just, not—
Pam Beesly: It's just the Scranton Times...
Michael Scott: Nooo … then Newsweek picks it up and then CNN does a story about it and then YouTube gets a hold of it.
Customer reviews are the ultimate social proof
It's not wrong to take customer reviews personally. If you are a small-business owner, a negative review can have a significant impact on your business and livelihood. Online reviews directly impact the public. There is nothing more personal than that.
But try to remain open-minded. Take customer reviews as feedback that you can incorporate into your processes to improve your business. And use a bad situation to demonstrate your dedication to making the customer happy.
Saphiya Hindeyeh and Carla Turchetti contributed to this article.