What is referral marketing? Referral marketing is the easiest way to accumulate more customers for your business via word-of-mouth.
A successful company that has a good rapport with its customers will not only receive more customers, but better customers. Referral marketing is best fueled among a community where trust is key; there has to be some degree of confidence in customers' motivation to tell their friends about your business.
Referral marketing programs are easier than ever to establish thanks to the dawn of communication and social media platforms that have penetrated the market, yielding organic feedback that's put on display for all to see, which can be good or bad.
For the purposes of this article, we've focused on the positive by leveraging good customer reviews into a makeshift referral marketing program that will keep your business thriving for years.
Make referrals easily accessible
If your business is a well-oiled machine and you're proud of that fact, boldly and confidently ask your customers for feedback and offer an incentive for a referral. Make it so anyone who comes into contact with your brand, whether it's a prospect or a loyal customer, is aware of the referral opportunity.
Integrating your referral marketing program into your customers' experience will give them a chance to become advocates for your brand. Create a link to customer reviews and referrals on your checkout page, or create a separate landing page that shows up in their confirmation email after purchase.
Other ways you can call attention to your referral marketing program include:
Place a referral call-to-action (CTA) on your site's home page above the fold so it's easy to access.
Include a referral CTA on every user's account page.
Create referral awareness on your social media channels, and within your blogs and email campaigns.
Ask for referrals on your product shipments by including a link to the landing page right on the packaging.
Create the path of least resistance
Our world thrives on instant gratification. That being said, ensure that the referral experience goes as smoothly as possible, creating the least amount of necessary steps the advocate or new customer has to take.
Try to avoid directing your customers to a CTA that's difficult to find, having them access a complicated referral code, or forcing them to create an account on your site before they can share or accept a referral.
Instead, ease the friction by allowing customers to:
Share your referral CTA link rather than opening a new tab and having to share it from that location
Offer simple referral codes that are easy to remember and share
Collect their rewards immediately
As previously stated, instant gratification increases the excitement and creates an incentive for completing referrals.
When designing your referral CTA for a mobile device, make sure it adheres to responsive design in an effort to make the process just as easy.
Make it possible for users to share referrals via email, text or messaging apps. Then when someone accepts a referral on their phone, it will send them right to your website rather than forcing them to download your mobile app.
Track referral metrics
Treat your referral program as you would any other marketing channel. Be diligent in observing its success through metrics and determine where there could be room for improvement.
Say, for example, you noticed your referral CTA was getting plenty of advocate clicks, but not many shares, this would indicate that something about the program isn't enticing enough—their curiosity was piqued, but there's no follow through.
This would be a good opportunity to test a number of ideas to fix the problem, anything from granting a higher reward to implementing more compelling literature in the referral message. Consult a search engine optimization (SEO) tool such as Google AdWords to help you when writing your copy. Having prominent keywords on your side is beneficial.
Finding a conducive rewards structure
A company is only as strong as its clientele. If you're offering a product or service that your customers will gladly support, many times a rewards program isn't necessary. If they believe and swear by your product, customers will want to spread the word to their family and friends, sharing the advantages that your business is offering to consumers.
Nevertheless, it never hurts to offer an extra incentive in the way of a reward. The reward is simply extra motivation to build momentum and get people referring faster and more often.
It's also a tricky concept because customers don't like to feel as if they're profiting off their friends or only sharing to get a reward.
Consider the following basic reward structures:
Dual-sided: rewards the advocate and the new customer.
Advocate-only: rewards just the advocate.
New customer-only: rewards just the new customer.
For most companies, the dual-sided structure yields the most referrals. Both sides benefit, as it gives advocates an incentive to share and their friend reaps the reward as well. That's not to say the other structures aren't as effective; they could make sense depending on your brand, product offerings or budget.
Consider the dual-sided example below from LA Fitness' referral program. When a member refers a friend, they earn a $25 reward toward LA Fitness' online store where they could save money on workout accessories and apparel. The friend also benefits with a new membership to multiple clubs sans the $99 enrollment fee. It's a win-win!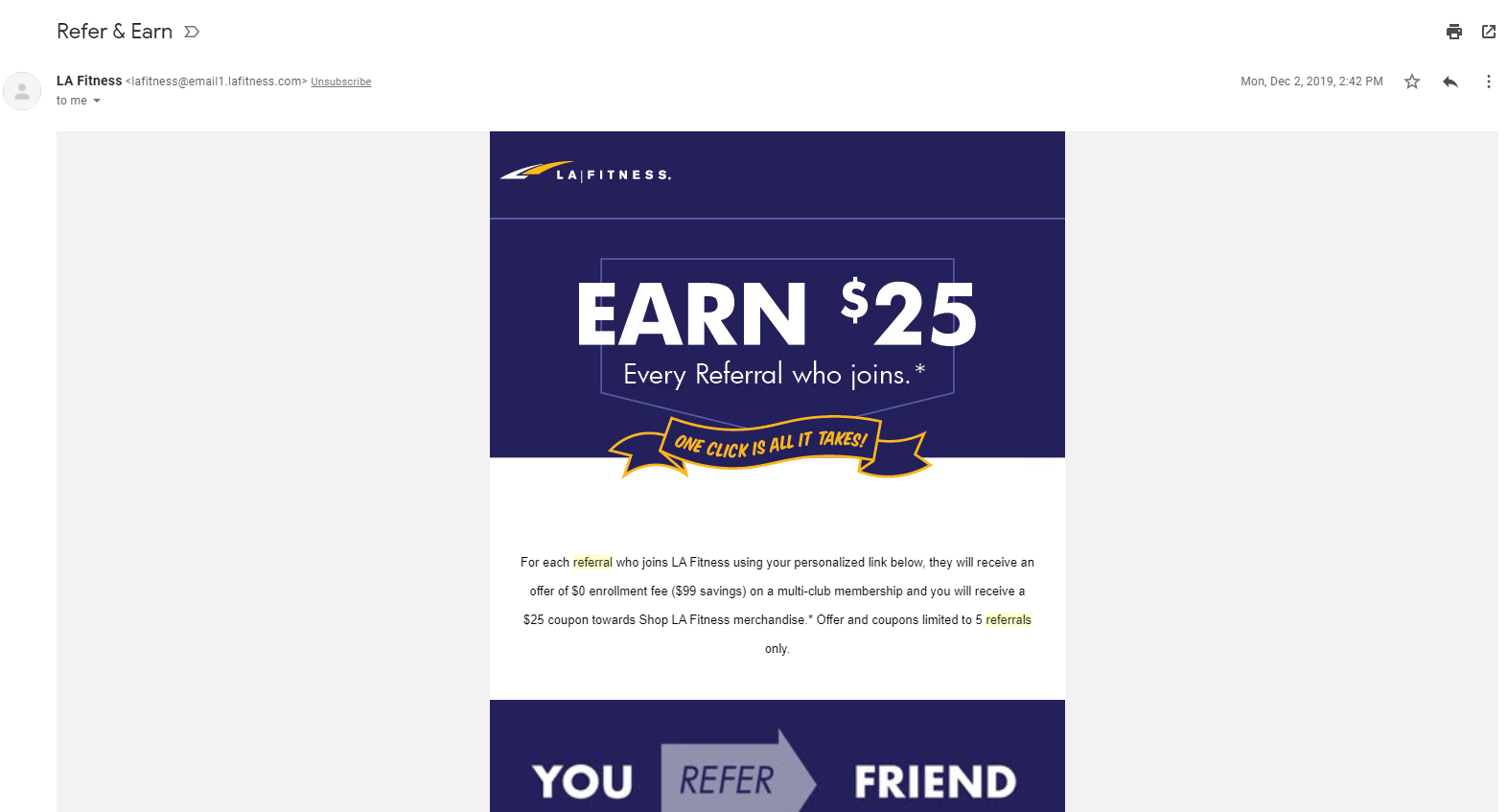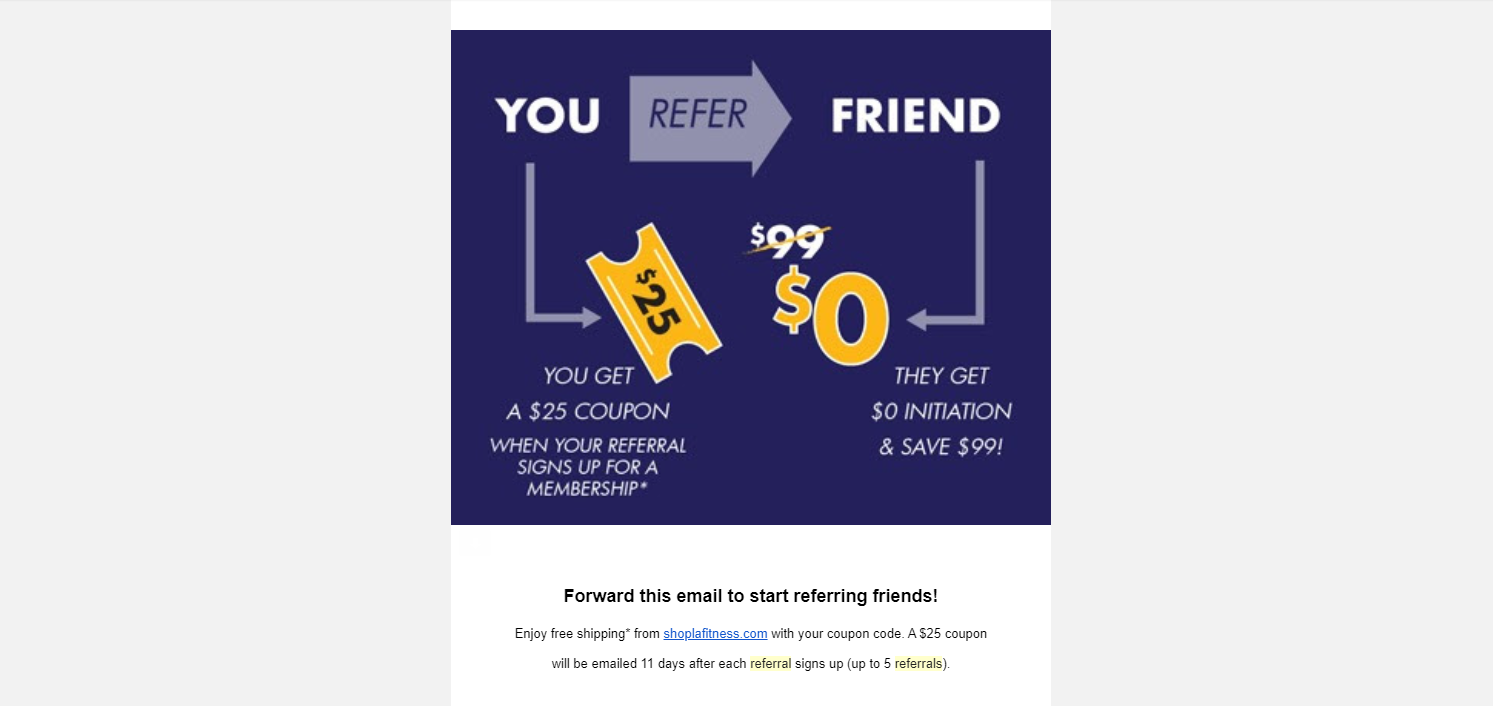 Keep in mind, the entire purpose of implementing a rewards system is to efficiently acquire more customers. Considering the ratio of customer acquisition cost (CAC) to lifetime value (LTV), referral marketing is a cost-effective and organic way to generate leads. Investing in your rewards program will dispense what you put into it. Enhancing it to its full potential will help you receive the full benefit and take some of the pressure off finding prospects.
Follow the crowd
We live in a society where people tend to copy each other–we see someone experiencing euphoria with a certain product and of course we want to have that same feeling. This is where word of mouth gets its power. It's fueled by envy and consumerism. New products make us feel alive, a new sense of welfare that we didn't have before.
Referral programs create a virtuous cycle when there's a reward incentive. They motivate highly engaged customers to reach out to their own networks, and alert the people they know will feel the same way about your product. They're sharing the wealth, as they say, creating a dynamic ripple effect where referred customers refer their contacts as well, making your business the talk of the town.
Any company can succeed with a referral marketing program if it's pursued with the same analytical precision and customer experience savoir-faire you'd apply to any other marketing channel.