Introduction
It's no secret: Your email box can quickly reach capacity. When you begin a dialogue with someone through email, the number of emails then incrementally increases to the point where you feel like your whole day has become consumed with back-and-forth messages. However, you still feel compelled to answer each one so the response is original and personalized, especially if it is a prospect or customer who deserves that individual attention.
Let's not forget you also have a business to run. You need a solution that maximizes your time, reduces your effort spent on email, and still keeps everyone engaged. Luckily, automation software for email is available to help you win back your day while keeping the lines of communication open.
In this guide, we'll share our top tips for building a marketing automation strategy, personalizing emails, automation hacks, and more.
The Benefits of Automated Email
While initially relevant to the manufacturing sector, automation has since become a hot-button topic in more diverse realms, like marketing and customer service. In fact, we are now seeing automation play a pivotal role across multiple markets and disciplines, as companies look to reduce operational and labor costs in a bid to optimize their profit margins.
For small businesses, here are three of the top benefits of automation:
1. More personalization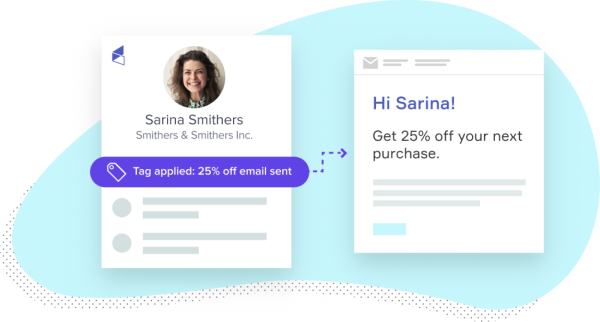 Personalization is key in any marketing effort, especially when it comes to email marketing.
But as any marketer knows, crafting personalized and highly-targeted campaigns can suck hours from your day.
That's where email marketing automation comes into play. These systems can track customer engagement across your content, build a campaign based on their observed preferences, and feed them types of content that they would have already demonstrated an interest in, thus ensuring higher conversions and fewer unsubscribes.
And best of all, it can do so with much more efficiency and accuracy than any human employee.
2. Save time
Another key benefit of email campaign automation is the gift of time. These systems can bear the brunt of the manual labor required to create highly personalized campaigns, giving your marketers more time to come up with new and innovative ways of reaching your customer base.
Automated email marketing systems also allow you to integrate their functionality with your current project management and CRM software. This aggregates data in real time across disparate systems into one location, which can then be used to send automated emails based on triggering events.
Workflow management programs, for example, can be especially integral in keeping your team communicating and on track. And when you take advantage of integrating different business systems with email automation, you can brainstorm, plan, execute, and analyze an entire campaign from one system.
It doesn't get much more efficient than that.
3. Grow at scale
Last but not least, automation ensures that businesses of all shapes and sizes can grow almost indefinitely without having to hire new marketers to help pick up the slack.
The core benefit of automation is the immense processing power. When your business' capacity increases, an automated system can accommodate your growing needs far better than a new employee can, especially when it comes to easily automated tasks.
Email Automation Strategies
If there is one area where automation has had a truly seminal impact, it is the field of email marketing. Last year alone, more than 44% of email recipients made at least one purchase as a consequence of targeted, electronic communications.
Here are three marketing automation strategies that can help you boost your bottom line:
1. Use lead nurturing campaigns to target customers
The first step in any successful marketing campaign is to generate leads. Unfortunately, most organizations handle lead nurturing the same way, every time. The obvious problem with this is that the nurturing process can take much longer if your leads aren't receiving targeted content.
By using marketing automation, you have the ability to automatically segment your leads based on their interactions with your website and content.
Most email marketing programs offer list segmentation along with link tracking to help determine what potential customers are responding to. From there, you can connect the dots between their unique customer journey to deliver targeted content that turns leads into customers, faster.
2. Create effective drip campaigns to stay in touch
Most customers do not buy on the first interaction with you. Keeping in touch is critical to getting that sale.
Fortunately, most email platforms support drip campaigns, which are essentially a series of emails that are automatically sent to recipients over a series of days or weeks. While there will be a significant amount of leg work to create the content for your emails, creating a drip campaign can be an extremely efficient way to nurture leads and consistently remind them of the value you offer.
3. Create customer loyalty with marketing automation
Once you've made the sale, the marketing should not stop. However, many small businesses don't invest in engaging and retaining existing customers.
Why not? For most, the reason is simple: They don't know how to do it efficiently. Marketing automation changes this dynamic. For example, here are three ways to leverage marketing automation to build customer loyalty:
Track loyalty: Measure loyalty by tracking touchpoints and asking how customers feel about your product/services throughout their journey.
Build brand advocates: Use automation to determine who your brand advocates are and offer incentives to encourage referrals.
Personalize experiences: Use data to segment your customers and automation to deliver the right content to the right customer at the right time.
How to Automate Emails: Five Ideas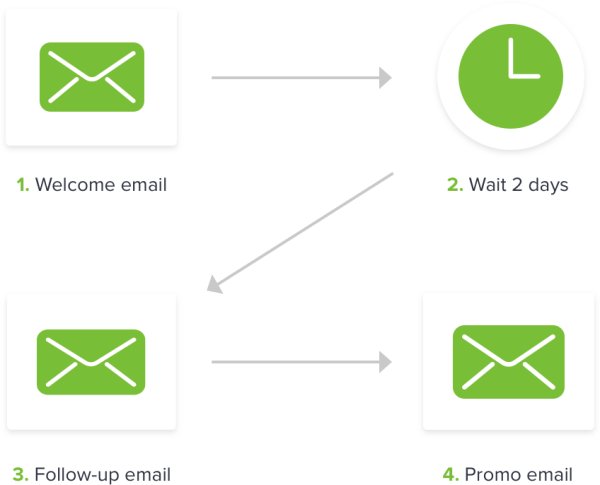 Once you automate your emails, you will definitely have more time. Even better is the fact that your customers will no longer have to wait to "hear back" from you with an answer or acknowledgment. The longer they wait, the more likely those customers or prospects will go elsewhere.
Automating keeps them with you and gives you the time to provide a personal experience when they need that level of attention. The more you can automate, the more effectively you use your time so you don't end up with a bad behavior that blocks your success.
Here are five ways you can automate emails:
Contact forms: Rather than making your customers wait for a response to their inquiry, you can have an automated email response go out as soon as a customer completes a contact form. The response can also correspond to a category your customer selects that defines what their reason is for contacting you, like a question about pricing or a complaint.
Repetitive requests: Automation software also handles emails that you find yourself typing over and over again. Instead, create a sequence of emails that automatically go out and that cover specific information that may be important to customers. A good place to start? Look through your log of common customer support questions and answer those in an automated on-boarding email series.
Event workflows: Do you host in-person events? What about online events, like webinars? You can use automated emails to handle event registrations and attendee communication before, during, and after the event. For example, you could set up emails to remind customers to attend the webinar and post-webinar, send them the recording.
Abandoned shopping carts: When someone adds an item to their cart but doesn't complete the purchase, you can trigger an email to remind them of that item. This email could even include a special coupon code to incentivize the customer to finish her transaction.
Purchase reminders: Do your customers typically make purchases on a predictable cycle? For example, if you sell tax software, you definitely have a strong sense of when customers will make their next purchase. Enter past customers into an automated email series to remind them to complete their taxes with your software each year around tax season.
How to Automate Re-Engagement Campaigns
The average email marketing list loses 25% of its contacts every year. For many businesses, that rate of decay is simply unacceptable. Fortunately, there's hope for businesses in search of a cost-effective way to re-engage contacts with email marketing.
Here are our tips for creating re-engagement emails:
1. Identify all of your inactive contacts
The first step in any successful re-engagement strategy is clear: you need to identify all of your inactive contacts. This process follows the steps below:
Choose a starting metric that helps determine the age of each contact. This could be the date on which they became a contact or the date on which they first converted, became a customer, or even received their first email. Your choice of metric will determine which contacts you focus on in the latter stages of the re-engagement process.
Determine the average length of your company's buying cycle. This is typically the period between first contact and closing.
Determine how long a contact must be inactive to be formally considered inactive or dormant.
Determine how you'll track inactivity. Usually, this requires specific action tracking such as email opens or clicks.
2. Build a comprehensive inactive contact list
Next, you need to build a comprehensive list of all the contacts that qualify as inactive. Also, be sure to use "rolling age" logic to capture each inactive contact who passes the established cutoff age and becomes formally dormant. Otherwise, your list won't account for customers and prospects that become dormant after you create and run your re-engagement workflow.
3. Choose an email re-engagement type for each group of inactive contacts
Once your list is in place, it's time to choose an effective email re-engagement type. If your inactive contact list is segmented by buyer persona or other criteria, you can certainly use more than one email type. After all, automated personalized emails are a great way to appeal to prospects.
The major types of re-engagement emails are:
Email preference updates: These emails ask contacts whether they'd like to receive emails less frequently or customize their content preferences to ensure more relevant content.
Feedback surveys: These can be the classic "how are we doing" surveys or more nuanced questionnaires designed to reveal why contacts have gone dormant.
Incentives to engage: Offer a freebie or discount based on each contact's past buying history.
Emotional appeals: These are generally variations on the "we miss you" email style. While they can work for certain buyer personas, they may actually be counterproductive for others.
Deadline-based opt-ins: This "last resort" approach asks contacts to opt-in to further email communications by a specified deadline. Since many recipients likely won't opt in, this is an effective tool for narrowing your contact list and boosting contact quality.
4. Select an effective email template
The most effective re-engagement emails use preset templates with proven aesthetic and crisp, clear action cues that draw the contact to complete the desired action. Choose the template that best fits your needs. Keep in mind that different re-engagement emails are likely to demand different template styles, so there's no need to stick to one template for every single scenario.
5. Create your email(s) and save for automation
The next step is to create your email. Follow a few well-worn email marketing tactics for higher open rates and click-throughs:
Clearly and succinctly outline your email's value proposition in the message body
Ensure that the copy makes sense in the context of your re-engagement type
Use crisp, clean aesthetics that support your company's brand
Include a powerful call-to-action in a highly visible location
Once you've composed your email, plug it into an automation platform.
6. Build and activate your workflow
Next, it's time to build and activate your workflow. Set up the workflow(s) according to the type of email you are sending and what would naturally follow next.
7. Set the parameters for a successful re-engagement campaign
Once your workflow is automated, put the finishing touches on your re-engagement operation by setting clear parameters for each campaign, like email frequency, content type, subject matter, and more.
Personalized Email Marketing
To keep up with all the emails you get, you might be tempted to set up a boilerplate email that you send to everyone. Keeping it generic means you can send it to anyone; it feels like you're getting some of your life back.
Except people don't respond to the generic emails very much.
Generic marketing emails, even though they were sent in good faith, can still appear as spam to the recipient. The way to combat this is to personalize your emails. Seventy-four percent of marketers say targeted personalization increases customer engagement. Personalization creates an experience that's tailored directly to them, using data that you know about them:
Their name
Their location
Other relevant demographic data
Psychographic data
Purchase history
Previous interactions with your web pages
This data can be added in the subject line or the body of the email, giving the email the feeling that it was written just for the recipient. The difference between reading a robotic, generic email as opposed to a personalized one is pretty intuitive. People respond when the message feels relatable.
20 ways to personalize emails
It's no secret that a personalized email will always beat a generic one. Here are 20 easy ways to improve your emails with personalization, from adding small, personal touches to experimenting with merge fields:
Add a personal touch
Send occasional non-branded, plain-text emails from you, not the company
Write as if you're talking to a single customer
Use a subject line you'd send to a friend
Include a headshot in your signature
Change "click unsubscribe" to "let me know if you don't want to hear from me anymore"
Mix up marketing messages with funny videos, personal photos and holiday greetings
Make magic with merge fields
Call contacts by name, i.e. "Hi, [First Name]"
Name-drop other contacts, like the customer's spouse or child (if appropriate to your product or service)
Show you know who's who, i.e. "Knowing you're the [Job Title], I thought you might be the best person to talk to at [Company Name]"
Reference the current day, i.e. "Have a great [Day of the Week]"
Make old content new, i.e. "The [Month] [Year] Newsletter"
Talk up a contact's town, i.e. "How's the weather in [City] today?"
Reminisce about the first time you met by referencing an event or meeting place
Write at the right time
Respond quickly, but not too quickly, by putting an automatic reply on a delay timer
Win at phone tag by using automated emails to follow up on a missed call
Check in on a downloaded resource with a personal message
Wish every customer a happy birthday
Send them what they want
Use segmentation for personalization by tagging customers based on interests and behavior
Personalize the next offer with automation
Ask what they want through a web form
Marketing Automation Hacks
The term "growth hacker" has become more and more popular. What does it mean? The goal of growth hacking is to build a self-perpetuating marketing machine that reaches millions of people with little or no marketing budget. Growth hackers are a hybrid breed of engineer and marketer that prioritizes tweaking the product for better marketing performance over traditional marketing methods.
And — you guessed it — growth hacking can also apply to marketing automation.
Here are four marketing automation hacks:
1. Force virality with incentives
If you want to attract a large and consistent stream of new customers to your business, without having to pay for them, you might want to consider forcing virality with incentives. Incentivized virality sits on a spectrum ranging from forced (e.g. preventing a customer from continuing to use your service until they've invited their friends), to lightly incentivized (e.g. optionally offering a report or ebook in return for a tweet).
In some of Zynga's games, you are required to invite friends to reach the next level — this is forced virality. Dropbox, on the other hand, takes a more moderate approach. When you run out of storage on Dropbox, you have the option to either invite friends or pay to receive additional storage space.
What's great about this strategy is that it can be entirely automated and personalized to deliver customized offers and messages to different users based on their activity.
2. Make yourself obsolete
One lateral approach to hacking your business' growth is to simultaneously remove human error and improve lead qualification by automating your sales process.
For example, supercharge your selling process by converting manual lead qualification into an automated sequence. The result? Meet Joe, the automated salesman. An automated sales sequence like this lets you standardize messaging and reduce response times.
This last point is particularly profound. In 2011, a study from the Harvard Business Review found that you're seven times more likely to convert a lead if you respond to them within an hour as opposed to after one hour, and 60 times more likely than if you had responded after 24 hours.
While a fully-automated sales team may not be feasible or appropriate for your business, perhaps you might be able to automate aspects of your lead qualification process, freeing up time for more creative and higher value work.
3. Create hyper-targeted content sequences
Let's say you're in a sales meeting with a potential client. All of a sudden, the client mentions that they're not sure they can afford your services. What do you do? Perhaps you offer a payment plan or assure them that a discount won't be a problem. This ability to mold messaging to the client's actions in real time is the major advantage of an in-person conversation and the major disadvantage of traditional online marketing.
Enter hyper-targeted content sequences. While it might be a mouthful to pronounce, we're referring to sequences that learn more about the customer over time, and use that information to change the angle of your offer to that specific customer, much like you do in an in-person conversation.
Wishpond does this particularly well with their blog content. If you fill out a form on their website indicating your interest in the real estate sector, for example, you'll notice that their blog starts to display content about online marketing for real estate. Even their banners and offers promote real estate marketing guides.
Conclusion
With automation, you can set up a strong foundation with fast and reliable team communication. Next, improve lead generation by using automation to help create targeted content. Once the customer is engaged, stay in touch with an email drip campaign. Finally, after the sale, use the latest marketing automation technologies to improve customer retention.
In the end, marketing automation is designed to save you time and help your organization generate sales as quickly as possible.
Create a sequence of email messages that get sent based on timed triggers or client actions through Keap.