For brands, deciding whether to use video marketing is no longer a question. Engaging videos are a powerful form of content marketing for storytelling. Businesses are using video content to reach their target audience and keep them engaged. Videos allow you to demonstrate your products and ideas better than words.
These statistics prove that videos should be an integral part of your content marketing strategy.
Eighty-five percent of people in the U.S. watch videos daily. In China, Turkey and Saudi Arabia, the figure is higher, up to 98%.
The retention rate of a message watched over a video is 95% as compared to 10% of the retention rate of textual content.
Viewers are 27 times more likely to click on online video advertisements compared to static banner ads.
A one-minute video is worth 1.8 million words if made right.
It is the right time to create a winning video marketing strategy for your brand.
Videos are a valuable asset. Instead of trying every strategy on this list, choose the one that best fits your goals, industry and what your audience wants from your brand. To help you find more viewers, here are five actionable video content marketing strategies that will stand the test of time:
1. Personalize your content using video marketing
Ninety-six percent of people have watched a demo video to learn more about a product. Eighty-four percent of people say that watching a brand's video convinces them to buy a product. This means video supports marketing, sales, customer retention and educating them about the brand and product.
Understand your audience, their demographics, gender, job title and social media platforms where they follow your brand. Accordingly, create personalized content and optimize it for engagement and conversions. Surely, this also means choosing the right topic. Don't miss out on considering:
The right tone and voice while speaking to the audience.
The right imagery, taking culture into consideration.
2. Have a video SEO strategy in place
With over 79% of internet users having a YouTube account, it is the second most popular social media platform after Facebook. Don't restrict SEO to your blog posts and website. People use YouTube not just to find specific videos but also to search for broad information, just as they do on Google.
Some practical YouTube SEO tips that will make your videos easier to find on YouTube are:
A. Add a title that catches the viewers' attention – Limit the length of the title to 60 characters or fewer. Add the keywords as you would to the blog posts. You can use the YouTube autocomplete feature, Google search trends, Ahrefs and RankWatch to find relevant keywords.
B. Add a keyword-rich description – Add a description of around 70 characters of what the video is about along with the keywords. Add a call-to-action (CTA). Insert a link on your website for viewers who would want to visit it.
Here's a great example of Ahrefs videos that nail the description: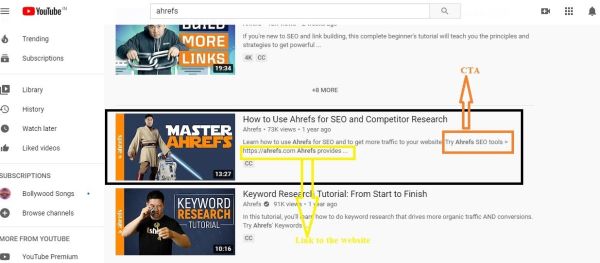 C. Leverage tags with different keyword variations – Think about your primary keywords, secondary keywords and the related synonyms that people search for.
D. Link-building – Similar to content, the number of links that lead to your video is an important factor for keywords ranking in search.
Link-able, a freelance marketplace, allows you to automate link building by connecting you with writers who are already writing in your industry. These talented writers build quality backlinks for SEO and PR while you focus on growing your business.
E. Add an enticing thumbnail – An eye-catching, colorful, high-quality and branded thumbnail sparks the users' interest and can have a direct impact on your conversion rates.
Oberlo's YouTube channel uses custom thumbnails: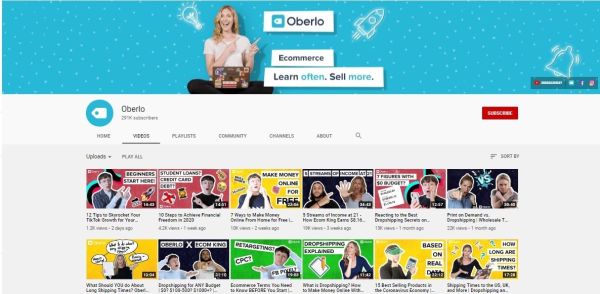 F. Optimize your videos for mobile viewing – Ensure that your videos look great on mobile, as most of the viewers watch them on their smartphones.
G. Add captions – Adding transcripts for your videos has multiple benefits. The search engines can crawl the complete text of your video so that it gets indexed. Captions increase accessibility and offer translation to non-native English viewers. Lastly, captions cater to those viewers who do not turn the sound on while watching videos.
3. Landing page videos
Are you among the 65% of businesses whose major marketing challenge is generating leads and traffic?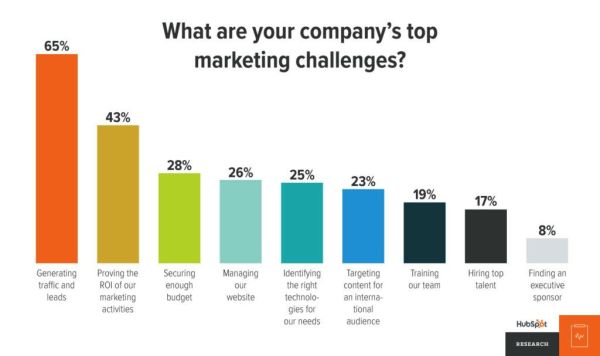 Have you considered adding videos to your landing pages to boost conversions?
For starters, landing pages with fewer words convert better. Also, 59% of consumers believe that visual information is more important than textual content when they shop online. You can convey more using videos on your landing pages.
Let's take Mari Smith's landing page for "Growing your business on Facebook and Instagram" training program.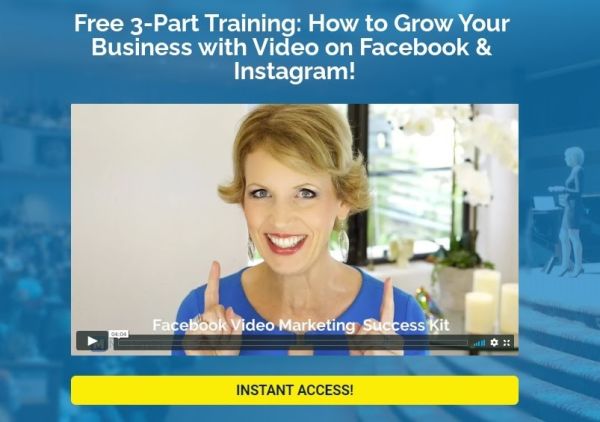 Although Mari's landing page text is compelling, her video highlights each of the main points described on the page. Her video is placed at the top of the page so that the viewer would first watch her video for longer than simply scanning through the text.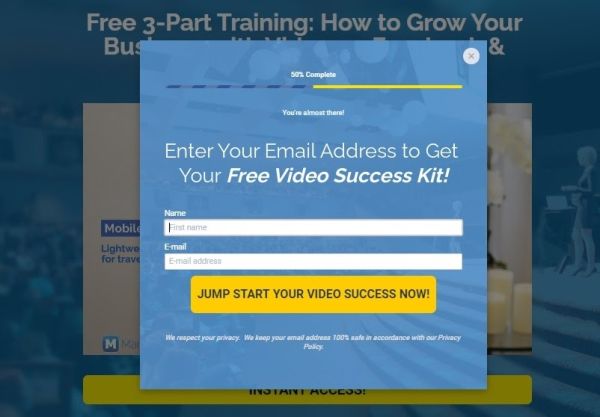 When you click on the CTA, "Instant Access" in this case, a lead capture form pops up. From there, you are directed to additional content or the next stage of the consumer journey.
4. Optimize your videos for conversion
Get the most out of your videos by optimizing them for conversions.
How can you do that?
A. Include social proof – Social proof builds trust and credibility between your brand and the audience. This could be in the form of customer testimonials, likes, shares, views and comments on your video content.
Think of recording video case studies from your customers, influencers, or celebrities.
Hootsuite places their customer testimonial video with Virgin Group on their solutions page.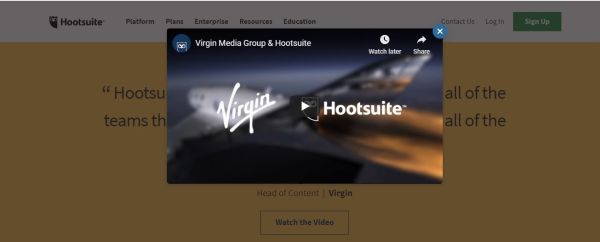 B. Include a CTA – A marketer knows the importance of a CTA that tells the people what to do next. This could be downloading an ebook, attending a webinar, filling out the lead generation form, signing up for a trial, or booking an appointment.
Amy Portfield has two CTAs at the end of her video. You can test multiple CTAs, their placement and designs to decide which one receives the maximum conversions.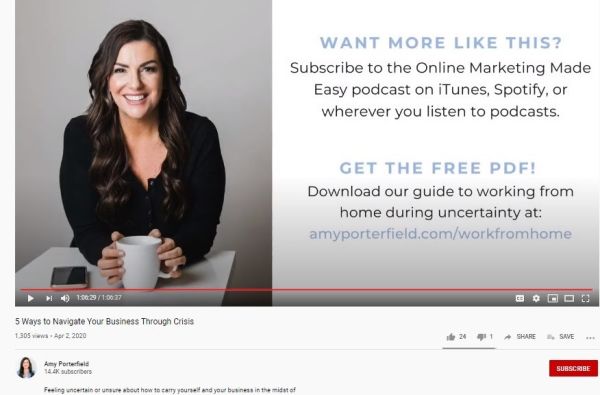 C. Length of the video - Most marketing videos, as per the rule of thumb, are two minutes or less. In reality, the length of the videos depends on the social media platform, the use case, industry and where it fits in the marketing and sales funnel. Early in the funnel, they are shorter. Later, they can go longer.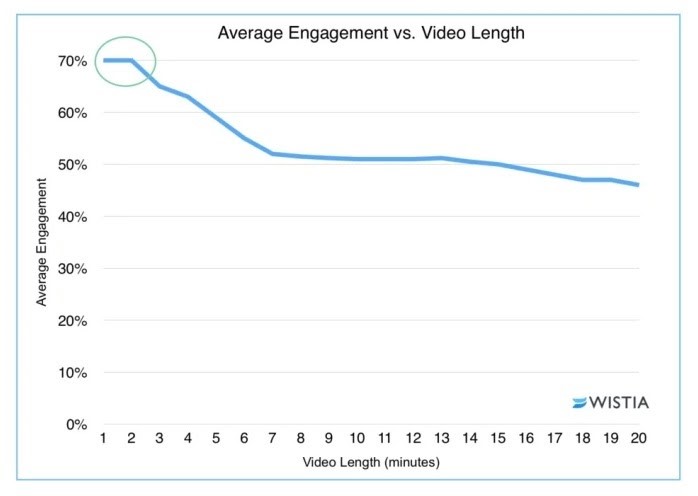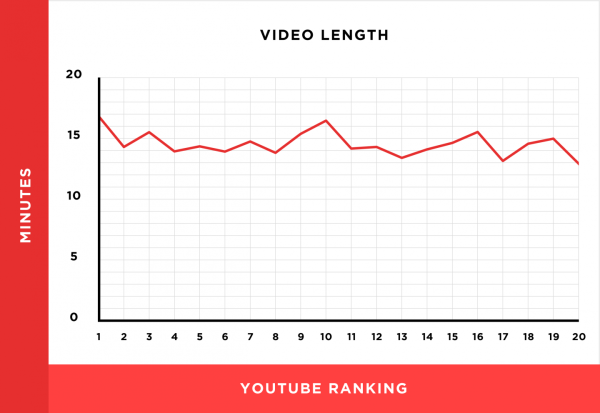 Stick to the length that works for you.
5. Choose your video promotion strategy
Your content doesn't mean a thing unless you promote it. Your audience doesn't find content by mistake or accidentally. Every content marketing plan needs a promotion strategy. Video marketing is no different.
You would end up losing some serious deals when you don't promote your videos. To engage with your audience, find the right distribution channels to deliver your videos to them. Promote your videos to as many channels as possible.
Here are some ideas to consider for your video content strategy:
Use videos on your website – Encourage new visitors to watch your videos by placing them on your website's homepage, services, product and pricing pages.
Use videos in your blogs – Ahrefs does a great job of embedding videos in their blog posts. When they optimized their videos with relevant tags, they started getting thousands of search visits per month on their blog posts where the video was added.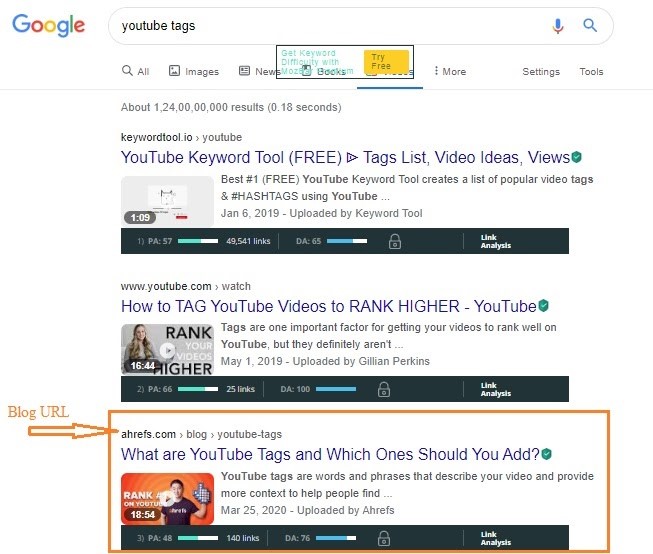 Video SEO best practices ensure that your web pages get indexed by Google to rank higher in the SERP results.
Upload your videos to YouTube and Vimeo.
Share the videos on Facebook, LinkedIn, Twitter and Pinterest using social media calendar tools.
Convert the video into a presentation and upload it to SlideShare.
Embed the videos in your email marketing campaigns.
Keep experimenting with new ways to promote videos. Track your video performance to monitor viewership, traffic sources, watch time and to find the most popular videos on your site. Measure the overall impact on brand awareness based on the number of shares, mentions and backlinks.
Video content marketing best practices
Before signing off, here are some important things to keep in mind while creating your video content strategy.
1. Know your social media platform – The kind of videos you post on LinkedIn would be different from the ones you share on Instagram. Remember, the audience on each of the social media platforms has different preferences.
A. Facebook – Facebook audiences have short attention spans. If your video doesn't hook them in the first few seconds, they'll move on to the next one. A vertical format of video content works best for Facebook, as it is suitable for viewing on mobile devices and can a grab user's attention fast.
B. Instagram and Twitter – Craft shorter videos for Instagram and Twitter, as things happen at bottleneck speed on these platforms. Again, it's about the viewer's attention. They aren't used to dwelling on a video on specific content pieces for a longer time.
C. LinkedIn – Compared to Instagram, Facebook and Twitter video content best practices, LinkedIn videos must be longer. The professional audience interacting with your content wants detailed insights from your brand. You will find more success with well-researched pieces.
That said, because every social media channel requires different styles of the content doesn't mean that you need to shoot dozens of videos. Alternatively, you can edit the same video to attract different crowds.
For example, a detailed video that you are creating for LinkedIn can be broken into smaller clips to be shared on Instagram, Twitter and Facebook throughout the week.
2. Vary your video content types – Your audience will get bored when you post the same type of videos on social media. No matter how amazing your product videos are, mix them with a short video of user-generated content that intrigues them.
Here are the six most popular types of videos for content marketing:
1. Tutorials – teach your users how to do something
This kind of video doesn't require much except a microphone, a good quality camera and expert tips to share. This video by Hootsuite teaches users how to use their tool in 11 minutes: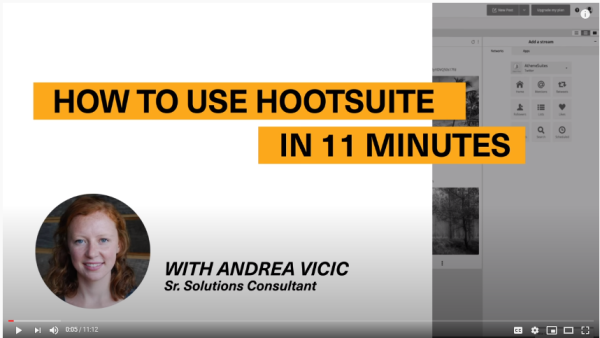 2. Customer testimonials - interview customers who share positive reviews
Here's the Keap CRM testimonial video for Drift.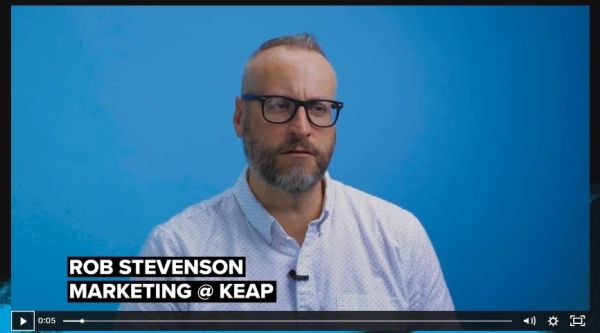 This type of video requires you to find clients/users to share their experiences, film them and create a relevant storyline.
3. Behind the scenes – showing your users how the magic happens
In their video production guide, Vidyard shares actual behind-the-scenes videos in their blogs.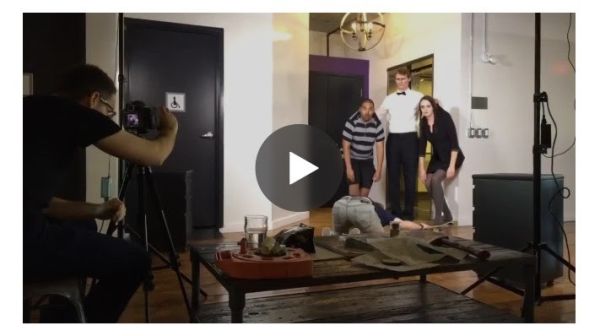 4. Product videos – demonstrating how the product works
Canva regularly posts videos of their feature updates, DIY design tips, as well as how to edit the templates for each industry.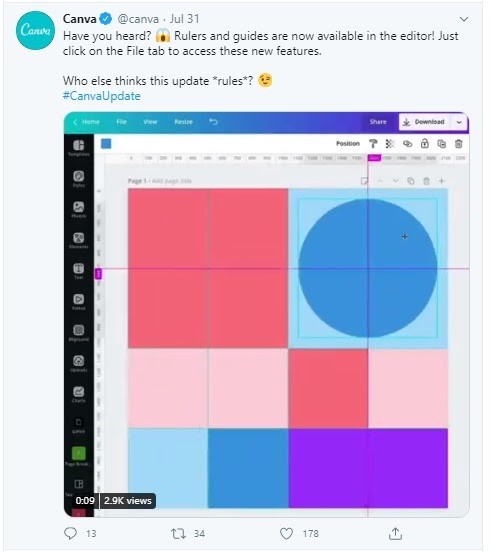 This type of video addresses customers, fans and engaged users who want to know more about using your product.
5. User-generated content – Put your customers front and center
The classic example of building a brand with user-generated content is GoPro.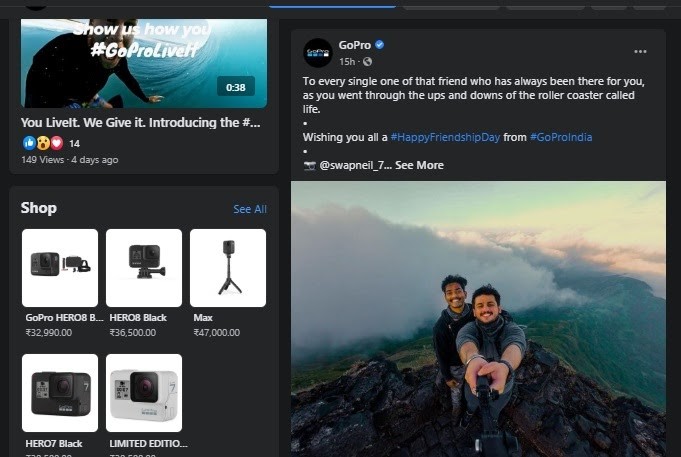 What better way to show how good their product is than from users sharing extreme footage?
6. Live streaming – interact with your audience in real time
Live stream videos don't just generate engagement, but enable you to build a strong relationship with your community.
Be ready for bloopers, criticism and negative comments that occur when you are live.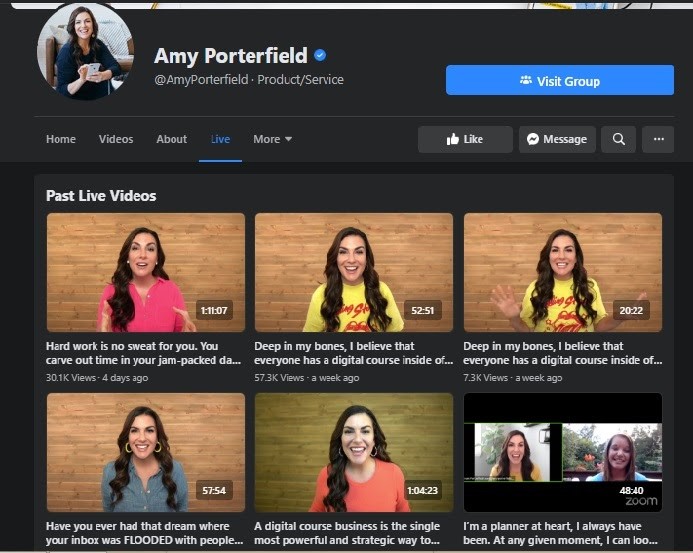 Final thoughts
Video content marketing is a dynamic topic. Google constantly changes the way they display videos in the search results. However, the two "best practices" that remain constant are:
Creating enticing and engaging videos for your audience.
Doing everything in your power to promote them.
If I have missed anything important, please leave a comment on my Twitter.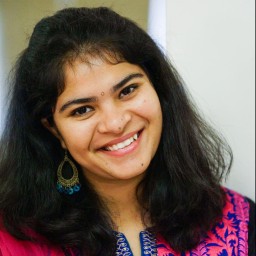 About the author
Priyanka Desai is the founder of iScribblers, a content writing agency for SaaS, technology and marketing companies. She regularly contributes to G2Crowd, Business2Community, Forbes India, ReadWrite and TimeDoctor App among many others. You can reach out to her on LinkedIn or Twitter.