You've just launched your new business, the next step is to launch your website. You found a domain, populated the template with your content and merchandise, received a high score on your website analysis and now, it's time to go live.
Your new site slowly starts to see hits and clicks, but no conversions. Not only that, your site is seeing very high bounce rates. What could be the problem? Perhaps you're not attracting the right audience…
Just because you've built a compelling, easily navigational website, it could be a swing and a miss when it comes to targeting the correct patrons.
Here's how to automate targeted traffic to your website by making yourself known to your audience with the following tips:
1. Post on LinkedIn
If you haven't created a LinkedIn account for your small business, do it. LinkedIn is a great platform for networking and posting updates for a B2B population that will appreciate and share your posts.
Create a company profile that will be a designated space for posting company blogs, photos, updates on expansion, etc.
It's also important to make connections with the correct people: partners, investors, colleagues, customers and the like. Make an effort to follow businesses in your industry, which is also a great way to ensure your posts are being seen by your targeted audience.
LinkedIn also makes it possible to add tags to your posts if you want to get the attention of certain contacts, then encourage them to spread the news by sharing your status update. You can boost your posts to ensure they show up at the top of the feed as often as you need them to.
Drive traffic back to your site as often as possible. Post links to blogs, videos, podcasts or any other marketing content that will increase time on site and diminish bounce rates. Here's an example of a post I shared a week ago about Keap's new podcast launch: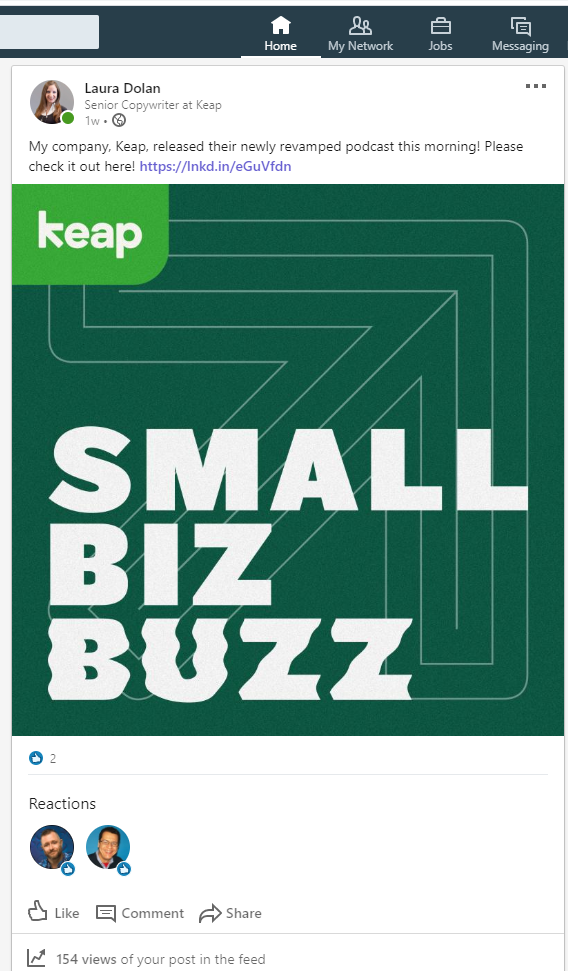 2. Exchange shares
Find someone who's influential in your industry and connect with them. Build a rapport, a partnership if you will, and once you've established a strong relationship, make a pact. Ask them if they're willing to share your content on their website, social media pages, etc., if you'll do the same for them. This will give your content more exposure to an expanded audience that's still in your targeted realm.
Staying in your lane, if you will, and seeking contacts in your industry to agree to do this with you will help get your website in front of more people who are already interested in your brand and your product, offering more value to your current followers. It's a win-win.
3. Pay with a Tweet
Pay With a Tweet is a user experience platform that lets you deliver quality content in exchange for social shares, helping your business acquire more opportunities for people interested in what you sell and land on your website.
Start by creating a lead magnet such as a checklist, ebook, whitepaper, video, podcast, photos, documents, etc., and promote it in a blog post or email campaign. Then give your customers sharing access, asking them to "pay with a tweet," or another type of social share in exchange for a reward.
Your followers have the option of sharing a link to your website on Facebook, Twitter or LinkedIn. It's a fast and easy way to reach new audiences and is currently being used by over 40,000 customers.
You can use it as a one-time basic campaign for free or subscribe as a business for a monthly fee of $49.99 for unlimited campaigns. You can also subscribe to its Enterprise Referral Marketing option called Aklamio, where pricing is available upon request.
4. Create a Facebook group
Facebook groups have taken the place of the former business Facebook page, which is how brands shared content and attracted people to visit their websites. Due to Facebook's strict algorithm updates, more business page owners are struggling to get their posts seen on the feed.
Facebook groups offer a different approach where businesses can reach their audiences and engage directly with consumers and answer customer questions on the group's page without cluttering the feed.
Creating a Facebook group involves inviting your email list to join the private page. Once you grant people access, they can engage with other brand ambassadors and communicate directly to you.
Expand your group by encouraging others in your industry to invite other friends in their network who are interested in your brand to join.
Once you reach a sufficient amount of people, you can use the platform to promote your website and bring more targeted traffic to your landing pages.
5. Create a better email strategy
These days, people are being inundated with hundreds of emails in a day, most of them unread. That creates a lot of competition when it comes to attracting attention in someone's inbox. What can you do to ensure not just a high open rate, but that people are making a conversion by actually clicking to your site?
The first thing you need to do is grab their attention with a compelling email subject line. Keep it short; subject lines with fewer than 50 characters usually yield more successful open rates.
Some examples of promotional subject lines, courtesy of Sleeknote, include:
Save money. Don't leave the couch. (Dollar Shave Club)
This sale's too BIG for subject li– (Moo)
Early bird gets the sale (Paperless)
How d'ya like your socks in the morning? (Happy Socks)
Sure, you *could* send a fruit basket (Blue Apron)
Witches be crazy, and so is this box! (Beauty Box)
Nope, still NOT going out of business. Enjoy 2 for $45! (Crocs)
Some of these subject lines are so clever, I actually laughed out loud! My favorite was from Moo–it purposely truncated its own subject line, which immediately made me want to know more.
The next move is to populate your email body with compelling content with links to your site. They could be placed in the email signature, in the form of a call-to-action (CTA) or link to your blog posts embedded in the text. You can also answer questions by linking to different landing pages on your website.
My husband and I recently adopted a puppy and I signed up for PetSmart's loyalty program. Its punny subject line that confirmed my account was endearing: "Welcome Laura! It's a real treat to have you!" And of course, the email was a promotion about pet treats.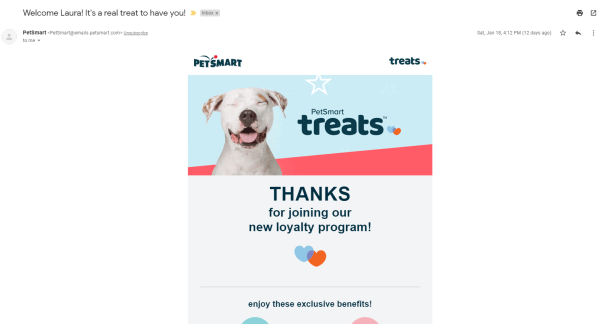 Scrolling down farther in the email, there are links to all of the ways you can access exclusive benefits that link you back to its site. It also prompts you to either sign up or sign in to your account, creating very easy ways to make more conversions.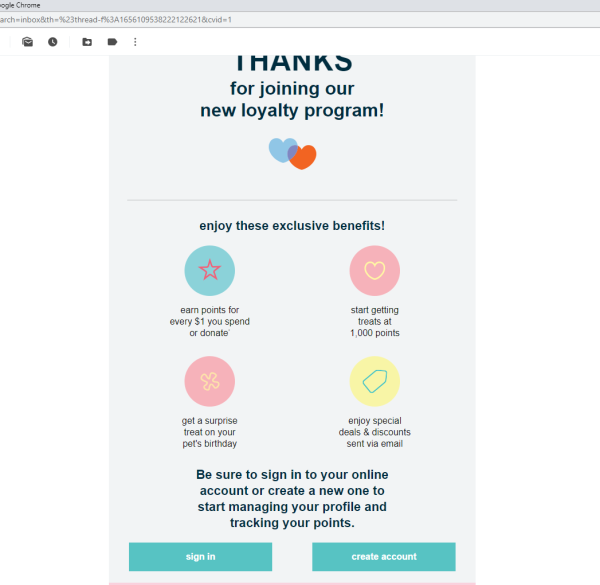 Another email I received recently from The Container Store impressed me with all of the CTAs that it included in the body of the email, as well as an innovative subject line: Elfa. Sale. Bonus. Is. HERE. (I. Love. The. Articulation! It. Creates. A. Rhythm. In. Your. Head.)
The message also provides multiple opportunities to save money on custom closets by earning money off the product, being able to schedule a design appointment and shopping for different solutions in the way of shelving, drawers, wall racks, etc., thus creating many opportunities for its site to see multiple click-throughs and conversions.
Side note: the color scheme in the email body is also very eye-catching and makes it easy to see each individual link.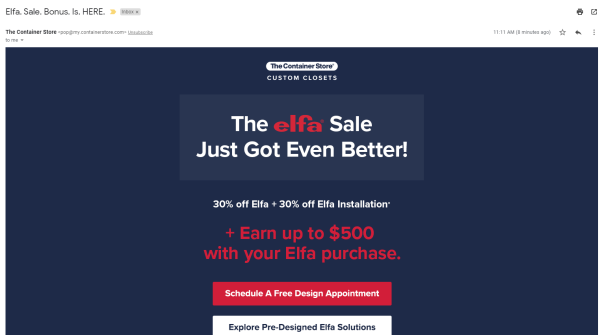 6. Speak up!
If you're invited to be a guest speaker at a conference or some other corporate event, this is a huge opportunity to expand your audience as a small business owner.
Being on stage gives you a captive audience. Use this to your advantage by having people sign up for your email list, then follow up after the event by asking how their experience was and provide links to your website and social networks in an effort to stay in touch. Also, encourage them to share your social posts that have links to your site or share photos of the event and ask them to tag your company.
Keep the audience engaged during your speech by asking them to "Like" your company's Facebook page or to follow you on LinkedIn and Twitter while you're on stage. Display your website's URL and social icons while you're speaking so people have an easier time finding you online. This will keep your company top of mind during and after the event.
7. Leveraging preexisting touchpoints
Be resourceful. Think about where you're already engaging with customers. Do you own a brick and mortar location? Make sure your website is displayed on the windows or the door. Have business cards that include your site's URL displayed at the checkout counter. Be sure to print it on all merchandise packaging as well. If you feel like you're posting the URL in too many places, you're not. You can never post it enough, especially when you're starting out. Never miss an opportunity to drive more targeted traffic to your site.