It seems like every ecommerce store out there relies on the same time worn tactics to drive reviews these days.
Customer buys a product from you. You send an automated email a few days after it gets delivered. Your customer leaves a review.
It works OK, but with everybody doing the same thing, you're probably left getting low completion rates from apathetic customers.
Turns out, there's a much better way to do this, which will drive hundreds of glowing 5-star reviews.
In this article, we'll show you the exact approach that gained one of our customers, Munk Store, hundreds of 5-star reviews in just a few weeks, and gained them the coveted spot of #1 on Trustpilot in their category.

How many reviews do you actually need to stand out?
Let's quickly discuss how many reviews we actually need to get more traffic and more customers.
A 2017 report by Profitero showed a couple of crucial insights when it comes to ecommerce reviews:
1. If your product goes from having no reviews to at least one review, that product will see an average 108% traffic lift and a 65% increase in conversion rate.
2. The best-selling products in each category–the ones in the top 10 often have more reviews than products among the top 100 in the category as a whole, sometimes as much as triple the number.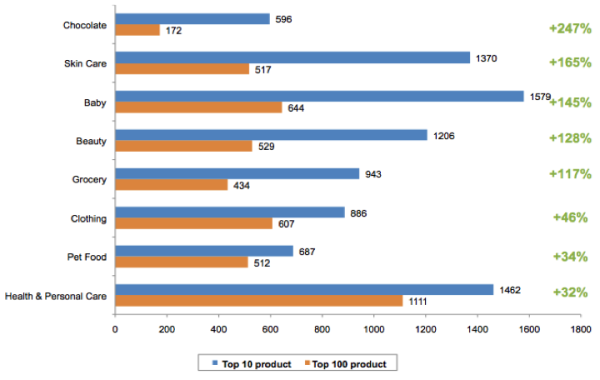 It's clear that getting a broad range of reviews across your product line is mission critical. But, more importantly, you need to be outperforming your peers in your category when it comes to the number of reviews on each product.
So, what's the answer to the question? How many reviews is enough to stand out? Here are some actions for you based on the insights above:
Action Point 1: Go through your own product lines and note those products where you lack any reviews. Focus on those first for the best traffic and conversion lift.
Action Point 2: If you're doing OK on Tip 1, the next step is to compare your reviews to your competitors, and aim at two to three times as many as they have.
Once you've established your goal number of reviews and figured out which product lines you want to focus on, you'll want to build your video funnel to drive them.
Before we explore building your own funnel, let's take a quick look at a company that absolutely nailed this strategy.
[Case study] How MunkStore got to #1 in the Men's Fashion rankings on Trustpilot
In the last few years, Munk Store, a brick-and-mortar fashion store based in Denmark, has turned its online offering into a booming multi-million dollar operation.
We recently spoke to MunkStore and they told us their massive growth is all hinged on their guiding philosophy:
"Our philosophy, developed from our brick-and-mortar stores, is that the customer experience is all we care about. We wanted it to become so personal that the customer felt like they were buying in a physical store."
To support this strategy, MunkStore devised a neat approach to deliver an incredible customer experience that would lead to a stream of glowing 5-star reviews.
In 2018, they doubled down on the personal touch, and started sending personalized videos to every new buyer to thank them for their purchase, show them their product in the flesh and tell them more about the delivery process.
Here's an example video that MunkStore sent.
In just a few weeks, they knew they were onto something big, and their results supported their new strategy.
The open-rate for their "leave a review" email went up from 50% to 75.3%, but most crucially their review rate doubled from 10.2% to 19.4%. The reviews were consistently glowing, and mentioned their next-level customer service and use of video.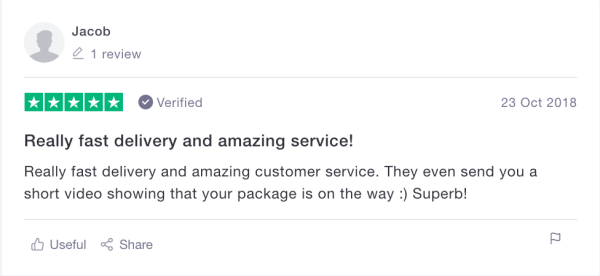 "At first I didn't think it would have such a big impact on our Trustpilot-effort, but the feedback we've also gotten from our customers has really shown that this is the way - personalization by using Bonjoro has become 'our thing.'"
So how can you get the same results?
In the next section, we walk you through step by step how to set up your own video funnel to deliver an exceptional customer experience and get a stream of five-star reviews for your own store.
Setting up your own 5-star review video funnel
OK, we're clued up on the power of online reviews, and ready to go. Here's your step-by-step guide to creating your own funnel:
We'll focus here on using Bonjoro, a video platform that lets you send personal videos based on trigger moments in your own CRM or online store. They have a native integration with Shopify, and connect to other popular ecommerce platforms via Zapier.
Step 1: Identify which products you want to focus on
Like we said earlier. If you aren't sure where to start, focus on products that have no reviews, or those where competitors don't have as many, so you can become the clear category leader in reviews.
Step 2: Decide your ideal video funnel
You'll want to choose exactly where you use video to get your desired objective of more positive reviews for those products.
Here are a few options:
Send a video to your customer to show them their product right after purchase and before delivery. This way, when your email automation fires some time after delivery, they'll have a first-class experience top of mind, and be more likely to review you, and review you positively.
Send a video to your customer shortly after the expected delivery date asking if they received their order OK. This shows you go the extra mile with customer service. You can even use the call-to-action in your video to link to your review page, and make a personal review request if appropriate.
Another great tactic is to send a personal video to customers who contact you about a return, where they are unhappy with the item. This way you can stave off a possible negative review, and even turn it into a super positive by rectifying the issue in a personal and caring way.
Step 3: Create a branded template for your videos
Bonjoro lets you create quick templates for your videos, so all you need to do is record the video when the customer event fires in your store. Your template will look something like this.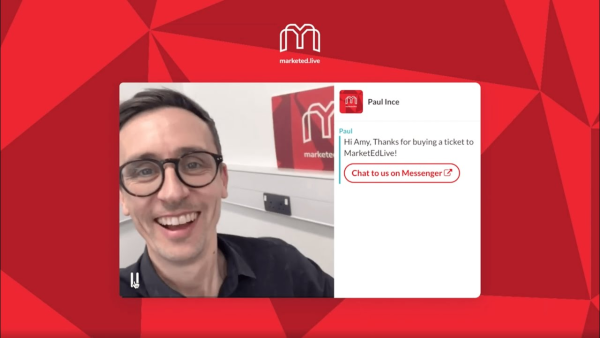 Step 4: Set up a workflow based on your customer event
Bonjoro lets you create video tasks based on customer actions in your store. You'll want to identify the specific action on which to record your video, and create a workflow for it.
Let's say you want to thank your customer for their purchase and send a video before you send out their delivery, you'll want to create a task based on a "product purchased" event. This way, you'll get notified when you need to send your video, and all you need to do is hit record on your Bonjoro web or mobile app to record your video.
You can also pull through custom fields from your store into the app, so you have context on each customer you are recording for, like what product they bought, what shipping they opted for, and anything else you might hold in your database.
Step 5: Send your videos
Sending your videos is the easy bit really. But here are four simple rules to follow to get the best engagement:
To get the best open rates, smile and wave at the start of your video. This means you can select an inviting and friendly thumbnail. Your thumbnail should look something like this.
Always say your customer's name at the start of the video. This will delight and surprise them right away and prove that what you've sent is truly personal.
If you want to drive action with your video, make sure you tell them about it! Keep your video short and only have one call-to-action. Make sure you state it clearly and tell them what to do next.
When it comes to video length, our data shows that between 30 seconds and 2 minutes gets the best engagement in terms of replies and click-throughs. So don't ramble on too long–remember, the key is to focus on one call-to-action for best results.
Step 6: Track your reviews and sales uplift
This is the important bit.
You'll want to track your review uplift week over week once you start sending your videos. You'll also want to track your sales uplift on those specific products once you've driven more reviews.
There will be a small lag on this, so we recommend focusing on reviews first, and then checking month over month sales growth for each product from about a week after the reviews start flowing in.
Make your own 5-star reviews funnel today
OK that's it, you're a certified video funnel expert. The only thing remaining is to go and try your own by getting a free 14-day trial of Bonjoro and sending your first videos.
If you're still on the fence about going over the top with the personal touch, remember multiple studies have shown that customers want more human interaction with brands, not fewer.
You really have nothing to lose, only lots to gain. Go and try your first video today and watch the glowing replies, reviews and referrals roll in!