There are good reasons why over 25 percent of online websites use WordPress: It's easy to use, it's flexible, and it's free. In fact, compared to other platforms, WordPress might have the most potential to help you grow your small business.
Read on for a primer on WordPress for small business, a list of must have WordPress plugins—and if you really want to make this CMS work hard for you—little-known WordPress hacks for small business.
WordPress is secure—as long as you're diligent about updates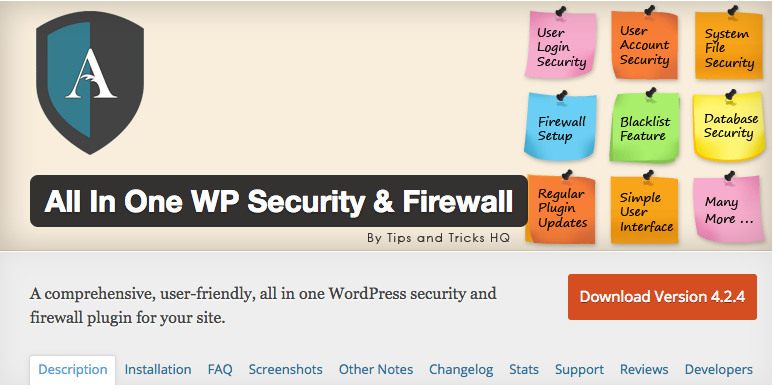 No site is immune to security breaches, and WordPress is no different. Fortunately, WordPress has recognized the potential for problems, and in its 10-year existence, it has put out multiple WordPress security tutorials and plugins from various developers.
However, if users are not updating their software, they're much more vulnerable to hacks, and you can't blame WordPress for that.
In fact, according to Sucuri, nearly 80 percent of infections across all CMS platforms are due to some type of vulnerability in outdated software or access/password exploits.
In addition to keeping WordPress up to date, you can fight security problems by only downloading plugins from well-known sources, creating a strong password and changing it often, and changing your file permissions.
The Wpmudev blog suggests choosing 755 or 750 permissions instead of the usual 777. If you follow these security best practices you should have no problem maintaining the security on your WordPress site.
WordPress is good for more than blogging
While WordPress may have started out primarily as a site for blogs, this is no longer the case. It has put out so many cool features in its 10-year evolution that you're definitely missing out on if you're only using WordPress to blog.
Follow in the footsteps of Time, CNN, Microsoft, Sony, or eBay, who all use WordPress for more than just their personal musings. WordPress can be used as a forum, a social network site, a static website, an image gallery, a job tool, a link directory, and more.
One important way you can use WordPress is for e-commerce. WordPress is great for this type of business because it's multi-purpose. While you're operating your online shop, you can also be running a blog, a portfolio, or one of the many other options listed above, none of which you can do with a typical e-commerce platform.
Paired with one of the thousands of plugins, tools, tools and themes that WordPress has to offer, your shop is sure to stand out. WordPress is compatible with pretty much everything on the web, so your potential for success is endless.
WordPress works as well for small businesses as it does for big companies

If the big-name companies mentioned above don't spark your interest, know this—the only limitations that come with WordPress belong to the user. If you take the time to really explore the platform and understand all it has to offer, the sky's the limit.
WordPress is open source, which gives you total control over your site. You can modify and distribute its code without any additional licensing fees.
It's also extremely easy to incorporate photos and videos into your site, which is huge for engaging a target audience.
In addition, WordPress is scalable. So as your business grows and you gain more users, your website has the capacity to grow and expand as well.
Finally, it's incredibly easy to access and make improvements, and its integration with social media (another key aspect of e-commerce) is seamless.
WordPress offers technical support in the form of community forums

Although you aren't able to call or email WordPress for tech support, that doesn't mean it's not available to you. WordPress values their users, and they want them to be able to find the answers they need—which is why they've worked hard to put together community forums on pretty much any topic or problem you might come across when using WordPress for small business.
The site is easy to use; all you have to do is search for your topic and then scroll through all the pages that will respond with answers to your question. And these are just the forums provided through WordPress—try searching the web for additional forums and you'll be amazed by the volume of results that appear. There are so many people that use WordPress that it only makes sense that their support community is huge as well.
The forums don't pertain to security issues, however. If you think you have a security breach or have information about security, there is a security FAQ that explains what a security issue entails and who do contact if you do, in fact, have this issue.
WordPress is easy to understand and use
WordPress is incredibly easy to use, and it's even easier to customize your site. You don't have to change any lines of code thanks to the thousands of customizable plugins and themes that WordPress and developers offer. Though if you are a fan of coding, you can choose to customize a theme via code.
There are also tons of video tutorials available online to give you a head start on building your site. All the settings are present under the WordPress dashboard, which in itself is a user-friendly, easy to decipher page that makes creating a website a breeze. You won't have to scroll through unnecessary pages just to find what you need; it's all there on the dashboard.
If you really don't feel comfortable setting up your own site on WordPress, there are plenty of people who do. You can hire them from sites like Fiverr and Freelancer.com.
Hopefully, by now you're convinced that WordPress is exactly the CMS tool you've been looking for. Now let's dive into the best WordPress plugins for business…
Best WordPress plugins for business
Best low-cost or free WordPress plugins for small business
Calling Sumo a plugin is a little like calling King Kong a gorilla. It's true—but it doesn't quite communicate the entire picture. Sumo offers an array of tools to grow your site, including:
Heat maps for tracking visitors
List building tools like intelligent popups, scroll-ups, and smart bars
Sharing tools
Content analytics
And a lot more
This plugin will instantly replace 10-plus plugins by itself (and it easily connects with Keap! In fact, if you're a Keap user, here's a list of other Keap WordPress plugins including Infusionsoft WordPress plugins).
There's a free version and an upgraded paid version of the plugin. The free version has many useful features alone—but if you're running a more sophisticated WordPress site then consider upgrading to the paid version.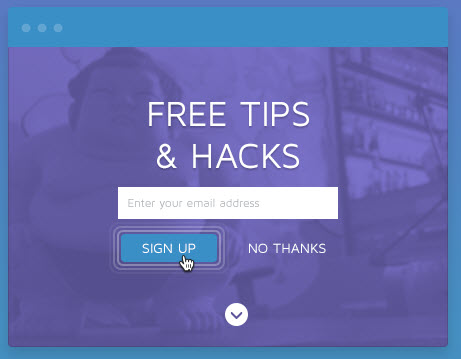 There has been plenty written about the importance of blog titles. Your title or headline is what gets your post clicked, read and shared. Your blog title can be either bridge or barrier to the consumption of your content and make or break its potential for social sharing.
That's all well and good – but how do you know what works?
The Title Experiments Free plugin uses A/B testing to give you a peek into the collective brain of your readers. Given a choice between two (or five) different versions of a title, which one do your readers prefer? Discover the percentage of clicks each version of your title gets in real time. Poorly performing titles will be shown less while your winners are displayed more often. Return visitors always see what they saw the first time. Couldn't be simpler!
There is also a Pro version with increased functionality.
The folks at Inbound Now are overachievers just like the folks at Sumo, bundling free plugins for creating calls to action, landing pages, lead management, and tracking into a package that will help make your WordPress site an integral part of your marketing automation machine.
Use the plugins to create landing pages or CTAs that you can insert into your posts or sidebar, monitor conversion rates, run A/B split testing and customize templates. Track your visitor activity, see where leads are coming into your site and what content they are consuming, capture leads and send all the collected emails to your email-marketing provider.
Premium options, integrations, and pre-made paid templates are also available for a low price.
Does the editorial planning process sometimes seem a bit unwieldy? Are you managing multiple authors and guest contributors? Are you still trying to make sense of it all with sticky notes on a printed calendar or via an external calendar?
If so, this simple editorial calendar may just be a dream come true.
The native WordPress dashboard does not make it easy to manage the scheduling or changing of posts. With the Editorial Calendar plugin installed, though, you'll have a clear view of all scheduled and posted content in a simple calendar view. A quick drag and drop allows you to reorder posts, manage drafts, easily see the status of posts—even with multiple authors—and edit right from the calendar.
There are many major players in the WordPress e-commerce arena, but most focus on the selling of physical products. Easy Digital Downloads allows you to turn your digital creations—from PDFs to e-books and more—into profit. Instead of creating a robust platform with countless features, this plugin focuses on doing one thing simply and easily.
The system allows users to purchase and download multiple items at once, and even use promotional codes. You can include multiple price options for each product and sync with major payment gateways. Customers can track purchases and re-download their files. You can view payment and purchase history and even projected earnings, and the mobile app allows you to track your products, sales, and earnings from your phone.
EMBED VIDEO:
Getting your content listed on Google, Bing, and Yahoo is crucial for your content to get found.
Yoast is one of the best WordPress content marketing plugins for this reason. It allows you to easily and effectively optimize your content for search engine friendliness. They have a gazillion free built-in features that absolutely rock—but you can upgrade to a paid plan for even more SEO features.
Securing your WordPress site can feel like a complicated task if you're not a technical expert. Thankfully, iThemes Security makes it easy for anyone to easily secure and protect their WordPress site from hackers.
This tool shows you areas that are vulnerable to a cyberattack and then enables you to easily fix those vulnerabilities. It also gives you the ability to turn on additional security features to keep your site safe going forward.
It does come with a price tag, but it's worth the investment now rather than waiting till after your site's been hacked.
Plugins that automate WordPress posts and your entire content creation process
WordPress plugins can help automate things like sharing posts to Facebook, recommending related posts, optimizing your images, and other content-related tasks. These plugins can dramatically reduce your daily workload, and help you manage complex and content-rich sites more easily.
The first stage in content automation starts with automating the writing process itself. These plugins help you streamline the content creation process in WordPress.
If you are a prolific blogger, you have probably developed a close relationship with TinyMCE (the menu bar in the WordPress visual editor). The TinyMCE Advanced plugin customizes the basic WordPress text editor bar, so you can change the buttons that appear there. For example, you can include a horizontal line button, an anchor button, left to right, and other handy shortcuts.
In the past, page builders were mostly used to create static pages. With Elementor, you can add advanced features and design with ease, including:
Make pages mobile responsive, with a set of visual mobile editing controls
Use pre-designed templates to create landing pages with one click
Save your own templates for reuse and export on the website or on other websites
Control multiple pages from one place, so you can embed a template in various pages and update them from one place
This is perhaps the simplest and most straightforward WordPress marketing automation plugin: You upload an image, and the image gets shrunk automatically. No more going to external tools like TinyPNG to reduce the image size.
This plugin lets you create a to-do checklist for each post. This is a sort of self-automation because it forces you to go through the steps that you think are vital when creating posts. These to-do points could be: add images, set h1-4 headers, make sure headlines are self-explanatory, etc.
The second step for WordPress content automation is to improve the management of website content. Managing content can get very complex, especially if your site has multi-authors and contributors. These must have WordPress plugins make things much simpler.
This plugin allows you to clone a post or a page in its entirety, all with one click. Instead of having to cut and paste the title, post content, description, etc., you simply click on the duplicate button and save yourself the tedious task of cutting and pasting every field of the post. This is even more useful if your post has custom fields, featured images, and other fields that need to be copied beside the content.
In WordPress, you can assign a number to a page to set its order in the page hierarchy of your website—but it's not easy to use. The Simple Page Ordering plugin solves this by giving you a drag-and-drop interface to set your desired page order.
Yet Another Related Posts Plugin
Yet Another Related Posts Plugin (aka YARPP) scans your posts and pages and automatically adds relevant and related posts at the end of every post. This is really one of the best WordPress plugins for business because it increases the average visit duration as well as the number of pages visited, two very important user engagement metrics. You also increase the chances your first-time visitors will get better acquainted with your content and subscribe to your site.
Plugins for automating the outreach process
After you finish writing the content and manage the process of content creation, you will need to share your content with your social media followers and newsletter subscribers. The next two plugins automate this entire sharing process, and if configured correctly can become almost self-managed.
This plugin automatically publishes every new post on Facebook, Twitter, and LinkedIn. You can format the message and add an image for each platform. It's like a free WordPress referral plugin.
Affiliate programs are a great way to monetize your traffic. The Linker plugin makes it easy to create affiliate links from your site.
WordPress email list plugins
Are you losing leads and customers on your site? If you're not using the right tools, you're leaving money on the table.
According to BounceExchange, 70 percent of people who leave your website will never return. That's why it's crucial to capture the email addresses of visitors who are interested in what you have to offer.
If you're on WordPress and are looking to grow your email list, you'll need to invest in the right WordPress plugins. Here are a few we recommend:
OptinMonster

OptinMonster is the best way to speed up the growth of your email list. It allows you to create beautiful opt-in forms that are optimized for the highest conversion rates. You can create multiple types of forms including lightbox popups, floating bars, slide-ins, sidebar forms, and more.
OptinMonster makes integration a breeze. With just a click, you can integrate your Keap account with OptinMonster.
A few additional benefits of using OptinMonster are:
Exit-intent technology: You can turn your abandoning visitors into leads by prompting them with a targeted opt-in form at the precise moment they're about to leave.
Page-level targeting: You can display personalized offers and campaigns based on your visitor's location and interaction with your website. This way you can segment your email lists into distinct groups based on their interest and interaction with your site.
A/B testing: You can test all elements of your form, like a headline, copy, design, etc. and see what works best on your site in terms of conversions.

WPForms is one of the best drag-and-drop form-builder plugins on the market. It lets you easily create any type of form including contact forms, newsletter signup forms, order forms, and more. It also allows you to easily connect the form with your Keap account via Zapier, so you can grow your email list without having to touch a single line of code.
You can embed forms anywhere on your site, such as on blog posts, pages, sidebar widgets, footers, etc.
You can use WPForms to grow your list in two ways:
Create a newsletter signup form specifically to build a list.
Include a checkbox in your contact forms, asking users whether they'd like to subscribe to your list. When it is selected, the user will automatically be added to your list.
MonsterInsights is one of the best Google Analytics plugins for WordPress. It enables you to track visitors actions on your website, takes the pain out of Google Analytics setup, and makes it easier for WordPress users who don't want to edit code.
MonsterInsights helps you gather form submissions data in Google Analytics. After you enable forms tracking on your site, you can analyze form views, submissions and conversion rates in Google Analytics. Gathering and analyzing form conversions allows you to optimize your forms for higher conversions, so you can grow your email list exponentially.
It works seamlessly with any WordPress contact form plugin, including WPForms. All forms you create on your site will be tracked automatically without any further step in your Analytics account.

When you're looking to boost conversions of your list-building campaigns, it's smart to test all elements of your landing page, including forms, copy, images, and design.
Nelio A/B Testing lets you test every element placed on your landing page, so you can perform a rigorous analysis and see what works best to drive more conversions.
It also comes with a heatmaps tool that tells you exactly how your visitors interact with a given page.
Even though Nelio is a native A/B testing solution for WordPress, it lifts all processing load from your server and takes it to their cloud. That means conducting A/B tests will never slow down your site.
Best of all, you can create and manage experiments without leaving your WordPress dashboard.
7 Essential WordPress hacks for small businesses
Have you ever seen something really cool on a WordPress site and wondered, "How did they do that?"
There are little-known WordPress hacks that help you do amazing things faster and smarter than ever before.
Here are seven WordPress hacks for small business:
Customizing your dashboard
When you first log in to WordPress you immediately see your dashboard.
Wordpress has made it easy for you to customize it, but not many people know how.
Up at the top of your dashboard, you'll see Screen Options on the top right-hand side.

When you click the Screen Options button it will expand into all of your available options on that screen.
Uncheck anything you don't want to see and check anything you do want to see.
Another cool dashboard hack: You can easily drag the boxes around in any order you like, just grab the dashboard item's title bar and drag it. Easy peasy.
The Screen Options menu doesn't just apply to the Dashboard, it also applies to other areas of WordPress. Next time you're working on a "post" or "page," select the Screen Options menu and check out the different options available.
If you're trying to disable comments for one post and you don't see the option available, check out your Screen Options, because the disable comments option might be unchecked.
The Focus Zone
When writing posts in WordPress sometimes, it's nice to hide all of the surrounding buttons, dashboards, menus and other distractions that prevent you from focusing on your content.
Enter Fullscreen Mode.

One click on that button strips away everything but the content, so you can focus and create your masterpiece.
Use it often, and watch your productivity soar.
Setting up for success
The Settings menu often gets ignored.
You can do so many cool yet simple things in the Settings menu.
For example, you can set your site's default language to help Google know how to translate your site into other languages.
Select _Settings > General> "Site Languagdrop-downhe drop down to choose your site's language and click Save. Now Google knows what language your site is targeting so visitors from other countries can easily use Google's Translate tool to read your site.
Want to change your default category to something else besides "Uncategorized"?
Visit Settings > Writing > Default Category

Choose another category as your default and forever eliminate your posts getting added to the Uncategorized category.
Podcasting and more
Ever heard of WordPress shortcodes?
Shortcodes are simple codes you can use to improve the look and function of different parts in your posts. WordPress has seven shortcodes you can start using today without downloading any additional plugins.
Interested in creating and sharing a podcast?
All you have to do is upload your audio file to your Media Library, copy the URL and then you can use the [audio] shortcode right in your post to share it with the world. No extra plugins required.
It would look something like this:
[audio src="audio-source.mp3"]
Here's a list of all seven shortcodes PLUS tutorials on exactly how to use them in your posts and pages:
Importing/exporting content
Are you switching to a new WordPress host or thinking about rebuilding your WordPress site, but you're not sure how to transfer your existing content to your new site without hiring a web developer?
The good news is that WordPress gives you the ability to export all of your content through their "Export or Import" tools that are built right in.
All you have to do is export your content from your old site, save it to your computer and then use the import tool on your new site to upload your content.
Use permalinks for pretty URLs
Do you want to prevent your website from having weird looking URLs that look like this?
http://mysite.com/category/?p=346
NOTE: If your site is already well established then I'd recommend you ignore this section and seek a professional web developer to help you update your posts.
If you have a newer site (20 or fewer posts/pages) or you're about to launch a brand-new site, you should leverage "permalinks" feature in your WordPress installation and make those ugly links look pretty.
Visit Settings > Permalinks > Select the "Post Name" option.
Now your URLs will look something like this:
http://mysite.com/category/cool-post-title
For more in-depth help, refer to WordPress's support site.
Leverage keyboard shortcuts
There are 37 keyboard shortcuts you can use in WordPress, but how in the world do you remember them all?
And how can you find them quickly?
Thankfully WordPress took all the guesswork out for us.
Next time you're writing a post, all you have to do is click on the "?" in your post editor to see the full list of all of the keyboard shortcuts.

Get familiar with using WordPress keyboard shortcuts so you can create and edit posts faster.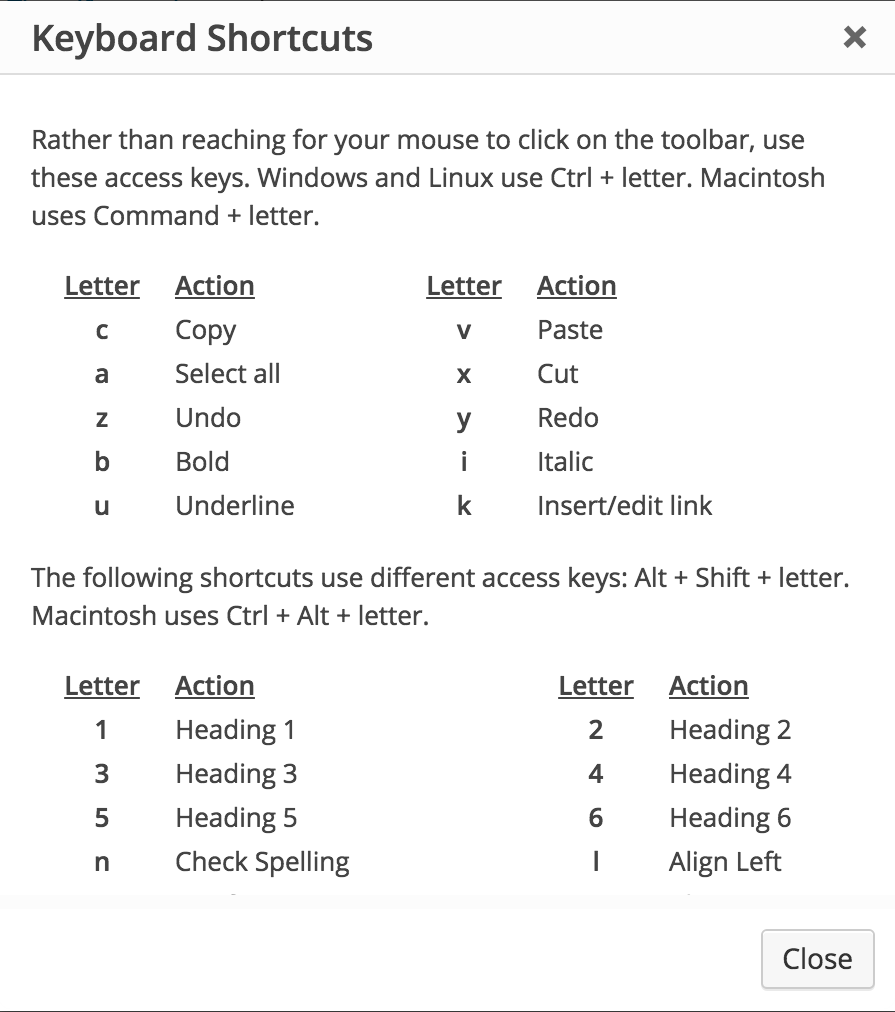 The road to WordPress mastery
Mastering WordPress for small business may take a little time, but now you have some handy tips, plugins, and hacks you can start using right now.