Who's your audience: People or search engines?
If you instinctively answered "People, of course" to this age-old digital marketing question, then kudos to you. It implies you create content for the sole purpose of addressing your audience's pain-points and answering their most pressing questions, paying little-to-no heed to SEO. And that's great.
But from a business perspective, this rather altruistic approach means you leave a ton of money on the table. Without proper on-page optimization, your awesome content won't rank well in search engines like Google and, as a result, won't get the attention it deserves. In other words, you'll be missing out on the biggest source of free traffic (and leads): organic search results.
The utterly wrong answer
On the flip side, if you write your content for search engines, then you need to rethink your marketing strategy. After all, what's the point of achieving a high search engine result ranking when people end up bouncing from your website to another search result's that actually serves informative, useful, and quality content.
Besides, Google's original PageRank algorithm has refined so much since its inception that today, it is extremely difficult and highly unlikely for you to rank with poor quality content ― content that is:
Stuffed with keywords making it unreadable
Thin and lacks depth
Rehashed, spun or plagiarized
Not engaging and feels robotic
Of no value to the readers
Rife with spelling mistakes and grammatical errors
Old and never updated, hence no longer useful
Even if you do somehow manage to rank with such content tailored just for search engines, you won't stay there for long, as Google will eventually penalize your website. Not to mention (again!), your bounce rate will soar through the roof.
The correct answer
Clearly, and as you can probably guess, there is only one correct answer to this question ― create content for people and optimize it for search engines.
![correct giphy]https://media.giphy.com/media/l2YWykMPCmCb9lLWM/giphy.gif
This is actually one of the biggest challenges that content marketers face: to write content that ranks well and at the same time appeals to human readers.
Herein lies the concept of SEO copywriting. In the words of CopyBlogger, modern SEO copywriting is all about:
"Crafting content so compelling that other people want to promote it by linking to it or sharing it, which increases your trust and authority and helps pages you want to rank well for certain keywords."
So, while it is important to cater your web copy and content to search engines like Google in order to rank well, it is equally (if not more) important to write content that is useful, compelling, and appealing to your human readers so much so that they'd want to share it on their social media channels.
Here are some best practices on how to strike a suitable balance between writing for the user and optimizing for search engines:
Keyword research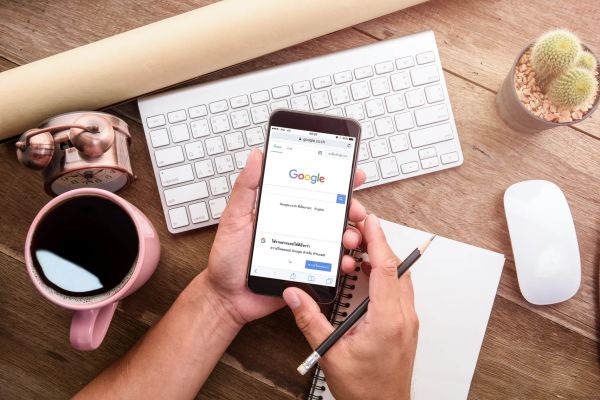 Keywords are the terms or phrases your audience types into the search bar to find answers to their problems. The purpose of keyword researchis to find and collect those terms or phrases and strategically include them in your content so search engines like Google are better able to:
Grasp what your content is about (crawl) and add it to their database accordingly (index)
Serve your content (rank) when users type in the keywords
In essence, you should aim to find keywords that have a high search volume and low competition. Moreover, keyword research goes hand-in-hand with understanding user intent. Broadly, there are three types of search queries that signify different user intents, namely:
Navigational search queries: The user wants to find a particular website or webpage. For example, a user might want to find a friend's Facebook profile or go to a specific website without typing in the full URL into the browser's navigation bar. The intent is to navigate to a pre-decided website or piece of content.
Informational search queries: The user wants to learn about a topic or maybe find an answer to a riddle. Basically, the intent is to find information.
Transactional search queries: The user intends to complete a transaction such as buying a laptop.
It is vital to understand user intent. Check out this blog post with five expert tips to research keywords like a pro while keeping user intent in mind.
Title tag
Crafting an alluring headline for your content is extremely important to increase click-through rates. Your headline or title tag appears as a clickable link in the search results. To get people to click through to your website instead of the nine others (your competition), it has to stand out, plain and simple.
It is generally advisable to keep the title under 70 characters so it doesn't get truncated in the search results. Also, make sure to include your focus keywords in the title, preferably at the beginning of the title. And whatever you do, do not clickbait.
Meta description
Along with the title tag, a short snippet, known as meta description, also appears in the search results, which users read to determine if its the piece of content they are looking for. The same description is also used by Google to understand what your webpage is about.
Similar to the case of headlines, your mission is to write a meta description that summarizes the gist of the content in an appealing way without click baiting the user. Try to include your target keywords but not the expense of bad readability. While there is no hard and fast rule for character count, aim to keep it around 150 characters.
Content
Properly structuring your content is crucial to both SEO and pleasant reading experience. It can even land you a featured snippet. Here are some guidelines for writing a high-quality blog post:
Have a clear introduction, main body, and conclusion. Insert a clickable table of contents for detailed guides.
Always cover the subject in as much detail as possible. Ideally, the reader should not feel the need to refer to any additional source of information after consuming your content. What's more, long-form content tends to rank higher and receives more social shares.
Support storytelling with data-driven examples to keep it engaging as well as practical.
Sprinkle keywords throughout your content but don't overdo it. That is, aim for a keyword density of around three percent.
Use H2 and H3 tags for topic headlines and sub-headlines.
Add relevant internal and external links (opening in new tabs) for further in-depth reading on a sub-topic.
Facilitate visual learning by adding images and infographics with proper "alt" attributes.
While on this subject, here are three critical SEO guidelines for writing content like a boss.
Types of content that perform well in search results
Looking back at the kinds of articles that performed well in 2018 is a great way to frame your future content strategy.
Listicles
Like them or not, list posts still work remarkably well in terms of click-throughs and social shares. They are easy to skim and evoke curiosity, making them perfect for going viral across the internet.
Actionable how-tos
People search to solve their problems. For example, if you want to learn how to tie a tie, you'll probably search "how to tie a tie" and the result which says the exact same phrase will seem like the most logical way to proceed. That's because it is an exact fix to the issue you are having.
Strong opinions
Such posts tend to be controversial in nature. Some readers might read the piece and nod their head along the way in agreement with all the points you make. Others might totally disagree and go against you. Either way, you are almost bound to get a ton of social shares.
The key is to include research backed-data from credible sources to substantiate what you're saying.
Tools to use when writing web content
Below is a list of free (and freemium) tools that'll simplify your SEO copywriting process:
To conclude, you need to understand that search engines are becoming smarter and smarter with each passing day. Your long term strategy should be focused on providing the best possible user experience and in turn, building a lasting brand.
George Konidis is the Founder of Growing Search, a Canadian based digital marketing agency providing optimal SEO and Local SEO services worldwide. He has worked on some of the largest online brands in the world with an overall contribution of over 15 billion monthly impressions. George works with clients to help scale their search efforts, develop content marketing ideas, and contribute to their overall growth strategies. You can find him on LinkedIn, Twitter, or his website.