Bill and Charlotte Harney, owners of Keeping Current Matters (KCM), a successful real estate advisor firm that helps educate and serve their clients in the housing market, express how investing in Infusionsoft helped grow their business.
Tell us why you started your business
I actually did not start the business; that courageous honor belongs to my father, Steve Harney. Right before the real estate market began to crash, Steve saw the writing on the wall. He knew families around the country would soon face major challenges with inflated home prices about to plummet due to the bubble bursting. He also knew he had the power to help these families through some of the biggest and most stressful decisions they would ever have to make.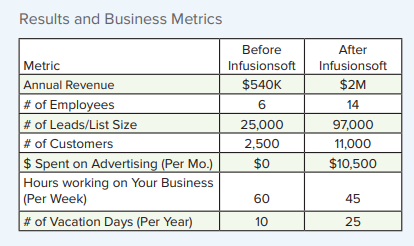 As the market crashed, everyone told him this was the absolute worst time to start a business in real estate. But he pressed on, as he was not motivated by money, but rather by the mission and his moral obligation to help people. He believes in his core that, no matter what, every family should feel confident when buying and selling a home.
Through the economic downturn of the housing market, we built the foundation and core of Keeping Current Matters: helping families make confident and educated decisions. And this core, which we will never lose, positioned us for tremendous success as the market returned to a healthier state.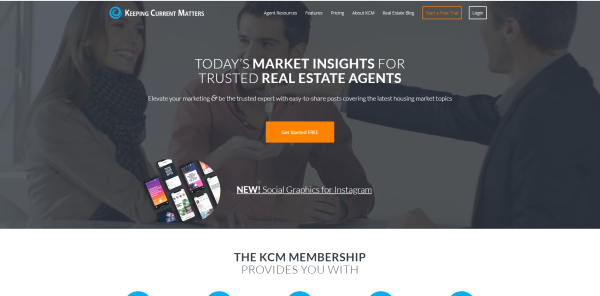 My wife and I have purchased KCM from my parents and continue the legacy that Steve created. The key driving factor for me taking on ownership of the company from my father is a larger vision for the impact we can have on what we do. I believe powerful and confident decisions create powerful and confident people. For me, this cause extends beyond real estate and into any and all events when someone needs to make a crucial decision.
Please describe your business in detail
Our business begins with our purpose: We believe every family should feel confident when buying and selling a home. To further our purpose, we created a monthly membership that helps real estate agents understand the current housing market. We provide content, educational resources, and other materials to help agents better advise their clients on things they should consider when buying and selling a home.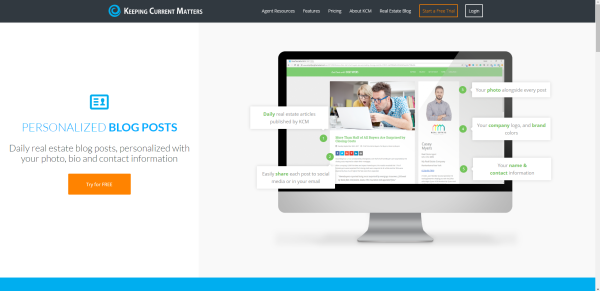 We focus on making a complex housing market super simple to understand. We do more than just provide information; we "connect the dots" to clearly illuminate what the data actually means for consumers.
In line with our belief in simplicity, we keep our business model simple and focused. We serve a specific segment of the real estate industry–agents who see themselves as educators rather than salespeople. We have two monthly memberships available, starting at $24.95/month for the Basic plan and $49.95/month for the Pro plan.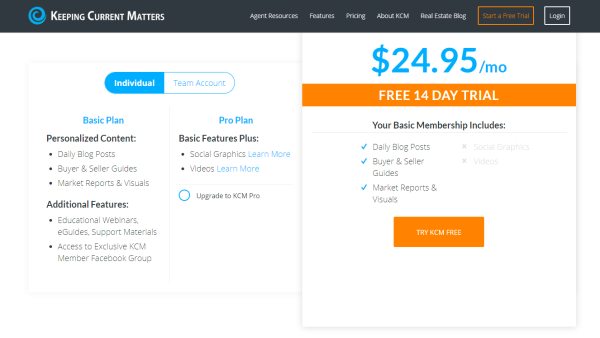 What other systems were you using before Infusionsoft?
During the "dark days" before Infusionsoft, our "systems" (if you can call them that) were all over the place. Not only did we use a hodgepodge of platforms that didn't work together, they all led to us being stuck in a box of "what was" rather than focusing on "what could be."
Literally nothing in our business was automated or connected. We used ACT as an information database and Constant Contact for emails. If we wanted to send an email, we had to upload our list from ACT into Constant Contact. Such a waste of time and resources! We had a custom Salesforce app built for us, but it never helped further our goals. It was just a better way to "hold our stuff." We also built a membership website that didn't work with any of our systems and couldn't be edited or changed to suit our needs, let alone our desires.
Let's just say we didn't start out as the brightest crayons in the box when it came to technology and scalable systems. Our systems were a complete mess, and this mess held us back from doing the things we knew would grow our business.
If we hadn't found Infusionsoft, I'm honestly not sure we'd still be in business. And I'm not exaggerating here, I really don't think we would be.
How did you hear about Infusionsoft and why did you invest in it?
We first heard about Infusionsoft at a marketing summit where a customer was showing the power of automation and how the software helped him grow his business tremendously. We wasted no time and signed up that day.
We knew from day one that this software would help us grow our business and we would no longer be stuck in a "we can't do that because…" mode. Little did we know exactly how much it would allow us to do, nor did we realize how it would quite literally become the backbone of our business model.
Did you work with an Infusionsoft partner to set up your application?
When we first joined Infusionsoft, we didn't realize the full power of the community. We worked with an Infusionsoft Success Coach on the initial set up to build out a few follow-up sequences and promote an upcoming webinar we were hosting. It was cool… and it worked.
As we continued using the software, we realized so much more was possible than just marketing sequences. We were in the process of transitioning our business from a speaking company to an online business, and we knew Infusionsoft had the power to literally run our business for us. As we expanded our horizons, we came up with ideas that we didn't know how to implement on our own. So we reached out to the partner community and found an insane amount of help there.
We've been incredibly lucky to work with several brilliant and genuinely helpful partners, including Sixth Division, Tyler Garns, SyncSumo and GetUWired. These partners helped tackle and solve challenges that we couldn't get past by ourselves. One of the best pieces of advice I received early on was that if you want next level results, you need to work with next level people. And the Infusionsoft community is filled with next level people. I truly feel this is one of the biggest strengths of Infusionsoft…it really is a community, it's so much more than just software.
How has Infusionsoft affected your business? What is the one thing you've implemented with Infusionsoft that has made the biggest impact?
Infusionsoft literally transformed our business. The power of automation, follow-up and segmentation made it possible for us to transition our business model from a one-man speaking company with zero scaling potential to an automated online machine with unlimited potential and opportunities. I have to break the rule here… I really can't pick just one thing we've implemented that made the biggest impact. There are several major components that each built on one another and led to one game changer after another.
The first game changer was of the most obvious variety: automating everything under the sun. Email communications, billing reminders, cancellation processes, membership content access, etc. Automation was just the beginning, though it allowed us to do so much more.
The second game changer was leveraging the Infusionsoft API to create content that's personalized for each of our premium membership clients. We utilize custom fields in Infusionsoft for each of our clients, and via some API magic, we create a personally branded blog for each of our members that brands our content with their name, photo, contact information, etc. This new feature doubled sales overnight and completely changed the landscape of our business. Using Infusionsoft to power this feature catapulted our brand into a new segment of our industry, moving us from a purely educational company into the world of marketing tools for real estate agents.
The final game changer was the Elite Program. My COO and I attended the Elite Forum in 2014 and joined Elite Momentum immediately after. As we implemented the business concepts we learned from the Elite Program, we conducted our own onsite Elite Forum for our entire staff. I'll leave you with this recent quote from one of my team members after our onsite Elite Forum workshop:
"Investing in Elite Forum last year was a real game changer for KCM and the smartest thing you've ever done. Then continuing with Elite Momentum and taking additional leaders to attend Elite Forum a second time was even smarter. And now bringing this training back to our entire team… I can't even put into words how much I know this will help our business as we work toward achieving our BHAG."
How has Infusionsoft affected your personal life?
Infusionsoft has changed my life in so many ways.
First, Infusionsoft gave us the tools we needed to turn our company into a scalable business that will live long past the life of my father who initially started it.
Second, the growth our business experienced after implementing Infusionsoft allowed my wife and me to purchase KCM from my parents and provide them with financial security for the rest of their lives. It also created an opportunity for my wife to leave her full-time corporate job and join the thriving family business.
Finally, by interacting with the various people and programs within the Infusionsoft Community, I discovered an underlying passion for helping people make powerful and confident decisions in their lives. This inspired me to become a better leader at work, give back and mentor other Infusionsoft customers in my local area, and develop the vision for how our company can impact the world.
We would not have been able to accomplish these things if we hadn't found Infusionsoft.
Have you had the opportunity to give back?
As our company has grown, we've been able to take larger and larger portions of our profits to support our team members in causes that are near and dear to their hearts. We've hired people in our community who are in need of work even when we didn't necessarily have a need for additional staff.
We believe wholeheartedly in not only giving back but also in paying it forward. I co-founded our local Infusionsoft User Group on Long Island where I have the pleasure of helping other Infusionsoft customers learn the real power of the software and solve problems in their businesses. From this group, I've also started donating some of my free time to mentor and run problem-solving sessions with entrepreneurs looking to achieve new levels of success.
What features of Infusionsoft do you use?
Contact Management
Marketing Automation
Ecommerce
Which Contact Management features?
Task Management
Tags
Segmentation
Which Marketing Automation features?
Campaign Builder
Campaign Marketplace
Email Marketing
Landing Pages
Web Forms
Web Activity Monitoring
Which Ecommerce features?
Storefront
Shopping Cart
Order Forms
Upsells
Payment Plans
Collections
Referral Program Management
Describe your process for attracting and capturing leads. What lead magnets do you use to reach your target market?
Our lead generation process is simple: we create great content, promote this content on social media, and utilize onsite opt-ins to capture lead information.
We focus primarily on daily blog posts, which our customers and prospects love sharing on social media because our content educates their clients. This creates a native virility, and it allows one visitor to create many more visitors, which we leverage as a tremendous source of traffic.
To expand our reach and bring as many real estate agents as possible to our website, we heavily promote every daily blog post on Facebook, both organically and with paid advertising. Our paid advertising goes well beyond just boosting each post – we use dozens of custom audiences to drive both new and repeat traffic to our daily blog posts.
When agents land on our website via the daily blog posts (or any other source), they're exposed to additional offers for relevant content, such as a free eGuide or webinar. No matter where someone lands on our site, it's a cinch to take the next step with us by engaging with more in-depth free content that requires an opt-in. Then we have systems in place to heavily re-target our website visitors, using ads to showcase the depth and breadth of our daily blog as well as drive directly to opt-in landing pages. All website visitors are immediately added to Nurture Campaigns and also a Lead Generation Campaign on Facebook. These campaigns maximize our ability to bring each visitor back to our site on a daily basis, and get them to opt-in as a lead.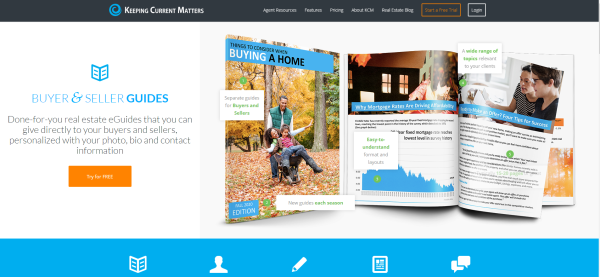 Describe your lead generation content and magnets
Our leads enter our funnel through four primary content sources: a daily blog post subscription, free eGuide, personalized videos, and the first step of our free trial order form.
When someone signs up for the daily blog post subscription, we then email them a copy of each new blog post the day it's published to our website.
We offer multiple eGuides that educate agents on a specific topic that's vital to both their business and the value we can provide to their business from the first moment they come into our funnel.
Our videos are released weekly offer a ton of free value, educating agents on ways to build their business and how to educate their clients by learning how to differentiate their brands.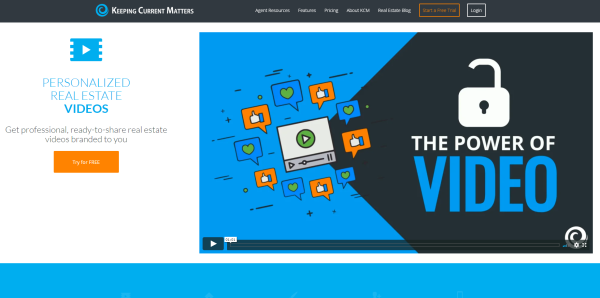 Finally, agents who are brand new to our website often begin the process of starting a free trial and then realize they weren't actually ready for the trial period. We capture their name and email address in the first step of the trial order form to make sure we can nurture the agent properly.
How do you get leads to opt-in to your marketing list?
We ensure every page on our site makes it easy for leads to further engage with us, and each opt-in is relevant to where they are on the website. We get leads to opt-in by utilizing landing pages, embedded opt- in forms, slide-ins, ad overlays, bottom bars, a content library page, and Lead Ads on Facebook.
Our two most impactful opt-ins are a slide-in on every blog post and Lead Ads on Facebook.
On every single blog post, a slide-in opt-in load after 5 seconds. The slide-in dramatically increased our total new leads each month. We went from 870 to 1,230 (+41%) monthly new leads within 60 days of implementing this single method. We're now up to 1,480 new leads/month, and this individual opt-in accounts for 18% of all new leads that we generate.
We're also heavily investing in Facebook's Lead Ads tool. We all know Facebook ideally wants to keep people on Facebook, driven by creating a better user experience that lets someone engage with content while remaining on the site they initially visited.
We leverage a SyncSumo integration to capture the leads right on Facebook and immediately add them to our Infusionsoft campaigns, creating an ideal customer experience. At the time we implemented our Lead Ads, they directly contributed 15% of our new leads at $0.93 per lead.
Describe the results you've seen from your lead generation efforts
Since implementing our lead generation efforts through Infusionsoft, we've grown our revenue from $540,000 to almost $2,000,000 (+270%!). We have quadrupled our list size, skyrocketing from 25K before Infusionsoft to almost 100K.
Describe your process for nurturing leads. How do you segment contacts for targeted follow up?
Our lead nurture process begins with our Indoctrination Series. Brand new contacts immediately receive a Welcome Campaign that introduces them to our President/CEO as well as the purpose of our company and our current mission. The campaign also provides the new lead with links to our most popular articles and what they can expect from us now that they're part of our community.
Most of our free content launches a follow-up sequence, typically three to five days in length. Each follow-up sequence is tailored to the topic from the opt-in content and drives to the next logical action the lead should take (usually free trial or an entry level offer). This year, we launched our most important lead nurture initiative to-date: an automated long-term nurture campaign that segments our audience based on their previous behavior. We call it the Merry Go Round.
This campaign does much more than send weekly nurture emails to our entire list–it drives engagement with our content that puts leads into targeted follow-up sequences on a regular basis, and it only offers content based on what the lead has already engaged with. When a lead accepts the offer, the system pulls them out of the Merry Go Round to go into the appropriate follow-up sequence. When that sequence ends, they're automatically put back into the Merry Go Round to find out the next piece of valuable content we have for them.
The Merry Go Round has been a huge game changer for us. Previously, 57% of our leads were coming into our system and never getting any sort of targeted follow-up sequence. And the 43% of leads who did get a tailored follow-up sequence would only get a few emails over the next 10 to 14 days, and then they'd only get a generic weekly nurture email that went out to everyone on our list.
Now we have a long-term, automated process for putting our best content in front of every single lead in our system, all based on what they've already seen or engaged with. It's a very efficient way of moving clients through the sales funnel.
Our second most important lead nurture initiative involves Facebook advertising. As an online business without a sales team, account reps, or much face to face interaction with our prospects, we previously limited our lead nurture and conversion efforts to email. Not anymore! Now, we mirror our nurture campaigns from Infusionsoft within our Facebook advertising.
SyncSumo allows us to utilize Infusionsoft saved searches as target audiences in Facebook. If a lead is in the Merry Go Round driving them to download an eGuide, we serve ads to them on Facebook about that eGuide. If they're in a nurture sequence driving them to start a free trial, we serve ads to them about the free trial features and benefits, and so forth. This set up enables us to reach our audience in multiple places and make sure we're serving the right message to the right lead at the right time. It's amazing!
Describe your lead nurturing process and content
We utilize a variety of content pieces to nurture leads, including:
1. Re-purposing much of our lead generation content (eGuides, video series, etc.) as lead nurture content within the Merry Go Round
2. Free articles that piggyback and expand on our lead generation content
3. Information and resources we include within the body of our follow-up emails
4. Case studies and customer stories
5. Free webinars every 6 weeks
Our process always includes serving the most relevant content and information based on where the lead is in our Perfect Customer Lifecycle and focuses on moving the lead to the next stage.
The Merry Go Round allows us to constantly cycle our best content based on what they've already downloaded or engaged with in the past. Within the nurture sequences attached to each piece of content, we provide additional insight related to the free content they previously requested.
Plus, every free webinar goes out to everyone in our database every six weeks, so these invitations are a great form of lead nurture. We consistently offer high-value content and when leads actually attend, they create a high level of engagement and trust with us, increasing their likelihood of joining the paid membership.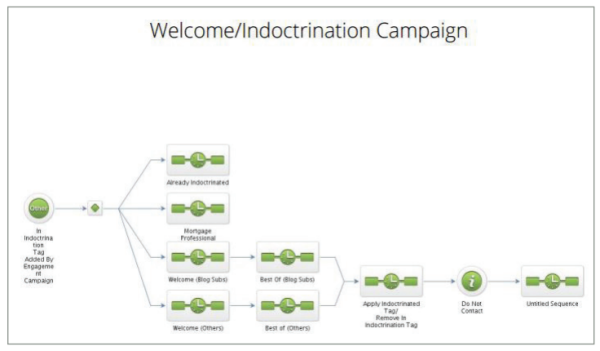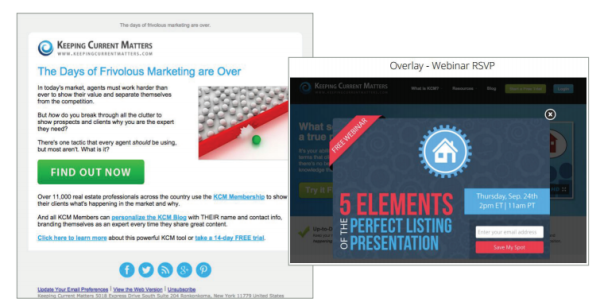 Describe your process for selling online. What products and/or services do you sell?
We focus on selling two monthly online memberships for real estate agents. The memberships provide real estate agents with educational resources and content they can use to inform their clients to help them make confident decisions when buying and selling a home. It includes blog posts, monthly on-demand webinars, digital eGuides, and more.
As part of the membership, every new member starts out with a 14-day free trial, which we run all year. Our key to selling our product online is converting as many agents as possible from our free trial to our paid membership.
To improve our conversions, we launched a Quick Start Program that all new free trial members go through. This program includes six sequences focused on welcoming the agent to our community, ensuring they understand our purpose and mission, helping them navigate our Member Area, and communicating best practices for using their new membership.
Through this Quick Start Program, we convert more than 80% of all free trials into full paid memberships!
What kind of online sales tools are you using?
Our business quite literally runs on the Infusionsoft order form–it's really the only way you can sign up for our membership. Prior to Infusionsoft, we manually entered every order into multiple systems and manually activated onboarding sequences. Now we use a custom two-step order form process through the Infusionsoft API.
In Step 1, clients set up their basic account information with their email address, password, etc. In Step 2, we collect billing information to be used at the end of the free trial.
The majority of people complete the free trial order form, but around 26% fall off after only completing Step 1. Since we capture their contact information at Step 1, we built a Cart Abandonment Campaign that follows up with those who don't actually start their free trial.
If the lead is brand new to our system, the campaign recommends they instead begin with one of our free eGuides that introduce them to our company, why we exist, and how we can help them improve their business. If the lead has engaged with us previously, we follow up with a series of emails letting them know our team is here to help if they have questions about the membership or want to chat about anything prior to signing up.
Describe how Infusionsoft has impacted membership
After moving our sales systems over to Infusionsoft, we increased new online memberships from around 50/month to almost 500/month regularly. That's a 1,000% increase in new memberships!
The biggest benefit for us isn't even the increase in revenue–it's the consistency in sales we now enjoy that allows us to manage our cash flow and plan for the future. Prior to automating our business through Infusionsoft, we depended on live events to sell our product and we never knew what we were going to get. Now, we have solid systems in place that sell our product online every single day (whether we're working or not!). And this consistency has led to scalability and massive growth for our company: +270% increase in revenue since we found Infusionsoft (from $540K to almost $2,000,000).
Describe your referral partner program and the results you've generated from it
Attracting referrals is a huge part of our business, as more than one-third of our new free trials come from word of mouth.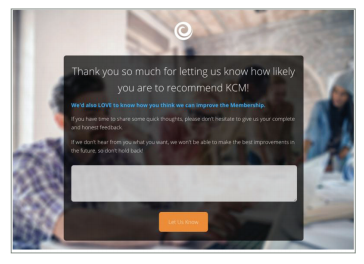 To encourage referrals and provide a thank you to our members for referring people, we harnessed the power of the Infusionsoft Campaign Builder & API to create a referral system that automatically:
Emails the 'referrer' when someone has started a trial after using their referral code.
Emails the 'referrer' when that person completes their trial and lets them know that they will receive a free month of their membership.
Processes the free month to their account.
Updates a Dashboard report for us so we know each time we get a new referred client.
Updates our Referral Center inside our Membership Site so that our clients always see reminders of how many free months they've received thanks to their referrals.
In addition to setting up this system, any time a member shares one of their personalized blog posts, they subtly advertise our business. They earn a referral credit any time another agent uses this link at the bottom of their posts to sign up for a membership. This creates built-in word of mouth every single time a member shares out a daily blog post (which delivers 70,000+ page views with these referral links each month).
Describe how you use Infusionsoft to streamline the product and/or service delivery process
We use Infusionsoft to power our Monthly Membership and all of the content contained within our Member Area. Tags in Infusionsoft allow us to customize the entire Membership experience and show the appropriate information to the right people.
Additionally, we created a Quick Start Program that all new customers go through, which ties educational and instructional emails (via Campaign Builder) with onsite messaging (via Infusionsoft tags) to create a unique and immersive onboarding experience. These efforts help us convert more than 80% of free trials into paying members.
Finally, as a membership-based business, one of the biggest headaches we run into is declined or expired credit cards. We extensively use the billing automation functionality, along with a clever campaign, to automate reminders to update billing information, which cuts down on the man hours needed to carry out this time-consuming process.
How do you upsell customers and/or get repeat sales?
As a subscription business, everything we do is essentially an effort to drive repeat sales. At any moment, our customers can decide to cancel their membership. We constantly communicate and engage with our members to continue providing value and retain them for many months.
To do this, we focus on three areas for retention: Engagement, Support and Customer Success.
Engagement – In our Member Area, we direct specific messages to different segments of our membership based on their Infusionsoft tags. We also leverage a private Facebook Group for our customers to ask and answer questions, showcase new content, elaborate on new tools, and ask for feedback on new initiatives we roll out.
Support – We have a robust Help Center with answers to the most common questions our members ask, common areas of trouble with getting started, and how-to videos and training for advanced uses. Due to the rapid growth of our member base, as well as our commitment to providing higher-than-expected customer service, we've expanded our team exponentially.
Customer Success – One of our core values is 'We are committed to education and development… of our team and our members.' With this in mind, we created a Member Success team that is charged with proactively reaching out to and helping our members create success for themselves, utilizing the tools and resources we provide. One of the first things we've done with this new role is to develop customer success stories where we showcase members who are driving tremendous results and can be seen as a model for what's possible.
How do you get referrals and testimonials?
We're extremely lucky to have a very referral-friendly client base. Much of our business (about 1/3) is driven through word-of-mouth from our clients. We believe this is the result of delivering more in value than we charge in monthly fees.
That said, we do have several specific referral-generating processes, including:
Through an action set tied to sign up, every one of our clients automatically becomes a referral partner in Infusionsoft.
We developed a dedicated "Referral Center" within our Member Area that makes it easy for our clients to obtain and use their customized referral links.
We recently rolled out an automated NPS/referral campaign to drive awareness of our referral program to all our happy customers (and support for anyone having trouble).
We also diligently collect testimonials in various ways. We receive a lot of direct emails in response to our ongoing member communications, which is always great, but we also have intentional pieces built into our systems and overall business:
At the end of every customer's Quick Start Program, we request feedback, which often turns into a testimonial or positive review.
As mentioned earlier, we developed a dedicated program to create and share long-format customer interviews and stories (an idea we borrowed from Infusionsoft).
What social platforms are you using to market your business?
Facebook is the largest and most important platform for us right now, mostly because it's the social media platform our prospects and clients most utilize. Real estate agents spend a ton of time on Facebook for both personal and business-related reasons, making it the perfect place for us to grow our business. While Facebook is a clear #1 platform for us, we do manage a presence on five of the major social media networks (Facebook, Twitter, YouTube, LinkedIn and Instagram). We use these platforms to promote our daily blog posts, and we allow our members and other real estate agents to utilize our content on any social media network they'd like. Our social media efforts have helped us develop our blog into an industry-wide source of content for consumers with each blog post delivering thousands of shares on social media, and several posts reaching as many as 11K+ shares.
How many followers do you have on each social platform?
Facebook: 175K+ Followers
Facebook Member Group: 10,000+ Members
Twitter: 13.4K Followers
LinkedIn: 3,161 Followers
YouTube: 3.28K Subscribers
Instagram: 54.9K Followers
How are you using social media to market your business?
As a content company, social media is absolutely crucial for our business. Our entire lead generation and nurture strategy centers around sharing high-value daily blog posts on social media, and our content approach naturally lends itself to these posts being shared frequently by both prospects and clients. This creates fans for our brand, which yields tremendous results for our business.
We promote our daily blog posts on our Facebook page and then create ads targeting dozens of different audiences. The blog posts are our top of funnel content–very low commitment, free, easy to engage with and find immediate value. This is what we use to bring new prospects into our sphere of influence.
When an agent hits our site via a blog post (or from any other source), we begin re-targeting them with Facebook ads - heavily. We promote all future blog posts to showcase the breadth and depth of the valuable content we can provide to them. And since we post five days per week, this campaign remains fresh with new content so that it never gets stale.
Once someone engages with our free blog posts, we move them to the next level of our funnel with re- targeting ads. We use these ads to generate leads by promoting eGuides and webinars to our recent website visitors.
After someone engages with our middle-of-the-funnel content, we drive them to our free trial, the bottom of our funnel. This Facebook campaign only serves free trial ads to people who have deeply engaged with us or have expressed some sort of interest in our free trial (such as visiting the free trial order page).
Our Facebook advertising funnel matches the overall "lead generation → nurture → conversion" funnel we use across our business: free blog post content → opt-in for deeper content like an eGuide or webinar → convert to free trial of our paid membership.
On the membership side, we also offer a private Facebook Group for our members with over 10,000 participants. This offers a great place for agents to share ideas, ask questions, and otherwise further engage. The Facebook Group fosters an engaged community committed to achieving our mission: changing the way real estate professionals educate and serve their clients.
How are your social campaigns integrated with Infusionsoft?
We use a SyncSumo integration with Infusionsoft to implement our nurture campaigns on Facebook, expanding beyond traditional email marketing nurture efforts. SyncSumo allows us to utilize Infusionsoft saved searches as target audiences in Facebook. For example, if a lead is in a nurture sequence driving them to start a free trial, we serve ads to them about the free trial features and benefits. This allows us to keep a unified message across different channels to drive engagement and conversions, serving the right message to the right lead at the right time.
Please describe the results you've seen from using social media to market your business
From a monetary standpoint, our investment in Facebook specifically has been tremendously successful. Our Facebook advertising investment has delivered a 373% ROI in one year with over 515 free trial memberships related directly to Facebook. This projects to $164K in total revenue for just $35K spent year-to-date.
From the standpoint of furthering our mission, social media is one of the primary ways we can successfully help families feel more confident when buying and selling homes. Our members and other real estate agents share the educational content we create on their social media platforms in an effort to reach as many families as possible. Without social media, it would be incredibly difficult for us to touch as many lives as we have with our information.